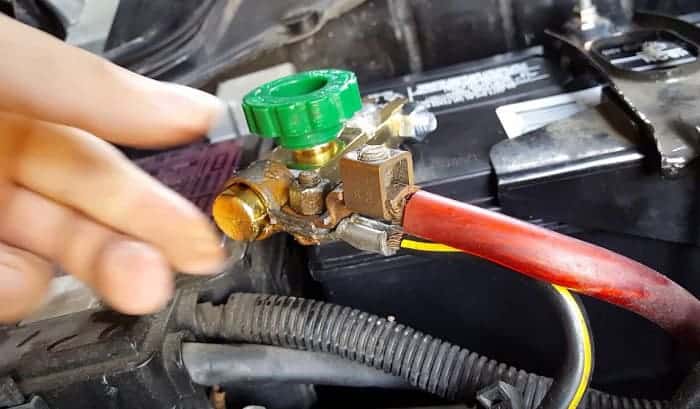 For those who have recreational vehicles that are only occasionally used, the most common problem we encounter is having an empty battery after storage, mostly caused by residual power loss. The best way to prevent this is by isolating the battery from the rest of the system.
This is done by removing the negative port on our vehicle every time we park it. However, that is a tedious task – imaging popping the hood and then using a wrench to take it off all the time. An excellent solution to this is installing the best battery disconnect switch for your vehicle.
Today, I'm going to share my experience with 12 disconnect switches and my take on them. I'll also include a short buyer's guide and answer your most frequently asked questions. Let's get on to it!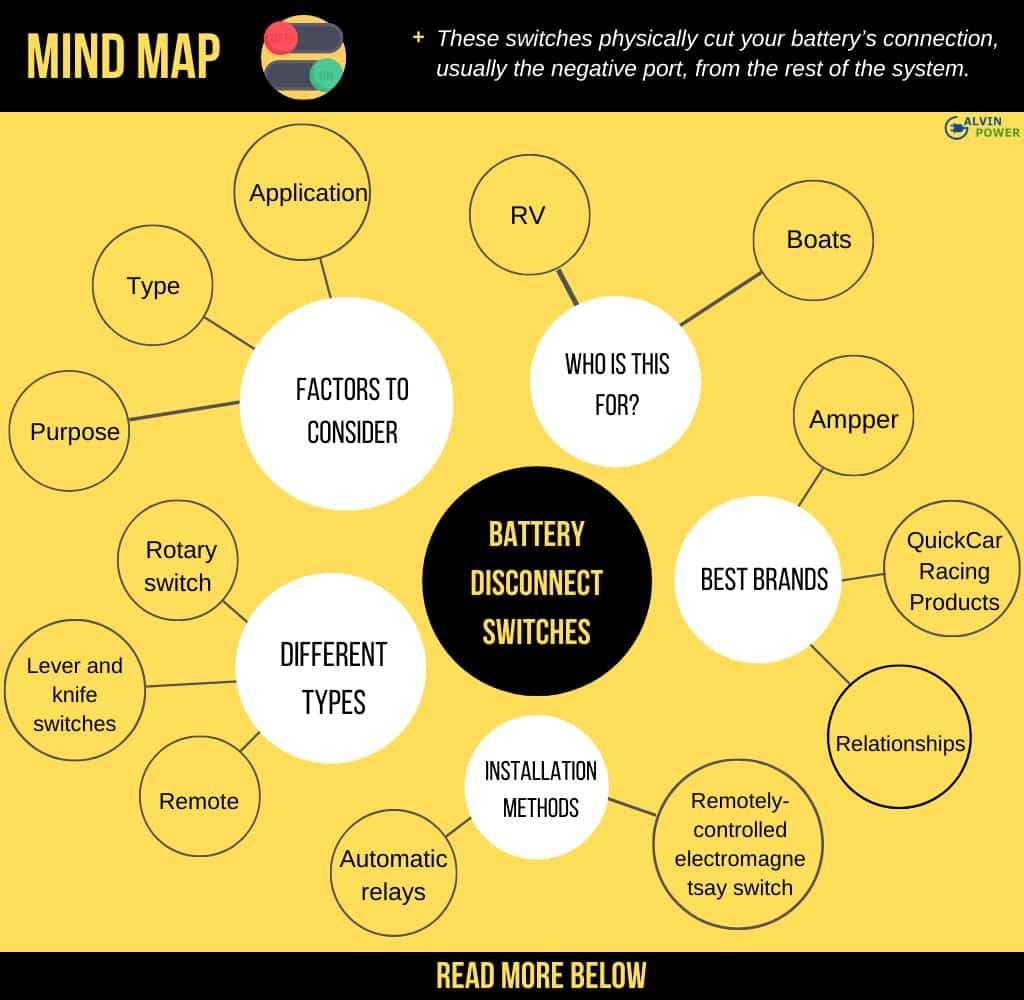 Best Battery Disconnect Switch Reviews
1. Ampper Am-CBS01 Power Cut Switch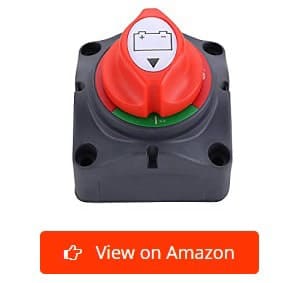 The Ampper Am-CBS01 Disconnect Switch is an easy-to-install rotary switch, rated up to 275 amps at 12 volts DC. It can take up to 48 volts DC, but at a less ampere rating. Furthermore, you can use this device as a standalone disconnect switch or as a master switch locked together with other power controllers.
With this product installed in my vehicle, I no longer have to go to the battery unit to disconnect it physically when placing it on long-term storage. It's very convenient knowing that when I want to use my boat again, I know that its battery has been preserved and that it will start just by rotating this switch on the control panel.
I have an excellent first impression with this switch. When I first received this battery master disconnect switch, I immediately noticed its sturdy and high-quality ABS plastic material casing. There's nothing flimsy about it, and I know that it won't break even after many years. I also like that they included rear cover insulators, ensuring that moisture won't creep inside it and prevent shorts and other electrical faults.
I'm also glad that they included everything needed to install this switch – of course, I still had to have my wrench, screwdriver, and other essential tools, but that's about it. Upon further inspection, I realized that I could also install this in my RV and other cars. Amazing!
However, if there's one thing I don't like about it, it will be the lack of an auditory click to confirm that the battery is connected. This sometimes gives me second thoughts if it's already switched on or if I need to turn it a bit more.
Pros
Rated up to 275 amps for a 12-volt DC system
Can be used either as a standalone or as a master switch
Easy to install and simple to use
Made with high-quality ABS plastic material
Comes with complete parts for installation
Cons
No auditory click to confirm battery connection
This switch is an excellent choice if your vehicle utilizes a 12- 48 volt DC electrical system. It opens the circuit and isolates the battery from your electrical system – thereby extending its life when the vehicle is not in use.
2. GAMA Electronics BS200 Disconnect Switch
The GAMA Electronics Top Post Disconnect Switch is a knob-style disconnect switch directly attached to your battery's terminal. It is straightforward and easy to install and use. By simply turning the knob, it will completely isolate the battery from your system.
It can take up to 200 amps of continuous load, so I know that it will work with most automotive and vehicular electrical systems. This allows me to install it on my boat, my RV, my off-roader, and even my daily driver car.
I really like this product's compact design. Its small form allows me to install it even in the tiniest of machines, like my friend's micro motorcycle. I am sure that I won't need to modify or improvise anything to install this in a vehicle.
Furthermore, I can remove the knob switch, hide it, or take it with me for anti-theft purposes. This feature helps me a lot in safeguarding my vehicle wherever I leave it. I also use this when I'm working on my car, giving me the confidence that I won't get grounded when I'm tinkering with it.
The only downside to this kind of switch is that it goes directly to your battery. It's a bit inconvenient because you have to pop the hood to turn this switch on or off every time.
Pros
Turning the knob isolates the battery from the system completely
Can take up to 200 amps of continuous load
Compatible with most vehicles, including boats, RVs, off-roaders, and more
Very easy to install
Knob switch can be removed and hidden for added security
Cons
Can be quite inconvenient to access
If you're looking for a budget-friendly switch, this one of the best battery disconnect switch is for you. It's simple to use, easy to install, and can also be used for security. This is the most economical option in the market available.
3. Ampper Am-CBSKB01 Disconnect Switch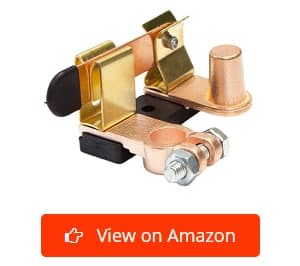 The Ampper Top Post Knife Blade Disconnect switch is a simple, easy-to-install battery isolator switch. It's rated 12 to 24 volts DC, with a maximum of 200 amps continuous and 600 amps momentary current – making it compatible with most cars.
What I like best about this device is its simple solution to isolate the battery – just lift the knife blade switch, and you're done! Many of my friends and I would agree that the simplest solutions are often the best ones.
However, even if it is just as a simple mechanism, it can be used independently or as a master switch in tandem with other electrical devices. This gives me the flexibility to install it directly on my battery or as a part of the main power panel.
I also appreciate the quality of material used on the switch – it's made from heavy-duty brass and copper. Not only does it resist corrosion well and is an efficient conductor, but it's also durable and will last as long as I'd need it to.
This is the easiest battery disconnect switch install that I've ever made – all I had to do was to slip off the negative lead on the post, wrench this switch in place, and then tighten the negative port on this switch. Done!
Despite the copper and brass material used for connecting the battery, the knife blade itself is only held by an aluminum rivet. While it might not be a problem when the switch is in a fixed state (either on or off), you should be careful when using it because you might break the rivet.
Pros
Maximum rating of 600 amps at 12 volts DC
Compatible with most vehicles
Can be used independently or as part of a power panel
Made with high-quality brass and copper
Simple and straightforward to install and use
Cons
Aluminum rivet holding the knife blade is not as sturdy as the rest of the unit
If you want a simple, no-frills, 12 volt battery disconnect switch, then this is the product for you. It's easy to install, straightforward to use, and just works. What more can you ask for?
4. Ampper Am-CBS31 Disconnect Switch
The Ampper side post battery disconnect switch is another excellent example of simple battery isolation switches. It installs quickly and works simply by physically cutting off the battery from the vehicle's electrical system. This preserves the battery over long storage periods and ensures that it's ready when needed.
What I like best about this product is that I only need to have a wrench to install it – no other tools necessary. It's perfect for cars, trucks, and other machines that have side-mounted battery terminals.
Using this is also pretty simple – just turn the know until it tightens slightly to close the circuit and make a connection. To cut off the power, just loosen it a couple of turns, and the battery is physically disconnected from the system. For added security, you can actually take the knob with you. Just don't lose it!
I am very impressed with the build quality– it's made from solid, durable brass. It's actually difficult to bend, and I feel as if it will last the lifetime of my vehicle. Furthermore, the company was able to create this at a very reasonable price.
One thing, though – I have encountered some issues in which the supplied bolts were either too short or too long. While it was no issue for a handyman like me, it could be a problem if you don't have access to a metal grinder to cut the bolts to size.
Pros
Preserves battery levels during storage
Easy to install – only a wrench is required
Simple turning action to connect and disengage power
Solidly built, made from durable and corrosion-resistant brass
Comes at a very reasonable price
Cons
Supplied bolts might need to be customized to fit some cars
If you need a battery isolating switch with a side post design, this easy-to-install equipment is the right choice. Its excellent quality and reasonable price hit the sweet spot for switches.
5. Fastronix 303-001 Battery Disconnect Switch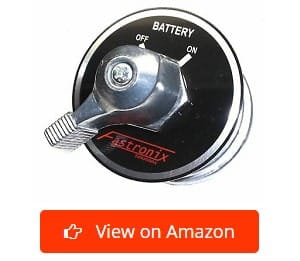 This Fastronix Solutions High Current Master Battery Disconnect Switch is a simple, straightforward rotary type battery shut off switch. With a single twist, it will physically disconnect the battery, open the electrical circuit, and cut off the power.
When I bought my first motorhome, a good friend suggested installing an RV battery disconnect switch to preserve power and keep my batteries healthy when it's stored. He recommended this brand because this is what he also used for his RV.
What I like best about this product is, although it's rated at 180 amps for continuous duty. Its capacity immensely increases to up to 1,000 amps for intermittent power. This makes sure that the item will not fail even when the system experiences an electrical surge.
The switch's handle is spring-loaded to prevent accidental movement, whether on or off. This gives me confidence that I won't unexpectedly lose power while I'm on the freeway. It also provides a solid click when turned on to know that I've successfully powered-up the system.
The panel faceplate is clearly labeled with off and on positions so that even my five-year-old son can operate it. They also included 3/8" brass studs with nuts and locking washers to ensure that the switch is snugly secured to your power panel and the wiring inside won't come loose as I travel.
I really appreciate Fastronix for allowing their switch to be mounted for panels from a quarter to five-eighths of an inch. This enables me to install it in different places – like on my instrument panel or near the engine cover.
I did have some issues a couple of times, though. Some switches I ordered didn't work when I received them. I returned it to the manufacturer and had it replaced, but it did delay my installation for a couple of days.
Pros
Straightforward use with clear faceplate markings
Can handle up to 1,000 amps current
Spring-loaded handle prevents accidental switching
Included brass studs, nuts, and locking washers for secure fitting
Can be mounted on panels from 1/4" to 5/8" thick
Cons
Some switches didn't work out of the box and had to be replaced
This product is easy and straightforward to use, so much so that even a child can operate it. Its high-capacity will also ensure that it will last the life of your vehicle. If you need a heavy-duty switch, this one's for you.
6. Stinger SGP38 Battery Isolator and Relay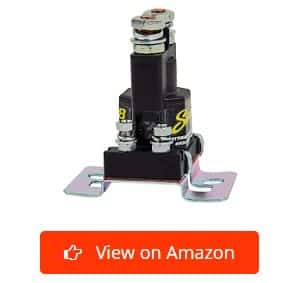 The Stinger Battery Isolator and Relay is a reliable device designed for use with dual batteries. This is excellent for marine or RV systems, which employs one battery to operate the engine and another for the indoor electricity.
And although it is not a waterproof battery disconnect switch, its water-resistant black phenolic plastic case makes it perfect for boats and other bigger marine vehicles. More than that, this device is guaranteed to be compatible with multiple types of alternators, allowing you to install it practically anywhere.
By connecting the relay when the engine alternator is turning, you can charge the battery as you use it. Once the ignition is off, the secondary battery system will remain separate from the primary electrical circuit, thereby protecting it from unnecessary power drain.
I'm not entirely sure if this is available at Autozone since I bought mine online. Still, whenever I'm purchasing or recommending a battery isolator to my friends, I always go for this brand because of the reliability it has offered to me.
If there's one thing that I don't like about it – it's the manual. The included instructions barely helped me, and I had to resort to asking other professionals for their second opinion. If you're going to install this DIY, be sure to check other sources first just so you don't mess anything up.
Pros
Designed for dual-battery systems
Water-resistant case makes it an excellent choice for marine vehicles
Compatible with multiple types of alternators
Separates the secondary battery from the primary circuit
Reliable device and works effectively since installation
Cons
Poor instruction set included
This is an excellent marine battery disconnect switch, especially for boats and other vehicles that run on dual-batteries. It allows the alternator to charge both of your batteries but isolates it from the primary circuit when the ignition is off, thereby preserving its life.
7. Zoostliss PF-016Z Battery Kill Switch
The Zoostliss Battery Kill Switch Isolator is primarily designed as an anti-theft security device. Its small form makes it difficult to find unless you know where it is located. It also requires a unique key to operate. This key and switch mechanism makes it the best battery kill switch for panel installation.
The included spare key allows me and my wife to have access to the vehicle. Since my car comes with two keys, I simply include the Zoostliss key in each respective keychain. So whether my wife or I drive the car, we both can lock its battery when we park it.
One thing that I really appreciate about the switch is its waterproof casing and cover. I also installed this in my boat, so even if the panel gets a bit of spray in rough seas or some rain when parked at the pier, I know that it wouldn't damage this isolator.
Furthermore, installing this device was a breeze – I didn't have to use any special tools, and it took me only about an hour to set up.
My only concern was that I didn't have power a couple of times, even with the switch turned on. It might've been a case of a loose internal connection because it worked again after some turns. It's something that you should check every now and then to make sure that you don't encounter any problems on your trip.
Pros
Key and switch anti-theft device
Small form factor makes it difficult to find
Included two keys for multiple users
Comes in a waterproof casing with an additional cover
Quick and easy installation
Cons
Loose internal connection could cause some issues
If you're looking for automobile and marine battery disconnect switches, then I'd highly recommend this product to you. Its small form makes it perfect for all types of cars, and its waterproof casing and cover make it ideal for boats and other marine vehicles.
8. Spurtar KC-150122 Disconnect Switch
The Spurtar 12 volt battery disconnect isolator is a simple tool to help preserve and extend your battery's life when it's not in use. By physically opening the circuit, power is cut off from the system, avoiding parasitic drain on the battery.
Its 500-amp surge and 125-amp continuous rating allow me to use it on varying systems – from 6 volts up to 24 volts DC. This makes the switch very adaptable – I can use it on my car, truck, boat, bike, and even my home generator.
I also love its mechanism simplicity – rotate it clockwise a couple of times to turn on the power and anticlockwise to cut it off. Easy!
And despite its very reasonable price, it's made of zinc alloy, giving it corrosion resistance and increased durability. This product really gives me the most bang for my buck.
The only downside of this kind of switch is that it installs directly to your battery. It's not a problem if your battery is inside your vehicle's cabin – but if it's in the engine bay or in the trunk, it might be a bit inconvenient to access all the time.
Pros
Physically isolates the battery from the electrical system
500-amp surge and 125-amp continuous capacity
Works for systems from 6 volts up to 24 volts DC
Made from zinc alloy to avoid corrosion and increase durability
Budget-friendly with high quality
Cons
Connects directly to the battery and could be hard to access
This item is effortless to use, easy on the pocket, and a breeze to install. If you want something that will cost little and you can easily hook-up yourself. Then this is the one for you.
9. Big-Autoparts 6276 Disconnect Switch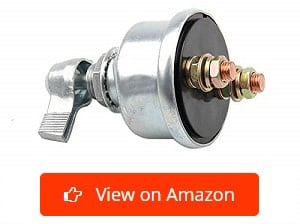 This heavy duty battery disconnect switch from Big-Autoparts is a safe and efficient tool for physically disconnecting batteries from your equipment electrical system. It prevents power drain due to parasitic consumption and helps prevent incidents when you're working on it.
It's rated 20 amps at a continuous 12 volts DC or 40 amps at 6 volts DC. Its maximum momentary capacity is 125 amps at 12 volts or 250 amps at 6 volts. Because of this flexibility, it allows the switch to be handily used in multiple types of vehicles.
One of the best things that I like about this product is the 2-year warranty that Big-Autoparts offers. I always respect a company that would stand behind their work. Furthermore, it gives me the confidence to choose that model over other options simply because of this guarantee.
When I inspected the switch, I realized how the company could offer such a generous warranty. The robust zinc alloy material used for the body and efficient copper metal for the contacts would genuinely extend this switch's life over other competitors.
My only issue with this is that it doesn't come with a faceplate. The switch's base must be installed under the panel you wish to place it at, which could be an issue for some smaller vehicles.
Furthermore, it doesn't have an on/off indicator on itself. You'll have to mark it on your panel – which could be an issue if you don't want to place unnecessary inscriptions on it.
Pros
Physically disconnects the battery from the electrical system
Prevents parasitic power consumption
Maximum momentary rating of 250 amps at 6 volts
Comes with a two-year manufacturer's warranty
Made from zinc alloy and copper for durability and efficiency
Cons
Faceplate/baseplate not included
This car battery disconnect switch works with various voltages, which gives it the flexibility to be installed in different vehicle types. Furthermore, the guarantee offered by the manufacturer makes it an excellent value product.
10. QuickCar Racing 55-010 Disconnect Switch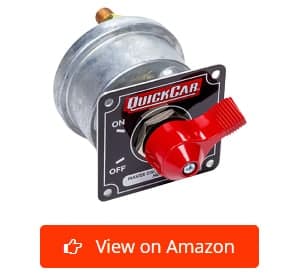 The QuickCar Racing Products Master Disconnect Switch is a panel-mount, rotary device with a 125 amp, 12 volt DC rating. It is designed to cut off the electrical power from the rest of your system and help preserve battery levels when your car is not in use. It can also be used to switch off your vehicle in case of an emergency.
When vital maintenance work needs to be done trackside, a simple flick of the switch automatically cuts off electrical power, letting my team work safely and quickly. They don't have to disconnect the battery when conducting their work, shaving off precious seconds from the stop.
I also love its faceplate design – its clean black background, with white markings and red branding, fits well in my car's overall theme. The switch is also easy to handle, even when I'm wearing thick, fire-resistant gloves. I really appreciate that I don't have to fiddle with it when turning it off.
And although it's not rated waterproof, I frequently have my off-road dirt racer sprayed inside-out, and I haven't experienced any problem with it. I know that I can rely on this switch for safety and convenience.
You have to keep in mind, though, that this switch doesn't come with instructions. You must have experience working in automotive electrical systems to install this, or better yet, bring it to a professional.
Pros
Cuts off electrical power from the system
Can be used to switch off the car in case of an emergency
No need to remove the battery when working on trackside maintenance
Clean faceplate design with an easy-to-use handle
Able to withstand water sprays
Cons
Switch doesn't come with instructions
This is the perfect switch for sporting vehicles, it's reliable, durable, and easy-to-use, it can also be used in emergencies and lets your team carry out trackside repair on your car much more quickly.
11. KTNNKG ZA-P1GM-DYPF Disconnect Switch
The KTNNKG Remote Battery Disconnect Switch is a unique battery disconnect switch that allows you to conveniently disconnect/reconnect your car battery remotely. It's a very convenient feature because I no longer have to go to the power panel or engine bay to access the switch. It's perfect, especially for cars with interiors that you don't want to modify.
The feature that garnered my interest in this product is the included remote. To tell you the truth, it's my first time encountering such innovation, and I wondered what purpose it has for me. Upon further introspection, I think it's perfect for my wife, who likes to keep her car stock. She hates modifications and believes that what the manufacturer made is already enough.
When I installed this in her car, she was quite happy because she can now disconnect the battery from the vehicle without anyone knowing where the switch is. Reconnecting the battery to the electrical system is just as discrete, with a remote that looks like a typical car alarm remote.
You can also use this to remotely switch off your vehicle from 160 feet or 50 meters– and if you choose the optional, more powerful remote, you can go as far as up to 320 feet or 100 meters! So if you catch would-be thieves taking off with your car, you can stop them in their tracks with a press of a button.
This really is one of the most innovative automotive battery disconnect switches that I've ever seen – not only does it serve as a battery protector, it also serves as a discrete anti-theft device.
You have to take note, though, that the switch itself can get pretty warm. I highly recommend installing it in a place where there is airflow to help it cool down. Also, don't place the controller near it because it can negatively affect its signal receipt range.
Pros
Connects and disconnects your battery remotely
Physical switch no longer needs to be placed on an accessible port
Excellent choice for those who don't like visual modifications on their cars
Remote range of 160 ft, up to 320 ft for the optional long-range transmitter
Discrete to use, perfect as an anti-theft device
Cons
The switch can get pretty warm
This automatic battery cutoff switch is an excellent choice if you're concerned about your vehicle's security. It's discrete and easy to use and will even thwart attempted carnappers if you catch them before they get far.
12. Audew 12V-48V Disconnect Switch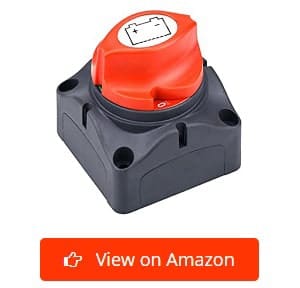 The Audew Waterproof Disconnect Switch is a panel-mounted rotary switch used to secure and isolate a vehicle's electrical system. It's designed to handle up to 275 amps of continuous power, at 455 amps intermittently, and a maximum of 1,250 amps of momentary current at 12 volts DC.
What I like best about the switch is its thick ABS plastic case. This solid cover makes me confident that I won't get accidentally grounded when turning it on. Moreover, the included four-set mounting screws make for a more secure setup.
I appreciate that the company added a rear cover for this disconnect switch. It protects it against the elements, especially when I'm driving through extreme weather fronts. This keeps moisture out of the system and prevents any electrical short.
I also love the clean and straightforward design of the switch. It's effortless to use and would fit well in the instrument panel of my motorhome. And since it's waterproof, I also plan to get one for my boat.
The one thing that I noticed, though, is that the bolts are a bit longer than required. Although it's nothing that a little trim wouldn't solve, it can still be a hassle for some users.
Pros
Handles up to 1,250 amps of momentary current at 12 volts DC.
Protected by a solid ABS plastic case
Comes with a rear cover to avoid electrical shorts
Clean and straightforward design makes it simple to use
Waterproof design – can also be used on boats and other watercraft
Cons
Longer than required bolts might require trimming
Whether you own a boat, an RV, or a truck, this multipurpose switch would help you isolate your battery and preserve its power. It's an excellent investment, giving you an assurance that your vehicles will start even after prolonged storage.
What to Look for When Buying a Battery Disconnect Switch
There are multiple kinds of disconnect switches available on the market. Let's break it down by purpose, type, and application to help you choose the best one for you. Once you've considered these, you can make an informed choice to fit your vehicle and lifestyle.
Purpose
These switches have two primary purposes – the first one is to preserve your battery power. Most modern vehicles, despite being turned off, still consume a minute amount of energy. This is not a problem for most regularly used cars– because every time you switch it on, the battery gets fully charged.
But once a vehicle is stored or parked for extended periods, like three weeks or more, this minute consumption could actually drain your battery. The best way to avoid this is to physically disconnect the battery from the system – but since it is quite inconvenient to go under the hood with a wrench when you park it, then a battery disconnect switch is a much better alternative.
Another purpose of the best battery disconnect switch is to protect your vehicle from being stolen. By cutting off the power from the motor, it becomes impossible to start the engine. While carnappers know about this technology, they are less likely to succeed when a car they're attempting to steal won't start.
Type
There are multiple types of switches available for you to choose from. The simplest available is the knife blade switch, which consists of two copper posts connected by a brass lever. By simply lifting up or bringing down this lever, the circuit is either closed or opened. This type is the easiest to install. Although it is usually directly placed on the battery.
The most common one is the rotary switch, which allows you to turn it on or off by turning a knob – either on the control panel or mounted directly on the battery. A variation of this is the lever switch – wherein a lever is used instead of a knob. Although this switch is almost the same in principle, it's much easier to use because it allows better grip and leverage. This is the preferred switch by most racers.
The advancement of the lever-type switch led to the key and switch mechanism. Much like your vehicle's ignition, this system requires a unique key to turn the switch – without which you cannot have power. This type of disconnector is primarily used for anti-theft.
A more advanced option for disconnecting your battery is the remote switch. It acts under the same principle as the other switches I've previously discussed, but instead of using a physical button or lever, a radio-controlled electromagnetic trigger is used instead. This acts as a secondary disarming system for your vehicle and is also generally used as an anti-theft device.
Lastly, there's the relay isolator. This device is designed for vehicles that utilize multiple battery systems, usually RVs. When the ignition is off, it physically isolates the secondary battery but automatically connects it to the system when the power is on. That means it gets charged when the motor is running but is preserved when the car is parked.
Application
There are two common places that a battery disconnect switch is installed on – either directly on the battery post or on the dashboard or instrument panel.
If you rarely use or store your vehicle and don't want to spend too much, I recommend that you go with the one installed on the battery post. It's easy to install, simple to use, and requires almost no maintenance. The only downside to it is that it can be quite inconvenient to access.
If you want a battery disconnect switch inside car, I'd recommend that you go for the instrument panel-mounted one. It's easy to access, and you can place it in a discrete position to make your car a bit more secure.
However, if your primary goal is to protect against stealing, you could purchase the remote disconnector or the key and switch mechanism. If you opt for the former, it can be hidden in the car, and you don't need to physically access it just to turn it on or off. For the latter, you can place it in a more conspicuous position since it requires its own key to operate.
Other Important Factors to Consider
Aside from the options or kinds of switches available on the market, here's some more information on how these switches work and why you should have them.
What Is a Battery Disconnect Switch?
These switches physically cut your battery's connection, usually the negative port, from the rest of the system. Doing this prevents residual power from being consumed by your vehicle, especially when it's stored for an extended period. This extends your battery's life and prevents you from returning to a car with a dead battery.
Another reason to use this device is if you're worried that your automobile might get stolen. By cutting off the power from the system, a would-be thief would have a harder time stealing your car. Furthermore, a non-working vehicle would serve as a deterrent because no carnapper would want to take a "broken" car.
Who Is This For?
This is typically used by people who have recreational vehicles that they only use occasionally. If you have an RV or a boat that you only use once or twice a quarter, I'd recommend installing this. You can be confident that your vehicle will start immediately because your battery isn't flat out.
How Does It Work?
Battery disconnect switches work by physically cutting the battery's connection and the rest of the electrical system. This can be accomplished in multiple ways – the simplest being a manual lever. Some switches use a screw-type knob to open the circuit, while some use an internal switch mechanism.
The most advanced options are the ones that utilize remotely-controlled electromagnets or even automatic relays. Despite all these options and innovations, the basic concept is the same – cut the power by opening the circuit.
What are the Different Types of Battery Disconnect Switches
The most common type would be the rotary switch, followed by the lever and knife switches, and then finally the remote and the relay switch. There are also panel-mounted, and battery post mounted switches.
There are also two different primary purposes – the first one being battery preservation and the second one as a carnap deterring device.
Why do you need a Battery Shut Off Switch- The Benefits of a Battery Shut Off Switch
With a switch installed in your vehicle, you not only preserve its battery when stored or not in use, but it also acts as an anti-theft device. This is because most carnappers are always on the lookout for possible witnesses. The longer they have to start the stolen vehicle clandestinely, the greater their chances of being discovered.
If a vehicle is difficult to start because its battery isn't connected, then, chances are, the felons would simply move on.
Frequently Asked Questions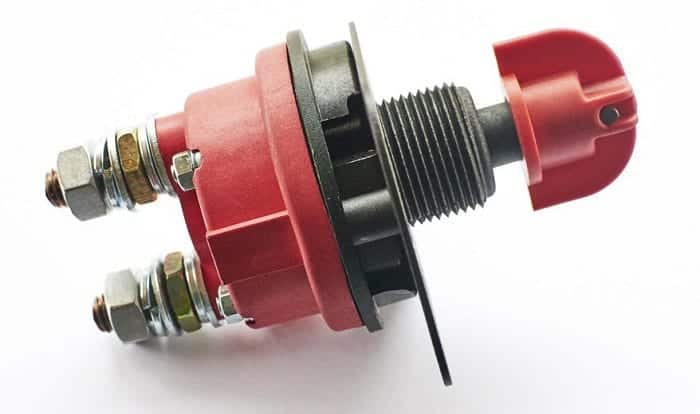 Here are some of the common questions that my friends ask me. I'll share them with you as they might be your questions as well.
What are the Most Trusted Battery Disconnect Switch Brands?
Ampper offers more different types of battery disconnect switches, which is why I think they're quite reliable. I've seen more of my friends going with this brand recently, and I haven't heard of any complaints from them.
Another brand that I noticed is the QuickCar Racing Products model – it seems to be preferred by professional racers. I believe that they favor it over the others because it is easy to use and very reliable. They wouldn't stake their careers on something that could fail them while on the track.
Should a Battery Disconnect Switch Be on the Positive or Negative?
Switches like these are typically installed on the positive terminal of the battery. This is because the negative terminal on most batteries also serves as the ground. If you cut off the system from the ground/negative, then there could be a chance enough energy potential is left in the system such that it could shock someone who unwittingly holds a wire.
However, some switches are designed to be installed on the negative side of the battery. You should read the instructions included in the packaging before doing any installation. If you're not sure, it's best to consult with a professional.
Can a Battery Disconnect Switch Go Bad?
Like with any other item, a battery disconnect switch could fail. However, barring manufacturer errors or problems, this is a rare occurrence. The most common problem that I've encountered so far is the lever breaking. This is usually caused by inferior quality materials from the manufacturer – that's why I prefer the brands above.
Another issue that I've encountered is non-functional switches (either permanently on or off). This is commonly caused by using a switch that is not rated to your alternator's maximum ampere rating. Keep in mind that, although most electrical systems have a continuous ampere rating (usually 100 amps), a surge of power could happen during startup, up to 1,000 amps.
Always check your vehicle's manual before making an order, and then countercheck the product's specifications to see if it will handle the loads that your vehicle will bring.
Where is the Battery Disconnect Switch?
There are multiple places where you can install these switches – the most common areas being the battery posts or under the instrument panel. Some also install them in the engine case.
However, it all depends on the vehicle and the owner. There is usually no fixed position to place these switches.
How Do You Test a Battery Disconnect Switch?
Testing these switches requires that you have an ohmmeter. Connect your tester's leads on both contacts of the switch and turn it on. The resistance should drop to nearly zero if the switch is okay. When turned off, then resistance should be at infinity because there shouldn't be any connection between the two ports.
If that is not the case, then the switch is definitely defective.
Where Can I Buy a Battery Disconnect Switch?
These are common items and are generally available in automotive and department stores. Their personnel should know this, and they could actually help you choose the correct one for you.
If you don't have the time to go out, you can actually order online. However, make sure that you read item reviews first before ordering and then testing it immediately upon receipt to ensure that it's working.
Conclusion
With the options that I have shared and the buyer's guide that I've discussed, you can now purchase the best battery disconnect switch that will fit your purpose. You don't have to buy any of the items above, but they're the best ones that I've found so far. If you see something better, do share it with me!
Just keep in mind, always buy what you need. Canvass well, and don't be dazzled by sales talk. When in doubt, read your manual and always consult a professional automotive electrician.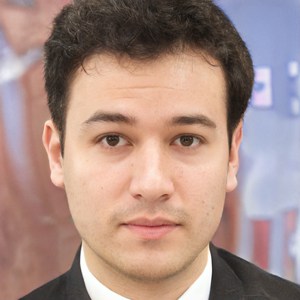 I am Edwin Jones, in charge of designing content for Galvinpower. I aspire to use my experiences in marketing to create reliable and necessary information to help our readers. It has been fun to work with Andrew and apply his incredible knowledge to our content.