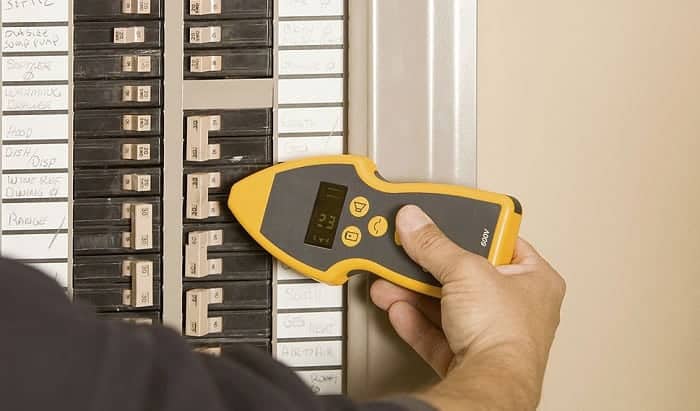 As an electrician working with home and office projects, a circuit breaker finder is crucial for my trade. This device saves me time and effort, especially when I have a big project with multiple circuit breaker banks.
If I need to switch off the current in one part of a structure that doesn't have a clear circuit diagram, I don't need to guess and throw switches randomly as I can easily find the right one by merely plugging the transmitter and pointing the receiver.
This review will share the best circuit breaker finder I could find in the market with you. That way, you won't have to wonder which brands to get. It is an excellent investment, making your work more efficient and safer.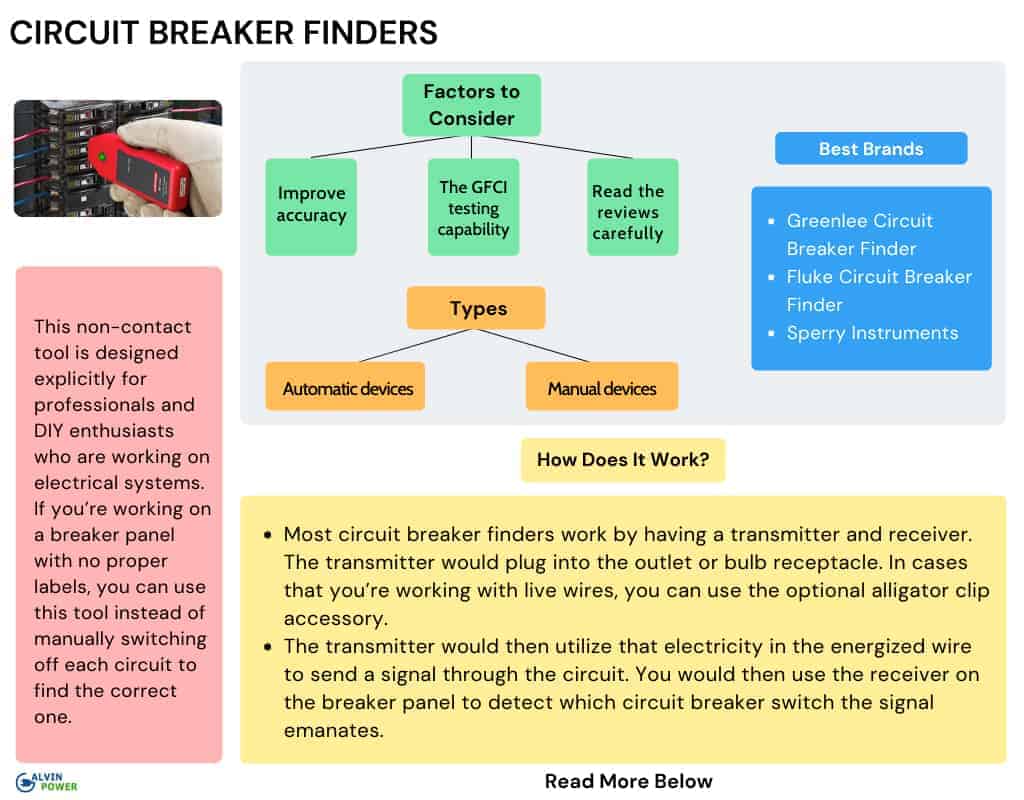 Best Circuit Breaker Finder Reviews
1. Klein Tools Digital Circuit Breaker Finder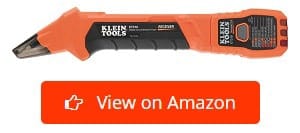 One of the best brands that professionals use is Klein Tools. I have seen many of my colleagues use several of their products, the ET310 included. This circuit breaker locator is easy to use. You simply have to plug the transmitter into the socket you want to test and then slowly scan the receiver on the breaker box.
I like this because the transmitter easily plugs into the receiver when you're not using it. I want to keep my tools neat and organized, and this innovation is a God-send for me. When setting up, I don't have to rummage through my fanny pack just to find either of the parts as they easily hang on my tool belt.
The Klein tools tester works on 90 to 120V AC circuits to cover most standard American electrical systems. If you're working on more specialized projects, double-check if the system voltage is compatible with this tool.
The three-pin plug fits our typical standard outlet. There are also optional accessories that you could purchase if you want to check other electrical fixtures – say, like a bulb socket or something similar.
The transmitter itself is quite advanced, as it doesn't just send out signals for determining a breaker's location. It can also test ground fault circuit interrupters or GFCIs if they're working correctly. The wiring condition codes are printed on the transmitter, making it easy for you to determine if the plug assembly was done right.
My only pet peeve about this is that there are times that the receiver is too sensitive. It will have been nicer if there's an adjustable sensitivity switch. If the plug that I'm testing is close to the breaker bank, I get positive results on the actual breaker, plus the two adjoining ones. I would have to reset it just to get a more accurate reading.
Pros
Easy and straightforward to use, just plug and detect
Neat and compact storage solution
Works on standard American voltage between 90 and 120 V
Three-plug pin fits most outlets, accessories available for other fixtures.
Includes GFCI testing on the transmitter
Cons
No sensitivity setting on the receiver
If you're looking for something straightforward and easy to use, this circuit breaker detector is best for your business.
2. Extech CB10 Circuit Breaker Finder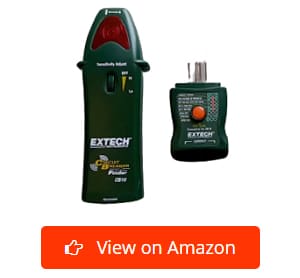 I find that the Extech CB10 is an excellent circuit breaker detector for most professionals. It is a compact device with advanced features while still retaining its plug-and-play capability. Not only does it locate circuit breakers, but it also tests receptacle wiring for correct and appropriate installation.
The innovation that I appreciate most with this handy tool is the sensitivity setting. When working on a vast structure, I would need the receiver set at its highest sensitivity for fast detection. But if the socket is nearby, I will lower the sensitivity for a more accurate reading.
I also like that the receiver's LED lights have an up or down indication, showing me the correct breaker's location relative to my hand's position. It makes me work twice as fast as compared to other electrical circuit finder brands.
One more thing that I loved about this is that it has a loud tone – especially useful when I'm working in a construction environment. The combination of LED and audible tones for finding the right breaker makes me work faster, despite the noise of the work around me.
One point of concern that I see is that the grounding pin is somewhat flimsy. You have to take care when plugging the gadget in and out, especially in newer outlets. If it breaks, you can still use the transmitter, but the receptacle wiring testing capability will be out.
Pros
Simple, plug-and-play use
Locates circuit breakers and tests receptacle wiring installation
Adjustable sensitivity for an accurate reading
Built-in LED indicators with a directional guide.
A loud, audible tone ensures you can see and hear breaker detection.
Cons
Care must be taken not to break the grounding pin when plugging the transmitter.
The Extech CB10 circuit breaker finder is straightforward to use. It makes my job easier and faster to accomplish, plus I can also use it to test my outlets' quality.
3. Ideal Industries 61-534 Circuit Breaker Finder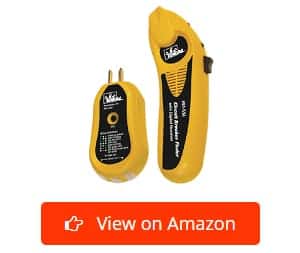 I find the Ideal Circuit Breaker Finder as one of the best tools available in the market. That is because of its self-testing capabilities – both for battery life and communication reliability between the transmitter/receiver combo.
When I switch the unit on and its battery level is too low to receive signals accurately, it will give me three beeps to warn me that it might not work correctly.
I can also test the receiver against the transmitter directly when I plug it in the socket for the first time. It will indicate that it's receiving signals even before I head back to the circuit breaker panel.
Furthermore, it comes with a non-contact voltage sensor (from 80-300VAC) that automatically finds the correct breaker in no time.
The power-saving option of the receiver automatically switches it off after 10 minutes of not receiving any signal. It is perfect for me as I sometimes forget to turn it off, especially when I'm engrossed in my work. That saves me money on battery – it might be a small amount, but every penny counts.
The Ideal 61 534 is one of the market's pricier models, but the investment is worth it for me. The Ideal Industries company is one of the oldest and most established electrical testing equipment makers. I am assured of the quality of the tool with its name.
Pros
One of the more reliable models in the market
Battery level warning signal to ensure accurate readings
Available transmitter & receiver communication testing
Power-saving option to conserve battery life
Created by Ideal Industries, with more than 100 years of industry experience
Cons
One of the more expensive models on the market
If you can spare the expense, then the Ideal Industries 61-534 is an excellent circuit breaker tracer you can include in your toolbox.
4. Klein Tools ET300 Circuit Breaker Finder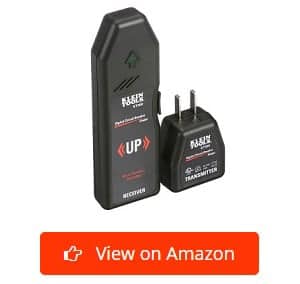 I was looking for a digital circuit breaker finder, and I stumbled upon the Klein Tools ET300. It's one of the more advanced finders that I have found on the market, boasting a built-in microprocessor to help process and identify the transmitter's signal.
If there's one thing that I love about this, the Klein Digital Circuit Breaker finder has accessories designed explicitly for the Klein ET300. You can order a bulb circuit adapter and alligator clips set to use the transmitter on non-outlet circuits.
There's also a case that's specially designed for the gear and its accessories so you can carry them all together in one small package.
The 1000-feet range of the transmitter is also handy, especially when I'm working on big projects. While it may sound excessive, circuits in some structures can actually travel quite a distance, especially if you consider the building's layout.
It works on systems up to 120 V, so you can use this on most home systems. However, you should double-check the voltage if you're going to use it in an industrial or specialized setting.
Other features on the receiver that I appreciate are the flashing arrow indicator, which tells me the breaker's location about the apparatus, and the auto power-off battery saving feature.
There one thing I wish that they included, though: the ability to attach the receiver to the transmitter. That way, I can hold the device as one small package and mount it in my tool belt. Sure, you purchase the case, but it's a bit bulky compared to just having both as one item.
Pros
Built-in microprocessor for more accurate signal processing
Optional bulb circuit adapter and alligator clips for more flexibility
A specially designed case for storage and transport
1000-feet working range for large projects
Works on most home and office electrical systems – up to 120 V
Includes an arrow indicator and auto power-off features
Cons
The receiver isn't attachable to the transmitter
If you value accuracy, I would recommend the ET300 for you. Its signal processing capabilities and accessories make it an accurate circuit breaker finder for light switch, plugs, and open wiring.
5. Sperry Instruments CS61200P Circuit Breaker Finder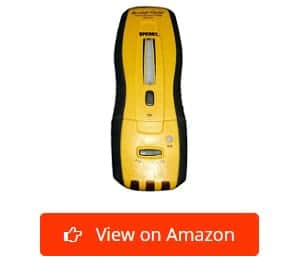 I cannot claim that this is the best circuit breaker tester in the market, but the CS61200P circuit tracer comes close. It has several features that make it easier to use than most other testers, plus it comes as a complete package!
The best feature that I like about this device is that you can mount the receiver magnetically on the breaker panel. You then use the included probe to test each breaker. This arrangement lets me see the results clearly and also requires less effort to use.
I also appreciate that I no longer have to purchase additional accessories, as everything that I might need comes in the box. The alligator leads and bulb sockets come with the purchase, making it the circuit tracer for the money.
Its integrated lead and probe storage and the built-in receiver plug on the transmitter make it one compact gadget. I can hang it on my tool belt, knowing everything that I need is just right there. It makes my life simpler and more manageable.
The massive LED indicator on the receiver's face and the loud audible tone make sure that I don't miss the breaker that I'm looking for. It is especially useful to test out circuits and outlets in an on-going project when there's a lot of construction noise going on around me.
This transmitter-receiver system work on 120 V, 60 Hz AC systems, so you can safely use this on most standard home and office electrical circuits. However, be sure to check the circuit specification if you're going to use it in an industrial setting.
The only downside that I encountered when using this device is that it doesn't have a sensitivity adjustment. It would be handy, especially if I'm working on multiple outlets in different areas of a project.
Pros
The receiver mounts magnetically on the breaker panel, easy to see and use
Includes a complete accessory kit, with alligator clips and bulb sockets
Compact when stored, with integrated lead and probe kit storage
Massive LED indicator and a loud audible tone for breaker detection
Works on all standard electrical circuits at 120 V and 60 Hz
Cons
No built-in sensitivity adjustment
This is an excellent circuit breaker identifier to purchase. Furthermore, it is not much more expensive than other models that are without accessories. It's definitely a good buy!
6. Amprobe 3472789 BT-120 Circuit Breaker Tracer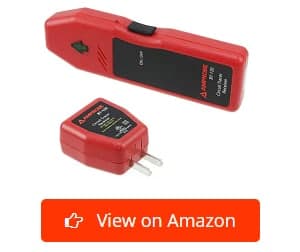 If you need something simple that will work straight out of the box, the Amprobe BT-120 Circuit Breaker is what you need. This equipment will work on all standard electrical systems rated from 90 to 120 V, so I can use it on most of the home and office projects that I undertake.
The detection system is as easy as plug and test – just plug the transmitter and then set the receiver on the circuit breaker panel for testing. It cannot get any simpler than that. I liked this so much because I don't need to train my people to use this!
I also like that the receiver has an automatic sensitivity adjustment. Its on-board system can adjust the power that it emits so that the receiver will only receive the signal on a single breaker. This feature lets me work much faster, negating the need to set the receiver sensitivity on my side manually.
The LED indicators on both the transmitter and the receiver also make my work easier. The red transmitter LEDs light up to indicate that the receptacle it is plugged in has power.
When you detect the right breaker with your receiver and switch it off, you can confirm that by checking if the transmitter LED is off. It is a simple but ingenious workflow system.
I just wish that the receiver has directional LED lights that show me how to move it when I'm on the breaker board. It is especially useful when I'm working on large structures with more than two dozen breakers.
Pros
Easy to use and works straight out of the box – no training needed
Compatible with all home and office electrical systems
The receiver has an automated adjustable sensitivity for faster detection.
LED indicators on both the transmitter and receiver
Rated for the standard 90 to 120 V circuit
Cons
No directional LED lights on the receiver
If you want something straightforward and easy to use, the Amprobe tester is what you need. You and your people will appreciate its simplicity.
7. Sperry Instruments CS550A Circuit Breaker Finder
Another circuit breaker finder I can best recommend for easy use is the CS550A. I like this device because of the quirky shape of its receiver. It might be shaped like a banana, but it makes the receiver so much easier to hold and use.
The transmitter itself is safe to use near sensitive equipment. That means I can work confidently in any project without worrying about other appliances plugged in other outlets in the same circuit.
And since I don't need to interrupt the entire system when conducting my test, other contractors working on the project can go on while doing my job.
The receiver's audible alert tones and bright LED indicators make it a lot more reliable to use. Those features are essential, especially when I'm working in a crowded and noisy construction environment.
As the gadget is rated for 120V circuits at 50 to 60Hz, I can use it on most home and office projects that I undertake. I am sure that this finder will work on any site that I am working on.
I feel confident working with this model as it is UL listed. That means I am assured of its build quality, and it has met the requirements for me to operate it safely in most conditions.
If there's one thing that kind of bothers me, it's that the receiver and the transmitter do not join together as one item. That kind of makes it harder to store and transport – and it won't fit nicely into my toolbelt.
Pros
Its unique shape makes it easy to hold and operate.
Can be used near sensitive electronics
No need to interrupt other circuits when conducting tests
Loud, audible tones and bright LED indicators for reliable reading results
UL listed to ensure standards of safety have been met.
Cons
The receiver and the transmitter come separated.
I like this circuit breaker finder as it's simple to use, and its innovative shape is easier on the hands. I can accomplish more much quicker with the CS550A circuit tracers.
8. VersativTECH Circuit Breaker Finder Multitool
I find the VersativTECH Circuit Breaker Finder a handy tool for me. Aside from being a circuit breaker finder and a GFCI tester, it also has a built-in LED light source, ensuring that I can work in all lighting conditions. This is particularly useful, mostly if the project I'm working on hasn't completed its lighting yet.
One more thing that I absolutely appreciate is that the instructions to use the tool is printed on the handle. So if there are times that I have to send one of my workers to the project site, I could just hand them the tool without having to train them on its use.
The transmitter also has a built-in GFCI tester to quickly identify the five most common outlet faults. Just by looking at the LED indicator lights, I can determine its problem and fix it immediately.
Its built-in microprocessor adjusts the sensitivity of the receiver automatically. Calibration takes less than a minute, and I can get results within seconds after that. I could cut down my testing from about ten to fifteen minutes if I do it manually to just less than two.
The kit includes a carrying case, ensuring that I can safely place the tool in my toolbox or toolbag without scratching it up. This, plus the included 9-volt battery, lets me have a circuit breaker finder and outlet tester always handy in my work bag.
My only point of contention with this model is that it doesn't include any accessories for testing bulb outlets and live wire. Those accessories are essential, especially if I'm working on projects that haven't finished construction yet.
Pros
LED light included in the receiver to light up dark work areas
Instructions for use are printed on the handle for easy reference.
Built-in GFCI tester to determine plug faults
Microprocessor-powered automatic sensitivity adjustment
Comes with a carry case and 9-volt battery in the package
Cons
No accessories for testing bulb receptacles and live wire
I highly appreciated the LED light built-in this tool, as I no longer need to include a separate torch in my work bag. I'd recommend this for those who want to have fewer tools yet retain the same functionality in their kit.
9. Southwire 41210S Circuit Breaker Finder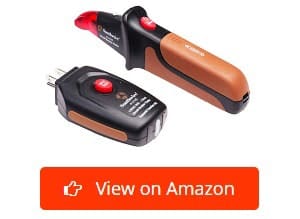 One of the breaker finders that I like is the Southwire Circuit tester. It's a receiver and transmitter tool, with included accessories for multiple setups – like bulb receptacles or live wire.
The transmitter also tests GFCI protected outlets, making sure that it has been installed correctly. With a single press of the red button on the unit, you will immediately see the plug's status.
What I appreciate the most about this tool is its 3-minute instructional video. Their video showed how quick and easy it is to use it—anyone who has seen that video will be able to correctly and reliably operate the device.
This appliance will work on standard 120 V circuits, so I know that it will cover most of the home and office projects that I undertake. However, I have to proceed with caution if I have industrial projects because they sometimes use higher voltages.
I like that it automatically adjusts its sensitivity when I'm calibrating it on the breaker panel. That way, I save time and wouldn't have to manually figure out what setting I should place the finder when looking for the right breaker.
Overall, it's a suitable gadget for most professionals like me. I just wish that the transmitter could plug into the receiver for safekeeping. That way, I can keep it as a single unit on my toolbelt for ease of access when working on a project.
Pros
Includes accessories for working with plugs, bulb receptacles, and live wire.
Transmitter also tests for GFCI protected outlets.
Instructional video on the website explains the device's use well.
Works on all standard circuits up to 120 V
Sensitivity automatically adjusts during calibration.
Cons
Transmitter and receiver doesn't plug together for safekeeping.
I could recommend this circuit breaker finder to all my friends. I like it, mainly because of the manufacturer's instructional video, ensuring you use it correctly.
10. Hi-Tech Electronics Digital Circuit Detective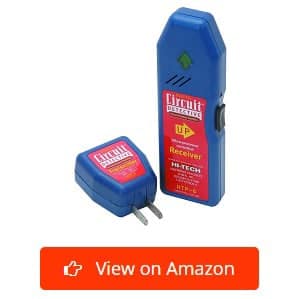 The Digital Circuit Detective HTP-6 Digital Circuit Breaker Identifier is a simple, easy-to-use tool. I like it because I can use it straight out of the box. All I have to do is to plug in the transmitter in the socket that I'm testing, and then run the receiver over the breaker panel.
I like that the tool is fully automatic – I don't have to make any adjustments. It will calibrate itself for reliable identification. Its built-in signal processing unit allows the receiver to have those features.
The receiver has a flashing arrow that allows for easier breaker identification. It will light up repeatedly when you are over the correct switch. With this indicator, I won't miss what I'm looking for at all.
It also has an auto-off function to conserve battery life and simplify use. When the receiver is not detecting any signal for over 10 minutes, it will automatically switch off. A single press of the power button is enough to power it on, and it will instantly begin detecting.
This tool is specifically designed to work with 90 to 120 V systems, so I can use it for most of my home & office projects. I can also purchase the optional case, alligator clip, and bulb receptacle adapter accessories for more flexibility.
However, I do wish that the transmitter has a built-in GFCI tester. I typically check the outlets during my circuit breaker identification to make sure that they're working correctly. But since this model doesn't have that function, I'll have to use a different tool to conduct the test.
Pros
Simple to use, works straight out of the box
Fully automatic, no sensitivity adjustment necessary.
Flashing LED arrow indicator ensures you don't miss detection.
Auto-off function to conserve battery life.
Works in all systems with 90 to 120 V output
Cons
The transmitter doesn't have a built-in GFCI testing capability.
I'd recommend this circuit breaker tool as it works straight out of the box and is very simple to use. The automatic adjustments also make sure that no matter how far or near is the receptacle you're detecting, you can find it reliably within a few minutes.
Hi-Tech HTP-7P Digital Circuit Breaker Detective (Outdated)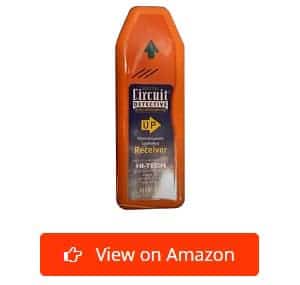 If you're looking for a more advanced circuit breaker finder, the Digital Circuit Detective HTP-7P is a good option. It works on an AC circuit with up to 280 V – covering both standard and high-powered circuits.
The tool comes in its own hard case, ensuring they're protected when not in use. Each item has its own pocket, so you are sure that you're not missing any part or accessory when packing up.
I like that the receiver has a smart-switch auto-off feature, meaning that it will switch itself off after a few minutes of not gathering any signal. This makes me work faster as I can simply pocket the device after finding the correct breaker switch.
The fully automatic system has a built-in signal processing unit so that it will automatically adjust its sensitivity. Running the receiver over the breaker board a couple of times will calibrate itself and reliably pinpoint the breaker that I'm looking for.
The instructions are also printed on the interior of the case–as long as I have the tools, I also have the reference on how to use it properly. That is especially handy when I lend the breaker finder to my people when I'm not available to go out in the field.
One thing that I wish they would do, though, is to allow the transmitter to plug into the receiver for keeping. If the manufacturer included that feature, I could easily place the device on my toolbelt for easy transport within the project site.
Pros
Works on all circuits, up to 280 V
Hard case with item pockets included.
Smart-switch auto-off feature for the receiver to save on power
Fully automatic sensitivity adjustment with the built-in signal processing unit
Printed instructions on the case for easy reference anytime
Cons
The transmitter/receiver can't plug together as one unit.
This is one of the more powerful detectors on the market. I would recommend this to anyone working on more significant projects, especially those in the industrial field.
Zircon Breaker ID Pro Kit (Outdated)
When I work on industrial or specialized projects, I use the Zircon Breaker ID Pro Kit. What makes this unique for me is that its rated capacity is up to 277 volts. Besides regular home and office projects, I can also use this in other contracts that utilize higher voltages.
The tool itself comes as a kit. So whether I work at a nearly-completed project site with sockets and bulb plugs or a system that is just in its early stages with exposed wires, I can use this same tool.
The plug comes as singular blades that can be attached to the transmitter independently. With this system, I can work on both US and international plugs. It is advantageous for me, especially when I'm working in hotels or with international clients.
I also like it calibrates automatically – when using it for the first time in a system, I just need to run the receiver over the panel once to set its sensitivity. Then, run it the second time to find the target breaker. Two runs and my task is done!
A big bonus for me is that the tool comes in a sturdy aluminum case. When I meet with clients at a project site, having this case with the tools slotted inside their designated places gives me a sense of professionalism.
If there's one thing that I miss about this, it doesn't have a GFCI testing function. I would have to use a different tool to check the outlet. While that is not a deal-breaker for me, my life would be much easier if it had the feature
Pros
Works on higher voltages, up to 277 V
Comes as a complete kit – including bulb and alligator clip accessories
The plugs come as individual blades, compatible with US & international outlets.
Automatic calibration to set the correct sensitivity level
Hard carrying case included
Cons
No GFCI testing function included
The Zircon Circuit Breaker Finder 220v is a very good option if you want a complete package. More than that, the receiver allows you to use it on international systems, giving you the flexibility to work with more clients.
What to Look for When Buying Circuit Breaker Finders
The number one thing that I look for in a circuit breaker finder is its rating. At the very least, I want a device that is UL-certified. Because I am working with high voltages, it wouldn't do good if my tester shorts the circuit I'm testing.
Another feature that is important to me is the GFCI testing capability. This is a common feature for finders, but not all devices have this. It is advantageous for the tester to have this option, as GFCI is an important safety device in most homes.
Finally, I always read through device reviews before making any purchase decisions. I make sure that it is consistently operating with accuracy because it is no good for me if I use it in the field and won't give me my desired results.
Other Important Factors to Consider
What is a Circuit Breaker Finder?
This non-contact tool is designed explicitly for professionals and DIY enthusiasts who are working on electrical systems. If you're working on a breaker panel with no proper labels, you can use this tool instead of manually switching off each circuit to find the correct one.
This is important, especially if you're working with systems that cannot be turned off – like computer servers, security feeds, and even life support.
You have to note, though, that although the transmitter of the circuit breaker finder emits a strong signal that you can use the receiver to trace the circuit, it is not a wire tracer tool. There are specific tools that are specifically used to trace wiring, which you should use.
How Does It Work?
Most circuit breaker finders work by having a transmitter and receiver. The transmitter would plug into the outlet or bulb receptacle. In cases that you're working with live wires, you can use the optional alligator clip accessory.
The transmitter would then utilize that electricity in the energized wire to send a signal through the circuit. You would then use the receiver on the breaker panel to detect which circuit breaker switch the signal emanates.
To improve accuracy, you typically have to calibrate the receiver on the breaker panel by running it over through all the switches once or twice. There are also some receivers with manual calibration, so you can start searching for the signal by manually adjusting the device's sensitivity.
What are the Different Types of Circuit Breaker Finders?
A circuit breaker locator has two primary types: automatic devices and manual devices. The automatic finders have a built-in signal processing unit that will adjust its sensitivity based on the signals it receives during the calibration phase.
On the other hand, the manual ones have a built-in sensitivity switch for the proper settings.
The automatic models are usually more comfortable to use, requiring little experience. Still, they may take a little bit longer than the manual mode as you have to calibrate them before each use. Although harder to learn at the start, the manual devices can be faster to work with, mostly if the operator is used to it.
Why Do You Need a Circuit Breaker Finder?
Circuit breaker finders are handy tools, as they let you know the correct breaker that a particular receptacle is connected to. This is crucial for safety, as it is dangerous to work on an energized circuit.
These machines will also save you time and effort because you no longer have to figure out if you're toggling the correct breaker manually. With a finding device, you won't have to switch off a breaker and then go back to the plug that you're checking just to see if it's the correct one.
Several circuit breaker finders also have built-in GFCI testers. This is an essential feature as it can test if the GFCI in the outlet is working and properly configured. If you're an electrician or electrical professional, you cannot live without one of these tools.
Frequently Asked Questions
What are the Most Trusted Circuit Breaker Finder Brands?
Some of the well-known brands are the Greenlee Circuit Breaker Finder and the Fluke Circuit Breaker Finder. They are trusted by many professionals but also come at a steep price.
If you're looking for a more value for money model, I would recommend the Sperry Instruments CS61200P. Its unique build makes it very convenient to use. Sperry Instruments itself is a trusted brand, not just in circuit breaker finders but also in other instruments.
You can check other electrical circuit tracer reviews. I'm sure that you'll find many that would recommend the same or similar brands.
How Do I Find a Circuit Breaker?
Most circuit breakers banks are located inside the house, in a recessed metal box. They are typically found in the kitchen, garage, pantry, or basement – although they can also be outside of the structure at times.
If you don't have a circuit breaker finder, the only way of finding the correct breaker is to do it manually – plug in an appliance on the outlet that you're checking and then switch off the breakers in the bank one by one. Keep on doing this until you find the correct breaker.
It is a tedious task that could take up to half an hour if you're working on a large structure. That is why circuit breaker finders have been developed. With this tool, the correct circuit will only take minutes to find.
How Do I Find a Circuit Breaker Without Power?
The most reliable way to find a powerless circuit breaker is to use a wire tracer tool. These are specifically used for those applications and will work whether the circuit has power or not. These are typically pricey, though, and may not be an option if you're using it only once.
If you're stumped with one circuit, don't try to do it yourself. These energized wiring on open circuits could be dangerous, and I recommend hiring an electrician who will do the job safely and correctly.
Where Can I Buy?
You can read through circuit breaker finder reviews, which typically have links to the products that they're reviewing. There are many buying guides out there which you can rely on. Some of the websites you visit may earn on affiliate sales, but they will still generate reliable reviews.
Additionally, while you can purchase these off Amazon-com, I usually prefer to buy directly from the local hardware retail store's website that I buy from, but that's just my preference.
Alternatively, some manufacturers allow you to purchase directly from their website while others recommend a retailer near you. Or you could head to a retail store nearby if you want to see the unit for yourself before making the purchase.
What is a GFCI?
A ground fault circuit interrupter or residual current device (RCD) is a type of circuit breaker that shuts off electrical power. While typical circuit breakers trip when the current is high – like 10 to 20 amps, the GFCI will trip on differences as low as 0.005 amps.
The circuit breakers in the breaker bank are designed to protect against overheating and fires. On the other hand, GFCIs, which are usually seen as the red and black buttons on outlets, are designed to protect humans from electrocution.
Conclusion
Circuit breaker finders and testers are simple devices that will save you a lot of time and money. With this tool, you no longer have to manually switch off each breaker switch only to find the correct circuit breaker. This is also crucial if you're working with circuits with systems that rely on constant power – like PC and internet servers, camera and security systems, hospital, and life support systems, among others.
This also improves your safety, as you can be sure that if you're working on an electrical circuit, it has been shut off completely and will not electrocute you.
Now that you have read through this article, you can now purchase the best circuit breaker finder that will save you time and effort on all your projects. Leave a comment to contact us if you have any questions regarding the products on this list.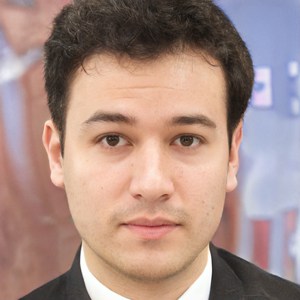 I am Edwin Jones, in charge of designing content for Galvinpower. I aspire to use my experiences in marketing to create reliable and necessary information to help our readers. It has been fun to work with Andrew and apply his incredible knowledge to our content.