One of the most overlooked yet most important parts of our home is the breaker bank. This is the primary electrical switchboard of any structure, making it essential for all its occupants' safety and convenience. It is the exact reason why I am looking for the best circuit breaker panel.
I found many options available in the market. I have reviewed ten promising brands for my projects, and I'm going to share what I discovered with you. I hope that this will help you make the right choice when you're building your dream home.
So, let's get into it and find the best electrical panel for you!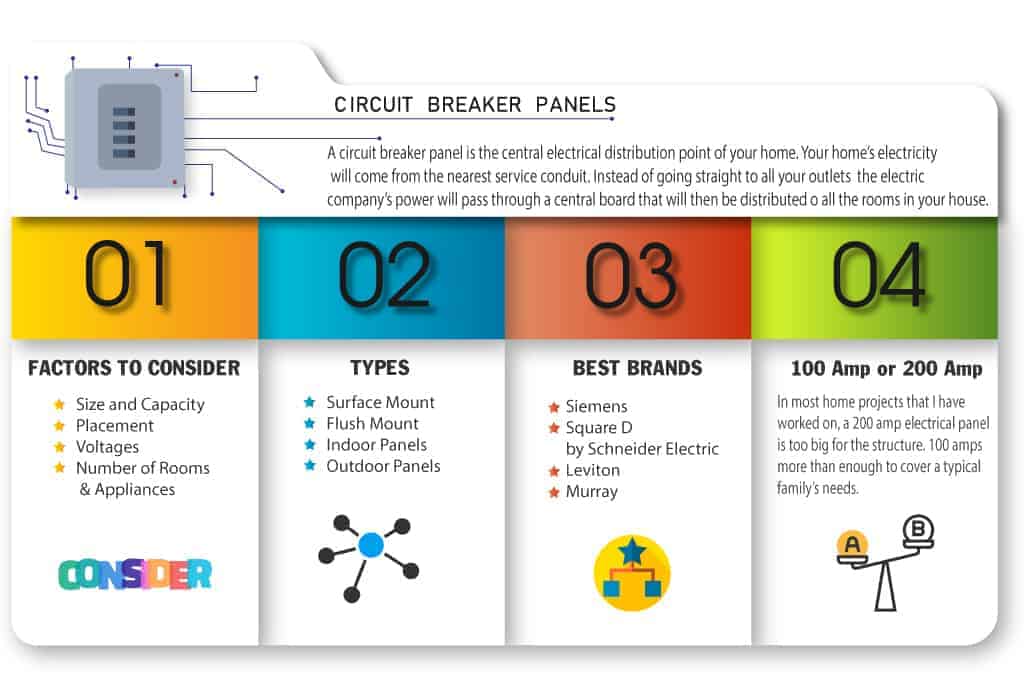 Best Circuit Breaker Panel Reviews
1. Siemens TL137US Power Outlet Panel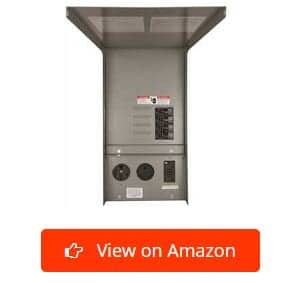 Whether I'm working on a temporary project or setting up an outdoor tent that needs electrical power, the Siemens Talon Panel is an excellent choice for me. This portable circuit breaker is specifically designed to be set up outdoors and is weather protected. The manufacturer includes a padlock when you purchase it, which I use to lock the box from unauthorized access to the circuit breakers.
I was stoked when I first saw this model, as it is a perfect solution for me on two fronts: the first one is when I work on new projects with no existing electrical infrastructure yet, and the second one is when I'm camping outside with my family.
I can mount this breaker on a pole or a surface, so I can use it even if there's no mounting wall available. There are also plugs built-in directly in the box, so I can use it immediately once set up – no more need to manually wire in an outlet just to get electricity.
My only concern about this is that it's not easy to install on a wall. It only comes with a single mounting hole, and I feel that it's not entirely secure when hung. I drilled two additional holes in my unit just to give me confidence. It's no good if it drops and breaks while I'm in the middle of a project.
Pros
Portable breaker box, designed for outdoor use
Weatherproof and can be left in the rain without fear of shorting
Included padlock for power protection
Can be used for new projects with no infrastructure or as a power source when camping
Multiple mounting options – pole or surface
Built-in outlets in the box for faster setup
Cons
Single screw-hole for wall mounting might be a little insecure
If you're working on many new projects or like to have a reliable power supply when camping, I would recommend this temporary outlet panel. You will be safe and protected with this outlet panel even on a bad weather day.
2. Square D by Schneider Electric HOM612L100SCP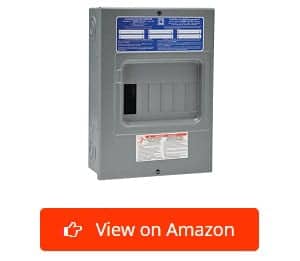 The Square D by Schneider Electric Homeline Load Center is a small electrical panel for house, perfectly suited for two-bedroom units. It has six spaces to mount one main breaker and five double- or ten single-pole ones. This feature works well for my case when I had to set one up for my garage. It functions well as a sub-panel or main panel, only slightly different installation.
Its capacity of 100 amps is more than enough for most home applications. It can also be installed in both flush and surface mountings – allowing me the flexibility to install it the way I want. There are cutouts on both the top and bottom sections of the box to avoid awkward wiring positions, no matter how I install the panel. I do all the setting up myself without any troubles.
The item itself is manufactured by Schneider Electric, a well-known company for high-quality electric products. I have to assure you that the panel shows a reliable look because it has a heavy solid metal construction. I also like that they included a sticker on the top portion to write what section of the house a specific breaker protects. That will save me the hassle of manually finding the correct breaker in the future.
Compared with other panel boxes that have the same features, this panel box offers good value. I spent a very low budget for this product. Along with self-installation, which does not require too much work and skills, this panel is an outstanding choice for a low budget.
The downside for this breaker panel is that it is limited to six spaces– you can't expand further than that. Also, it only goes with Square D breakers, so make sure that you prepare for both.
Pros
Perfectly suited for two-bedroom and smaller units
100 amp capacity is more than enough for most homes
Can be installed on either the wall surface or flush against it
Top and bottom panel cutouts avoid awkward wiring positions
Made by Schneider Electric with high standards of quality
Sticker label for noting breaker circuits
Cons
Limited panel slots
Needs to buy breakers with the same brand
If you're going to install this in a small home and have no further expansion plans, this panel is perfect for your needs. It can protect each room's circuit and have a couple of different positions for the common spaces. It is a great purchase for a useful product.
3. Siemens W0816ML1125CU Load Center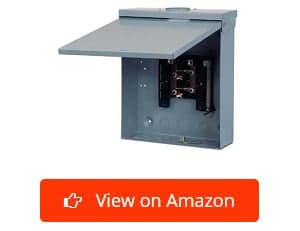 One of the most popular breaker panels available in the market is Siemens. They make several models for different applications – like indoor, outdoor, home, office, industrials, and other specialized designs. The W0816ML112CU is one such design for outdoor use.
This 125A, 8- slot design is perfect for outdoor equipment or as a breaker panel for your workshop. I once used this when I installed a hot tub for a client – I mounted it on the pump house wall for the tub. I used two slots for the hot tub itself, one more space for the main breaker, and two more for lighting and convenience outlets. That leaves 3 extra slots for future use.
Since this is designed for the outdoors, its weatherproof box will handle both rain and snow. You stand confident that your circuit will not short due to inadvertent leakage. Bus bar inclusion is also a fantastic feature as it can be incompatible when buying them separately.
I like that the item itself is only around a foot and a half long and barely a foot wide. Its relatively small footprint doesn't make it an intrusive fixture on your wall. And since it weighs only 13 pounds, I don't need extra heavy-duty brackets to keep it secure.
My only point of concern is that there is a tendency for the included wing nuts to be lost. Since they're pretty small, it's easy to misplace in a hectic worksite. That's not an issue if they're common, but since those nuts seem to be uniquely made, they're tough to find! I had to improvise just to make it work.
Pros
Created by Siemens, an established electrical equipment manufacturer
8-slot, 125 amp design is perfect for extension and outdoor applications
Weatherproof box will handle rain and snow
Small, unobtrusive size for wall mounting
Light, 13-pound weight only requires simple screws to mount
Includes bus bars for installation and utilization
Cons
Specially-designed wing nuts are easy to lose – and replacements are hard to find
This breaker box is perfect if you want to have an outdoor amenity that requires electricity. From hot tubs to heated pools and even workshops, this would carry your expansion's electrical requirement.
4. Leviton 51120-1 Panel Surge Protector
When you have motor and pump appliances in your home, like washing machines and dishwashers, you need to have a panel surge protector. This Leviton device will protect your sensitive electronics against unexpected increases in voltage due to heavy machinery.
I think that every home should have this because of the protection that it offers. Imagine losing your expensive computers and smart home devices just because of an unexpected surge coming from your old electrical pump.
I like how the company stands behind their product. They even offer insurance on connected indoor home appliances and gadgets up to $25,000 on repair and replacement should the Leviton Protector fail under regular use. I can attest to this because a friend of mine experienced this issue, and they honored their guarantee! It's the first time that I personally saw a company payout to a consumer because their product failed – no buts, no ifs.
The product's design is very convenient – it comes in a standard J-box enclosure with knockouts for easy installation. You can easily install this beside your existing circuit breaker bank. They also included a real-time status indicator on the face of the box so that you know if you're experiencing a surge in your home.
Another cool feature I find is that it's compatible with the Decora home control automation. You save money and protect your circuits at the same time because you don't need to install a different circuit to automate your entire home.
You have to take note, though, that this item is for indoor use only – the warranty does not cover external applications. It is always wise to read through instructions and reviews before making any purchase decision.
Pros
Protects sensitive equipment from electrical surges
Leviton will cover up to $25,000 of damage repair cost if their device fails
Convenient design makes it easy to install
Real-time status indicator on device face for monitoring home circuit
Compatible with Decora home controls
Cons
Indoor use only; the warranty does not cover outdoor appliances
From my personal experience, I recommend that all homes should install this device. If you have an electronic gadget, you definitely need this surge protector.
5. Square D by Schneider Electric HOM1224L125PC
If you have a typical suburban home, then the Square D b Schneier Load Center is an ideal option for you. It has space for up to 12 breakers, which makes room for your expansion later if needed. That way, you won't need an electrical panel upgrade in the future. Having this at home was like a blessing for me when I needed to rearrange my place for a better look. The result turned out great without too much labor work.
The panel itself has a capacity of 125 amps – more than enough for most homes. The breaker board has a maximum capacity of 24 circuits, so if I have three machines that require dual-pole breakers and one main breaker, I still have room for 16 single-pole circuit breakers. That should be more than enough for me.
I also like that they provide covers for both flush and surface applications – so even if I decide not to chip my wall to mount the panel, it will still look presentable. It also accepts plug-on surge arrestors so that you can protect your electrical system without having to wire an external secondary box.
I'm also confident that this device will be safe to use in both home and commercial settings, as it is UL-listed for those applications. The UL certification is an essential mark for me because that means that the device has been independently tested and verified by a panel of independent experts.
If you plan to use this as an electrical sub panel, you will have to purchase the ground bar separately. Unfortunately, the bar is not part of the package, but only a few people require sub-circuits in their homes.
Pros
Can accommodate up to 12 breakers – perfect for future expansion
Maximum capacity of 125 amps and 24 circuits, more than enough for most homes
Can be installed both on surfaces and flush against the wall
Compatible with plug-on surge arrestors
UL-listed, adhering to industry standards for safety
Cons
No ground bar in the package – must be purchased separately for subcircuit application
If you have a big house or plan on expanding your space, don't hesitate to invest in a bigger panel. You will save yourself the expense and hassle of rewiring your home in the future. This investment benefits not only your present but also your future.
6. Siemens E0816ML1125S Load Center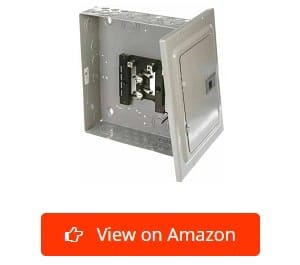 When I don't need a flush-mounted residential load center, the Siemens E0816ML1125S offers an excellent solution. It's an 8-space, 16 circuits, and 125-amp load center suitable for most home applications.
I like how Siemens designed the panel cover. Even if it's intended as a surface mount box, the panel door's clean design makes it a presentable part of your home. If your wiring diagram doesn't allow for a top feed circuit, you simply need to rotate the box 180 degrees, and it will work fine.
It can also be used as a separate panel for service entrance machines. You only need to have retainer clips to back-feed the main breaker should you need it placed in a branch position. Any available neutral line can also be used to group your equipment.
I am confident with the quality of this breaker panel. Since it is UL-listed, it is fully compliant with NEC and UL standards for safety. Since these kinds of devices deal with electricity, it is necessary to choose a reliable product. This one demonstrates its capacity to protect your safety effectively.
My only concern with it is that it doesn't come with a separate ground bar. While most experienced electricians like me know that you have to have this when setting this as a subpanel, the DIY enthusiast might not. They should at least include an instruction sheet so that buyers are warned before installation.
Pros
8-space, 16 circuits, and 125-amp load center is suitable for most homes
Clean panel cover design, excellent for its surface mount application
Can be used for both top and bottom feed circuits
Compatible as a service entrance machine breaker
UL-listed and complies with NEC standards
Cons
Separate ground bar for subpanel installation not included
If you don't need flush mounting solutions, then the high-quality and certified Siemens E0816ML1125S is the breaker panel for your home. Its capacity, function, and safety offer you ease at your place.
Siemens P1224L1125CU Load Center (Outdated)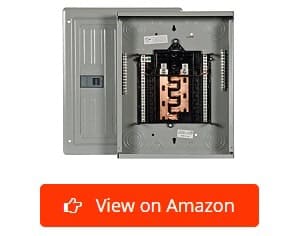 The Siemens Residential Electrical Panel is an excellent line of breaker banks for the home. They are ergonomically designed and will come with all the accessories that you might need for installation.
The P1224L1125CU Load Center has 12 spaces for up to 24 circuits, covering most of the home and office projects that I work on. Its 125 amp capacity is more than enough for those applications – and I can even use it to run a couple of heavy machinery once it's installed during construction.
It uses a copper bus to conduct electricity to the breakers, making it very power efficient and resistant to corrosion. The ground and neutral bars are also ready to accept wires with Siemens' insta-wire technology. This saves time on installation and makes the electrician's job much faster.
I also love the mounting tabs, which hold the breakers in place. It allows me to let go of the breaker when I install them, so I can use both of my hands to secure it in place. I find this convenient and clever, especially for inexperienced users who are not familiar with electrical installation. Additionally, they include installation instructions, presenting in both words and images. So far, this product has the clearest instruction for the buyers.
You have to be careful, though, if you plan to use this in Canada. I once helped out a friend who needed a breaker by sending her a spare that I had – it turns out that it's not rated by the Canadian Standards Association, meaning it's not legal to use it there.
Pros
Ergonomic design and includes all required accessories for installation
Contains 12 breaker slots for up to 24 circuits
Maximum capacity of 125 amps is more than enough for most homes and offices
Copper bus for efficient electrical conduction
Mounting tab and insta-wire features save breaker mounting time
Gives clear instructions for installing
Cons
Not certified for use in Canada
I would recommend this if you want to use this breaker for your home or its extension. It's very convenient to use, with all its ergonomic features and comes in a complete package. You would not have to deal with setting up and fixing issues by using this product.
Murray LC002GSU Load Center (Outdated)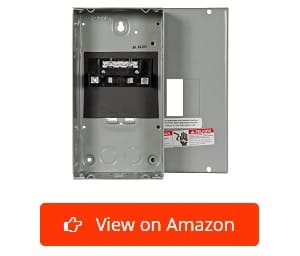 I sometimes work on smaller projects – like studio type units or external sheds. For structures like these, I don't have to use large 12-slot, 24-circuit panels. Instead, a 60- amp residential circuit breaker panel should be enough.
One such panel is the Murray LC002GSU Load Center. It has just enough capacity to run most electrical equipment that a small space would accommodate. The 2-slot configuration allows it to run up to 4 circuits, just about enough that I would need. To be specific, it works well with single pole breakers, one double pole breaker, or four ½ inch frame breakers. I like that it has cutouts on all sides of the breaker and at its back, giving me the flexibility to connect the panel in any circuit configuration. In other words, it accepts most of the breakers that you can find.
That also makes it small – consuming a space of 11 x 6 inches. It's weight, 3.25 lbs, means that it could mount easily on any surface. You don't need to have reinforced backing to secure it. Since this panel is intended for indoor purposes, this compact construction seems to fit well in enclosed spaces. As a result, it won't lose the room's aesthetics by taking too much attention.
The price is like a steal that makes me adore this product as well. It is difficult to find a high-quality electrical product without spending too much money. However, this one proves to be a top-rated item at a reasonable price. Plus, the fact that it works with a variety of breakers means you can minimize your budget for this package to the lowest.
What I don't like about the design is that it's only for surface mounting. I actually prefer to have my breakers flush against the wall for a clean look. Since it's not designed for that application, I'm forced to have an unsightly box, no matter how small, against the wall
Pros
Created by Siemens, an established electrical equipment manufacturer
8-slot, 125 amp design is perfect for extension and outdoor applications
Weatherproof box will handle rain and snow
Small, unobtrusive size for wall mounting
Light, 13-pound weight only requires simple screws to mount
Includes bus bars for installation and utilization
Cons
Surface mounting only, not designed to be flushed against the wall
If you're looking to have a breaker in an outhouse or have a cabinet where you can hide this panel, this is an excellent solution for small spaces. Its great value will blow your mind.
Square D by Schneider Electric QO612L100RBCP (Outdated)
The Square D by Schneider Electric QO612L100RBCP electrical panel for home applications is an excellent choice for those looking to place their breaker outdoors. It can also be used effectively as a subpanel if your main breaker board is already full.
Being an outdoor panel, it is weatherproof and can withstand rain. I like that it is securely-built so that there is zero chance of a short even during inclement conditions. It has 6 slots that can protect up to 12 circuits, making it perfect for most small and medium-sized homes. The 100 amp capacity is more than enough for most of my requirements.
The panel is designed for the standard or tandem QO breakers. Being ANSI certified, I feel secure when installing this load center. I know that it will stand up to its environment's rigors and not fail under regular home loads.
As a consumer, I expect good service from the manufacturer. In fact, they impressed me with fast shipping and excellent service. That says a lot about their products; obviously, this purchase surpasses my expectation. I would definitely come to them again if I need another panel for future use.
I also used this as a sub-panel for a home extension project once, but I had to purchase the PK3GTA-1 Ground Bar separately. It would've been nice if they added it as part of the package, but I guess not many people use subpanels in their homes.
Pros
Weatherproof panel designed for outdoor use
6 breaker capacity, protecting up to 12 circuits
Maximum current of 100 amps – more than enough for most home applications
Accepts standard or tandem QO breakers
High standard device, passing ANSI qualifications
Fast shipping and good service
Cons
PK3GTA-1 ground bar for subpanel installation sold separately
I recommend this panel option if you want to have an externally installed breaker. If you have a small to medium-sized home, then this would perfectly fit your electrical requirements.
Siemens P3030B1100CU Load Center (Outdated)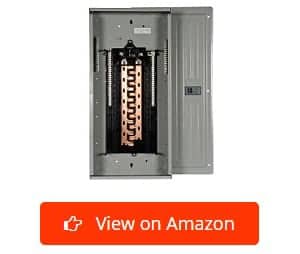 The Siemens P3030B1100CU is one of the bigger residential breaker panels available in the market. It offers an astounding 30 spaces for up to 30 circuits. I find it pretty useful when I work on a large home project with many rooms or if a client wants to place a subpanel for their workshop with multiple tools.
It has a copper central bus, which makes for very efficient energy transfer. When I use this as a sub-panel, I don't need to purchase an extra ground bar as it already comes with two. That makes it less expensive than other models that require the bar to be purchased separately. These external components, along with the main item, are made from high-quality materials and save you from accessory purchases.
One feature that surprises me is that this load center can be installed upside down for bottom fed applications. Depending on your personal purposes, this installation can benefit your home and resources. Particularly, this flexibility prevents you from conductor waste, which is a significant improvement from other panels.
Its ground and neutral bars are equipped with the Siemens insta-wire technology, allowing quick and easy installation of breakers. There are even mounting tabs on the load center to hold circuit breakers in place while you're securing it with screws. All these features make my work much faster.
While its 100 amp capacity is suitable for most home applications, it can be pretty small if you have 30 circuits. Just make sure that you don't overload the circuit – install a greater capacity main panel if you have to, then have this a subpanel instead.
Pros
Huge, 30-slot/30-circuit capacity
Energy-efficient copper central bus
Siemens insta-wire innovation makes breaker installation much faster
Mounting tabs hold circuit breakers in place for securing
Can be installed upside down for saving conductors
Extra ground bar included for sub-panel installation
Cons
100-amp capacity might be small for 30 circuits
This device is perfect for large homes with multiple rooms. If you have circuits that require individual breakers, you should consider this. Its labor and time savings in setting up is also a huge advantage.
What to Look for When Buying Circuit Breaker Panels
There are many electrical panel brands available in the market. Before making any purchase decision, there are several factors that you should consider. I will list the things that you should consider down below. If there is something that you don't understand, feel free to reach out and ask.
Size and Capacity
Each electrical and electronic appliance that you own will consume several amps. If all of your devices exceed your breaker panel's capacity, it will automatically switch off to prevent overheating and overloading. To avoid this, you should estimate the appliances and machines you plan to have in your home.
A typical two-bedroom house would require a breaker with a 60-amp capacity. However, I recommend that you have a buffer, so should you purchase a new machine, like an electric car, you don't have to rewire your home.
If you're not sure of your load requirements, I would recommend that you hire an electrician. These licensed professionals have gone through training, and they have years of experience so that you can have the best panel for you that balances cost and capacity.
Placement
The best residential electrical panel for your house will also depend on its location. There are specific designs for both surface and flush mounts, as well as indoor and outdoor boxes.
Usually, home load centers are placed in the garage, basement, or utility room. They're placed in the kitchen behind a cabinet or a cupboard for aesthetics in some smaller structures. If you're building an extension, a workshop, or a shed, the panels can be placed outside, too.
Wherever you're planning to install it, you will have to purchase the appropriate box. There are breaker banks designed to be mounted on the surface, so they can't be placed flush against the wall. Indoor breakers are not rated for weather resistance, so you have to choose a waterproof box if you're powering an outdoor area.
Voltages
While most homes are powered by 110 volts, there are some instances that a higher rating is required. Whether you have an imported machine or a high-powered device, you have to check if your breakers are rated for this power level.
Take stock of your appliances before making any decision. In case you have a big device, check its manual and see what kind of power it requires.
Number of Rooms & Appliances
You would want to have at least two circuit breakers per section of your house. That way, you don't have to cut-off power in multiple rooms if you're going to replace a bulb in just one. For example, you have a kitchen, a dining room, a living room, a den, a garage, an office, and two bedrooms, you would need at least 15 circuits. That's 8 slots plus 1 more slot for the main breaker.
If you have high powered machines, like central HVAC, an electric dryer, an electric stove, and a fast electric car charger, then you need dedicated breakers for these appliances as well.
Other Important Factors to Consider
Besides your needs, you should also look at the quality and compatibility of the panels you will procure. Here are some other things that you should look at to get the best breaker box for house.
Brand
There are many brands available out there, but I typically recommend that you purchase from established companies. Like Siemens, Schneider Electric, Leviton, Murray, and GE, these manufacturers have been making circuit breakers, load centers, and other electrical components for years.
Certifications
One important thing to consider is that the panel must be certified for local use. I remember when I sent a breaker bank to a friend in need in Canada, only to find out that it is not legal to use because the regulating body hasn't tested that model before.
Check for quality certifications, such as ANSI or UL-listed. These are established bodies that regulate the quality and safety of these devices. They have to pass stringent standards before they can get markings from them.
Labeling
One of the most overlooked items when building an electrical circuit is labeling. I highly recommend that you make two copies of your circuit plan – one that will be attached to your panel and another that you can keep among your files.
Losing this circuit plan can be quite disastrous. If you don't know which breaker leads to which part of your house, you might have to switch off the entire circuit breaker bank just to be safe. If you're having an issue in any room, having a label will let you know which breaker to switch off immediately.
What Is A Circuit Breaker Panel? Who Is It For?
A circuit breaker panel is the central electrical distribution point of your home. Your home's electricity will come from the nearest service conduit. Instead of going straight to all your outlets, the electric company's power will pass through a central board that will then be distributed to all the rooms in your house.
Imagine an extension cord with a safety reset button. It plugs into an outlet, and you plug your devices into it. If there's a short somewhere in the circuit, the extension cord will automatically switch off to protect the plugged appliances.
The circuit breaker panel works on the same principle – each room or circuit will have its own switch. In case there's a short somewhere, the breaker will automatically trip the concerned area. That keeps your home safe from overheating and electrical fires.
How Does A Circuit Breaker Work?
When you have too many appliances loaded in a circuit, the wiring system will start heating up. Instead of letting your circuit or machines absorb this heat, which could lead to melted wires and potential fires, the circuit breaker will instead trip. This will cut off electricity in the section where the overheating occurs and prevent disaster.
The circuit breaker has a solder inside its housing. The electrical current through its protected circuit will pass through this solder before being distributed to the outlets. If the circuit overheats, the solder will be the first to melt, thereby tripping the breaker and cutting off power. After the solder has cooled, you can then reset the circuit so that you could use it again.
If the above has happened to you, you should first assess what caused the power cut. There might be an issue with your wiring or an appliance. I advise that you call a licensed electrician so that they can check your system for safety.
What Are the Different Types of Circuit Breaker Panels?
There are four primary types of breaker banks. They are based on their mounting location and installation.
This type of breaker is usually hung on the wall. This is typically placed in areas that are not commonly accessed daily or are not living spaces. Rooms such as the basement, the garage, and the storage and utility room would usually have a surface mount load center.
Breaker panels, with their boxes buried in the walls, are flush-mounted. Only the panel door can be seen against the wall. This is the preferred method of installation for smaller or living spaces. For example, if your panel is located in the kitchen, you would want it to be flush mount so that there is no ungainly box in the area.
If you also plan to place your load center in a cupboard or cabinet, a flush-mounted one is desirable so that you will have space in the closet itself.
I usually install breaker banks inside the house. This is so that only the people in the structure would have access to this vital part of your home. It is also more convenient because you would have quicker access to an indoor panel in case of emergency. This is especially true during inclement weather, where you don't want to be resetting your power under heavy rain.
There may be times that you have no choice but to go with an outdoor breaker bank. These boxes are waterproof and rated for weather protection. These have been developed for places that require independent power – like external pumps, hot tubs, and outhouses. Given limited space, an outdoor panel would be an ideal solution.
Why Do You Need an Electrical Panel?
The biggest benefit of having an electrical panel is safety. Knowing where all the electricity in your house comes from, then if you ever run into an issue, you would know where to go to solve it.
It is also required by law for all structures to have panels. This is because public safety is also affected as incorrectly installed electrical systems can be a fire hazard.
Besides those, having an assigned breaker or two for each different section of your house would make it more convenient for you to work on electrical systems. For example, should you need to change a light bulb, you don't need to switch off your entire home – just turn off the correct breaker, and you're good to go.
Frequently Asked Questions
I'm going to answer the most common questions asked to me by my friends and clients here. I hope that I can help you make the right decision on which panel to get.
What Are the Most Trusted Circuit Breaker Panel Brands?
There are several brands available in the market, but I would say that Siemens and Square D by Schneider Electric are the most popular ones among the panels that I have reviewed today. These companies have a worldwide presence, and they've been making panels and other electrical circuit components for years.
Do I Need A 100 Amp or 200 Amp Service?
In most home projects that I have worked on, a 200 amp electrical panel is too big for the structure. 100 amps are more than enough to cover a typical family's needs. Unless you're going to have a workshop with multiple heavy pieces of machinery, or you have a massive house with 10 sections or more, then you don't need a 200 amp panel.
How to Install and Use Circuit Breaker Panels?
Circuit breaker panels must be installed according to your structure's electrical plan. Typically, a licensed electrician is required to equip a new breaker panel in your home. The breaker panel must be correctly sized for the number of circuits you have in your house.
Using a circuit breaker panel, on the other hand, is a straightforward operation. You just need to place all the switches you're using to the on position, and you're good to go. If any of your breakers trip, open the panel door and check which breaker was it. Try resetting it to see if it would trip again. If it does, consult a licensed electrician for your safety.
Where Can I Buy Circuit Breaker Panels?
Your neighborhood hardware and electrical store should have these devices in stock. There should also be specialists at the store so that they could answer your questions.
If you want to check online, go search for the best breaker panel reviews. They typically link the items they review, so should you like a particular brand or model, you just follow the link and purchase it directly online. if you are confused are you manually turning on the breaker correctly. here we have a list of the top-rated circuit breaker finder that will help you to solve that problem.
Should I Choose A Copper or Aluminum Bus?
The circuit breaker bus is where all of the current for your house passes through before it gets distributed. For this reason, you should have a reliable box that will last you for years.
You will see two available material options for the circuit breaker box – aluminum and copper. While aluminum may be more affordable than copper, it is also less efficient than the latter.
Copper is more conductive than aluminum. It is 63% more efficient than aluminum, so you can use less material while getting more power through the system. It is also harder and not prone to damage, making it last longer than the alternative. Finally, copper doesn't expand and contract as much as aluminum. This lessens system heating and is a much safer solution.
For this reason, I definitely recommend getting a copper bus for your home electrical panel.
Conclusion
For your home, I would only recommend the best circuit breaker panel that fits your needs. There is no one-size-fits-all solution to electrical panels. Each structure and family have their own requirements, so I highly recommend that you consult a licensed electrician before making any changes.
It is also right that you consult third-party information sources, such as this article, so that you can get a second opinion on your electrician's advice. The more you know, the more you can deal with challenges that you might encounter in your house.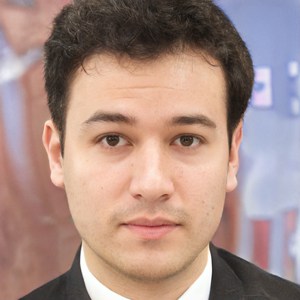 I am Edwin Jones, in charge of designing content for Galvinpower. I aspire to use my experiences in marketing to create reliable and necessary information to help our readers. It has been fun to work with Andrew and apply his incredible knowledge to our content.