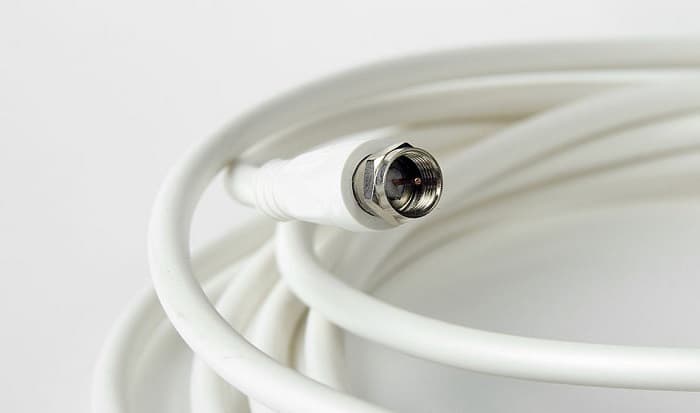 In the past ten years, having a fast and reliable internet connection is essential for any modern household. Everything, from entertainment to work, can now be done online. As such, the cable tethering your house to the rest of the world must be reliable.
For this reason, you must use the best coaxial cable for internet. A dependable connection can be compromised when the primary wire has poor quality. No matter how fast your service provider, if the data gets corrupted from the source to the modem, you won't enjoy it.
Below, I've reviewed twelve high speed coaxial cable that I've used or worked with before. These items will give you reliable options you can use to connect your home – and give you a reliable internet connection. Read on to find out what I have to say about them.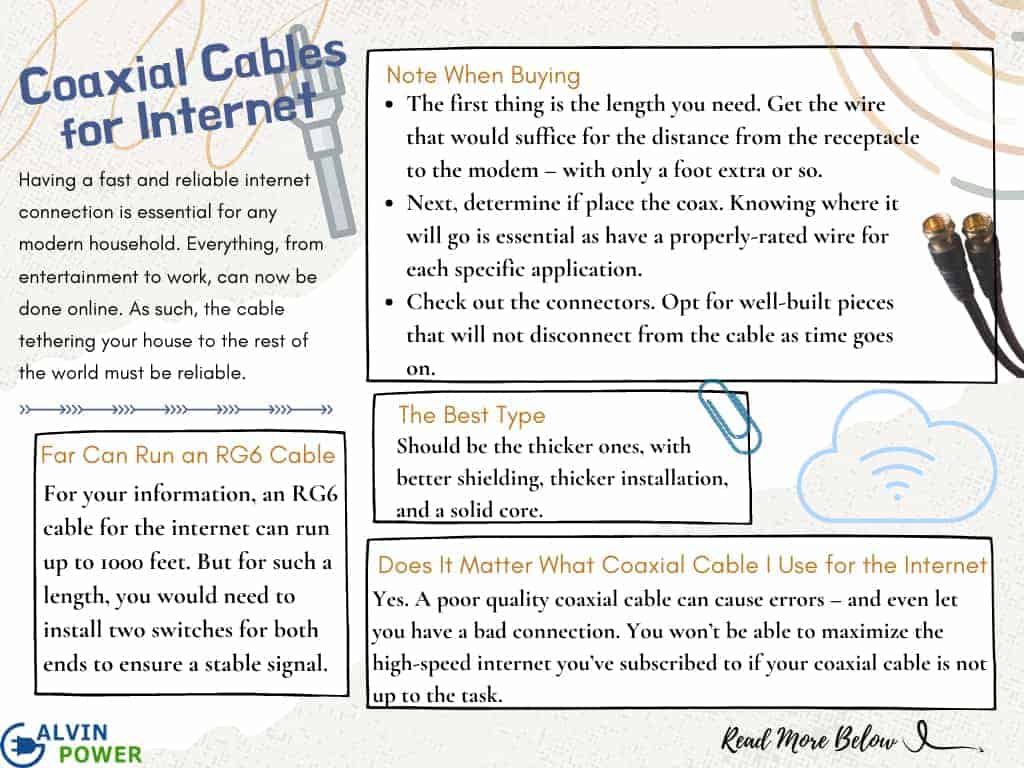 Top 3
Cable Matters RG6 Cable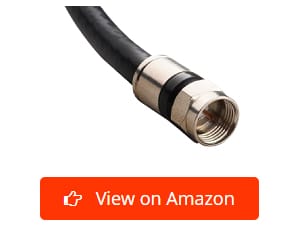 | | |
| --- | --- |
| Specs | RG6, 18AWG |
| Connector Type | F-type |
| Length | 1.5ft-100ft |
Best Coaxial Cable for Internet Reviews
1. Mediabridge Coaxial Cable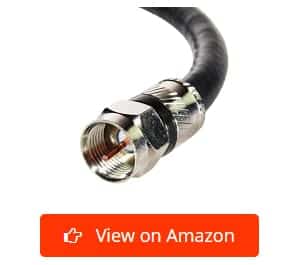 The Mediabridge Coaxial Cable is an excellent choice when you need to connect your modem to an external source that is a bit distant from your home.
The triple-shielding used by the makers makes this usable for both indoor and outdoor applications. Its construction is solid and robust to endure changing conditions without quality compromise.
Notably, the end connectors themselves are nickel-plated, improving their durability and increasing transmission efficiency from the port to the line.
Furthermore, it's UL-rated, so you could safely install the cable inside your walls. Once you have finished the install and found that you have some extra length, the included adjustable and reusable Velcro straps can help you manage the cables and keep them clean.
Installing the high quality coax cable is also so much easier with the EZ Grip Connector caps that come free with the package. Hence, you do not have to purchase extra tools beforehand to set up this cable system.
The only downside that I experienced with this product is that it's quite a stiff cable. Uncoiling and installing it was quite a challenge.
However, it is not an issue for me since I would do the installation one-time only, and the increased stiffness means a much more enduring and stable connection.
Pros
Triple-shielded cable for use in both indoor and outdoor applications
UL-rated to safely install the cable inside the walls
Adjustable and reusable Velcro straps included for cord management
Comes free with EZ Grip Connector caps to ease installation
Nickel-plated connectors improve durability and transmission efficiency
Cons
Stiff cable makes uncoiling and installation a bit challenging
I highly recommend the Mediabridge CJ50-6BF-N1 RG6 Coaxial cable. Its triple-shielding is perfect for connecting your home to a distant source that requires both outdoors and in-wall installation.
2. KabelDirekt 242 Coaxial Cable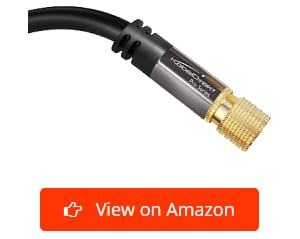 When I needed an RG6 Coaxial Cable which can transmit with maximum quality, the KabelDirekt Wire came to mind. Its pure copper core relays signals with outstanding efficiency, reducing residual signal losses while at the same time increasing its durability.
The solidly-built connectors used for the wire are also 24K gold-plated, minimizing corrosion and preventing signal interference. They're also specially designed for easy handling and to resist internal wire breaks due to metal fatigue. These ensure that your cable will last through years of use.
The cable is protected by a dual-layer shield of thick aluminum braid and aluminum mylar foil to augment its strength and avoid damage to the interior copper line. Finally, the cable is covered by a 36-month manufacturer warranty, ensuring that it will stand up to everyday wear and tear.
My only concern is that the threaded connectors, although built well, can come off if the line is given a solid tug – like someone accidentally snagging the line. My suggestion is to run it along the wall or through a conduit to avoid situations that could cause it to separate.
Pros
Pure copper core relays signals with maximum efficiency & durability
24K gold-plated connectors minimize corrosion and prevent signal interference
Solidly-built connectors easy handling and resist internal wire breaks
Aluminum braid dual-layer shield & aluminum mylar foil for extra protection
Comes with a 36-month manufacturer warranty
Cons
Threaded connector might separate from the wire due to accidental snagging
If you want a premium wire for maximum quality, this is the option for you. It is excellent for internal applications and comes with an extended warranty to give you peace of mind.
3. Cable Matters Coaxial Cable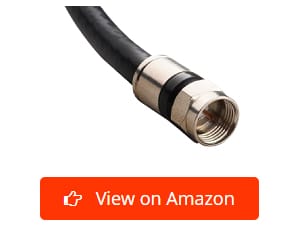 This three-piece cable pack is suitable if you need to install multiple access points or if you prefer to keep backup replacements handy. It's also one of the most affordable options that I've seen, so it's really of excellent value.
Its core is made from thick, 18 AWG conductor, ensuring that it's built up to standard. This construction also allows the cable to resist metal fatigue so that you can comfortably use and reuse this cable without fear of it breaking internally.
Externally, there's a protection layer by a low-profile compression housing that protects the cord but maintains excellent flexibility to effortless placement.
The CM and CL2-rating of this product mean you can safely install it inside your walls. These ratings ensure that it adheres to international fire standards and will not cause any incident for whatever cause. These ratings, plus its 3 GHz compatibility, meaning you can place high-speed internet modems right in the center of your home safely.
An issue I encountered with this cable, though, is that one out of the three that I received has low transmission power. I highly recommend that you test all lines upon receipt, so you're sure that all in the pack work properly. I'm sure this is just a manufacturing fluke, but it's better to err on the side of caution.
Pros
Three-piece for multiple access points or replacements at hand
Thick 18 AWG core resists metal fatigue and allows to reuse of the cable
Low-profile compression housing protects the cord & maintains flexibility
CM and CL2-rating adheres to international fire safety standard for safe in-wall installation
3 GHz compatibility for high-speed modems
Cons
Low-transmission power on one of the cables, pre-testing recommended before installation
This one is among, if not the fastest coaxial cable available for your modem. Its fire-resistance ratings also ensure it's safe to install in-wall, so you can place your device centrally in your home.
4. The Cimple Co Coaxial Cable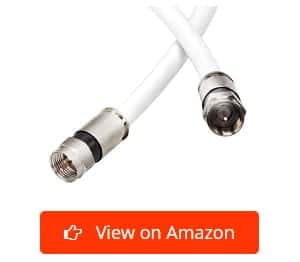 This model from CIMPLE CO is a unique RG6 Coaxial Cable that comes with a 10-year warranty. I find this a unique feature –the maker guaranteeing their cable will work as designed even after many years of use.
The low-loss cable design maintains exceptional signal quality throughout its length, with a consistent 75 Ohms resistance measured. This has been discovered through testing and proves to work with cable modems, satellite internet receivers, wireless cell phone extenders, and various other providers and services.
Its outer PVC coating is highly durable and designed to withstand various weather conditions, allowing indoor and outdoor installation. Even the end connectors are designed for harsh weather use, with their waterproof ends with a redundant double seal. This cable will guarantee that you can have internet whether it's a sunny or a stormy day.
However, because of its thick protection, the cable tends to be stiff and difficult to install. I think that this is a minor downside, though, as you'll only need to install this cable once while it will withstand years of exposure outside as you enjoy your internet connection.
Pros
Comes with a 10-year warranty, guaranteeing stable quality over years
Low-loss design maintains signal quality, with a 75-Ohm resistance rating
Proves to work with cable modems, satellite internet receivers, and other services
Highly durable and weatherproof outer PVC coating for indoor and outdoor use
Waterproof end connectors & a double seal ensure cable water integrity
Cons
Can be quite challenging to install owing to its thick protective outer layer
If you need a wire that will last a long time, even if it's exposed to the elements, then this is the solution for you. Although installation can be complicated, the effort will be worth it.
5. Amazon Basics Coaxial Cable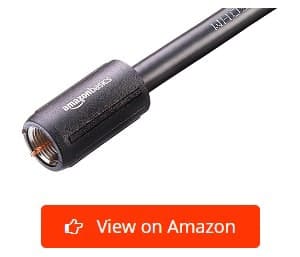 If you want a cable from an established brand, this Amazon Basics coaxial cable for internet modem is something you should consider.
I appreciate that its robust-center conductor ensures no quality loss during use while increasing the wire's lifespan. Such a construction prevents errors and slow internet speeds due to data corruption, thus guaranteeing smooth display.
Internally, its shield is a triple-layer aluminum shielding to prevent background interference from electromagnetic and radiofrequency sources. Simultaneously, the piece has a flexible PVC outer layer that protects against bumps and scratches while maintaining good dexterity for easy installation.
Amazon Basics has thoughtfully included easy-grip caps so you can install and secure the connectors without needing any particular tool. However, they're optional, and you can choose to remove them if you don't want to use them. I think it's best to keep them there, though, as it provides extra protection to the connector heads.
The 1-year warranty the maker included in the package rounds out this excellent cable. I'm just a bit spiffed that it's relatively short at four feet. It can barely connect my modem to the interior fitting from the telephone company, so I don't have the freedom to place it where I desire.
Pros
Solid-center conductor ensures no quality loss & increases wire longevity
A triple-layer aluminum shield to prevent background interference
Outer PVC layer protects against electromagnetic & radiofrequency interference
Easy-grip caps allows installation without tools
One-year manufacturer's warranty ensures good quality cables
Cons
Relatively short four-foot length limits modem placement options
Amazon Basics does make good products, and this coax cable for modem is no different. It's an excellent choice for data applications – just ensure that the source is near your modem.
6. Ultra Clarity Coaxial Cable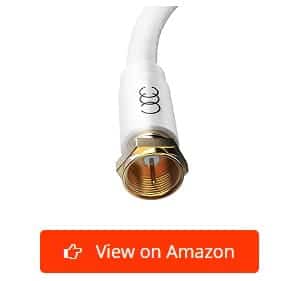 This coaxial cable for cable modem is quite a unique piece with a white external casing, making it suitable for use against matching white backgrounds – like walls and baseboards. You can enjoy a relatively clean install with this cable because it will easily blend in the room, especially if it's painted white or light color.
The cable itself is triple shielded, so it's safe for use outdoors and protects your system against shock and grounding.
Furthermore, the outer PVC casing is CL3-rated, meaning it's suitable for installation inside walls and conduits. This rating shows that the cable will resist and prevent a fire from spreading along its length.
As expected, this cable's connectors are gold-plated so that you could enjoy a reliable connection between the cable and your modem or device. Such a feature also protects against interference so that the transmitted signals remain free from errors. They're also designed to be extra durable and won't come off, crack, or loosen over time.
You have to take note that this cable hasn't been tested to run 3 GHz high-bandwidth signals. Nevertheless, I didn't have any problems connecting my modem to my satellite receiver in my motorhome. It's best you test it first before installing it permanently to see if it will fit your purpose.
Pros
Unique white casing for white backgrounds, like walls and baseboards
Triple-shielded cable for outdoor use & protects the system against shock and grounding
CL3-rated wire allows for in-wall installation
Wires prevent the fire from starting and spreading along it
Gold-plated connectors for reliable connections between the cable and the modem
Extra-durable ends for no issues of coming off, cracking, or loosening over time
Cons
Cable isn't tested to run high-bandwidth 3 GHz signals
If you're looking for the best coaxial cable for internet, then this is the cable for you. The model is reliable, and you can continue to use it over time without fear that it will break.
7. Monoprice Coaxial Cable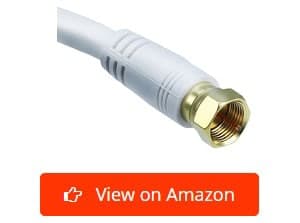 If you need a reliable coaxial cable to connect a modem to a close source, like a wall plug, then this is the best RG6 cable for internet that will suit your purpose. This short length helps you avoid the mess of tangled cords or unsightly coils hanging on your wall, allowing you a clean internet setup at home.
The cable itself has a dual-layered copper braid, plus a dual-layered aluminum foil shielding, to protect your data from external interference. Additionally, the molded connector heads with extra strain relief boots make sure that your cable-to-device interface has a reliable contact. These two features will give you a stable internet connection from the source to your modem.
It has also been tested to run signals up to 2.2 GHz, making it appropriate for most home internet connections. You can reliably surf, watch, and download smoothly and continuously using the Monoprice Coax Cable.
Best of all is the company's lifetime warranty, giving you the assurance that it will perform as long as you need it to.
I have to say, though, that the item I received had loose connectors when they arrived. It's a good thing that I checked them immediately, so I could get them replaced. Once I received the new set, they looked great! I proceeded with my install, and after testing, my internet speed was way better than before.
Pros
Short 1.5 foot length is perfect for connecting a modem to your wall directly
Dual-layered copper braid & dual-layer aluminum foil shielding protects from interference
Molded connector heads with extra strain relief booths for a reliable cable-to-device contact
Tested to run signals up to 2.2 GHz, perfect for most home internet applications
Lifetime cable warranty from Monoprice
Cons
Received loose connectors from the seller – had to wait for a replacement for a couple of days
For connecting your modem for a short distance – like say to a wall plug – this is the optimum cable. Its length is perfect for such applications and helps you avoid unsightly and arduous cable management tasks.
8. Phat Satellite Coaxial Cable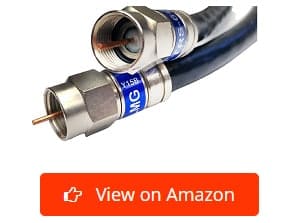 This is the best coaxial cable for high speed internet that I've used in the past month. It's tested to a wide range of signal frequencies – from 5 MHz to 3 GHz – ensuring that I could get the best speeds out of my internet plan.
This is an excellent choice for those who must have the fastest connection in their homes. The manufacturer achieved this by using an 18 AWG pure copper core that assures excellent signal transmission, minimizing power loss, and reducing errors.
They then protected this with dual 34 AWG aluminum alloy braids and aluminum foil shielding with 100% coverage, thereby preventing unwanted interference.
The connectors themselves are made from brass for superior strength and durability – while maintaining outstanding conductivity for transmission efficiency.
The brand also included O-rings for weather sealing, ensuring watertight integrity at the connector point. Such a feature prevents moisture from invading the core and causing corrosion.
You should know tthat this cable is not officially CMR-rated, so it is not recommended for in-wall installation. However, the line's robust quality is more than enough for it to withstand external applications, so you could safely use it by running it outside.
Pros
Compatible with signals from 5 MHz to 3 GHz
18 AWG pure copper core assures excellent transmission, minimized power loss, and reduced errors
Protected with dual 34 AWG aluminum alloy braids & aluminum foil shielding
Connectors constructed from brass for superior durability & conductivity
Included O-rings for weather sealing prevent moisture and wire core corrosion
Cons
Line is not CMR-rated – not applicable for in-wall installation
If you need a cable that could reliably run high-speed internet, I recommend the Phat Satellite option. It's perfect and robust enough for the application, although you cannot hide it behind your walls.
9. C2G 28721 Internet Modem Cable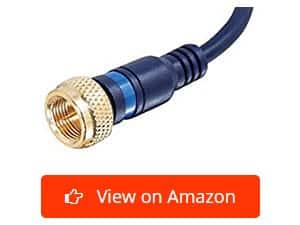 The C2G High-Speed Coaxial Cable for Internet Modem is perfect for connecting modems to nearby receptacles and devices with its 3-foot span. You could avoid all the extra cable and management required for a clean install using the exact length you need.
It uses a 75-ohm pure copper core with a minimal loss factor for optimum signal transmission. It's also wrapped inside a foam dielectric foam to protect the center from metal fatigue. The wire is specifically built to be thin and flexible for easier routing and installation through tight spaces.
Fully-molded connectors are included with the cable to help avoid strain damage and help increase its lifespan. They're also gold-plated to prevent corrosion and to ensure that you get the best signal quality. These allow the cable to work perfectly and last – meaning you won't need another line for quite some time.
However, do note that its thin design is susceptible to interference. I recommend that you install this line away from other cables – like power lines or telephone lines. Alternatively, you could run it inside a conduit for additional signal protection.
Pros
Three-foot length for connecting modems to nearby receptacles or sources
75-ohm pure copper core with minimal loss factor optimizes signal transmission
Built to be thin and flexible for easier routing and installation in tight spaces
Fully-molded connectors help avoid strain damage and increase cable lifespan
Gold-plated tips prevent corrosion and ensure excellent signal quality
Cons
Thin design is susceptible to interference – tip: install away from other cables or inside a conduit
If you need an RG11 cable that is flexible yet durable, this is the cable for you. It's also perfectly suitable for nearby installations with its three-foot length, avoiding the hassle of extra cable management.
10. The Cimple Co 15-ft Coaxial Cable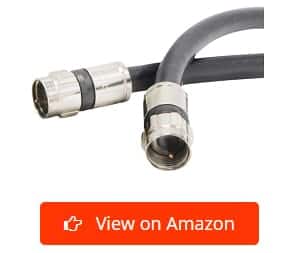 It is advisable to have a cable that has been tested to work with various providers. That's why this is the best coax for internet if you're looking for something approved for use with Verizon, AT&T, and Comcast, among others.
The 18 AWG cable core is designed to carry various frequencies – ranging from 2.3 MHz up to 3.0 GHz. This means you're covered no matter what your provider is utilizing. And if you're having issues, it comes with technical service, customer support, and even 100% free returns.
The best thing about this model, though, is its extra-long fifteen-foot length. It's the perfect length for running a wire across the room – or even from the outdoor internet box to your indoor modem. Notably, it also has other options available, so you can order the perfect length that will fit your needs.
My only concern with this is that there's no CL2 rating printed on the cable. Although it's claimed to appear on the packaging, the brand should have print the rating itself on the wire jacket. Since it's not, I'm erring on the side of caution and not install this line inside my walls.
Pros
Approved for use with Verizon, AT&T, and Comcast, among other providers
18 AWG cable core carries various frequencies, from 2.3 MHz up to 3.0 GHz
Comes with technical service, customer support, and even 100% free returns
Various lengths available to match what you need
Cons
No CL2 rating printed on the cable, so not sure if it's allowed for in-wall installs
I'd recommend this cable if you need to externally run a coax cable across quite a distance. However, if you're looking to install this in-wall, I suggest you check with the maker if it's rated for that.
11. KabelDirekt Coaxial Cable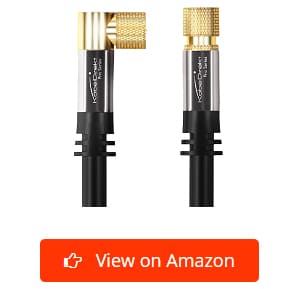 If you're looking for a coaxial cable for gigabit internet, KabelDirekt is a coax line you should consider. Its core is protected by extra shielding with aluminum mylar foil and braiding – protecting against interference by a factor of greater than 100 dB. Those superior features lend the cable well for ultra-fast, high-speed connections.
This model utilizes high-purity oxygen-free copper conductors to ensure excellent quality signal transmission and minimizing errors. Remarkably, the precision connectors are also specially cut and milled to provide a perfect fit between the cable and the modem. Thus, the KabelDirekt's Pro Series Coax is meant for high-quality internet.
One quirk that I adore about this is the 90-degree angled connector. Such a design is ideal because it doesn't take much space behind the modem. It's beneficial for enclosed and tight spaces, like my computer table, where my modem is situated.
Regarding the brand's policy, it offers a three-year warranty, so I know that this cable will last long.
The downside to all these qualities and features, though, is that it's by far the most expensive line that I've worked with. Nevertheless, this is the best type of coaxial cable for internet I would recommend if money is no object.
Pros
Extra shielding using aluminum mylar foil & braiding to avoid interference
High-purity oxygen-free copper conductors ensure quality signal transmission
Precision connectors are cut and milled for a perfect fit between cable and modem
90-degree angled connector saves space behind the connected device
Comes with a three-year warranty
Cons
Among the more expensive lines
If you want the best and have a huge budget, choosing this cable makes excellent sense. It's well-built, has reliable connectors, and performs with high-speed internet. It's a bit pricey, though.
12. GE RG6 Coaxial Cable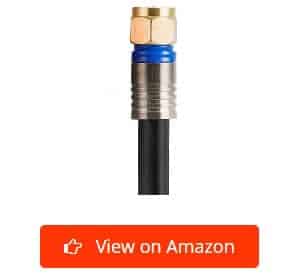 Another cable created by a well-known brand, the GE Ultra Pro Quad Shield Coaxial, is also the best coaxial cable for modem that you might want to work with.
The cable accommodates signals up to 3 GHz, meaning it is compatible with today's latest high-speed internet standards.
The extra-long fifty-foot wire length allows installation practically anywhere. It's so long that you could even use it to run a connection from the outer internet box to the modem inside your house directly. You could actually do this because it's rated for indoor and outdoor applications.
Furthermore, the cable jacket is UL-rated fire-resistant, so it's suitable for in-wall installation. You could run this in your house, even along with other cables, because of its quad shielding.
This cable blocks more powerful interference and allows you to transmit data error-free. You'll have a reliable internet connection because of this line.
However, you must be careful with the connector heads. Although they do their job pretty well, they tend to break off if twisted too hard. I suggest that you only hand tighten them because I've broken a couple of these connectors when I used a pair of pliers to secure them.
Pros
Accommodate signals up to 2 GHz, compatible with high-speed internet
Extra-long fifty-foot length allows installation practically anywhere
Applicable for both indoor and outdoor applications
UL-rated fire-resistant jacket for in-wall installation
Quad shielding blocks interference and allows reliable, error-free data transmission
Cons
Connector heads might break off if twisted too hard – recommend hand-tightening only
If you want a branded cable that you can use in various applications, this is the wire for you. It's applicable for use both indoors and indoors – even in-wall installation is allowed.
What to Look for When Buying Coaxial Cable for Internet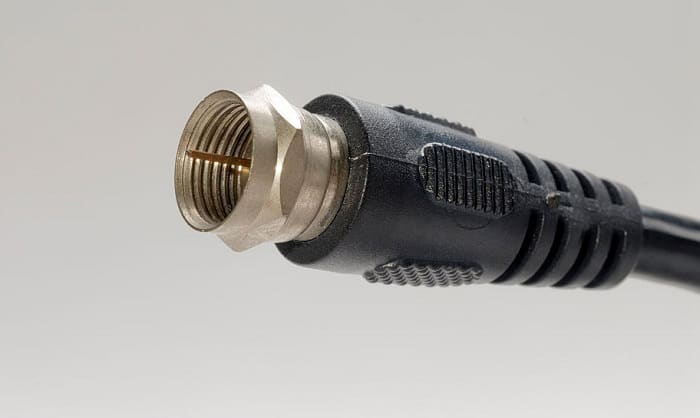 When choosing the best coaxial cable for your use, it is important to consider several factors that ensure smooth transmission and stable signal. Ease in installation, whether you want the cable across the room or inside the wall, is also vital.
The first thing you should find is the length you need. Although you could presumably purchase the longest cable you think you need, cable management can be quite tricky. Hence, I always recommend that you get the wire that would suffice for the distance from the receptacle to the modem – with only a foot extra or so.
Next, determine if you're going to place the coax. Is it going to be run outside the house to the telephone company? Or are you going to use it to connect your modem to the wall receptacle? Or maybe you're planning to use it for installation under the wall? Knowing where it will go is essential as you must have a properly-rated wire for each specific application.
Furthermore, do not forget to check out the connectors. It is advisable to opt for well-built pieces that will not disconnect from the cable as time goes on. It's going to be a major hassle for you if your in-wall coax cable suddenly separates from the modem. You can make sure that it won't break by checking the boot's quality and giving it a good tug to see if it will move a bit or not.
What Type of Coaxial Cable is Best for the Internet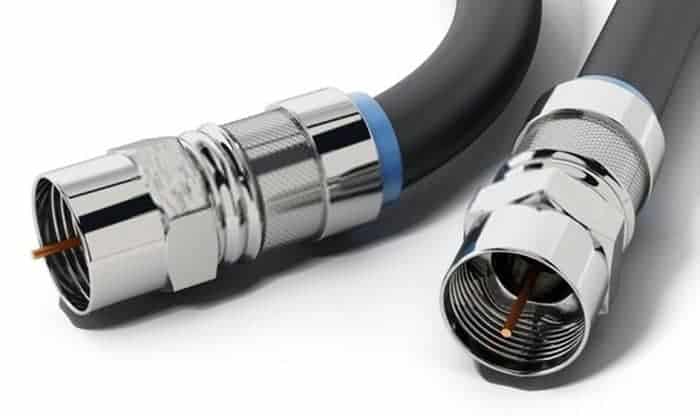 The best coaxial cables to use for internet connections should be the thicker ones. I prefer those with better shielding, thicker installation, and a solid core so that I can have excellent and efficient signal transfer while preventing interference from outside sources.
Does It Matter What Coaxial Cable I Use for the Internet
Yes. A poor quality coaxial cable can cause errors – and even let you have a bad connection. You won't be able to maximize the high-speed internet you've subscribed to if your coaxial cable is not up to the task. I also recommend that you get wires rated for 3 GHz as internet companies are slowly migrating towards that standard.
Does Coaxial Cable Affect Internet Speed
Not necessarily. What happens is that cable core imperfections, interference due to inadequate shielding, or loose connectors cause errors, negatively affecting your signal quality – causing web pages not to load and make you seem to have "slow" internet.
Its ability to connect us through the Internet is an indispensable capability. Because of this, we have put together a list of top-rated cat 7 ethernet cables and cat 8 ethernet cables. Read it for more information.
How Far Can You Run an RG6 Cable for the Internet
For your information, an RG6 cable for the internet can run up to 1000 feet. But for such a length, you would need to install two switches for both ends to ensure a stable signal.
Conclusion
The best coaxial cable for internet would always depend on your current needs. No one wire has the monopoly on being the best one to use for the internet. By determining the length, the installation type, and even the color that you need, you could get the best one for your use.
However, out of all the brands in the market, the twelve products reviewed above are those I've worked with before and haven't had any problems with. I'm sure you could find them online or at your nearby hardware store.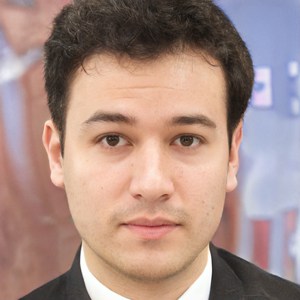 I am Edwin Jones, in charge of designing content for Galvinpower. I aspire to use my experiences in marketing to create reliable and necessary information to help our readers. It has been fun to work with Andrew and apply his incredible knowledge to our content.