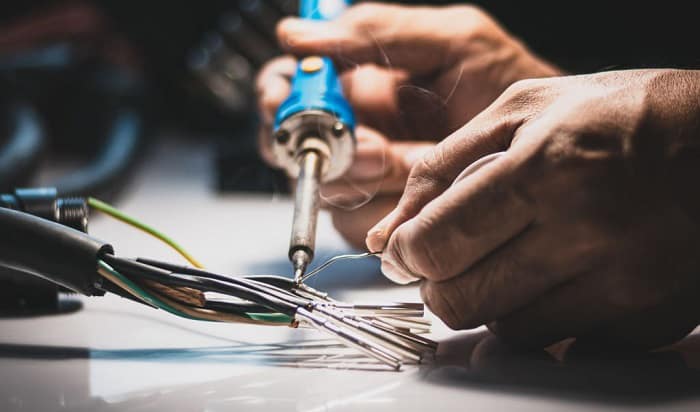 It is mildly infuriating whenever we travel and don't have the outlet or power source to plug in our good old electric soldering iron. That said, the answer to this problem is simple: use the best cordless soldering iron! It's efficient for doing soldering jobs on short notice, and it provides the heat needed in a snap.
So, what are the beneficial features we're looking for in this tool? Here are the three must-haves in the optimum cordless soldering iron:
Reliable Power Source: Whether it's butane or battery, you need to have a reliable source of power that generates intense heat and meets your needs. Battery soldering irons can reach a maximum heat of 900˚F, while butane soldering irons can reach a thousand degrees more.
Enduring: Other than a scorching iron, your tool should endure long durations of work time. A typical cordless soldering iron may not last for more than two hours, but it should at least produce heat for approximately 40 minutes or more before it runs out of power.
Ergonomic: Your cordless soldering iron should be portable, and it needs to be compact and hassle-free to use.
Moreover, if you only plan to use this at home, it should at least have a comfortable textured grip. It is better if it has added features like a tip protection cover and an iron stand to prevent accidents like surface burning or self-scorching.
Now that we're ready to go, here is the list of the cordless soldering irons I use in my everyday electronic repairments. I'll dive deep into their characteristics as a working tool. After the product segment, there's also a detailed buying guide to solidify your choice. Read on!
Top 1
Hakko FX-901/P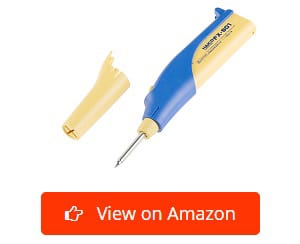 | | |
| --- | --- |
| Powered | Ni-MH Battery (120Min) |
| Tip Temp | 600°F |
| Feature | ON / OFF Switch |
Top 3
Dremel 2000-01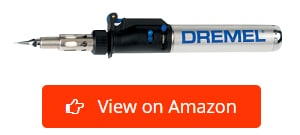 | | |
| --- | --- |
| Powered | Butane (75Min) |
| Tip Temp | 1022°F – 2192°F |
| Feature | Safety Lock |
List of 11 Top-Rated Cordless Soldering Iron Reviews
1. Hakko FX-901/P Cordless Soldering Iron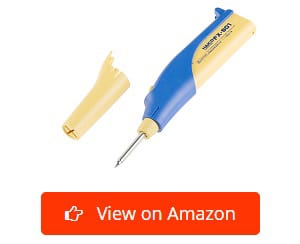 I like how Hakko lived up to its customer expectations. While using this Hakko cordless soldering iron, I thought of the most reliable soldering pen I used for my stained glass arts, the Hakko FX888D-23BY. They both have a precise performance thanks to their narrow soldering iron tips.
This item is powered by four AA batteries contained in one magazine. The power of these batteries can generate a maximum temperature of 600˚F without any problems even if I reach two hours of work time.
I'm also fond of this product's type of power source. This wireless soldering iron doesn't need butane gas or create safety risks, unlike cheaply made soldering kits powered with butane that can ignite flammable vapors out of nowhere.
I love that it looks and holds like a regular whiteboard marker when it comes to its design. It has a protective cap, which is valuable in avoiding accidents like surface burning. This protection makes it an overall efficient portable soldering iron.
I once recommended this to a previous workmate in alarm system installments, and he said it works perfectly for his small components repair. However, our problem is that we needed to buy the batteries separately.
Pros
The tip creates a precise soldering job
Can reach up to 600˚F heat
It allows two-hours work sessions
It doesn't need butane gas to heat up
The design is compact with an additional protective cap
Perfect for small components repair
Cons
Doesn't come with batteries
It is nice to have this tool as a part of my portable soldering irons at work. Not only does it keep my tabletop ESD safe, but it also ensures me that it won't blow up in front of my face whenever I reach crucial points of electrical parts.
2. Tooluxe 40420L Cordless Soldering Iron
Similar to the Hakko FX 901P Cordless Soldering Iron, this welding pen is powered by four AA batteries accompanied by a detachable protective cover.
The thing that caught my attention the most in this battery powered soldering iron is its ergonomic shape that perfectly fits my palm. It is molded for one-hand use with a ribbed grip on top, which is a convenient design for my sweaty hands. It really helps lessen the moments of slippage whenever I'm working on a hot day.
Besides its compactness as a portable iron, I'm amazed that it has a maximum operating temperature of 1050˚F. I think jewelers will love this convenient feature that supports fast and continuous soldering. Also, the LED light and narrow soldering iron tip helped me get by during busy nights of patching circuit boards.
Some might think that its maximum tip temperature is more than enough to reach the solder melting point, causing it to waste a lot of battery power. Luckily, Tooluxe made a built-in solution for that. There's a power button I can push during operations so that it won't continuously run on high heat when not used.
Anyway, the tip gets hot within seven seconds, so the waiting time before the tool gets fully functional is negligible. The iron cools quickly too!
The only downside is that the indicator of the battery is unclear and confusing. It's easy to buy more batteries than intended if I rely on it.
Pros
Compact design that runs on 4 AA batteries (has battery cover)
The ribbed grip lessens slippage
It can reach 1050˚F high heat within seven seconds
LED light and narrow soldering tip are convenient for dim-lit areas
Power button helps preserve battery power
Cools down quickly
Cons
Battery indicator is confusing
Overall, this is a lightweight product I'm fond of using to reach tight spots. It is a basic wireless soldering iron that does not strain my wrist.
3. Dremel 2000-01 VersaTip Butane Torch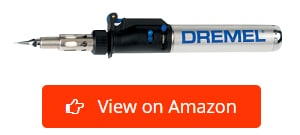 Unfortunately, I had issues using butane fuels in the past. One of my old butane soldering irons got so hot that I was concerned about starting a fire. But unlike that previous experience, I tried this butane torch kit, and I was relieved that it had a safety lock to avoid accidental combustion.
In addition, this portable soldering kit's ignition capability is above average. It can operate from 1022˚F to 2192˚F max! I think this is the tool's advantage not present in a battery soldering iron.
Its adjustable flame size is also impressive, as it allows me to use the Dremel as a torch for woodwork or melting jewelry. I find this design very convenient, since there's a flame locking button that maintains a constant heat.
Along with its package is a deflector, and the best part is the free hot knife, which is best for scraping old solder. There are also soldering tips for blow torch purposes like heating shrink wraps and a sponge for cleaning—all in one carrying case for portability.
On the flip side, Dremel did not sell replacement tips separately for its product, at least this was the case when I checked. Buyers who have worn-out solder heads may need to buy a new soldering iron.
Pros
Safety lock to avoid accidents
High-range temperature, from 1022 to 2192˚F
Adjustable flame ignition for many tasks
Flame-locking button for constant heat
Freebies in one carrying case (deflector, knife, soldering tips, sponge)
Cons
No available compatible replacement for its soldering tips
I find this purchase worth it for its refillable butane tank and a nice burst of heat. But, the free soldering tips will wear out at some point, so I need to take care of them as much as I care for my other cordless tools. Still, this is one of my top-rated cordless soldering irons for sure.
4. LEXIVON LX-770 Butane Soldering Iron
I encountered this item when I was searching for a tool for my pyrography class. It reminds me of my Weller cordless soldering iron in terms of quality.
Like my Weller, this cordless soldering iron kit is best for various artworks, too. The temperature range depends on its flame length. With ½ inch, the heat goes around 1100˚F, but if I make the flame bigger at its full size (2 1/2 inch), the heat can go up to 2400˚F.
Moreover, this soldering tool provides precision. With six replacement tips, I can do my pyrography designs while repairing a PCB altogether. Buyers won't be hesitant to use this too for all their projects because it passed the leakage and ignition capability test.
Plus, this kit is easy to bring to any place. I always have this at the back of my car since it is enclosed in a case like the Dremel.
I tend to get busy with many soldering jobs at once. It's a good thing that this device has a large butane tank for extensive usage. My only rest time at work is when I pause to refill, which only takes around ten seconds to do.
For improvements, I wish Lexivon would put a soldering stand in the package. It's quite challenging to shelf the gadget while it's hot. The waiting time will be negligible with an iron stand to hold the device till it cools.
Pros
All-purpose, from pyrography, artworks to PCB repairments
Adjustable flame length (up to 2 ½ inch) and heat level (1100 to 2400 ℉)
Six various interchangeable tips available for convenience
Passed the leakage and ignition capability test
It has a carrying case for transport
Large butane tank that allows quick refill
Cons
Lacking solder iron stand
This product is one of the reasons why I started liking butane torches. It is classy for a soldering tool, and it's a suitable set for everyone that solders frequently.
5. Weller BL60MP Cordless Soldering Iron
When my wife recommended a Weller product last year, it was this cordless soldering iron with rechargeable lithium ion battery. I'm glad that I own this model, since I don't need to get separate AA batteries anymore; its rechargeable battery alone is super convenient.
This item is intended for soldering light to medium work like RC cars and PCB components. Unlike the previous butane soldering irons in this list, Dremel and Lexivon, this product has a lower maximum heat capacity (950˚F) and a shorter operating time of only 45 minutes. However, it can create a thousand solder joints before it gets totally drained in that short span.
This gadget features a lightweight and co-molded handle designed mainly for office use. It has its own station and iron stand, allowing users to store the product. With its LED precision light, I can recommend this to people who prefer working in low-light areas without a cord hanging around their forearms.
It also has a heat-shielded base that serves as an area for recharging the soldering tool. After three hours of charging, I can use the wireless soldering iron again. I only need to throw it in my car glove compartment, and it's ready for emergency soldering the next day.
For those into customization, the product has a conical tip, but it's possible to buy chisel and micro-conical tips separately. On the downside, users need to be mindful of its lack of protection cap.
Pros
With rechargeable lithium-ion battery and LED light
Best for light to medium soldering
Can create a thousand solder joints
Ergonomic with its iron stand, lightweight and co-molded handle
Heat-shielded base charging station
Comes with a conical tip but can be paired with chisel and micro-conical tips
Cons
Lower maximum heat and working time than some products
No protection cap
This Weller is enough for soldering micro components. It's a premium tool for office people who don't want power cords to be a part of their lives.
6. M12 2488-20 Soldering Iron
For garage enthusiasts like me, we know that a Hakko or Weller pencil-type soldering iron isn't suitable for car parts, which brought me to this M12. I assembled automobile horns before, and this tool's 3-stop pivot head allowed me to turn it into a pistol grip and forgo my cordless soldering gun. This unique quality is best for constricted areas where pen gripping is impossible.
It's easy to check this item's temperature condition. An onboard indicator light is located in the middle of the soldering tool, so I know if it's safe to store already or if the soldering gun is still hot. Eighteen seconds after its startup, it can immediately provide an optimized temperature that can melt solder quickly.
Its heat works better with medium to heavy applications than our previous Weller. Its lithium battery delivers 40 minutes of run time, so there's no need to worry about butane.
I've read some complaints from Reddit regarding its bulky and heavy design, but to be honest, it is not even worth complaining about. For me, I find it highly beneficial. Whenever it slips my hand, I'm glad I can't lose it inside the car's hood.
The only drawback I dislike is its non-adjustable temperature. Like the Tooluxe battery soldering iron, it has no temperature knob, so I can't lower the heat further. It is just a plain on and off button, but as I said, it's for medium and heavy duties, and I don't need low heat for those situations.
Pros
Its 3-stop pivoting head transforms the device from pencil to pistol grip
The indicator light informs the user about the device's temperature
Best for medium to heavy applications
Lithium battery delivers 40 minutes of run time
Bulky design is easy to spot
After 18 seconds, the iron is ready to use
Cons
No temperature knob to adjust flame
Overall, it's a great alternative to a portable soldering gun for car enthusiasts and engine hobbyists who avoid soldering irons with butane leakage or annoying 50-feet extension cords.
7. BLACKCUBE SI-L-4V-PRO Cordless Soldering Iron
When I was just a DIY hobbyist, I got this model from Blackcube as my first soldering iron. I bought this personally and not online, so when I saw its 8-inch size, comfortable TPE grip, and embedded LED lights, I knew this would be a top-tier tool for my rookie years. It's a battery operated soldering iron with a few freebies.
There's a charger, a small stand for the iron, a tin wire, and a pouch. I like that it's a minimalistic portable soldering iron with a 1500 mAh built-in battery. As a starter, this power capacity is large enough to last a day or two with occasional use.
Like the Weller BL60MP, this also needs 3 hours to get fully charged. It is also similar to the M12 with its indicator light feature that tells the user if the tip is already hot.
I like that the longer I use this lithium battery soldering iron, the hotter it gets. It flares up the tip from time to time until it reaches its maximum temperature. What's essential in this feature is I won't have cold solder joints, and it is just a hot tip all the way through, pleasant to use for welding circuit boards.
The only inconvenience is that there are no extra tips in the package, and I didn't bother to get one. However, the iron is still operable after almost three years since I've got it. The original soldering tip is still holding well.
Pros
Its 8-inch design with TPE grip suits novice solderers
Has freebies (a charger, stand, tin wire, and pouch) and 1500mAh battery
Can last for years
Indicator lights tell users when the iron is usable; 3 hours of charging time
The longer one uses it, the hotter it gets
Good for welding circuit boards
Cons
Replacement tips are sold separately
I plan to gift this to my nephew, who needs one for his CE lab work. With its neat packaging and simple materials in one carrying case, I'm sure he will love it.
8. Weller WLBU75 Cordless Soldering Iron
Weller never fails to get on the list of top cordless soldering irons. Of the products I tried, this portable iron powered by butane gas has one of the longest operating times. I was shocked when I first bought it from the nearby hardware shop because I needed to finish a commission deadline that afternoon.
I thought it wouldn't last, but a whole hour had passed, and I was still working on the Printed Circuit Board. Most cordless soldering irons I've bought at an affordable price can't compete with this widget. I've had a butane-powered soldering iron from Jectse once, and its torch is a lot weaker than this Weller, so it wasn't able to perform continuous soldering.
With its 25W-75W power range, this item provides more heat than the typical battery powered soldering gun. Instead of generating a measly 800˚F-900˚F max heat, the WLBU75 can reach 1075˚F.
Of course, with its temperature, it has a protective cover. This is helpful in avoiding chipped solder tips every time I accidentally drop it.
Also, this device surprisingly works well for 16-gauge wiring. Thanks to this tool, I can get into and see in narrow spaces better, since it has a torch.
In terms of drawbacks, I wish the soldering iron came with smaller tips. The default tip is good, but it's not suitable for all applications.
Pros
Allows 1-hour continuous operation
A solder iron with a 25W-75W power range
1075˚F high heat, better than its counterparts with batteries
Protective cover for tip safety
Can work on 16-gauge wiring
Torch for constricted areas
Cons
It needs thinner iron tips
As a guy who sometimes works in a small room with no electrical outlets nearby, this is a good cordless soldering iron.
9. FrogBro LD006A Cordless Soldering Iron
Our next rechargeable soldering iron offers 1800 mAh of battery capacity for a reasonable price. It comes with an iron holder and a small sponge. Like some of my portable soldering irons, I can bring this anywhere, but without the problematic wires.
It has a touch sensor for heating, and a power button to activate it. This feature is one of the primary reasons I have this product in my collection. I just need to place a finger on the sensor, and after 45 seconds, it achieves an 896˚F upper-temperature rating.
Actually, my grandpa was the one who recommended this product to me, and based on his experience, the two LED lights are very assistive for his night owl soldering activities. The design doesn't strain his hand due to its light weight, and it doesn't force him to squeeze the tool hard to get heat on the rosin solder. A soft touch will do.
The heat is not much compared to butane-powered torch kits, but for light solder work, it arrives at the temperature I want for soldering television components. The battery indicator light is also handy. It is like a smartphone that gives information about the battery level. Anyhow, if the battery dies unexpectedly, 1 ½ hour of charging time is enough.
If I had to nitpick this product, the instructions could use a little work. First-time users of soldering irons may find the guide disappointing.
Pros
An affordable price
A portable soldering station with iron holder and mini sponge
Ergonomic touch sensor and power button to heat the solder
Can reach the highest temperature after 45 seconds
LED lights and light weight, good for night work and ensures comfortable hold
1800 mAh battery with 1.5 hours of charging and handy battery indicator light
Cons
Not as hot as butane-powered devices
Unhelpful instructions
Altogether, it is nice that this product could reach hundreds of Fahrenheit without melting the silicone grip. This proves its safety, so no worries on my part.
10. Wall Lenk LSP-60-1 Butane Powered Soldering Iron
As I've mentioned in the previous soldering tools reviews, I'm not too fond of butane soldering techniques, especially if the cordless device is suspiciously affordable for its benefits. However, this Wall Lent is a game-changer.
Considering its 30 to 70-watt electrical power, I thought this was a DeWalt cordless soldering iron. But, when I think of it, the power of this device is even better. I had a DeWalt portable station before, and it was only rated for 50 watts. It was also not wholly wireless because it needed rechargeable batteries to power it up through a cord.
Anyway, this butane soldering iron doesn't need bulky AA batteries. It is a three-inch design, so it sits comfortably on my hand, whatever grip I prefer. At first, I was confused about how this is a 3-in-1 tool, but it has three different purposes. With the tip, I can solder precisely. Remove the tip, and I have a blow torch. Set it to the lowest heat setting, and I can do shrink tubing.
Now, based on my observation, the tip is slightly fragile, but I'm relieved that it has a protective cover that frees me from getting another soldering tip, or worse, a brand new Well Lenk. This protective cap also helps in terms of heat suppression, and the built-in stand is a plus factor that angles the device so it won't lay flat and burn a surface.
Anyhow, it's unfortunate that with its small body, it also comes with a small storage for butane. Other than that, it can manage all-around soldering for its size.
Pros
Competes with high-wattage soldering irons
No bulky rechargeable batteries
Three-inch handle, perfect for comfort
3-in-1 tool for high and low heat soldering
It comes with tip protection
Built-in stand to angle the tip and keep it from scorching a surface
I can never go wrong with a pocket-size soldering tool. This is good for bikers who need a pocket device inside their leather jackets.
What to Look for When Buying Cordless Soldering Irons
Your Preference
It is only a matter of preference when buying your first cordless soldering iron. You can choose from two power sources: butane gas or batteries. Both are reliable for soldering heat, but they have their own pros and cons. Let's tackle each type.
A butane soldering iron has a cartridge that you'll need to refill once in a while. Usually, its soldering tips are removable, and you can use it as a torch due to its capability to reach extreme heat levels. However, if the butane option is not used correctly, chances are you can ignite flammables. That's why experience is a must when you solder with it.
Batteries, on the other hand, are well-known for their convenience to power a machine. In this option, you can choose between a rechargeable lithium-ion battery or a disposable one. Li-ion batteries need recharging from time to time, while disposable batteries need replacements once they're drained.
Long-Lasting
In soldering jobs, your iron needs to last for a good amount of time to have productive work. For cordless soldering irons, 40 minutes or more are adequate to do thousands of solder joints in one sitting. It is a high-quality iron if it has the versatility to expand its lifespan while maintaining its heat for at least an hour.
Butane gas can last a couple of hours, depending on how often you refill it. Meanwhile, replaceable/rechargeable batteries offer 30-120 minutes of burn time, but you should also consider the batteries' quality.
Tip Temperature
A solder's melting point ranges from 374˚F to 572˚F, depending on the kind of solder you'll apply. So, to successfully create a reliable and conductive solder joint, your device needs to exceed these temperatures. You should consider how quickly the tip heats up and whether the iron keeps the heat level constant.
It is best if you'll get the ones with temperature dials or nudges to control the heat any way you like. You don't want to have extreme temperatures on delicate PCB components, so soldering tip sizes plays a crucial role as well.
Grip Ergonomics
One of the primary reasons some people prefer cordless irons is that they want things done ergonomically. Besides the handy and compact design, the efficiency of the grip increases productivity. The grip should be well-insulated. A soldering iron is a good buy if it has a grip with textured silicone.
This design helps suppress heat and decrease the chances of slippage. You can also consider the size of the tool. If it is small and you can hold it wholly with one hand, silicone grips may be unnecessary. However, a grooved grip is required if it is bulky, like those battery-powered irons.
Add-on Features
While the best soldering iron can stand on its own, it's a win-win situation if additional accessories are available. LED lights, an iron stand, extra soldering tips, extra batteries, and a wet sponge are some features that can assist you while soldering.
These freebies can improve your soldering experience and save you from spending extra bucks from getting them separately.
How Do You Make a Cordless Soldering Iron
So you're saving and thinking that maybe you can build a DIY cordless soldering iron. With the right materials, you can actually create one! What you need are the following:
18650 Li-ion Cell- The battery you'll need to power the device
Tp4056 – A charger component for single cell lithium-ion batteries
Push button- To activate your soldering iron
5V Soldering Iron Tip – A basic tip that you can get from your local shop
20mm PVC Pipe – This will serve as the enclosure of your battery
Copper wire – This will connect your battery to other parts
Nut (hardware)- A threaded hole to insert the soldering tip
First, connect the negative contact of the li-ion battery to the negative contact of the Tp4056 component. Second, with your copper wire, connect the positive contacts of the battery and the Tp4056.
Third, with glue, stick the nut on the positive side of the battery. The nut should overlap the wiring connection on the positive contact of the battery.
Fourth, stick the push button on the battery's body near the nut. With the copper wire, connect both positive and negative contacts of the push-button to the battery.
Fifth, cut the PVC tube, making sure it's big enough to cover the battery, the charging component, and the wire you connected. Create a small hole on the tube the size of your push button. Sixth, insert the components inside the PVC tube.
You can use firm plastic sheet cutouts to cover both ends of the PVC, but make sure to poke holes on the nut side (positive) and the charging port (negative).
Lastly, insert your 5V soldering tip inside the nut. And there you go. Push the button to operate and wait until it reaches the maximum temperature. You can recharge it too with a USB cable.
What Temperature Should You Set Your Cordless Soldering Iron to
Your soldering iron temperature should always be above the melting point of your solder. For a lead-based solder, 600°- 650°F is adequate enough to melt it and create a joint. Meanwhile, a lead-free solder should at least have 650°- 700°F heat.
It is necessary to set your soldering iron to the correct temperature, no more, no less. The tip should get hot enough to reach the solder melting point but not too much that it can damage other parts of the electronics you're working on. Also, with increased tip temperatures, you can damage the iron itself and increase the risk of oxidation.
Can I Charge My Soldering Iron Using a USB
You can use a USB connector to charge your soldering iron as long as the tool has a built-in rechargeable battery with a Type C charging port. If you want this type of soldering iron, check if it's compatible with a Type C charger or any charging connector with a USB end.
This is an efficient tool if you want a charger replacement. You can use your Android phone's charging cable for it too, like the KATEUF Portable Soldering Iron. However, use an electric adapter for your safety and plug it in your wall outlet, not in any USB-compatible appliance like a laptop or computer.
Cordless Soldering Gun Vs Iron: Which One Is Better
A soldering gun is more heavy-duty than a soldering iron when it comes to power. It heats the tip faster thanks to its step-down transformer. However, its downside is that it's heavier than the iron, making it hard to work with, especially if you're holding it for many hours.
On the other hand, soldering irons are easier to work with because they are compact. They are more flexible to work with because they stay on even if you don't press the trigger. You can choose from small to large irons depending on how demanding your work is. The only disadvantage of soldering irons is their incapability to conserve energy due to their slow, gradual heating.
Conclusion
Choosing the best cordless soldering iron is not hard if you know what to look for. If you prefer charging or replacing batteries, get a battery-powered soldering tool, but if you prefer butane gas for higher heat, choose a good butane iron. Either way, you need to look out for the device's ability to handle heat and how long it can stay at a specific temperature.
Beware of the cheap ones, primarily if they're powered by butane. You don't want to create flying sparks that won't only harm your project but yourself too! Finally, beware of the short circuit from battery-powered irons.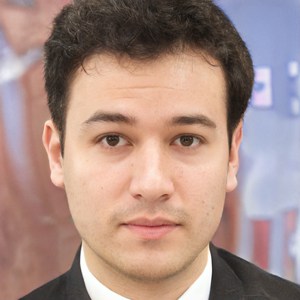 I am Edwin Jones, in charge of designing content for Galvinpower. I aspire to use my experiences in marketing to create reliable and necessary information to help our readers. It has been fun to work with Andrew and apply his incredible knowledge to our content.