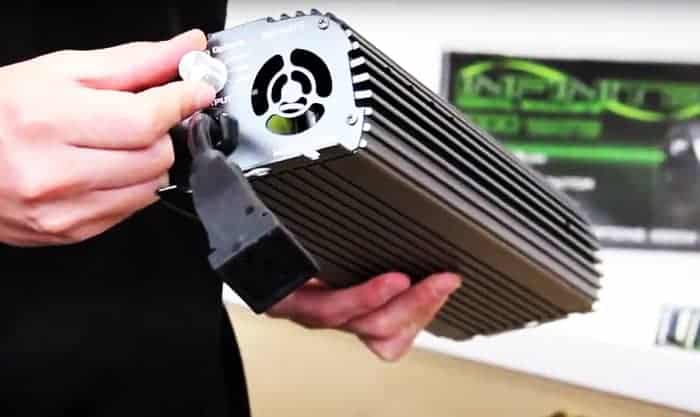 Historically, plant production has been dependent on the wildly variable climate and the local environment. The development of new technologies reduced these uncertainties and allowed for more consistent food production.
One such technology is the grow light. Instead of relying on the sun, which is affected by cloud cover and precipitation, I used high-pressure sodium (HPS) or metal halide (MH) bulbs. That way, I have consistent and continuous light for photosynthesis.
These lighting systems consist of bulbs, reflectors, and ballasts. Today, I will focus on finding the 12 best digital ballasts by reviewing each of their features and the value they offer. After that, I will also discuss what a digital ballast is, how it works, and answer several frequently asked questions.
Top 3
Tophort Electronic Ballast

| | |
| --- | --- |
| Volts Range | 120/240 V |
| Wattage | 1000 W |
| Cord Length | 8 ft |
Best Digital Ballast Reviews
1. iPower GLBLST1000D Digital Ballast
The iPower GLBLST1000D 1000 watt digital ballast is one of the more affordable options on the market. It has a built-in microprocessor that automatically detects MH and HPS bulbs, negating the need for an additional switch or ballast and keeping your lighting system simple.
I like that it has dimmable lighting control to set the power output to what my plants need–50%, 75%, or full power. It also automatically detects the input voltage between 100 and 265 volts – I am confident that my ballast wouldn't fail if I accidentally plugged it in the wrong socket.
The air-cooled aluminum-finned casing keeps the ballast cool. I can rest easy knowing that this design, plus the built-in 40mm fan, will prevent the unit from overheating.
The device's internals are also coated with resin to prevent moisture and other debris from building up inside. Although this is one of the more affordable models on the market, I like how its features stack up against the pricier options.
One point of concern that I have is that it doesn't have a built-in reset button. If it didn't work for some reason, I would have to unplug it from the wall, disassemble the fuse for checking, and replace it. It's quite a tedious process when a simple reset button would have done the job.
Pros
Automatically detects MH and HPS bulbs
Adjustable power output – 50%, 75%, and 100%
Automatic voltage detection (between 100 and 265 volts)
Air-cooled casing with built-in 40mm fan
Resin coated internal structure for longevity
Comes with an affordable price
If you're a new horticulturist, this ballast is a good option. Its features, coupled with its low price, make it easy on the pocket. With the iPower GLBLST1000D, you can purchase more lighting systems for the same budget.
2. Vivosun Horticulture 600 Watt Digital Ballast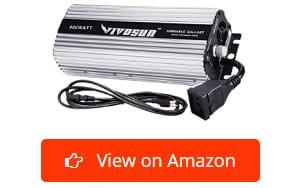 The Vivosun Horticulture 600 is another option for me if I need a smaller ballast. Its 600-watt capacity is better for smaller applications, primarily if I work with 600-watt bulbs. I would not recommend installing a 600-watt bulb on a 1000-watt ballast simply because they're not exactly compatible with each other.
What I like best about Vivosun is that it stands behind its products. I received excellent customer service when one of my ballasts gave out. A day after I sent the email about my broken device, I received a call from them, and they sent me a replacement unit in the same week. Now that is fast service.
This ballast runs both HPS and MH bulbs so I can use them interchangeably between my setups. I can also set its power output between 250 watts, 400 watts, 600 watts, and Super lumens (660 watts). The controllable output allows me to select the correct lighting level for each plant group that I have.
It can draw power from both 120 and 240 V sources and 50 Hz or 60 Hz electrical frequencies, so no matter what setup I have, I can use this ballast.
My only concern for this unit is that it causes radio interference. It's not a problem if you don't use the radio a lot, but I find it very annoying in my case.
Pros
Excellent and quick customer service
Runs both HPS and MH bulbs
Multiple power levels – 250 watts, 400 watts, 600 watts, and Super lumens
Runs on both 120 and 240 V power supplies with either 50 Hz or 60 Hz electrical frequencies
Cons
Causes radio interference
This 600-watt device is one of the best grow ballasts in the market. Its integrated features plus Vivosun's outstanding customer service and guarantee make it an excellent purchase.
3. Tophort 1000 Watt Digital Electronic Ballast
This device offers features similar to other options like automatic voltage detection for 120 & 240 volts, a sturdy body, and a built-in fan. But we will focus on its unique characteristics in this Tophort ballast review to help you make an informed choice.
The feature that stood out the most to me is that it is remarkably quiet. This 1000w digital ballast is rated at 68.5 decibels, just as loud as a typical conversation. If it's placed high above your head or tucked away in an electric cabinet, you would barely hear it.
Another feature that gets my interest is the 'Super Lumen' option, where it pumps out 110% of its maximum power. You have to be careful when using this feature, though, as your bulb might not handle it.
When I look for any electrical device, I typically choose the most power-efficient option. This ballast stands out with a power factor rating of 99.9%. That rating makes it one of the most efficient models available at this price point.
One big issue I encountered during my first order is product damage. I requested replacements from the manufacturer, and those items had the same issue. However, the company did reach out to rectify the problem and send me suitable replacements. I think it's more of a delivery issue than a manufacturing one. Still, the problem would've been avoided if the packaging was better.
Overall, this digital HID ballast works perfectly well, and the brand has excellent customer service.
Pros
Remarkably quiet, no louder than a typical conversation
Super Lumen option if you need to pump out extra brightness
Highly-efficient power factor with a 99.9% rating
Excellent customer service
Cons
Better packaging for safer shipping is needed
I highly recommend getting this device if you need a ballast. You just have to double-check the item upon receipt for damage.
4. iPower GLBLST600D Digital Ballast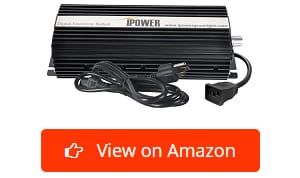 I don't think that everyone needs a 1000-watt bulb. If you don't have a large plot or your plants don't require high amounts of light, then you should get the best 600w digital ballast instead.
The GLBLST600D is a heavy-duty unit made by iPower but rated at 600 watts. I appreciate that it has the same features as its higher-powered 1000-watt brother. It has an aluminum-finned casing for cooling with a built-in 40-mm fan. You can adjust its settings to 50%, 75%, and 100% power, and it's compatible with both 120 and 240V.
It also automatically detects and adjusts for both HPS and MH bulbs. I don't need to purchase multiple ballasts for my various equipment–this device is enough for both my setups.
The best thing that I found on this item is that it has a built-in reset button. If, in any case, it won't turn on, you can simply press that button to restart the unit. It also comes with a free heavy-duty cord, and who doesn't like freebies?
I just have to tell you that this comes with an S-type plug for the reflector. If you have a three-pin plug, you will need to buy an adapter for it. It is an inconvenience, but I think it is worth it if you have this ballast.
Pros
Built-in reset button for troubleshooting and restarting
Aluminum-finned casing with 40 mm fan for cooling
Adjustable power settings of 50%, 75%, and 100%
Compatible with both 120 and 240V power sources
Automatically detects and adjusts for HPS and MH bulbs
Cons
S-type plug requiresan adapter for three-pin reflectors
You don't have to go for the highest power rating if your plants don't require a higher output, or if you don't need to light up a large area. I would recommend this 600-watt digital ballast instead in these cases as it will fit your needs better.
5. Hydrofarm Quantum QT600 Digital Ballast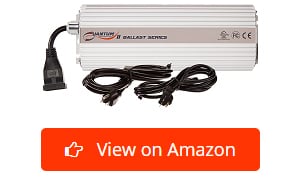 As part of my 600 watt digital ballast reviews, I will look at the Hydrofarm Quantum QT600. This device has a solid aluminum-finned casing and a built-in fan for cooling. The ballast's white finish helps it reflect and dissipate heat more effectively, making it around 15% cooler than other devices.
A resin coating covers its internal circuits, so I'm sure that it won't be affected by my indoor hydro farm's high-humidity environment. This protective coating will make it last longer, and it'll protect my investment well.
It runs both HPS and MH bulbs and gives you power options of 50%, 75%, and 100%. You can plug it in both 120V and 240V outlets and it will also accept 50Hz to 60Hz frequencies. I can pretty much use this anywhere in the world without having to worry about compatibility issues.
What I like best about this device is that everything that you might need comes with the package. Hydrofarm Quantum has included both 120-volt and 240-volt cords, making it easy to use with whatever power source you have.
If there's one thing that bothers me, it's the fact that it's not compatible with double-ended (DE) lamps. If you don't have bulbs like these or if you don't plan to switch to them in the future, then this ballast is right for you.
Pros
Solid aluminum-finned casing with a built-in fan and white finish keeps the device cool
Resin covered internal circuits for protection against moisture
50%, 75%, and 100% adjustable power options
Runs both HPS and MH bulbs
Compatible with both 120V and 240V power sources, 50Hz to 60Hz frequencies
Both 120V and 240V power cords are included in the package
Cons
Not compatible with DE lamps
I would recommend this
HID electronic ballast for you
, especially if you have multiple power sources. The cords that they include in the complete package really make it convenient to set up with whatever system you have.
6. Phantom PHB2010 II 1000 Watt Digital Ballast
The Phantom PHB2010 II electronic ballast for HID lamp is one of the more premium models on the market. What sets it apart from others is that it has an integrated microprocessor, ensuring that your system will run smoothly in any event.
I think this is one of the more advanced ballasts on the market with its microcomputer control. The brightness setting is digitally controlled with a push-button and LED markers. It really feels like a high-tech device.
These technological features give it a substantial operating advantage. It runs quietly and does not give off any radio interference at all. I barely noticed that it was there right beside me.
I'm amazed by the hot restrike programming of the ballast. It will detect a power loss and won't immediately restore power for at least 15 minutes. This programming protects both the bulb and the ballast and extends the service life of your equipment.
You can mount that unit itself whichever way it suits you. The controls and plugs situated at its back mean that you can place it flat or on its side to save space. However, if you want to mount it on the wall or hang it from the ceiling, you might have to consider building a custom bracket for it.
Pros
The integrated processor keeps your lighting system running smoothly
Push-button control with LED markers for adjusting brightness
Quiet and radio interference-free operation
Hot-restrike programming prevents refire and allows for cooling in case of power interruption
Multiple mounting options
Cons
A custom bracket might be needed if you're mounting it on the wall or ceiling
Although this is one of the pricier models on the market, it also has more advanced features than other devices. If you're willing to invest, then go for this HPS digital ballast.
7. Galaxy 902680 Ballast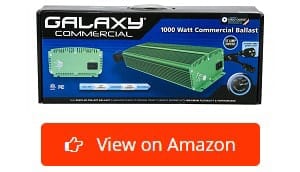 I will focus on model 902680 for this Galaxy Ballast review. It is a 1000-watt digital ballast compatible with HPS, MH, and DE bulbs. It is made by Sunlight Supply, which makes it compatible with all Sun Systems branded reflectors.
I like that it has a smart-start feature, making sure that my bulbs cool down first before lighting them up again in case of a power failure. It also has a power setting knob for 50%, 75%, 100%, and 110% setting, making it useful for my plants' differing requirements.
It's a lightweight system, so I had no problems setting it up. It's also quiet and wouldn't disturb me from my work.
But what makes this device unique is that it's the only fully-sealed system that I have seen so far. I'm sure that moisture, insects, and other foreign matter won't get inside the unit because it has no openings. The complete seal of the ballast will extend its service life to make the most of my purchase.
On the other hand, the fully sealed system also means that it gets quite warm when used. I would recommend that you place this unit in a well-ventilated area so that the continuous flow of air will help it cool down.
Pros
Compatible with HPS, MH, and DE bulbs
Works with all Sun Systems reflectors
The Smart-start feature cools down your bulbs before switching them on
Customizable power settings of 50%, 75%, 100%, and 110%
Easy to set up, quiet operation, virtually no noise when turned on
Fully-sealed system prevents moisture, insects, and other foreign matter from getting in
Cons
The fully-sealed unit tends to get warm
This DE ballast is perfect for your plants, specifically if you're in colder climates. Its fully-sealed unit will protect it from moisture and foreign objects. Still, you must make sure that it's in a well-ventilated area to avoid overheating.
8. Yescom 600 Watt Digital Dimmable Ballast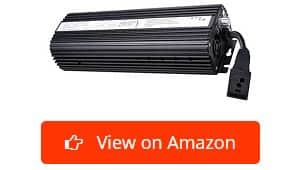 One of the devices that I looked at when searching for a 600-watt digital ballast is the Yescom dimmable ballast. It is protected by an aluminum-finned body for efficient heat dissipation and has an integrated fan for additional cooling.
The Yescom Ballast offers four power levels to create the optimal environment for your plants – 250W, 400W, 600W, and super. These levels let you operate your bulbs at maximum efficiency and give you the best output for your plants.
This device is compatible with all power systems, from 120 V to 240 V and 50 Hz to 60 Hz. I like that you can also use this for both HPS and MH bulbs. These options give you the flexibility to use it in any existing setup. No matter what electrical and lighting system that you use, this ballast will work for you.
The Yescom Ballast is one of the more economical options on the market, so it is definitely something that you should look at when you're a first-time buyer.
The only problem that I encountered is that the ballast that I received had a minor dent. While there was no damage to its internal structure, I was annoyed because I did not get a perfect unit. I think it was an issue with their delivery service so you need to inspect and test the product thoroughly upon arrival.
Pros
Aluminum-finned body with integrated fan for efficient cooling
Four power levels for the optimal environment
Compatible with any power source – 120 V to 240 V, 50 Hz to 60 Hz
Works with both MH and HPS bulbs
One of the more economical options on the market
Cons
Item might get damaged during delivery
If you're a first-time grower and plan to set up your first plants without spending too much, I recommend this unit for you. It has all the necessary features that you need for lighting and is cost-efficient to purchase.
9. SolisTek 600 Watt Digital Ballast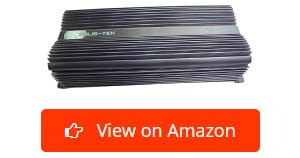 If you're looking for an advanced ballast that could support you as you increase your planting capacity, then look no further than the SolisTek 600W Digital Ballast. This smart device has many features that will protect your investments.
While I cannot say that this is the best HPS ballast on the market, it has many positive attributes. The feature that stood out the most for me is its Ignition Control. What it does is it monitors each of your SolisTek ballasts when being turned on. It will ignite all of your lamps at different times within 5 seconds to prevent your breakers from overloading. That is amazing!
I also like the Connection Awareness innovation – where it will not fire a bulb without a complete and proper connection. If there is a shortage in your system, you can be sure that it won't turn on and cause any untoward incident.
Another design that is unique to this ballast is its twin-peak casing. The fins on its external case have two peaks – giving optimum cooling even indoors. The ballast keeps its temperature down even without using a built-in fan, thereby decreasing its operational noise.
Aside from all these features, it also has 4-step dimmable settings, soft-start capability, and even works with MH, HPS, and DE bulbs. It works with both 120 and 240 V power sources and 50 to 60 Hz frequencies. I can easily connect it to any system that I encounter.
Of course, with all these features, it does come with a high price tag. But even so, I would recommend this to you, especially if you're willing to invest in your business.
Pros
The Ignition Control feature prevents possible circuit overloading by staggering bulb firing times
Connect Awareness automatically tests the system for shortage before switching on
Unique twin-peak design for optimum cooling without additional fan noise
4-step dimmable ballast with soft-start capability
Works with MH, HPS, and DE bulbs, 120V, 240V, 50-60Hz
Cons
Price is pretty high when compared against other 600-watt ballasts
If you plan to expand your planting capacity in the future and you're willing to invest in your equipment right now, I suggest you choose this ballast. The value that you get from this device is well worth the expense.
10. Tophort 400 Watts Digital Ballast
I don't always need a digital ballast 1000w for my plants. There are several times that I only use a 400-watt bulb – that is why it is more cost-efficient for me to go with a smaller ballast like the Tophort 400 Watts Dimmable.
This device has the same quality and features as the bigger 600 and 1000W models, yet come at a more economical price point. I like that I get several innovations like the built-in cooling fan and the graduating fin design to minimize heat without spending so much.
It has four power options – 150W, 250W, 400W, and Super lumens (110%). The different power levels give me the flexibility to set the brightness that my plants need. It can draw power from both 120 and 240 V outlets at both 50 and 60 Hz frequency – allowing me the flexibility to work with any existing system.
Despite being smaller, this device is just as quiet as the more powerful models. If I'm looking for a quality ballast and don't need a higher wattage, Tophort is the right choice.
However, I do have a problem with their delivery. I have received damaged items several times, and although they replace them immediately, it is still quite a hassle. So if you buy a Tophort ballast, be sure to check it and have it replaced asap if there are signs of damage on it.
Pros
It has the same quality as the bigger models, but at a lower price point
The built-in fan and graduating fin design offer efficient cooling
Four power options: 150W, 250W, 400W, and Super lumens (110%)
Works with both 120 and 240 V and 50 and 60 Hz frequencies
Quiet operation despite its smaller size
Cons
It might get damaged by delivery, so you have to inspect it immediately upon arrival
I have always liked Tophort ballasts, and this time is no different. If you only work with 400w bulbs, this ballast is what I would recommend for you.
11. Yield Lab 400 Watt Digital Ballast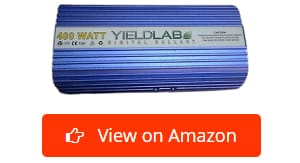 The Yield Lab 400 Watt Ballast caught my attention because it was one of the slimmest devices that I have seen. I like how they could fit an internal fan, given its small size. Despite it being compact, it is one of the cooler models available on the market.
For safety, it has a quick change fuse and a spare underneath the input plug. In case it breaks, I can easily replace it with the included spare.
The ballast also gives me four power options – 50%, 75%, 100%, and Super lumens at up to 115%. I can use these different settings for different plant growth stages and adjust for differing outside climates. That way, I can keep my plants at the most optimal temperature level.
I like that Yield Lab had their ballasts certified by UL and RoHS. This specific model also complies with CE standards. These certificates keep me confident that I will stay safe when using Yield Lab products.
Since my friends and I haven't had any problems with our Yield Lab ballasts, we haven't needed to reach out to their customer service. However, when I tried to contact them to ask a couple of questions, I couldn't find their details. Although I was able to answer my own questions, it would've been better if I was able to call them.
Pros
One of the slimmers devices on the market
Integrated fan provides more heat dissipation than other brands
Built-in quick-change fuse and spare for safety and convenience
Multiple power options for different stages of plant growth and climate adaptation
Complies with UL, RoHS, and CE standards
Cons
No clear way to directly contact customer service
My experience working the Yield Lab ballast is mostly positive. It has everything that I need, and it works well day in and day out. My only concern would be the lack of customer service contact details, but it hasn't been a problem for me so far.
13. Vivosun 1000 Watt Digital Ballast
This Vivosun ballast review will look at the characteristics of the 1000w Dimmable Electronic Digital Ballast model. It comes at the same price point as the previous models in this digital ballast review, so directly comparing them is a fair game.
It is compatible with both HPS and MH bulbs and can produce up to 1100w of power. It has a built-in fan, and the aluminum-finned casing is efficient in dissipating heat.
For me, the unique attribute of this ballast is its soft-start feature. Other devices, in case of power failure, will immediately refire a lamp when switched on. This ballast lets the lamp cool down first before switching it on again, thereby increasing the lifespan of your bulbs.
There are also four rubber feet in the box, so I could set the ballast up on my table if I do not wish to suspend it from the ceiling or mount it on the wall.
Suppose you don't set the ballast at the same watt option as your bulb, it might not restart when electricity returns—or it could potentially damage the bulb itself. You have to ensure that the ballast is at the correct power setting when turning it on again.
Pros
The soft-start feature doesn't immediately refire bulbs in case of a temporary power outage
Rubber feet included in the box if you want to place the ballast as a freestanding unit
Compatible with both HPS and MH bulbs
Produces 110% power at 1,100 watts
Aluminum-finned casing and a built-in fan for efficient cooling
Cons
The bulb might not turn on or get damaged if the ballast is not set at the correct watt option when restarting
This electronic ballast for HID lamps is the right choice for you, especially if you're particular about extending the life of your bulbs. I would recommend this to new horticulturists who are just starting and are looking to make the most out of their equipment.
What to Look for When Buying Digital Ballasts
There are many different ballasts in the market, each with their features and ratings. While it may be tempting to go for the most expensive one, that is not always the correct option for you.
Before you make any purchase, I suggest that you review your needs first so that the ballast that you choose will fit perfectly in your grow light system.
So, what are the most important factors to consider? I'll list them down below.
Power Rating
Wattage is the first thing that you should look at when considering a ballast. You have to make sure that the bulbs you have or are planning to buy will be compatible. For example, if you have 1000-watt metal halide bulbs, you cannot use a 400-watt ballast. It will not give you enough power to utilize the bulb efficiently and may cause the bulb to not light up at all.
On the other hand, you can use a 600-watt bulb on a 1000-watt dimmable ballast. But you have to make sure that its setting is at 50% power or less. Otherwise, you risk blowing the bulb.
I would recommend that your ballast has the same power rating as the bulb that you have. That way, you can assure that it will work safely and directly out of the box.
Compatibility
Single-Ended vs. Dual-Ended Bulbs
Aside from looking at the power rating, there are also other compatibility issues that you might face. The most common problem is if it's suitable for single-ended (SE) and dual-ended (DE) bulbs. SE bulbs have only one end that screws into a socket base. DE bulbs, on the other hand, connect to fixtures on both ends, much like your traditional fluorescent lamps.
Some ballast manufacturers make their products compatible with both designs, but most only cater to either one. Before making a choice, determine first what fixtures you currently have or are planning to purchase. A DE bulb won't run efficiently and might burn out if you don't use a proper ballast.
High-Pressure Sodium vs. Metal Halide Bulbs
Most ballasts are compatible with both High-Pressure Sodium (HPS) or Metal Halide (MH) bulbs. However, some older models out there won't work with both or might require a switch. You should read through the product description first to be sure that it works for both bulbs.
I have seen all digital ballasts work with 100 to 240 V and 50 to 60 Hz frequencies in recent years. However, except for a couple of brands, the included power cords are only rated for 120 V. Before plugging in the socket, make sure that the cable you're using fits the right voltage. The power cord might get too warm if it is not suitable for the voltage you're using.
While this is a rarity, some ballasts do not work with a specific brand. I suggest that you read the ballast labels before purchasing – the manufacturer would usually indicate if their ballast won't work with a bulb brand. If you want to be sure you can call their customer service directly to confirm.
Certifications
Ballasts are high energy devices. The device itself must be capable of handling the voltages and amperes that are required to power your lighting. Furthermore, the extended operating times, which can reach up to 18 to 24 hours a day, causes heat to build up. The ballast's components and insulation must withstand the high-temperature levels that its workload brings.
There are regulating and certification bodies both by the government and the private sector to ensure that these high-energy devices are up to spec. Look for markings such as RoHS, UL, and CE – these denote that the manufacturer conforms to these standards and is considered safe for use.
Customer Service
Most people do not consider after-purchase care, but this is a crucial factor for me when I choose. I do not want to purchase a product if the manufacturers do not help their customers with it.
I want to have excellent customer service if I ever have a problem with my device. I know that manufacturing processes are not perfect, so I want the company to help me fix it easily and quickly if there is a problem. After all, nobody likes to be given the go around.
Other Important Factors to Consider
What is a Digital Ballast?
Ballasts are required to regulate the voltage that grow lamps receive. In its cold state, High-Intensity Discharge (HID) bulbs have a solid metal amalgam inside. These bulbs require a high-voltage to excite and vaporize. It will begin to glow once it's in a gaseous state, and then the voltage requirement drops significantly. If you don't use a ballast, the initial high-voltage will cause the lamp to blow out when it gets warm enough.
How does a Digital Ballast Work?
A digital ballast uses microprocessors, switching electronics, and small frequency inductors to monitor and adjust the voltage as needed by the bulb. These components make it efficient to run, cooler to operate, and require less power than magnetic ballasts.
What are the Different Types of Digital Ballasts?
Most digital ballasts differ in their output: there are 1000-watt, 600-watt, and 400-watt ballasts. You have to choose the correct power rating to ensure that they will run efficiently, and you lessen the risk of damaging your bulb.
Digital ballasts also vary in terms of bulb compatibility. Some work with both SE and DE bulbs, while some only work with either one or the other.
What are the Benefits of Digital Ballasts?
Digital ballasts are typically smaller and lighter than magnetic ballasts. They're also more energy-efficient, saving you three to four percent per month. While that may not sound like much, if you are using multiple ballasts over a long period, that percentage will equate to substantial cost savings.
Digital ballasts are also quieter. Because the interior coils of magnetic ballasts vibrate, this produces a humming sound that gets louder as the ballast ages. Digital ballasts, on the other hand, use capacitors, switches, and inductors – all are non-moving parts. Your only consideration will be the built-in fan if it has any.
If you want consistency and control of light output, digital ballasts are also the way to go. Because of their microchips inside, they can control the incoming voltage and regulate it to specific levels that the bulb would need. You can also use its onboard system to reduce the output voltage and set your bulbs' brightness at particular levels.
Finally, digital ballasts tend to last longer than magnetic ones. A magnetic ballast's typical lifespan is only two to three years, while digital ballasts can last as long as ten years. While the purchasing cost of magnetic ballasts is lower, your overall operation will be more efficient with a digital one. These devices will save you money in the long run.
Frequently Asked Questions
What are the Most Trusted Digital Ballast Brands?
Go through various grow light ballast reviews, and you will typically find Vivosun, SolisTek, and Phantom among the top-rated digital ballast on the market.
I generally like Vivosun because of its value. It is one of the more economical options on the market. However, it still offers excellent customer service. And while it may not have advanced detection methods and other smart features, it works well for my needs.
SolisTek and Phantom, on the other hand, are some of the more premium options. They have smart features like Ignition Control and Connect Awareness, but their price can be a barrier for new growers.
I have also seen an Apollo ballast review. Although it seems to be a popular device as well, it is mostly geared for professionals with large or factory greenhouses. I don't think it is safe to use in smaller spaces and by new growers.
How Long Do Digital Ballasts Last?
In my years as a grower, I have seen some digital ballasts last longer than ten years. However, that longevity is beyond the norm—most of the models that I have seen typically last 5 to 7 years.
If you compare it with magnetic ballasts, which usually last 2 to 3 years, that is more than twice as long!
What is the Best 600 Watt Digital Ballast?
The best digital ballast on the market with a 600-watt rating is the SolisTek Dimmable Digital Ballast. It might be pricier than its contemporaries, but the advanced safety features make it worth the buy.
Will Any Digital Ballast Work with Double Ended (DE) Bulbs?
Unfortunately, no. DE bulbs have specific requirements that a digital ballast must meet. You will find that manufacturers will advertise the ballast if it works with either SE or DE bulbs, or both.
What is the Difference Between Digital and Electronic Ballasts?
Electronic and digital ballasts share mostly the same components. The main difference is that digital ballasts have an integrated microprocessor that detects and analyzes input and output voltages.
Electronic ballasts work on set parameters. It cannot analyze input voltages and cannot detect bulb health. It will only work within predetermined settings and may stop working and require a reset if the conditions do not meet the set parameters.
On the other hand, digital ballasts can automatically compensate for any input that it receives. It will adjust its output accordingly, no matter what the input voltage is. Digital ballasts also can communicate with the bulb and determine its health.
Are Digital Ballasts Better Than Magnetic Ballasts?
Definitely! I have worked with magnetic ballasts before switching over to digital. Although the capital outlay for the new ballasts was significant, it had a better economy in the long run. I saved on my electric bill, and the grow room was quieter.
I also anticipated replacing them about two years after I purchased them, but they are still operational today. I have already saved more than what I initially spent on these ballasts.
Where Can I Buy Digital Ballasts?
You can go online to purchase these devices. Amazon has an excellent selection of ballasts for all power levels and budgets. But before purchasing, make sure that you know what you need and have reviewed the product itself. It is better if you can purchase from the Amazon shop of the manufacturer or dealer directly.
Do Digital Ballasts Use Less Electricity?
Yes, you save a lot more electricity as compared with a magnetic ballast. The typical energy savings are usually 3 to 4%. Still, you multiply that over the number of ballasts you have and the length of time you use it, and it becomes a substantial amount.
For example, suppose you have 10 grow lights on magnetic ballasts, each consuming $70 a month, and you replace all of them with a digital ballast. In that case, you could save up to $336 a year annually.
Why Do Electronic Ballasts Fail?
The most common cause of ballast failure is moisture and heat. Whenever you plan to purchase a device, make sure that it can handle the ambient temperature and atmospheric water levels in your grow room.
The combination of water droplets inside your unit and the added heat of operation makes it a prime environment for corrosion. Also, dirt and grime and build up inside over the years, so it's better to check your ballasts occasionally for cleanliness.
Sometimes, improper installation and human negligence also cause ballast failure. Always read through the user's manual of your device, especially when you're using it for the first time. Double-check that your systems and cables are compatible with the ballast even before installing the unit.
Can Magnetic and Electronic Ballasts Be Used on the Same Circuit?
Yes, you can use both magnetic and electronic ballasts under the same switch. If you're upgrading your grow light system phase by phase, having both will not be a problem.
If you are purchasing a digital ballast for the first time, make sure that the ballast you'll acquire is compatible with your bulb and reflector. There may be times that an adapter is required to plug it into your new ballast.
Conclusion
If you plan to start or upgrade your grow light system, you must purchase the best HPS ballast or MH ballast that you could afford. There are many different options available to you. Still, the best digital ballasts you could buy would always be the ones that will perfectly fit your needs.
I highly recommend that you read this review anytime you're looking at your options and that you have studied our buyer's guide as well so that you know what to find. Once you've made your choice and received your product, review the included user's manual so that you're sure that you have installed the ballast correctly and safely.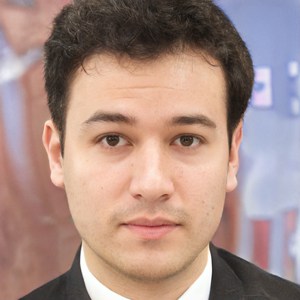 I am Edwin Jones, in charge of designing content for Galvinpower. I aspire to use my experiences in marketing to create reliable and necessary information to help our readers. It has been fun to work with Andrew and apply his incredible knowledge to our content.