Back then, electrical system issues get resolved with manual check-ups on wirings, breakers, and everything technicians find relevant. So, as a result, repairs and even new electrical layouts take a long time to be achieved.
But now, with the help of modern technology, following the paths of a circuit became less complicated because of the best electrical circuit tracer. This device used by professionals aims to find faulty lines and assist in creating complex electrical connections in buildings.
Acknowledging what's inside your walls means knowing what to repair and how to make your home safer. Plan out your home improvement projects, and enjoy using your power-hungry appliances. Later on, you will find out more as I share my expertise on this electrical tool.
Best Electrical Circuit Tracer Reviews
1. Klein Tools VDV500-820 Cable Tracer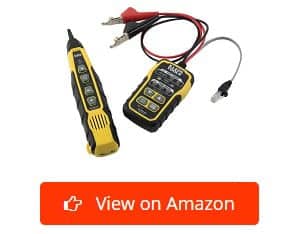 Featuring a professional-grade tone generator and tracing probe for non-active wiring, the Klein Tools VDV500-820 Cable Tracer can transmit signals to as far as 1000 feet with five distinct tone rhythms. Klein's transmitter comes with Toner-Pro technology, which tests for polarity and continuity, and displays results through the device's LEDs.
On one end of the transmitter is an RJ11 plug for my telephone and RJ45 data cables for tone wire pairs. This product lets you attach wires securely with angled bed-of-nails clips. That way, connections are tight, and signal transmission will be distinct.
If you worry about tracing circuits in a noisy environment, the tracing probe provides a 3.5mm headphone jack so you can focus on the audio coming from the transmission. I love that it's packed with a work light so I can see the right circuit in dimmed conditions.
Besides, this product's receiving end allows me to adjust volume, see the battery status, and trace wires in identical systems with its responsive, durable, and conductive tip. For additional accuracy, terminal blocks are also present to confirm wire pairs.
The package includes 8 AAA batteries, which I didn't have to change every time because the device shuts off automatically when not in use. So, I can conserve and prolong the use of these sources of energy.
I will suggest using headphones for this product since I find the receiver's speakers slightly weak. You can make use of the speakers when the tip is directly in contact with the wire you are tracing.
Pros
1000-feet signal transmission, 5 distinct tone rhythms, and terminal blocks
Professional-grade, can test for continuity and polarity
Angled bed-of-nails clips for better signal transmission
Convenient tracing with work light and headphone usage option
Responsive, durable receiver, RJ11 and RJ45 cables
Battery inclusions and automatic power shut off
Cons
Weak speakers can be a liability
Through the help of this device, I was able to identify my telecommunication problems. Thus, it saved me time and effort checking on what needed repairs. I am glad it worked to my advantage.
2. PTE Wire Tracer & Circuit Tester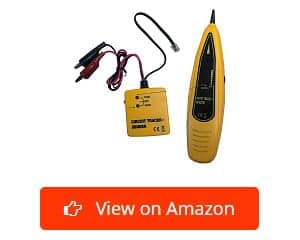 Tracking down wires, landline cables, and automotive lines became much easier for me when I started using the PTE Wire Tracer & Circuit Tester. It allows me a speedy detection of connections with reasonable accuracy. That way, I can save time and work on things that concern my electrical system.
No matter the method you use when locating coaxial cables, for example, false positives can still occur and mislead you. But with PTE's adjustable sensitivity levels, I was able to determine the line I was looking for by rotating the sensitivity control. So even with the receiver near a bundle of wires, this device can respond to a specific one.
In terms of flexibility, I am quite happy about having two alligator clips for Continued Mode and Tone Mode, and an RJ11 connector to test telephone systems effortlessly. Whether I am locating a wire in Tone Mode or checking for short circuits and continuity in Continued Mode, PTE is a reliable and safe tool to use.
Also, I don't have concerns regarding durability since I am assured of a year of warranty by the seller. So, that means this circuit chaser can be trusted by many. I remember being skeptical about buying this product because of its affordable price, but the performance proved this one to be a good circuit tracer for the money.
Some users have claimed that this electrical wire tracer doesn't work for wires at more than 10 feet. Nevertheless, to me, this is a good one, and it calibrates my electrical set-up.
Pros
Saves time locating circuit paths
Comes with adjustable sensitivity levels for a more distinct wire detection
Flexible usage with two alligator clips and RJ11 plug
1-year warranty from the seller
Good investment for an affordable price
Cons
Does not work on a range of more than 10 feet for some customers
Overall, I don't have problems troubleshooting using this electrical line tracer. I can always save time and effort tracking down connections. I will suggest this to my friends.
3. Fluke Networks Pro3000 Probe Kit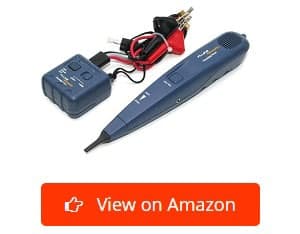 Tone and trace non-active network wires with the Fluke Networks 26000900 Pro3000 Tone Generator and Probe Kit. Featuring a precise SmartTone Technology, this product provides five unique tones and rhythms to isolate individual wire pairs. Through this, I can determine the exact wire pair smoothly.
Noisy environments have always been a problem when I locate wires. Good thing this Fluke circuit tracer comes with a Pro 3000 unfiltered probe with an ergonomic sleek design and loud speaker. In most cables, loud tone signals can go as far as 16km, which makes it distinctly audible.
Dangling on the transmitter's end are angled bed-of-nails clips for easier access to individual wires and RJ11 plug for telephone jacks. The receiver can also attach accessories like replacement tips and headphones if I don't want to bother anyone with the noise coming from the tracing.
A home's security doesn't end at its gate and fences. Through the help of this Fluke wire tracer, I was able to create an ideal layout of my security system's wirings. So, from the external aspects down to the inside gadgets, I can keep track of my circuits. Also, it works well with some of the wires of low voltage in my house.
The only issue I encounter with this device is its inability to power off automatically. Thus, I would always have in mind to shut it down manually, or else I'll run out of batteries in an instant.
Pros
Smart Tone Technology for wire isolation
Features Pro 3000 probe with loud speaker to amplify identifiable signals
Access to individual wires and telephone jacks
Allows use of replacement tips and headphones
Compatible with security and low voltage system wirings
Cons
No automatic power off option
So far, I am not having difficulties in receiving audible signals. I am satisfied by how this device perfectly works for my set-up. For home and security wire mapping, I am sure this will be on your list.
4. Amprobe 3472789 BT-120 Circuit Tracer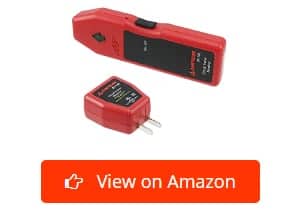 For your home, office, and HVAC applications, the Amprobe – 3472789 BT-120 Circuit Breaker Tracer is what you probably need. With a microprocessor controller, this is a dependable device for my small electrical setups. Amprobe circuit breaker finder is compatible with 90V to 120V AC breaker systems with a 50Hz/60Hz frequency.
I like this product because the package comes complete with the transmitter, receiver, 9V installed battery, and user manual. So, I no longer have to seek a technician's assistance to do the circuit tracing.
Unlike some tracers that require you to rotate the sensitivity gauge like a volume gear, this tracer features an automatic sensitivity adjustment. That way, vagueness from my search gets eliminated, and I can easily find the single correct breaker with light and sound signals.
This product also comes with a LED indicator for additional recognizable information. Energized receptacles will turn the light up before the actual tracing. And correctly switched off breakers for maintenance purposes will cause the light to remain off.
I believe Amprobe also holds a reputable image as it possesses a UL listing certification. Even European standards acknowledge this product to be reliable and efficient to use.
On the other hand, this item can only locate energized breakers and not de-energized ones. Still, it works as intended, and I can maximize its features.
Pros
Dependable product that complies with 90V to 120V AC breakers
Comes in a complete package
Allows automatic sensitivity adjustment for assisted tracing
Provides more relevant information through its LED indicator
UL listed product that meets European Standard
Cons
Limited to tracing energized breakers only
For systems like that of my small set-up, this is the best tracer you can use. This item is reliable, does its intended work, and effortless to use.
5. Ideal SureTrace 61-959 Circuit Tracer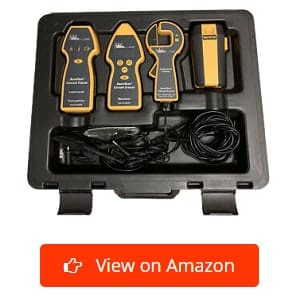 If you don't feel sure about whether a circuit has voltage or not, then I would suggest using the Ideal SureTrace 61-959 Circuit Tracer. This voltage tracer operates with both energized and de-energized circuits.
To erase the hassle of flipping breakers, the Ideal circuit tracer comes with four sensitivity modes with its receiver. The High gauge helps me identify the accurate panel and the Breaker mode or the low mode aids in picking the single right breaker. I love how its flexibility leads me to that specific breaker where the signal is transmitted.
As part of an electrical set-up team, I find that this product helps me a lot in terms of efficiency as well. We do mappings on commercial buildings, and with SureTrace strong signal, we can save time and ensure that layouts are in the right place.
Known for producing quality and well-rounded products, this tracing package by Ideal adds an inductive clamp for high-frequency searching. This clamp places a signal on a cable without having to disconnect it. Also, a manual is present in every set to guide buyers, especially first-time users.
Given that only 4 AA batteries come with the product, it is better to prepare extra pieces when working on-site to prevent hassles. And you have to power your tracers off when not in use to help conserve energy.
Pros
Operates with both energized and de-energized circuits
Four sensitivity modes to identify the correct panel and breaker
Helps save time and enhance efficiency
Valuable additions such as inductive clamp and manual
I believe this is a perfect product for huge establishments that mainly use circuits, especially those of high frequencies. Also, I didn't have a hard time calibrating the product because it's a user-friendly one.
6. Sperry Instruments ET64220 Wire Tracker
Some tracers are designed with a specific purpose. Inside the Sperry Instruments ET64220 Wire Tracker package are different plugs like RJ11, RJ45, Coax, automotive fuse blade, and insulated clamps. So, that makes it essential for audio or video installers and data COM technicians.
I used to get stuck after identifying a wrong wire. But with this electrical circuit tracker, sensitivity levels are modifiable, and that helped me figure out the connections I was tracing.
Another thing that I like about this item is the kind of indication the transmitter sends. With my old tracer, I used to rely on the sound my receiver creates. Now on this new one, it's not only that I hear signals, but I can also see them. That way, I feel more sure about picking the right wire.
This device also saves battery life. What happens is that after 45 minutes, the transmitter shuts down and will require you to push the ON button to continue the search. So, in cases when I forget to power it off, I am confident that my batteries are conserved.
With its structure, I can say that this is a heavy-duty device after accidentally dropping it a couple of times. Plus, it comes with batteries tailored for the item.
However, be sure to know the tracer you need because this one doesn't work at setups of beyond 40 feet. Therefore, it's not advisable for home wirings. You won't get the results you want.
Pros
Ideal for audio or video installers and data technicians
Sensitivity adjustment for correct wire identification
Features audible and visual signals
Auto shut off after 45 minutes to save battery life
Made with durable material and comes with batteries
Cons
Doesn't work at beyond 40 feet
Not ideal for household use
Telecommunication troubleshooting doesn't seem so hard for me with the help of this tracer. I am planning to recommend this to my colleagues. I believe Sperry has custom-created this product.
7. General Technologies FF310 Circuit Finder
Operating on 6V to 42V DC, the General Technologies FF310 Short and Open Circuit Finder is what I need for my motorcycle. This product works on mixed or single 42V systems like that of automobiles, trucks, tractors, and many other recreational vehicles. I like this product because it helps me figure out issues I specifically encounter with my automotive wirings.
General Technologies' receiver has an antenna capable of effortlessly capturing the signal that comes off the transmitter. Thanks to its adjustable sensitivity and non-contact technology that enables me to troubleshoot a complete array of common electrical problems without having to strip off wire bundles or remove panels. I can always save time and solve problems with less hassle.
An 8-inch flexible probe makes it easier for me to trace hard-to-reach or congested wires. The transmitter, on the other hand, can create an automatic polarity with 5A leads and alligator clips. That way, charges will be distinct and easy to identify.
Apart from its internal protection against power surges and overloads, General Technologies does automatic detection of short and open circuits. The transmitter and receiver display the discovered conditions in their LEDs. Also, wire proximity reflects through variable audio and visual signals to the receiver.
I will advise doing more practice with this circuit tracer tool since crowded wires in automotive applications tend to absorb signals. As a result, short and open circuits send weak indications, or sometimes, are even impossible to identify for the receiver.
Pros
Works on automotive wirings and operates at 6V to 42V DC
Adjustable sensitivity and non-contact technology for troubleshooting
Easy detection of charge and tracing of packed wires
Automatic identification of short/open circuits and wire proximity
Cons
Can be less effective with crowded wires
Resolving matters with my automotive circuits became much easier because of this product. I always hit the correct points of signal transmission and diagnose the appropriate conditions.
8. Ideal Industries 61-534 Digital Circuit Finder
One of the best features of this product is its Quick and Easy Circuit Identification. Unlike some brands, trial and error attempts with this tracer are visibly lower. That means I can always get higher possibilities of hitting the right wire.
With battery life being a priority, this AC circuit tracer shuts power off automatically when no energized AC or transmitter signals come to notice within 10 minutes. Battery life is indicated on this device to remind the owner to charge the batteries when power is low and prevent possible burnout.
Three-column LED indicators are present on the receiver to notify the user of the specific condition of the breakers. That way, I don't end up guessing what is going on with my electrical system. Plus, I also get fewer chances of hitting false positives.
It not only allows me to identify the correct circuit breaker that supplies power to my AC outlets, but it also tests outlets. Thus, I can quickly discover misconfigured and improperly installed outlets. Plus, I do all of these without causing power interruptions.
While some might consider this item a bit expensive, I still find it reasonable. It works very well after doing a short calibration, and I didn't seem to have found any problems at all.
Pros
Quick and Easy Circuit Identification for better wire tracing accuracy
Receiver auto-off after 10-minute idle time
Has low battery notification
LED indicators for a more specific issue detection
Can do outlet tests with no power interruption
Cons
Can be a little expensive to some
I believe this product is worth my investment. Mapping outlets became much more convenient because of the Ideal tracer. A detailed circuit diagnosis is also a relevant factor for me.
9. Kolsol F02 Underground Wire Locator
Wires hidden between walls are typical in almost all kinds of establishments. But have you ever tried tracing invisible fence circuits beneath the ground? The Kolsol F02 Underground Wire Locator locates underground wirings with a depth of up to 3 feet and lengths of up to 1000 feet. This kind of wire tracing usually works with broken solenoids.
Kolsol comes with a unique dangling antenna on its receiving end. All you have to do is to swing it back and forth and listen to the sound it creates. The moment the antenna gets directly above the wiring you try to locate, the sound disappears. I find this feature relevant because it helps me locate underground connections quickly in a wide area.
Accuracy wise, this product helps me resolve invisible fence issues for about 30 minutes only. Resolutions like this become possible because I get to plot the damaged connections quickly and correctly. All these benefits I enjoy for an affordable price.
Kolsol also comes with batteries compatible with the device's functions like cable detection and polarity tests. That way, I can save money and effort from searching for power sources to complement my tracer.
The downside I have seen in this tracing kit, however, is its inability to test multi-strand wires and sprinkler valves specifically located on my lawn. Remember that this item can only function in situations of less than 24V and non-energized cable wires.
Pros
Underground wire tracer that works best with broken solenoids
Comes with a dangling antenna for wide-area cable detection
Time-saving fix of invisible fence issues
Package includes batteries to support tracer functions
Affordable, locates underground wirings at 3 feet deep and 1000 feet long
Cons
Not for sprinkler valves and multi-strand wires
Less than 24V situations and non-energized wires only
Fixing wire issues buried underground turns out to be a quick one for me. Overall, I like the product's design and its ease of usage. This tracing kit is a good one for outdoor circuits.
10. Triplett 3388 Hound Wire Tracing Kit
With the capacity to locate wires through drywall, plaster, wood, and cement materials, the Triplett 3388 Fox & Hound Wire Tracing Kit generates pulse or warble tones to identify connections. Triplett can detect wires buried at a depth of up to 6 inches and a length of up to 1000 feet.
Integrated with the package is its True Trace feature, which allows the user to determine the specific ID of the cables. Also, the Triplatch test enables me to check if the spring energy, which is necessary to trip breakers, is released.
The Voltage Present indicator verifies the existence of power on the wire. To further support this, the device comes with a rugged structure and can resist moisture in its housing. That way, the presence of power is unaffected by factors other than electricity.
Triplett does not function as a live wire tracer alone. It can also work on TV and Ethernet cables, which makes it an ideal option for household usage, too.
The Advanced Filtering System ensures tracing even with live wires. Noise interference produced by fluorescent lights is suppressed by a bandpass filter with the press of a button. This feature helps me determine the signals I should be identifying.
This tracer makes contact with Radio Frequency, which can be frustrating and messy. I would advise turning your breakers off and connect the black alligator clip to the ground and the red one to the wire you want to find.
Pros
Produces pulse and warble tones, works for wires 6-inch deep and 1000 ft.-long
TrueTrace feature and Triplatch test
Voltage Present indicator to check the power running through the wire
Rugged and moisture resistant body
Ideal for household TV and ethernet cables
Advanced Filtering System to leave out unnecessary interference
Cons
Can make contact with Radio Frequency
Overall, I love how this tracer works to my advantage. I get to pick up the identity of the wires I'm trying to locate. Also, it tries to eliminate unwanted signal interference.
11. Klein Tools ET300 Circuit Breaker Finder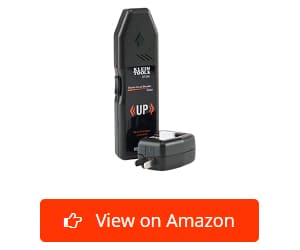 My panel board at home is substantially composed of old circuit breakers. But when the new ones came in, I had to change my tracer to this one. Unlike other circuit tracers, this product works even with a combination of old and new safety switches. I have tested signal detection to all of my breakers, and they all happened to respond.
Klein comes with a microprocessor technology, which allows me to create appropriate solutions by smartly identifying the condition of my breakers. I like this feature because it's adaptable to people who just started calibrating their electrical systems.
This product also assures me of receiving adequate signals I need for diagnosis. Klein's transmitter is a strong one that can send out waves to wires of up to 1000 feet in length. Thus, I don't have to worry about connections devoid of signals. And confusion with bundled wires will no longer be a problem.
The device saves battery life through an automatic shut off feature. So if in any way the user forgets to power the tracer off, it will shut down automatically, thus preventing the draining of the batteries.
Owners should also be aware of false positives this tracing kit can cause. I would advise first-time users to carefully go over the panel and be vigilant of the signals coming from the transmitter.
Pros
Works with old and new breakers
Traces a panel board with combined old and new circuit breakers
Comes with beginner-friendly microprocessor technology
Sends out strong signals up to 1000 feet
Automatic shut off feature to preserve battery life
Cons
Can create false positives
I am glad this tracer can check on my breakers and even receptacles at home. Plus, I don't experience hassle troubleshooting problems that occur in my electrical system.
12. Elegiant Multifunction Wire Tracker
Flexibility is an asset for the Elegiant RJ11 RJ45 Multifunction Wire Tracker. This item offers a wide array of applications like industrial, office, markets, appliances, and even education. So whenever you feel uncertain about which tracer to pick, I would suggest taking this one. I have one unit of this, and it does work efficiently, as described.
Four tracing functions with LED indicators are present to help users specify the issue they want to address. In my case, I use the Network Mode more frequently to fix matters regarding telephone cables. Other functions available through a rotary knob are Scan, Tone, and Continuity modes.
It's good to see this product punch above its lightweight body. At first, I thought it was flimsy and could break any moment. But it was, in fact, durable. This item is such a light and affordable one. Having this for your household usage is an advantage.
Interference is a common problem when tracing circuits. As a resolution, Elegiant comes with earphones to help the user focus on the signal and not on the bothersome sounds around. For dark environments, a built-in flashlight assists me in checking the subjected wire.
For a first-time user of this device, the manual provided in the package may not be plain enough to comprehend. In my case, I asked for a technician's advice to help me use the product to its optimum function.
Pros
Works in various types of applications
Four tracing functions with LEDs for a more specific issue detection
Has a lightweight and durable body for an affordable price
Comes with earphones and flashlight
Cons
Product guide can give some first-time users a hard time
I have been using this product at home for more than a year now, and it troubleshoots my cables well. So, if you are looking for an affordable tracing kit for a wide range of purposes, then this Elegiant might be the best one for you.
What to Look for When Buying Electrical Circuit Tracers
Tracers are generally everywhere in the electronics market. But the trick to picking the best circuit tracer lies in the following factors.
Type of user
The range of use for technicians and mere homeowners is identifiably different. Professionals need tracers they can use for a wide array of applications so as not to spend on a new one every time operations change. On the other hand, home usage of tracers covers familiarization with the electrical layout, TVs, ethernet, and other telecommunication cables.
Sensitivity adjustment
This aspect is necessary for the user to gather the right amount of signal. It also helps prevent false-positives and interference from other wires. Sensitivity adjusts through automatic and non-automatic means until the lone connection, being the point of transmission, is left.
Penetrating capacity
While most receivers do not need direct contact with wirings, their effectiveness still lies in their capacity to get through walls, flooring, and many other materials where connections hide. Be sure to know the numbers as to how deep your receiver can penetrate and capture signals.
Transmitter power
Your necessity is not always about the longest wire where signals can travel through. The transmitters' power to create identifiable indications may vary based on the price, set-up, and configuration. Some can send to a maximum of 100-foot wires, while others are strong enough to reach the receiver on a 1000-foot wiring distance.
Cost
The price range for circuit tracers is wide enough that buyers should consider their needs. You might be excessively spending on a device you don't need or picking substandard tracers, which in effect, are useless to your cause.
Durability
Written on the package is the materials your tracer has. That way, you can check if your usage intensity will damage the device. You will also find out if your circuit tracer is resistant to elements that can impair it.
Mode of notification
Some, especially first-time users, have a hard time identifying audible signals sent to the receiving end. Therefore, ideally, pick a tracer that can create visual signal indications for you to be sure that you don't trace the wrong wire.
Batteries
It is great to have a circuit tracer generally. But not when you have to seek power sources to make your device work. Having battery inclusions in your circuit tracer package is a gem. That way, you won't have a hard time searching for batteries from the store, or worse, pick batteries that don't compliment your device.
Voltage
Not all electric wire tracers work on identical voltages. To prevent power imbalance and damage to your tracer, be sure to know the voltage capacity of your device. That way, your tracer will not experience overload, and you get to locate the correct connections.
Warranty
One concern we commonly see in electrical circuit tracer reviews is whether or not customers get product service after purchasing an item. It is necessary to secure warranties against defects and lacking components so as not to be left hanging when things don't go well with the device.
Frequently Asked Questions
What are the most trusted Circuit Tracer brands?
Circuit tracers in the market are competitive in their right, but below are the best wire tracer brands for you.
Ideal Industries – a well-known company for producing quality hand tools, testers, and connectors for a wide array of applications
Klein Tools – has a high reputation in telecommunications and ideally the best circuit breaker tracer
Zircon Electrical Tools – famous for manufacturing unmatched stud finders, metal detectors, and electrical scanners
Triplett – known for accuracy and stability of their tracers
Extech Instruments – offers tools that work at professional, tradespeople, and household levels
How do you trace a live electrical circuit?
Plug outlet adapter into the circuit subject for tracing. Lightning bolt indicates the presence of power.
The transmitter sends signals through the wire for the receiver to pick up.
Set the highest sensitivity mode when scanning walls, floors, and ceilings.
Rotate receiver to obtain the highest numerical reading.
Stay on the orientation and continue tracing the wire.
If reading gets too high, adjust the sensitivity. Otherwise, all wires would seem to carry the signals sent by the transmitter.
Mark the path of the wires on the surface you are tracing to keep track of the cable direction.
How do you use Ideal circuit tracer?
Ideal circuit tracers, unlike other high-caliber tracers, work with unmatched accuracy. Allow me to share these steps to help you maximize your Ideal Industries tracer and testers.
For concealed wirings
Plug in the transmitter
Begin scanning for correct wires using the receiver.
Consider observing signals sent from the other end.
Once the wire location has been locked, begin opening a hole in the wall, ceiling, or ground.
Do the necessary solutions to the wirings.
For circuit breakers
Plug in the transmitter
Adjust sensitivity to the highest when searching for the right panel.
Gradually reduce sensitivity as you go over each breaker.
Observe which breaker dishes the signal out to the receiver.
Resolve issues with your loads.
How to use and care and store?
The following are tips every user should take when dealing with a circuit tracer:
The majority of circuit tracers have identical mechanisms. Their work involves the traditional plugin of transmitters and the running of the receivers over the subject.
The distinguishing factors among tracers lie in the figures on the package. Be sure to take heed of them to be able to establish the scope and limitation of your usage.
Remember to keep your device clean and dry to prevent corrosives and elements that may potentially damage your tracer.
Keep all your pieces intact, as well as your transmitter's clips.
Place your entire wire tracing set in one location only so you won't have a hard time searching for each component when you need them.
Keep your tracing package away from the reach of someone who knows nothing about circuit tracers.
Remember to follow the guidelines included in your package to avoid mishaps and even accidents.
Conclusion
Electrical systems are not toys at all. You have to be serious with every detail of it, no matter what your purpose is. Whether creating an electrical layout of your house, troubleshooting faulty connections, or merely educating yourself on your wirings, having the best electrical circuit tracer will make every step of it lighter.
Always consider your needs and the amount of investment you are going to pour in. Take time to read the instructions and reviews of experts on these devices.
Feel free to drop your concerns and inquiries in the comments section. Trace wisely! Have a great day!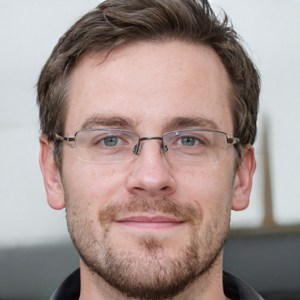 I am Andrew Wright. I established this blog after eight years of experience designing, installing, and maintaining electrical power systems. I love my job, and I have always wanted to offer others the necessary help so they can take care of their houses.