Laying out electrical connections needs careful planning and execution. It has to be precise from one end to another. You have to keep accurate measurements of your intended application as well. Thus, these projects require the perfect tools to create an efficient output.
While some electricians have a hard time running wires in electrical tubes, something has to make it easier. It has to be one that will make you route cables with ease. With the best fish tape, you can be sure your wire-ends will meet the other opening of every tunnel. That way, you spend more time planning and less with wire-routing.
Below are ideal options that will surely fit your set-up. Read along and see what's best for you.
Best Fish Tape Reviews
1. Klein Tools 56331 Fish Tape
Pull large wires with confidence using the Klein Tools 56331 Fish Tape. This fishing cable features 1/8-inch wide steel that is firm but flexible enough to push and pull wires. I find this item a heavy-duty one; it has a double-loop tip that can hold and carry thick cables.
I like the handle of this Klein fish tape because it has three ribbed areas you can hold. That means you have three positions to which you can apply a firm grip. Also, you have the option to place this tool at your convenience.
This 50-foot long wall fishing tool has a high-carbon steel composition. This piece of metal is known to be durable and safe for work. Also, right on the tape's body are laser-etched marks that indicate the range of the cable inserted in conduits. These figures serve as a guide to identifying the optimum cable length for the user.
Other than its high-impact-resistant case, Klein also offers slip-resistant housing. This feature improves the winding power of the fish tape. That way, it will be easy for the user to pull the tape back to its casing. All you need is a tight hold on the inside loop to begin winding the fish tape.
On the other hand, my initial order arrived pre-tangled. At first, I was confused why I could not extend the tape. I could not pull it back either after a few retracts. It turns out that I have received a defective one. I asked for a replacement and never encountered the same issue.
Pros
Heavy-duty tool with wide steel and double-loop tip
Three ribbed handle sections for a comfortable grip
High-carbon steel composition for durability
Laser-etched marks for precise measurements
Slip-resistant housing for a seamless wind up of fish tape
Cons
Might arrive defective or pre-tangled
I always put Klein tools on my top brand priorities when buying a hardware item. This one feels like my old Milwaukee fish tape. Also, it has a sturdy build enough to pull thick-gauge wires.
2. Startfine Fish Tape Wire Puller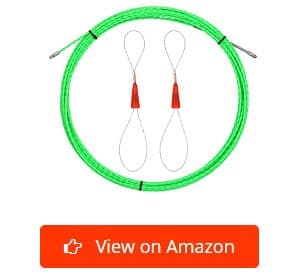 One unique way to pull wires is through the Startfine Fish Tape Wire Puller. This brand features optimum flexibility and rigidity compared to fiberglass. It never breaks when you bend too much, and it doesn't curl a lot. What's more about this product is its resistance to aging and high-temperature.
I like the handwheel of this fish tape because it's not hard to use. It rotates 360°, making it easy to pull wires no matter the direction. Also, it has a 3/16 x 7/16 opening to accommodate different cables with less effort.
Other than its wide head wheel, this product also has a fish tape fastener for convenience. All you need to do is connect one side of the strap to the tape head and the other to the cable subject for installation. Just be sure to keep the red cap holding the bent wires firmly inside.
I find this product safe in all aspects. This versatile fish wire has an insulated plastic-coated structure. And for all people working with electricity, this aspect is necessary to avoid possible injuries and damages. I like its plastic coating because it doesn't tear even after rugged use.
However, I will not advise using this tool with thick wires and large conduits. Wires might be stuck inside due to the incapacity of this fish tape to pull through heavy cables. Still, I think this is a good one for my needs.
Pros
Flexible and rigid product with resistance to aging and high temperature
Wide and rotatable head wheels
Comes with a fastener to keep the fish tape and cables intact and firm when pulling
Insulated body that is safe for use
Cons
Doesn't accommodate thick wires and not intended for large conduits
This product is a smooth-running one for me. I love its built, and it's easy to identify because of its color.
3. RamPro Spring-Steel Fish Tape
Perfect for your vehicle and home wirings, the RamPro Spring-Steel Fish Tape works with any wire and cable installation. It pulls through wires, alarms, dash cameras, entertainment systems, and other electronic connections. I like this product because it carries any cable I use.
I find this cable fishing tape thin enough to fit in raceways, conduit pipes, and even ducts. With dimensions 1/8" x 1/16" x 100', wire-pulling in tight spaces runs smoothly. There is also a pulling loop at the tip of this fish tape, making it easy to hold the cable firmly.
The electrical pull tape itself is not hard to snug inside curved spaces because it is bendable and shatter-proof. Unlike other wire fishing tools that might break on angled locations, this product shows exceptional flexibility. That way, I don't have to worry about working with complex electrical connections.
One of the best things about this product is its high-impact rounded plastic case. This housing keeps the tool in shape and organized. It also has an easy-carry handle with a built-in thumb lock for mobility. Plus, the handle lever helps in rolling the fish cable back in the case. This casing makes wire-fishing convenient for me.
I would advise wrapping the hoop and the cable-end with electrical tape. The tip of this tool is not as sturdy as its body that it can break. I am sure you don't want to have your fish tape stuck in wire raceways.
Pros
Ideal for home and automobile wire installations
Thin fishing tool that runs through tight spaces easily
Has a pulling loop to anchor cable ends
Flexible and pushes through angled locations
Comes with a durable plastic casing with handle for a more convenient use
Cons
Pulling loop can break or easily get damaged
Overall, I like the wire-pulling compatibility of this product. It lets me move any wire without hassle. Also, it has high-quality materials, making it durable for all uses.
4. Horusdy Fish Tape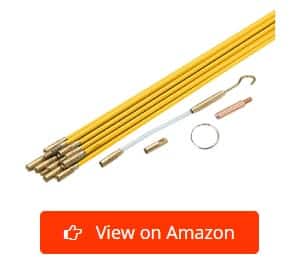 Perfect for running wires through attics, sub-floors, and walls, the Horusdy Fish Tape might be what you need during cable installation. This product comes with ten 1.1-foot fiberglass rods you can connect to reach distant cable housings. Each rod has a 3/16 gauge, so it's not hard to push or pull at all.
These linkable rods have solid brass fittings which are durable. These connectors are rust-resistant and are non-magnetic. So, even when running this tape inside electrical conduit tubes, you can be sure that none of these rods will stick elsewhere.
Not only does this non conductive fish tape fit for electrical wires, but also with AV, television, and satellite cables. I used this tool to conceal my TV antenna beneath a sub-wall, and I was able to connect the coax to my Smart TV with a smooth wire pull. I like this brand because it works with all my electrical layouts.
This product comes with a plastic cylinder case long enough to enclose my rods. I like this addition to my fish tape as I get to organize them and protect them from possible damage. Plus, it's not bulky to bring, making it ideal for projects anywhere outside my home.
On the downside, I find this tool prone to breaking. I often hear cracking sounds when the tape goes for 90-degree pipes. Nevertheless, it hooks the cables well, and it gives me a seamless wire-pulling.
Pros
Ten thin connectable fiberglass rods
Non-rusting and non-magnetic solid brass rod connectors
Pulls through different cable types
Comes with a plastic cylinder to keep the rods organized
I love being able to plot different cables at home with the help of this product. I find it flexible in terms of my desired length, and it has quality connectors as well.
5. Gardner Bender EFT-15 Mini Cable Snake
If you want to fish wires on the ceiling, under the carpets, or adjacent to your walls, try using the Gardner Bender EFT-15 Mini Cable Snake. This product has a unique flat steel tape that's thin and fit for wires on plane surfaces. I like this tool because I am not having a hard time squeezing it into flat spaces.
Storage and mobility are not an issue for this product as it has a compact body. It doesn't slip off my hand easily because of its textured surface. Also, I find this tool handy since it's just of the same size as my palm. The belt clip also makes carrying it easy.
Additionally, its low-memory steel body helps prevent curling during extension, making it perfect for non-conduit locations. That means this tape comes back to its original form after use.
This tape is a safe and ideal one for me. Not only does this fit under carpets, but it's also great for 15-foot connections like speakers and home networks. You can also retract the tape manually with the help of the grooved knob to avoid sudden snapbacks, which might cause you injury or cuts.
I think the tape is a bit flimsy. The steel looks brittle, and it might break after frequent bending. I think it would be better to use this in less-curvy areas.
Pros
Unique fishing tape perfect for flat surfaces
Compact and handy textured design
Comes with a belt clip for an easy carry
Low-memory steel body to prevent curling during extension
Safe tool with manually retraction feature
Perfect for short-run connections at home
Cons
Steel body is susceptible to breakage
Using this tool is a breeze for me. I like its size, as well as the length of the steel body because it's just enough for my home set-ups. Also, it's not hard to keep or handle.
6. Swanlake Fish Tape Pull Push Kit
The Swanlake Fish Tape Pull Push Kit has different head tips you can use, depending on your purpose and the type of wire you want to pull. It comes with a search head, eyelet ring, and a magnetic brass head you can connect to the fish tape's fastener tool.
This kit comes with ten fiberglass rods measuring 13 inches each, which, when combined, can go as far as 10 feet. I find this feature beneficial, especially when I gauge the cable length I need for my ducts and panel boxes. Also, I can adjust the total range of the rods whenever I want to.
I find this product easy to install despite the number of components it has. All you have to do is connect the rods, attach the fastener string, and anchor the cable. Note that this kit works best with smaller conduits carrying thin wires. Anchoring large cables might cause failure in the wire-pulling process.
Other than its optimum rigidity, this product also has a green storage case. Unlike other fish tapes having round housings, Swanlake lets you disassemble your rods and place them in a plastic cylinder. That way, you can keep your fishing rods organized and protected from possible damages as well.
On the downside, I find this kit fragile. It can break after some intolerable bends and perpendicular force. Nevertheless, it's a perfect one for slightly-curved and straight spaces.
Pros
Comes with different head components fit for intended usage
Ten connectable fiberglass rods for an adjustable length
Easy to install
Plastic storage case to keep the rods intact and free from damage
Cons
Fragile and unfit for curved spaces
I find this kit convenient under specific considerations like the adjustability of its length. It has different head tips for a more distinct purpose when pulling wires. Also, I am not having a hard time organizing these rods.
7. Southwire Flat Steel Fish Tape
Coming with a 1/8-inch wide spring steel tape, the Southwire Flat Steel Fish Tape lets you pull wires from a length of 25 feet to 240 feet. The range of wire-pulling comes in five different options depending on your set-up. I use the 25-foot fishing tape because it's just ideal for my home's electrical connections.
The tape is of high-quality blued steel designed for longevity and easy pulling. Bluing adds a level of corrosion-resistance to the steel, making it more durable. Also, the tape has laser-etched marks to identify the length of pulling. That way, you get exact measurements and provide for an accurate wire length.
I like the durability of this fishing cable, from its spring steel to its outer casing. It has quality steel tape and an ergonomic impact-resistant case. This round plastic housing also comes with a carrying handle for convenience in handling the fish tape.
On top of these, I find this tool easy to use. All you have to do is pull on the tape itself and insert it in your destined conduit. To retract the tape, rotate the case in a reverse direction with your other hand on the handle. Note that using gloves is advisable when working with this tool.
However, I had a hard time pulling the tape out on my first few uses. I needed to unravel it slowly and put it back in the same manner. Nevertheless, it became gradually smooth after frequent usage.
Pros
Five cable length options fit for different set-ups
Blued steel for durability and corrosion-resistance
Laser-etched marks for exact measurements of cables and wire-pulling distance
Easy-to-use tape with durable and handy casing
Cons
Can be a bit stiff on the first usage
I think this is the brand that fits home to industrial-level set-ups. I like the convenience it brings to laying out my electrical connections. Plus, it has high-quality materials and optimum durability.
8. Zezzo Wiremag Puller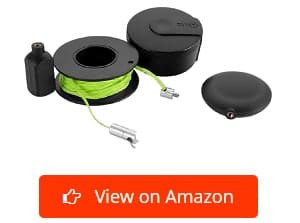 Pull wires with less effort using the Zezzo Wiremag Puller. This product comes with unique ways to carry wires without having to insert tapes in wiring locations manually. All you need is to attach the scout magnet to the cable and begin pulling using the navigator on your end.
This brand features solid magnetic connections between the scout and the navigating magnet. It can go through wooden walls, floorboards, and even carpets. Also, the scout magnets have two shapes, making it possible to get them through any hole size where they fit.
Not only does this kit offer strong connections between the host and the runner, but it can also jump over obstacles. You may not see pipe barriers on floorboards, but rest assured that your magnets will not lose contact. That way, you can still get access to the cable you ran unseen beneath any surface.
This product lets me save time as compared to using conventional fishing tapes. I get to do most of my projects neatly and without having to do wall disruptions. I believe this product is an efficient one because you don't have to exert too much effort and time pulling wires.
On the downside, the pulling rope is thinner than I expected. I tried using this kit with a think-gauge wire, but I had to drive the magnetic block slowly to maintain contact.
Pros
No manual fish tape insertion required
Two-shape magnets with strong connections
Can jump over wall, ceiling, and floor barriers
Saves time and lets you work neatly
Cons
The pulling rope is a bit thin
Overall, I like the technology this pulling kit has. Wire-pulling has never been this easy until I found this product. I believe this is one ideal fish tape every user should check out.
9. Klein Tools 5055020-Foot Glow FishTape
Wire fishing in the dark is best when using the Klein Tools 5055020-Foot Glow FishTape. This product comes with a clear case that allows the fiberglass rod to charge inside it. I like this feature because it's unique, and it also makes laying out connections easier. That way, I can keep track of my wire's directions.
Unlike other round-house wire pulling tools, this brand lets you remove tape wholly from the case for a more varied application. I get to use this item for pass-through wire feeding, a convenient way to plot electrical connections. An alignment mark is also present on the case for the reinstallation of the tape into the housing.
This product comes with a stainless steel connector compatible with Klein's fish rod attachments. So, you have the option to put an anchoring end or a looping end.
I love this tool because it comes in a compact design. With a length range of 20 feet, I think this is ideal for my intended applications. It's easy to bring, and it helps me wire considerably spacious areas because of its accessibility.
However, I think the rod is not as rigid as other fishing tools. The last time I inserted this in a semi-round conduit, the tape began to crack. Nevertheless, you still get to remove the entire cable for a safer and more convenient push.
Pros
Clear case that lets the rod charge under bright areas
Fully glow-in-the-dark fishing tape for dimmed working spaces
Removable cable with alignment mark for a convenient re-installation
Stainless steel connector compatible with different accessories
Lengthy and compact design
With this tool, I can identify and locate my wires in less illuminated areas. Not only do I find it unique, but it also has a perfect design for most projects I have. It's easy to handle and user-friendly.
10. Jeemiter Electrical Fish Tape
Featuring a nylon body, the Jeemiter Electrical Fish Tape slides into conduits without breaking. This material is durable, lightweight, flexible, and has good resistance to alkali and acidic substances. It has a thickness of 3/16 of an inch, enough to keep a smooth and sturdy run inside electrical pipes.
Not only is this product flexible physically, but it's versatile in terms of applications as well. You won't have a hard time anchoring your cables to this fish tape because it comes with a fish tape fastener and a threaded loop end. That way, I can choose which best works with my electrical wires.
The handle of this tool lets me get a good grip on it at different positions. It comes with a polypropylene case for added durability on the item. Plus, you get ample tape length for this brand. These features make this tool a perfect one for industrial projects.
I find this product safe at any location. It glides through walls, ceilings, sub-floors, and other electrical layouts without causing fires. Also, it pulls through any wire. So, I don't have to avail of a different one just to run electrical connections.
I think it would have been easier to pull back the tape if the reel had a textured grip on the inside loop. It's not present in most reviews, but I believe this would have added some convenience.
Pros
Made with 3/16 inch thick, durable nylon
Comes with two different attachments for a more flexible usage
Perfect for industrial use with 100 feet length, quality handle, and sturdy case
Glides through any space
Cons
The case doesn't have a grip to assist in pulling back the tape
The build of this product shows it's ideal for large set-ups. It's lengthy, has a sturdy case, and glides smoothly no matter the distance and application.
What are Fish Tapes Used for
Routing electrical connections through pipes, walls, or any location is more convenient when using and knowing how to use fish tape. This tool leads any wire from one point to another by fastening the cable tip to the tape's anchoring end. With fish tapes, you can be sure your cables do not get stuck inside conduits. Plus, you get to save time linking your electronics.
When routing electrical connections through pipes, walls we use fish tape. As for a spaghetti mess of cords and cables around the house, read our article on high-quality cord hiders and floor cord covers to solve this problem and bring aesthetics to your house.
What to Look for When Buying Fish Tapes
Getting a fish tape requires a lot of attention to several aspects. Here are salient points to mark in choosing the best fish tape network cable.
Materials
Most fish tapes today are of fiberglass, steel, and maybe nylon at less frequent instances. You have to consider the spaces you work with to align the tool's flexibility and durability with it.
Dimensions
There are cable fish tools ideal for congested spaces, and there are tapes fit for pulling thick-gauge wires. If you work with varying locations, it would be better to have one tool between the largest and the tiniest sizes.
Accessories
Pulling wires with only one tail-end on hand can be difficult when the cable cannot hold firmly to the tape. Check on fishing kits that include fasteners, headwheels, and other attachments if you want to be sure about your wire-pulling.
Markings
Not all fish tapes have laser-etched markings on their body. It would be ideal to have one with figures showing the length or distance of the tool. The purpose is to get an accurate measurement of the wires and space available for installation.
Housing
The physical protection of fishing rods lies in their cases. Note that not all housings are durable. Thus, select one that can withstand tension and potential damages. I would also advise getting one that's easy to handle.
Other characteristics, like glow-in-the-dark features, can also become a distinguishing factor from among many fish tapes. Note that a fish tape alternative does not guarantee to meet a standard one. So, it would be better to select one that's competitively good in several aspects.
Which is Better: Fiberglass vs Steel Fish Tape
Steel tapes are often preferred because of their tensile strength and durability. They are less susceptible to breakage and have more resistance to bending. Fiberglass fish tapes are best known for their non-conductive properties. Use this type of cable fishing tool if you want additional safety while working.
These fish tapes are both beneficial in many ways. Thus, it is necessary to know the physical characteristics of each material. You can also compare nylon VS fiberglass fish tape to give yourself more options. That way, you can decide which best fits your standards.
How Do You Fish an HDMI Cable Through a Wall
Like most wire-pulling procedures, you need to consider the following steps to run through cables efficiently.
Prepare hole provisions for the HDMI cord to pass-through.
Secure measurement of entry to exit points of your HDMI adapters.
Place one adapter of your HDMI at one end-hole.
Begin inserting your fish tape on the other end gently.
As soon as the anchor reaches the other end, connect the cable's tip to the fishing tool, depending on the type of fastener you have.
Slowly pull the rod, making sure neither the fish tape nor the HDMI gets stuck.
Make sure to leave an ample length of cable to connect to your devices without tension.
Conclusion
Working with electrical connections should be comprehensive. It needs to cover all aspects of safety, compatibility, and usefulness. By considering these factors, you get to create an efficient and effective project.
The best fish tape is among the number of tools you can use to make your work safe and guaranteed to work. All you need is the correct knowledge of these and the confidence to bring a great outcome.
Prepare your wires and conduits, your most friendly tool is now on its way to help you. Drop your questions in the comments section.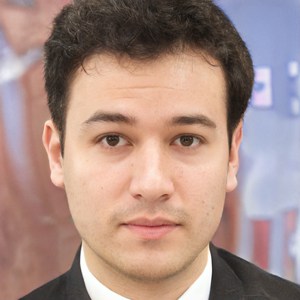 I am Edwin Jones, in charge of designing content for Galvinpower. I aspire to use my experiences in marketing to create reliable and necessary information to help our readers. It has been fun to work with Andrew and apply his incredible knowledge to our content.