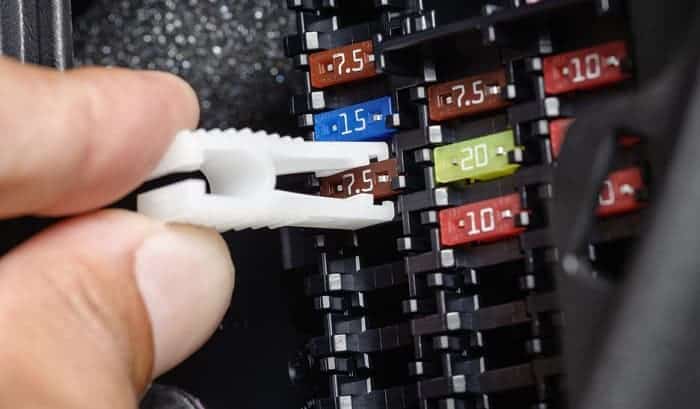 Ever since we installed electrical components, like headlights and radios, onto our cars, fuses have become an integral part of them. These small devices protect our vehicles from wiring damage, electrical overload, and potential fires.
There are many fuse brands available on the market – from OEM suppliers to third-party aftermarket parts. I have listed 12 of the best fuses I could find and reviewed each one of them. I'll share with you my findings, as well as a buyer's guide on automotive fuses. I'll also answer several of your frequently asked questions about them.
Let's dive into the world of automotive electronics and find the top-rated fuse that you can buy.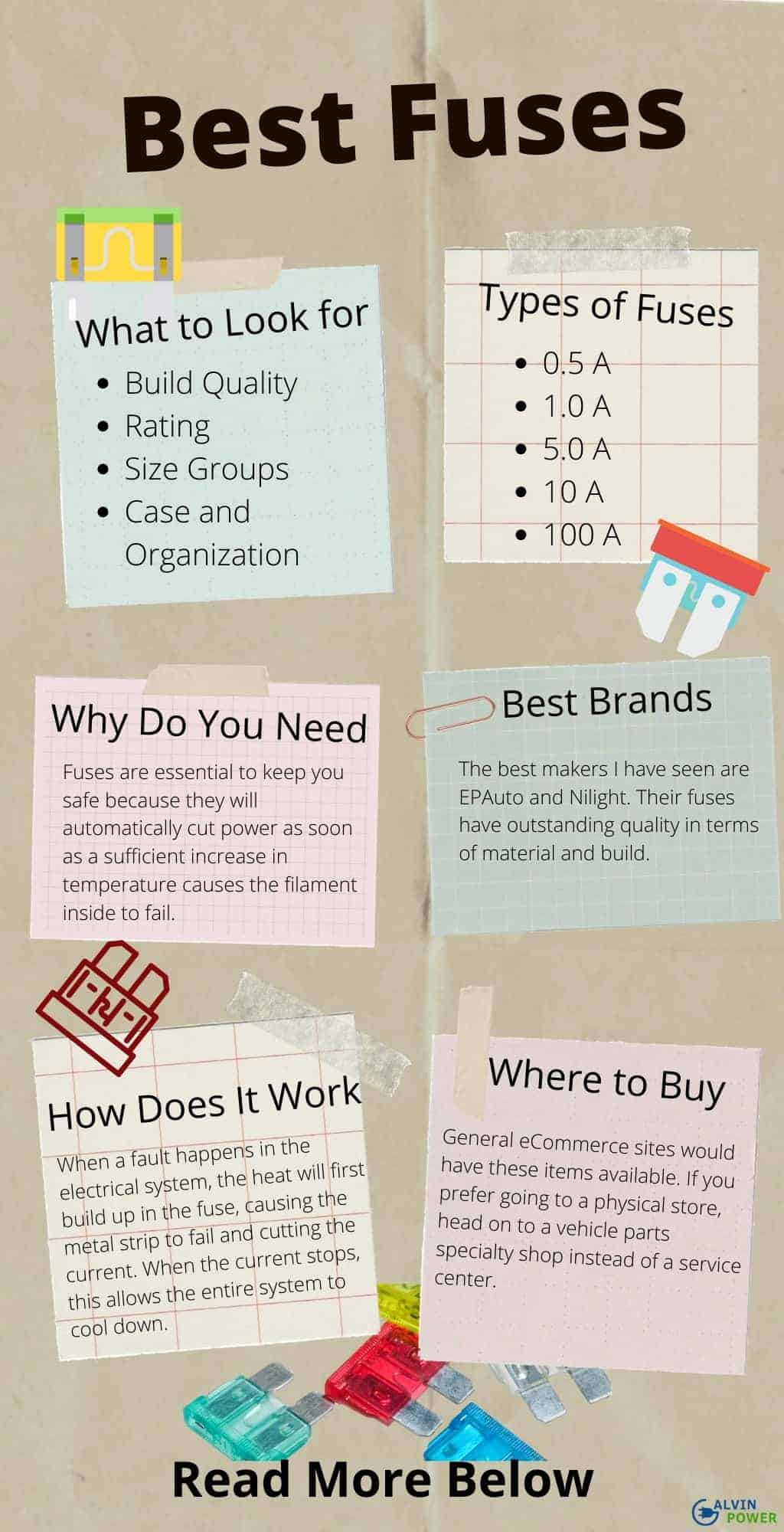 Best Fuse Reviews
1. EPAuto Assorted Mini Blade Fuse
If you're looking for practical auto fuse kits, this one covers the usual ampe range – from 5A, 7.5A, also 10A, 15A, 20A, 25A, up to 30A. The 5A and 7.5A include ten pieces for each, while the rest has 20 each for every rating. This package is more than enough for my needs – it can provide fuses for all four of my vehicles, plus some for backup.
Although most new vehicle models utilize mini blade fuses, some still use standard-sized ones. Just to be sure, contact your auto supplier or pull out the original fuse in your vehicle and compare it to the specifications stated online before purchasing.
This 120-piece auto fuse kit is more than enough to last the entire lifetimes of my cars. Fuse replacement is basic upkeep, and I wouldn't want to waste time going to auto repair shops and pay them just for that. As long as I can, I will maintain my cars on my own to help save money. This affordable kit is helping me do just that.
I have no trouble reading the small markings on the fuses; the color-coding works very well. In just one glance, I know if I'm holding the right replacement fuse.
Since many new fuses light up when blown, it would be great if these fuses had the same feature. I also find the fuse puller too weak.
Pros
Includes most of the standard amp ratings that I need
Sufficient supply for the lifetimes of my cars
Helps me save money by allowing me to conduct my own maintenance
Color-coding makes it easy to identify the correctly-rated fuse
Excellent price and value
Cons
Fuses do not light up when blown
Fuse puller has a weak grip
This pack is more than enough to last the lifetime of my four cars. I recommend this to you if you want to have a complete set available to you in your garage anytime.
2. Riseuvo Assorted Car Blade Fuse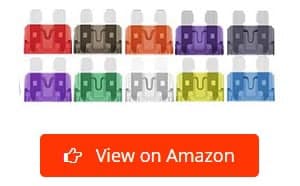 The Riseuvo Assorted Car Blade Fuse Kit – 220 pcs are composed of both the typically used standard and mini car blade fuses to safeguard and counter excessive current in your vehicle's electrical system. The set includes the 20 commonly used fuses with the following amperage: 2A, 3A, 5A,.., 25A, 30A, and 35A. All ratings are available in standard size (10 pcs each) and mini size (12 pcs each).
Running out to buy just a small piece of auto part at an unbelievable cost is way too much of a hassle. There's no need for me to do that again now when I have this kit in my garage. Its wide variety of options makes sure that there's one available for whatever vehicle I have in my garage. Whenever I need a replacement, all I need to do is go to my garage toolbox and pick out the right one.
Despite many fuses in the pack, the color-coded casings make it easier to pick the correct one by referring to the chart and grabbing what I need without checking each container to see if they're the right one that I need. The transparent case is also convenient and saves me time because I know where to find what I need and how many are left in just one glance.
One little concern that I have for these is that I've encountered a couple of new fuses from the pack that were a bit loose when installed. I fear these might pop out while I'm driving and leave me entirely in the dark. Good thing that the others in the pack don't have this issue, so I guess it just might be a minor quality control issue at their factory.
Pros
Wide variety of options per fuse type
Easy to identify the correct rating even when the case is closed
Very reasonable cost
Neatly organized and strategically labeled
Excellent kit to have in your garage
Cons
Some of the fuses might be loose
It is essential to have this kit with you or in your garage at all times. If you blow a fuse, you will have one ready even at a very late hour, and you can use your vehicle immediately.
3. CrocSee Assorted Car Fuse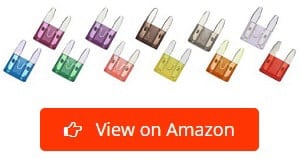 The CrocSee Assorted Car Fuse Kit – 250 pcs is a UL listed and certified product. That means it has been tested to specification and is guaranteed to work as designed. This kit includes the most commonly needed standard and mini car fuses for recreational vehicles, trucks, motorcycles, and boats.
The package has different ampe levels from 2A to 40A fuses included – with a capacity of 32 volts. A fuse puller is also included in the case for easy and fast replacement.
As a driver, I always like to be organized and have readily accessible tools and whatnots in my car. When I bought this kit, I felt like I had everything I needed in my automotive tool kit. And when I see someone on the road having electrical problems, I happily share some of my fuses. It's a great feeling having helped a stranger in need.
Each fuse is encased in transparent plastic to help you quickly determine between a good fuse and a blown one. Aside from the color, the fuses also have embossed labels to help you quickly identify their capacity. They also use high-quality silver-plated terminals for better conduction and also to prevent rust.
My only concern about this is that some mini fuses seem to be a bit big for their size. I tried some of them on my truck, but they didn't fit! I think it would've been better if they included low-profile mini fuses in the package, but alas, there's none available in this kit.
Pros
UL Certification assures safety and quality
Includes common standard and mini fuses
Uses anti-rust high-quality silver-plated terminals for conduction efficiency
Embossed markings and color ensure that I get the correct fuse
Rated 32 volts
Includes a fuse puller and a plastic housing
Cons
Some mini fuses seem to be a bit big
Low-profile mini fuses are not included in the kit
If you want a reliable set of fuses that you can bring and store in your trunk, you can opt for this one. With its 250 pieces, it is a box you can count on when the need arises.
4. Winlyn Assorted Car Blade Fuse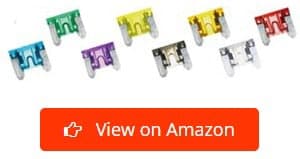 The Winlyn Assorted Car Blade Fuse Kit is a 272-piece set compatible with the 24 usual types of automotive blade fuses, including the lowest level of 2A to the highest of 30A and 35A. The kit included 80 pcs standard size fuse (10 for each capacity), 96 pcs mini size (12 pcs each), and 96 pcs low-profile mini (12 pcs each).
I own two vehicles, one sedan and the other, an SUV. My dilemma of having multiple rides is the high maintenance cost when visiting my local automotive electric repair shop, which I surprisingly solved after changing my fuses using this kit.
The fuses are made with high-quality zinc alloy – so I'm sure that they wouldn't break just because I went off-road on my SUV. Plus, the clear cover lets me inspect each fuse before I go on an adventure, making sure that my car is in top shape when I'm in the field.
My only concern is that it doesn't include a 7.5A model in its package, which I need to use when dealing with Low-Voltage Electrical Systems. I also found it hard to differentiate one model from another – good thing they included a pictogram in the package to show me which size and type are placed in the plastic case.
Pros
Compatible with the 24 standard blade type fuses
Comes with a generous amount of models per set
Helps in cost-cutting of automotive maintenance
Made with high-quality materials
Clear cover for easy inspection
Included pictogram makes it easy to find the correct fuse
Cons
Does not support the 7.5A model
With ample supply for each type, this complete set will help you keep vehicular electrical maintenance costs down. It's an excellent alternative to purchasing from an electrical shop, and you could keep it readily available in your car for emergency use.
5. EPAuto Standard Blade Fuse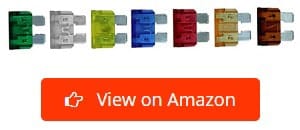 This kit from EPAuto consists of assorted standard-size flat blade fuses. They come in the seven most common ratings – 5A, 7.5A, 10A, 15A, 20A, 25A, and 30A. Both 5A and 7.5A fuses have 10 each, while the rest have 20 each. They're all color-coded, making it easy to choose the correctly-rated fuse.
At first, I was skeptical about purchasing this item because of its pretty low price. However, when I received it, the fuses were of the right size and of reasonable quality. I feel it was an excellent purchase with great value for me.
The metal used by the company for the contacts was solid and not easily bent. When I plugged it in one of the cars that I was working on, they fit snugly in place, so I knew that the brand didn't skimp on the material used.
I'm also delighted to find out these fuses by EPAuto are UL, CSA, and CE-rated. It gives me confidence that wherever I use them, they will not fail due to shoddy workmanship.
My only concern about this is that it's an ATO – Open type AT fuse, meaning the contacts are exposed to the elements. While this may not be an issue for most city cars, it could be a problem if you use it on a boat. For this application, I would recommend the closed-type fuse to avoid corrosion.
Pros
Can be used for almost all standard-size fuse on most vehicles
Items are simple to distinguish
One of the most affordable kits on the market
Solid material used for contacts
UL, CSA, and CE-rated
Cons
ATO – Open type AT fuse is more vulnerable to corrosion
If your car utilizes standard open-type fuses, then this kit is for you. It offers an excellent price with the quality to match. Overall, EPAuto provides great value for your purchase.
6. Ted Lele Assorted 250-Volt Fuse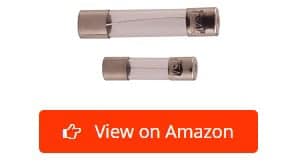 The Ted Lele Assorted Quick Blow Glass Tube 250-Volt Fuse Kit includes 15 each of 6 x 30mm-sized 1A to 8A, also 10A, 15A, and 20A fuses, plus 20 pieces each of 5 x 20mm-sized 1A, 5A, 10A, 15A, and 20A fuses. Their primary purpose is to protect against short circuits and prevent electrical wiring overload. This kit is RoHS-proven and certified safe.
It's very convenient because they included a clear plastic case with labels printed on the inside cover. In one glance, I know the correct fuse to get – I no longer have to fumble around, pick up one fuse, and check to see if it's the correct one. The case and the label keep things organized and efficient.
The glass tube fuses are made with high-quality material. I also prefer these quick-blow fuse types, especially for protecting my family. Once they reach the resistance-limit, they will immediately cut the circuit, ensuring that I am safe from unwanted incidents.
And since they're rated at 250V, I can use them for home, office, and industrial applications. I recommend hiring a licensed professional to ensure that you have the correct rating installed. Although it might be a hassle, it might be challenging to know the proper fuse to use if you're unsure of the system.
Pros
Comes in a clear plastic case with labels
Quick-blow fuse will cut the current immediately in case of a short circuit
250-V rating makes it ideal for both home, office, and industrial use
RoHS-proven and certified for safety
Cons
A licensed electrician is recommended to install this fuse kit
This is an excellent fuse kit for both home and industrial applications. Its quick-blow feature will cut power immediately and keep your electrical system safe.
7. JABINCO Standard ATC Blade Fuse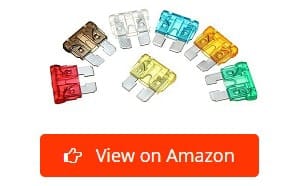 The JABINCO Standard ATC Blade Fuse Set includes the seven most common ratings for cars and trucks. The pack comes with five pieces for each, so you're sure that what you need can be found in this case.
For effortless identification of amperes, it comes in a standard color-coding scheme. The see-through housing also makes it uncomplicated to diagnose if the fuse is blown-out and needs replacement. A suitable fuse puller is also included for a risk-free and smooth pull-out of used fuses.
I appreciate that the brand emphasizes its utilization of paper instead of plastic boxes to lessen non-biodegradable wastes. The company even thought about lending a hand to reduce non- environmental friendly junk.
What I loved most about this is that it comes at a very reasonable price and comes with a decent amount of fuses per rating. I don't need to have 20 pieces of each fuse rating. I believe that they hit the sweet spot for the price-to-volume ratio.
If there's one thing that I would suggest for the manufacturer – they should make the markings bolder and more readable from a distance. It's not a problem for me, as I'm still young, but people who wear glasses might have trouble reading the small text
Pros
Five pieces for each rating is the perfect amount for private car owners
Effortless identification through color-coding
See-through housing makes diagnosis simple
Comes with a fuse puller
Environmentally-friendly paper box
Comes at a very reasonable price
Cons
The markings are faint and can be hard to read
In case of an emergency, you should have this available in your vehicle. The amount of five each is just right – it won't take up too much space in your tool kit. And if you have two cars, you can have two to three fuses for each, so you're covered whatever situation you're in.
8. MulWarck Assorted Blade Fuse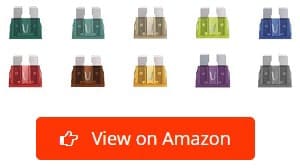 The MulWark Assorted Standard Size Blade Fuse Set is undoubtedly one of the best car fuses set in the market today. The package contains an assortment of the ten most utilized ampere ratings in sedans and larger cars.
It has a 32-volt rating and can work in temperatures from -40 degrees F up to 257 degrees F (-40 degrees C up to 125 degrees C). That rating means that I can use my car in the coldest of winters and the hottest of summers.
I love how they organized each fuse type in its respective container – aside from the color-coding and markings on the fuse itself, they also included a pictogram to locate what I need at a glance. The fuse puller even has its own compartment. Neat!
One of the more essential things that I check when choosing fuses is their compliance ratings. And I'm glad because this set is SAE J2077, ISO 8820, and UL 248 Special Purpose Fuses compliant. That's a lot of guarantees backing up the product.
And lastly, the casings of fuses are clear and visible enough to assess if a fuse is in good condition or already damaged. I love this simple feature because I can diagnose the system just by looking at it – no need for me to whip out my tester to see if the fuse has a problem.
On the downside, the color guide is not glued to the box, so if you forget to put the guide back after using, you might lose it. I recommend doing the gluing just to make sure this won't happen.
Pros
Set includes the most common ampere ratings in sedans and trucks
Has a 32 volt rating
Temperature operating range of -40 deg F up to 257 deg F
Comes with an organized container, color coding and storage labels
SAE J2077, ISO 8820, and UL 248 compliant
Clear casings make it easy to check fuses
Cons
Color guide is not glued to the box
The MulWarck Fuse Set is one of the most organized and clearly marked packs on the market. This product offers excellent value and makes my automotive electrical maintenance work much more efficient.
9. Nilight Mini ATM/APM Fuses
The Nilight Mini ATM/APM Fuses for Cars, Trucks, and Boats protect your vehicle's electrical system from short circuits, overloads, and other related issues. Although they are mini fuses for cars, they can also be used on other vehicles, like trucks and boats.
This package includes 120 pieces of different mini fuses – each with color-coded casing and carved amp rating value. This excellent identification system makes it almost impossible to confuse one fuse rating for another.
I also find the fuse puller handy; it eases my work and gets the job done in no time. I no longer have to struggle to reach in my car's crevices and get all dirtied up just to check a busted fuse.
Another thing I love about this kit is its design. The case is transparent, enabling me to check if I have enough fuses left or if I need to order more. With all these features, I can say that my road trips are much safer, having a reliable set of fuses with me.
The only downside of this product is its lack of variety. Indeed, it is a reliable item for replacing mini blade type fuses but will not work for vehicles that primarily use regular or standard-sized fuses.
Pros
Safeguards your vehicles against electrical problems
Includes 120 fuses with the most common amp ratings
Color-coded and etched values make rating identification easy
Has a transparent case
Will universally fit on mini fuse mountings
Fuse puller included in the package
Cons
Not intended for standard size fuse models
I highly recommend this fuse set because of the etched values and color-coding on its items. They're really easy to find and hard to confuse, which is perfect, especially when you're replacing a blown fuse along the highway at night.
10. Nilight 50029R Standard Blade Fuse
The Nilight 50029R Standard Blade Fuse set includes 120-pieces appropriate for 1A,.., 5A, 7.5A, 10A, 15A, 20A, 25A, and 30A. It also includes a 10-piece in-line fuse holder – a unique addition for securing electrical connections, not found on other brands.
The fuse is protected by a solid hard plastic housing with zinc alloy. The 12-inch loop can also be used if you want to add electronic aftermarket parts to your car. Instead of wiring it directly to the battery, you can use this in-line fuse holder to protect your vehicle.
From all the items that I have seen online, the in-line fuse holder convinced me to purchase this item right away. Although it's slightly more expensive than other brands, the holder's additional value and the number of fuses included make it worth the price.
I like that the fuses come in a reusable box – making it neat and organized. I know that I can place this in my car's tool kit and, even after a long time, I would quickly find the fuse that I need.
Also, the remarkable dual-slot design lets the fuse fit tightly into its slot. This prevents water and moisture from reaching the connectors, causing corrosion. Furthermore, the in-line fuse holders are made of a sturdy, 14-gauge wire that will conduct electricity well and produce less heat – making the system more efficient.
However, there was one time that I used a 30A fuse for a 25A smart charger. Although it performed okay, I felt that the 10 AWG fuse holder I had became too hot.
Pros
Included fuse holder for electrical aftermarket accessories
Excellent value despite the higher cost
Zinc-alloy and solid plastic
Comes in a reusable box
The dual-slot design makes it more resistant to environmental factors
Cons
Might cause other fuse holder to become hot during use
What sets this pack from the others is the included fuse holders. If you're into aftermarket electrical parts and accessories, this fuse set is the one that you should buy.
11. Bussmann VP/ATC-40-RP ATC Blade Fuse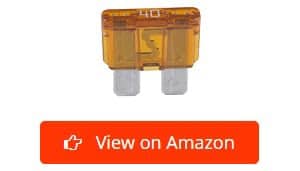 The VP/ATC-40-RP Fast Acting ATC Blade Fuse is made by a top-notch fuse brand with over 100 years of experience in the industry. The Buss fuses are explicitly made for automotive and marine applications, including off-road vehicles, RVs, and mobile homes.
This color-coded set is an enclosed type blade fuse that ensures protection from unwanted sparks and dangerous shocks. It also provides corrosion resistance since the whole element is covered. It is genuinely a product of continued technological improvement and innovation made accessible to all.
What I love about this is that it's a plug-and-forget unit – meaning once I put it in the system, I don't have to think if it'll work or not. I can rely on it, no matter what happens.
It's not just the brand name that I purchased – when I first used the fuses, I noticed that their build quality is above the usual. The contact points are thick and not easy to bend. The plastic case of the fuse itself is of good quality and will last as long as you need it.
If there's one thing that I wish, though, if they could have included more than 25 pieces per pack or just lower the price. They're pretty expensive, but I can say that it's an excellent choice.
Pros
Standard color-coding makes it easy to identify fuses
Made by a company with a proven track record
Specially made for automotive and marine application
Reliable and will work as you need to
Excellent construction quality
Cons
A little pricey for 25 fuses
For users who require 40A fuses and always prefer quality over quantity, this is an excellent option that will 100% deliver its purpose. Price won't matter if you are looking for tools and accessories to accompany your emergency electrical needs.
12. BestToyHome Blade Type Fuse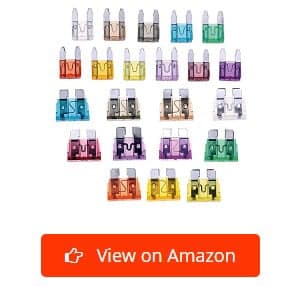 BestToyHome's Standard & Mini Set of blade fuses covers the 22 most commonly used fuses – 110 Standard Size and 132 Mini Size. You get a total of 242 fuses, all rated for 32 volts.
This set is compatible with most land and off-road vehicles and home DC applications – such as lighting and radios.
As an electrical enthusiast who has a trailer home that requires regular maintenance, a small kit like this has done wonders for me. If anything needs to be replaced, I have one in stock in my toolkit – I no longer have to find a retail shop just to get my electronics in working order. A couple of times, I was able to help some stranded motorists by replacing their blown-out fuses. It feels good to be able to help others!
I'd say the cash that I spent on this set is worth it. The large array of amperage and size options included in the pack keep me prepared for any situation. Its neat arrangement – coded and labeled for convenience – makes it an excellent part of my emergency toolkit.
Although I had no problem with the amp labels, some customers have said it would be better if they were white, and if you're not sure about the rating of the fuse you just pulled out, always refer to the set's diagram.
Pros
Huge quantity with a lot of options
Practical for RV and mobile home enthusiasts
Can also be used in home DC applications
The excellent case keeps the fuses organized
Cons
Amp stamps might be hard to read
I'd recommend this set to you because it covers nearly every application that I could imagine. Just one case of these fuses could possibly last you a lifetime.
What to Look for When Buying Fuses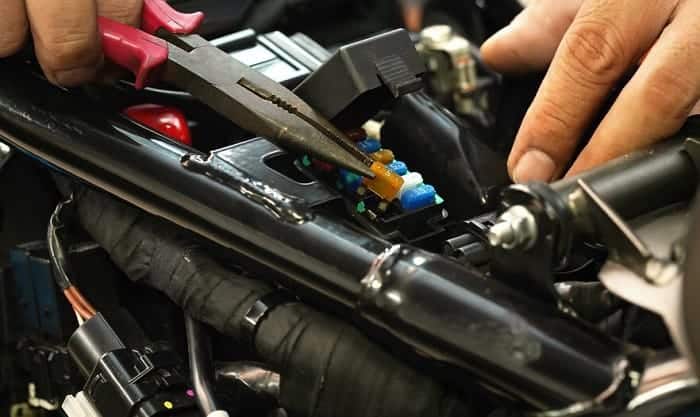 Fuses come in different sizes and ratings. And although they're typically made from plastic and steel, you also have to consider the material and build quality of each. Here's what I look for when choosing a fuse brand.
Build Quality
When choosing a fuse brand, you should look at the plastic case and the metal or steel contacts' quality. The plastic used should be thick and solid – not brittle and hollow sounding. The contact points should not also be easily bent.
For best results, try to bring the original fuse that came with your vehicle and compare it with the new one you're going to purchase.
Personally, I prefer quality products with affordable prices. Ensure that you have these two characteristics, and I can say that you'll get the best out of your money spent.
Rating
If you're buying a set – make sure it matches your vehicle's amp fuse rating. For example, some fuse packs don't have a 7.5A rating, so if your car has this and it blows, you wouldn't have a suitable replacement.
To be sure, it is always wise to refer to your vehicle manual. If you have multiple vehicles, it is better to check all of their manuals, not just the one that needs replacement, so that a single purchase covers all your bases.
Size Groups
There are six different size groups available for automotive fuses – Micro2, Micro3, Low-Profile Mini, Mini, ATO (Regular/Standard), and Maxi. You have to figure out which sizes your vehicle uses. Just be reminded that some cars use two or more different sizes for different applications, so always refer to your manual.
Case and Organization
When you have a stock of fuses, it's better if they come in a case – unless you're buying a refill. Imagine having 200 fuses all-mixed up together. While their color-coding might help find the correct one, it will still take some time to rummage through a pile. A case will help you choose the right fuse instantly, especially if there's a catalog or pictogram included.
A well-organized collection will also help prevent costly mistakes. If you place a higher rated fuse on a lower rate socket, you could end up damaging or totaling your vehicle.
Other Important Factors to Consider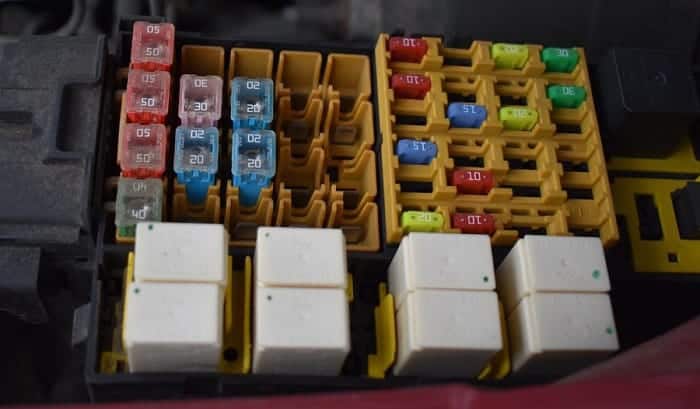 I will share some basic information about automotive fuses below. I'll talk about how they work and the differences between the types and sizes available on the market.
What is a Fuse?
Fuses are designed to protect electrical systems from too much power or excess current. This could happen due to a short circuit, grounding, excessive load, or other events. When a system fails, it causes heat to build up, either along the wire or on the electrical appliance itself.
A fuse will prevent the danger of an electrical fire, or explosion by failing before the rest of the system does.
How Does It Work?
A fuse usually contains a thin metal strip inside a clear container – usually plastic for automotive applications. When a fault happens in the electrical system, the heat will first build up in the fuse, causing the metal strip to fail and cutting the current. When the current stops, this allows the entire system to cool down.
What are the Different Types of Fuses?
Fuses come with different ratings. The most common ones are the following:
0.5 A
1.0 A
2.0 A
3.0 A
4.0 A
5.0 A
7.5 A
10 A
15 A
20 A
25 A
30 A
35 A
40 A
50 A
60 A
70 A
80 A
100 A
120 A
They also come in six different sizes:
Micro2
Micro3
Low-Profile Mini
Mini
Regular / Standard
Maxi
Why Do You Need Fuses?
Fuses are essential to keep you safe because they will automatically cut power as soon as a sufficient increase in temperature causes the filament inside to fail. Without this safety feature, a continuous temperature rise could cause the wires to fail and combust – and cause a fire or an accident.
Frequently Asked Questions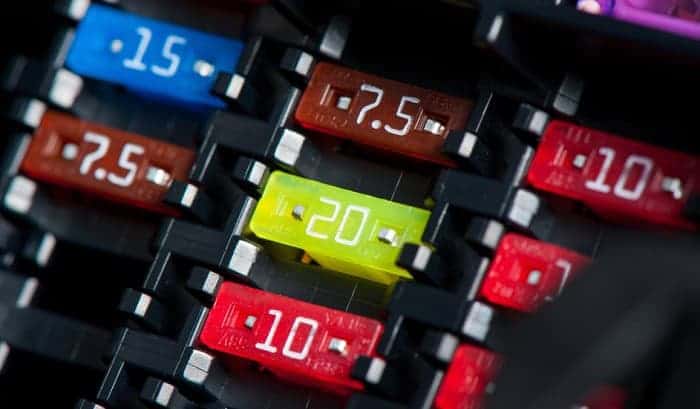 I'll share with you and answer the most common questions that my friends ask me.
Who Makes the Best Fuses?
Among the items that I have reviewed, the best makers I have seen are EPAuto and Nilight. Their fuses have outstanding quality in terms of material and build – and their cases are well organized and come with excellent labels.
They also come at a great price, so I believe that these two brands offer the best value for money.
How to Install and Use Automotive Fuses?
When an electrical component in your car fails to operate, the first thing that you should check is the fuse. To do this, first, locate your fuse box in the car – it's usually placed in the engine bay or under the dashboard on the driver's side.
Some vehicles come with labels on the fuse box, but it's best to check your manual to save time.
Once you've found the correct breaker, pull it out using the included puller. If you don't have one, you can use a pair of pliers instead.
To check the fuse, look inside and determine if the filament is still in one piece – if it is, then it should be okay. If it is blown, there should be some soot marks on the case, and the thin metal wire should be broken.
If you need to replace the fuse, be sure you're using the same type and rating. You can compare it visually with your stock of fuses, and the rating should also be marked clearly on its head. Once you have the correct replacement, just place it firmly in the socket, and you're good to go!
Test the system if it works and if it does, make sure that you place the fuse box cover correctly to protect the delicate electronics inside.
As always, check your manual to be sure that you're doing it correctly.
Where to Buy Fuses for Cars?
These fuses are pretty common and can be bought both online and offline. General eCommerce sites would have these items available – but you should always check their quality reviews. I prefer shopping on automotive sites personally, because I know that they specialize in those products, but it could be a bit more expensive.
If you prefer going to a physical store, head on to a vehicle parts specialty shop instead of a service center. The service centers would typically charge a premium, and they usually stick to one brand. You will have more options and get a better deal from the store.
What Should I Do If I Don't Have an Available Fuse of the Correct Rating?
If you blow a 7.5A fuse and don't happen to have one, you can temporarily use a lower-rated one, like 5A. Electrical systems would have some leeway, so the lower rating might work for a while, especially if you don't use it for long. Never put a higher-rated fuse on a lower-rated system as it might cause the wiring to fail.
Why Do Cars Use Fuses Instead of Circuit Breakers?
Circuit breakers take up a lot of space compared to fuses, which comes at a premium in vehicles. Especially for the instrument panel and dashboard, where there is limited space under the steering wheel, a fuse makes more efficient use of space.
More than that, automotive electrical systems don't experience overvoltage or overcurrent as much as homes do. This is because cars use DC instead of AC, which is more prone to imbalances.
Conclusion
For protecting your vehicle, it's good to use the best fuses available in the market. There are many options out there, and you have to choose wisely which one is the best for you. You can choose among the items that I have reviewed or even go for other brands that are not mentioned here – just check buyer feedback first.
However, if there's one thing that I want you to take away from reading this, you should always read your manual. That way, you can ensure that you have the correct fuse rating and size before installing it.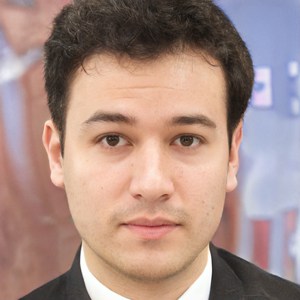 I am Edwin Jones, in charge of designing content for Galvinpower. I aspire to use my experiences in marketing to create reliable and necessary information to help our readers. It has been fun to work with Andrew and apply his incredible knowledge to our content.