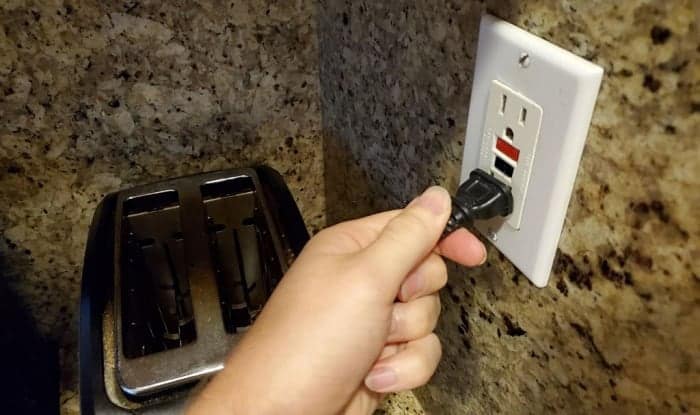 Any device, machine, or appliance needs preventive measures against fire. Every time we use gadgets and electronic equipment, we acknowledge power's presence, which can have adverse effects once something malfunctions.
Protecting you and your home from accidents might require using the best GFCI outlet. This device works like a circuit breaker with specified protection against electrocution. The moment it senses shock moving to a person's body, it cuts power before things worsen.
These Ground Fault Circuit Interrupter plugs come in different brands, styles, and compatibility. But one thing common about these devices is their capacity to handle the electrical imbalance in your wiring system. Read more to know what model best suits your place.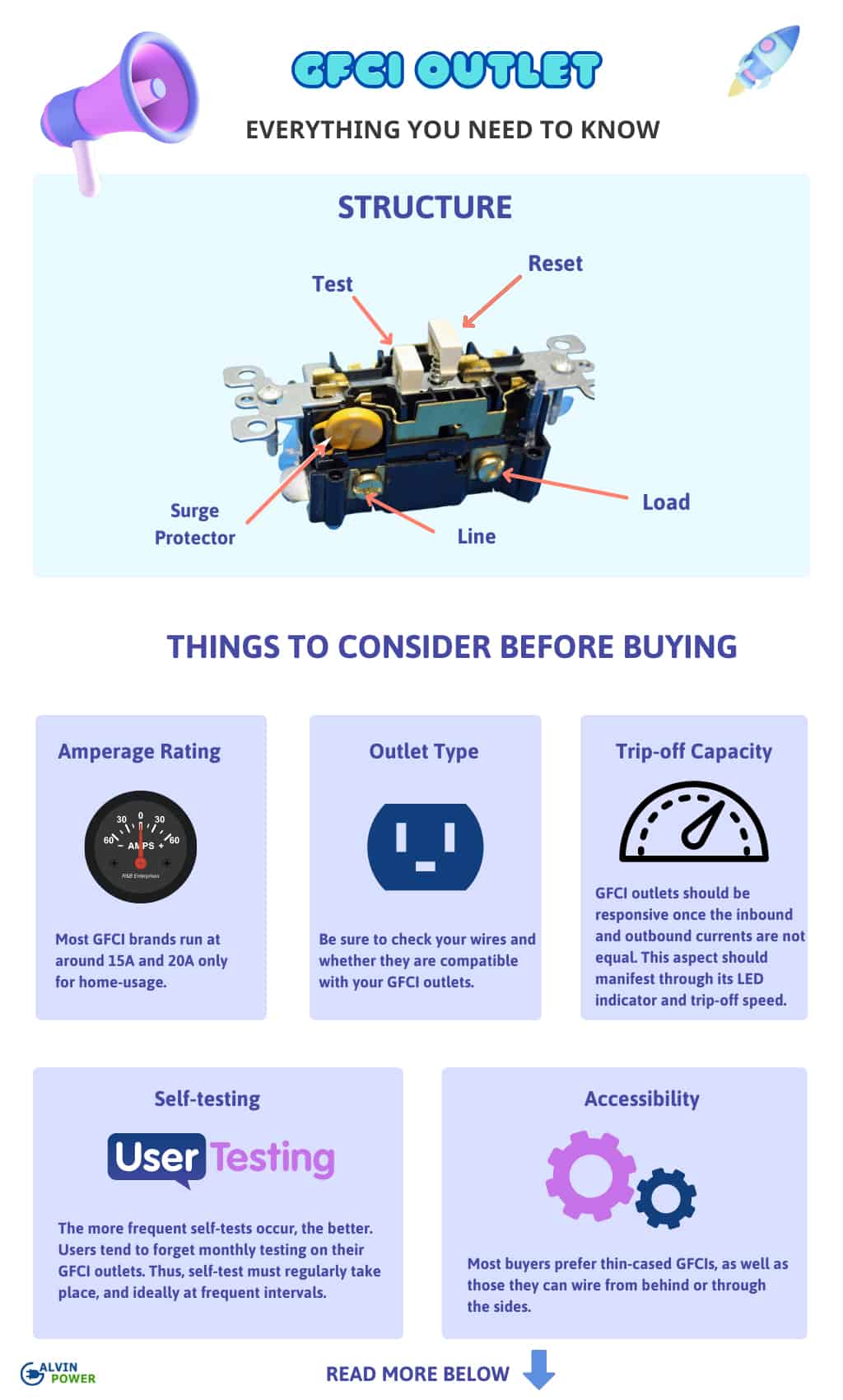 Top-Rated GFCI Outlet Reviews
1. ANKO GFCI Outlet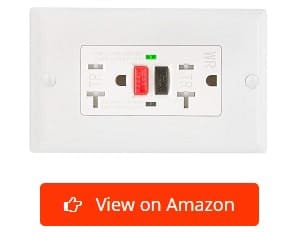 Featuring a thermoplastic case, the ANKO GFCI Outlet has tampering and weather resistance. This material is lightweight but has high strength and durability. I love its clean white finish, too, because it blends well with my walls.
This duplex receptacle comes with green and red LED indicators that show the condition of the outlet. The green light shows that the device is properly working, while the red light blinks regularly as a sign of self-test to notify that the GFCI is continually working. The red LED also lights up once the outlet can no longer provide continuous ground fault protection.
In case you want to perform manual tests on the outlet, you can press the TEST button right on the device's surface. Also, unlike fuses, you can always reset the GFCI once it trips off using the RESET button. These switches are necessary to keep your electronics safe and in a good state.
Installation was a breeze for me since the package comes with all the necessary parts in a color-coded manner for easy identification. This brand also has detailed instructions in it, making not just the installation but the operation and maintenance easy as well.
On the downside, sometimes I find the green indicator light hard to identify. It's not as bright as I expected, especially under well-lighted conditions.
Pros
Thermoplastic body for durability and lightness
Clean white finish
Tampering and weather-resistant
Green and red LED lights to indicate the device's working condition
TEST/RESET buttons for manual operation
Comes with necessary parts and instructions for guided installation and maintenance
Cons
Green LED light not bright as expected
I find this receptacle easy to install and trips off when necessary. It works as intended, and I can perform regular maintenance on this device.
2. Leviton GFNT1-W GFCI Receptacle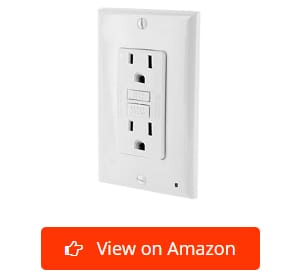 Coming with a licensed lockout action feature, the Leviton GFNT1-W GFCI Receptacle makes sure that the electricity running to your GFCI remains off. It prevents reset once the GFCI incurs damage and could no longer respond to a ground fault. That way, you are sure whether or not your outlet still provides continuous ground fault protection.
I like the low profile design of this 15 Amp GFCI outlet because it's slim. Compared to my old outlets, this one has a more shallow and compact design. This product is easier to install since it doesn't require that much depth. So, I don't have to worry about having these between room partitions or thin walls.
The Leviton GFCI outlet comes with improved immunity against high-frequency noise. These interruptions can come from multimedia systems nearby. Good thing this product helps in reducing nuisance tripping. That means frequencies linked to my wall outlet remain stable.
To monitor the power status of my electronics, this GFCI performs a frequent auto-test. This maintenance action by the GFCI outlet ensures that you get to know the power and protection status of your receptacles. Also, an LED light is present on the surface to indicate any issue with the outlet.
It's not present in most Legrand VS Leviton reviews, but I find the reset button hard to press, and it can be tricky when using it for the first time. When I first installed this GFCI outlet, nothing worked until I pressed the reset button harder than I did with my old GFCI outlets.
Pros
Patented lockout action that prevents reset once the outlet gets damaged
Slim and shallow design
Contains protection against nuisance tripping and noise
Self-test feature for monitoring with an LED status indicator light
Cons
Hard-to-press reset button
For me, the Leviton GFCI outlet works well. But when it no longer works, it lets me know a replacement is due. I think the lockout feature is the most convenient aspect about this product.
3. Faith GFCI Outlet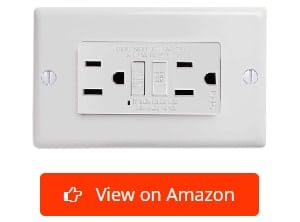 Conducting a self-test every 2.5 hours, the Faith GFCI Outlet makes sure that your terminals remain fully functional. These tests are essential for your continued protection and defense against faults.
This device has a slim design that fits any location like bathroom, kitchen, garage, and places where water is present. You don't have to worry about your safety in these settings because this brand is a UL-listed one. It is also capable of side and back wiring, which makes it a flexible receptacle outlet.
In the event of a ground fault, this brand cuts off the power within 1/40th of a second. This response speed prevents damage and possible electrocution. Not all faith GFCI outlet reviews disclose this, but I find this feature important since electrical faults can cause damage to my devices or appliances.
On top of these, this 15 Amp GFCI outlet comes with Customer Support in its package. Not all brands have this offer, so I think this is a definite plus for the device. That way, I'm sure I got a backup when things don't go well with my receptacles.
I had a hard time installing this device. It took me a while to pull the screws out so I can line a 12AWG wire in. Nevertheless, the entire device works well and trips just at the right time.
Pros
Conducts an auto-test every 2.5 hours
Slim and suitable for any location
UL-listed design fit for locations near water outlets
Side and back wiring
Fast response rate during ground faults
Customer support included in the package
Despite the installation issues, I feel secure using this product. It's perfect for all the corners of my house. Also, the customer service is responsive enough to all my concerns. I believe this is one of the most stable GFCI outlets I ever had.
4. LGL GFCI Outlet
Laying out electrical connections using a single outlet brand is convenient. The LGL GFCI Outlet comes in a pack of ten, enough to satisfy an entire home's terminal needs. Thus, there's no need to make numerous purchases.
I like the components of this 20 Amp outlet because they are safe for people and children especially. These parts are not only tamper-resistant but are weather-resistant as well. They can withstand corrosion and moist and humid conditions. I have been using these outlets for months now, and they are working well.
Checking whether or not your devices have reached the end of their working capacity is easy. This brand has an end-of-life monitoring feature that makes the red light turn on as soon as the GFCI receptacle outlet stops working and needs replacement. So, you will know when your ground fault protection no longer works and you need to install a new one.
Location is not an issue for this product as you can install it both indoors and outdoors. It is also ideal to have these outlets in damp environments that require the usage of appliances on some occasions.
On the downside, I find these outlet boxes a bit thick. I needed to make thick wall provisions to install these GFCIs. Nevertheless, all of them are in good working condition.
Pros
Ten outlets in one pack, easy to work with
Tamper-resistant, corrosion-resistant, and weather-resistant
End-of-life notification feature
Ideal for indoors, outdoors, and moist environments
Cons
The GFCI body is a bit thick or bulky
Using this tamper-resistant device is a breeze for me. I never have a hard time checking whether or not these outlets are working. Plus, I get to spend less time searching for outlets compatible with any location in my house because this is the best outdoor GFCI outlet for me.
5. Dependable Direct GFCI Duplex Outlet
One of the best things I like about the Dependable Direct GFCI Duplex Outlet is its easy-to-identify LED indicators. This product indicates the outlet's working condition through the LED lights — green if it's functional and red if the device has come to its end. It's not hard to know the power and protection status of my GFCI, whether it's working, self-testing, or dead.
This 15 Amp GFCI outlet has a tamper-resistant shutter mechanism which prevents power transmission through unwanted objects. The only time you'll get access to electricity is when you insert a 2-prong plug into the outlet. This feature makes this product safe and secure even with kids nearby.
I like the housing of this GFCI outlet because it has flame-retardant properties. It helps slow down the fire and provides ample time to shut down sparks and hazardous ignition. That way, you can always keep your electronics safe.
This product comes with all the necessary parts in the package. It has screws and plates along with the GFCI body. Also, the installation process was a quick one for me. There is no need to call an expert to do the task.
I think the only issue I have seen in this product lies in its size. This GFCI is too big to fit into some electrical boxes, so make sure to check its dimensions before buying.
Pros
Easy-to-identify LED status indicator lights
Prevents electrocution from objects like keys, hairpins, and others
Flame-retardant housing
Comes in a complete set with screws and plates
Installation doesn't require professional help
Cons
Too big for some electrical boxes
Overall, I like this duplex receptacle because it doesn't send electricity through foreign objects. I also love its white finish as it blends well with my walls. Installation was a breeze, and I think I would want to get more of this.
6. TOPELE GFCI Outlet
Unlike conventional receptacles, the TOPELE GFCI Outlet stops electricity as soon as a ground fault occurs. I like this brand because it works as intended, and it responds quickly.
I think this GFCI outlet is a perfect device for white surfaces because of its smooth white finish. It doesn't fade, and it's heat-resistant as well. So, there'll be no grainy texture on it in the long run, and children will most likely fail to notice this outlet on their walls.
Other than its complete parts, this brand also has comprehensive safety features. It comes with a self-test function, tamper resistance, TEST/RESET buttons, and a LED indicator as well. That way, you get to identify the power and protection status of your safety outlets quickly. Plus, you can protect your appliances.
One more thing that I like about this white GFCI outlet is its packaging. Not only does it have a free wall plate and complete components, but the supplier makes their shipments without compromising the quality. In case you receive a damaged package, the brand has a 1-year warranty to tackle issues you have with your outlet.
I wish the wall plate covers were a bit thicker because they look and feel flimsy. They can break after an impact. The rest of the components look sturdy.
Pros
Quick response to ground faults
Fade and heat-resistant smooth white finish that blends well with white walls
Complete safety functions like self-testing
Quality packaging with free components
Comes with a year of warranty
I am looking forward to installing this GFCI near my garden outside. This product meets the technical requirements of our electrical code and is a UL-listed one. Also, I find this receptacle easy to use and install.
7. BESTTEN GFCI Outlet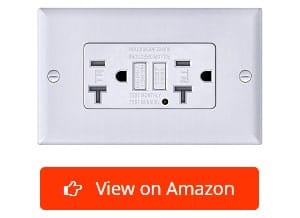 Durability is what makes the BESTTEN GFCI Outlet a quality GFCI terminal. This product comes with a fire-proof polycarbonate casing that is easy to install and lightweight. Compared to other GFCI brands, this one has improved impact resistance and tolerance to fading as well.
I think this 20 Amp receptacle is flexible in many aspects. You can use it not only for home set-ups but in commercial applications as well. Thus, I can use this product in more than one location and install it most conveniently.
I like this brand because it comes in a package of ten GFCIs. Included in the pack are wall plates, insulation screws, and installation instructions to guide every user all the way. That means I can satisfy my wall outlet needs in just one purchase and without needing technical assistance.
Inside this outlet is a tamper-resistant shutter mechanism. This structure prevents the insertion of foreign objects into the outlet. The only product that could fit into the outlet is a 2-prong plug. That way, you prevent electric shocks and possible damage to your electronics.
However, I have a hard time inserting the plug into the case slots. I needed to exert more force to fit it in. Nevertheless, the whole thing looks sturdy on my walls.
Pros
Made with durable and fire-proof polycarbonate housing
Resists impact and fading
For residential and commercial use
Comes in a pack of ten receptacles and an easy-to-use kit
Tamper-resistant system
I like this GFCI outlet because of its flexibility, durability, and safety. It's easy to maintain as well. I would like to have more of this on my future projects.
8. Faith 3-Pack GFCI Outlets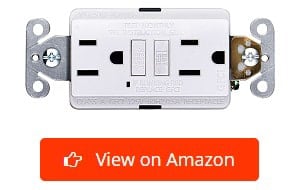 Protect yourself and your family using the Faith 3-Pack GFCI Outlets. This product features quality engineering that guards users against electric shock. Each unit undergoes double testing to ensure reliable performance. Also, this brand comes with high-quality materials.
This Faith model comes with a green LED light to indicate the outlet's working correctly. It lights up red once the outlet requires replacement and darkens if ground fault protection has occurred. If the latter happens, press the RESET button to put the outlet back to the usual operation.
Uniquely, this product is a non-tamper-resistant device. This aspect is beneficial to users who have a hard time plugging in standard prongs on tamper-resistant outlets. So, if you are struggling to deal with tamper-resistant GFCI outlets, I think this would be a good one for you.
Not only does it add convenience to many users, but it's also a budget-friendly device. It works like the most expensive receptacles I had, but it's widely cheaper than them. Plus, this outlet is easy to install and wouldn't require you to spend on professional help.
I think this product is a perfect replacement for old outlets as well. I used to have conventional outlets at home. When they stopped working, I opted for this brand, and things looked well. As long as you correctly wire them, they would last long.
I think wall plates would be a nice addition to this item from Faith. All of their packages do not include a wall plate, so I needed to buy them separately.
Pros
Has gone through double testing for quality performance and safety
Optimum materials and engineering; reset button available
LED status indicator light to indicate the device's condition
Non-tamper-resistant device for smooth plugging
Budget-friendly item
Easy-to-install receptacles that last long
Cons
Does not come with wall plates
I think this product is perfect for my residential application. It has quality indicators, and it's not hard to plug my appliances into it. Plus, it doesn't cost me much.
DbillionDa GFCI Outlet (Outdated)
The DbillionDa GFCI Outlet comes with an ergonomic design that fits all wall plates and Decora devices. It also has big TEST/RESET buttons, which are more identifiable than some GFCIs. I find this brand fit for my house because of its structure and convenience.
Unlike typical GFCI outlets, this brand is thinner. It has a thickness of 1.22 inches, making it slimmer than other GFCI brands. That means I would not have to allot a very deep space for the GFCI housing.
This GFCI outlet is an ETL-listed one. It meets the new UL qualifications in compliance with the National Electric Code, such as line-load reversal protection, self-tests, overvoltage protection, and end-of-life notification.
I like this PLC-built product because it trips immediately on actual ground fault. Even during a self-test, it cuts off power and prevents possible electric shock or damage. That means my devices and my house remain protected in case an electronic imbalance occurs.
This brand also offers a 30-day money-back guarantee if you have issues with the item. Plus, a lifetime warranty and friendly customer service are there if you need to resolve operations and maintenance problems with your device.
On the downside, I had issues with one of these receptacles installed outside. It got exposed to the sun and elements and ended up with a brittle surface. The whole thing didn't last that long compared to the ones I had inside.
Pros
Ergonomic design that fits all wall plates and Decora devices
Easily identifiable TEST and RESET buttons
Slim device at 1.22 inches
Meets UL, NEC's requirements and ETL-listed
Cuts off the power immediately on actual ground fault
30-day money-back guaranty and a lifetime warranty
Despite that, this device doesn't fail to trip off when needed. Also, it has a slim and clean low profile design. I am happy to get a lifetime support from this UL-recognized device.
PROCURU 2-Pack GFCI Outlet (Outdated)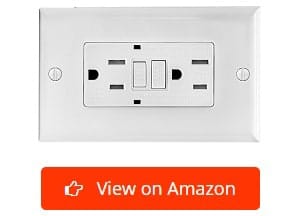 One of the reasons why I trust the PROCURU 2-Pack GFCI Outlet is because it complies with the National Electric Code 406.12 requirements. This code focuses on the resistance of outlets to tampering. That means there will be no access to power unless a standard plug makes contact with it.
This brand comes in a pack of 2 GFCI outlets. You can use the extra one for an additional installation or in case one gets damaged. I find the price of this product reasonable as well, given that I get two pieces in one purchase.
I'm not having problems with the installation process because it's fast. It doesn't require additional procedures, and all you need is to line the wires to their respective terminals. I like this product too because I have the options to wire it sideways or from the back.
This brand gives me convenience. Not only does it have two pairs of receptacles, but it comes as a complete easy-to-use kit as well. Other than the GFCI outlets, it has wall plates, screws, and installation instructions.
I wish the TEST/RESET buttons were colored to be easily identifiable. Unlike my old GFCI outlets, this brand has a plain white color in all its parts. I need to look closely at the buttons to press the correct one.
Pros
Meets NEC's requirements for tampering resistance
Comes in a pack of 2 for additional installations or replacement
A reasonable price
Easy to install and can be wired sideways or from the back
Complete package with screws, wall plates, and instructions
Cons
Hard-to-identify test and reset buttons
Overall, I like the convenience this product gives me. I find it durable and safe to use. The installation process was a breeze, and I got the value of my money.
ELECTECK GFCI Outlet (Outdated)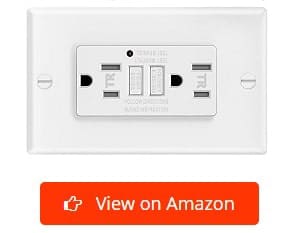 The ELECTECK GFCI Outlet is one of the best products you can trust for its quality. Every piece of this product goes through function and safety tests before being released to the market. So, I always feel confident about this brand.
This product is an ideal replacement for the usual 2-prong outlets as well. I made this inquiry on Amazon before. I gave it a try, and it did yield a good outcome. Also, the electrical code in my area requires GFCIs in locations where a water source is present.
Not only do I find this product high-quality, but it's an affordable one as well. This brand may not be the cheapest one I have, but it works better than my old higher-priced receptacles. Additionally, it's cost-efficient because I needed no electrician to help me during the installation process.
On top of these features, you also get a 3-year warranty for this product. Feel free to reach out to the brand's friendly customer service in case you encounter issues with the products. Plus, you can use this brand with confidence as it comes with an ETL certification.
However, on one of my previous purchases, I received a defective unit. But this is likely to be a delivery issue, not a manufacturing problem. Also, I wouldn't advise using this item for outdoor use.
Pros
Trusted brand for its quality, function, and safety testing
Perfect replacement for 2-prong outlets
Affordable GFCI outlet that's easy to install
Preferred in locations near water sources
Comes with a 3-year warranty
ETL certified outlet
Cons
Defective units can be delivered by mistake
Not for outdoor use
I would choose this best GFCI outlet brand all over again. This product is something I can always rely on, and it's ideal in my area. Also, I get the value of my investment in these safety outlets.
ELEGRP GFCI Outlet (Outdated)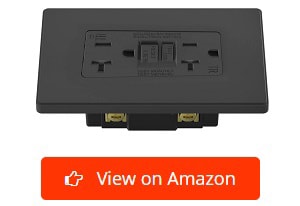 The first thing that drew my attention towards the ELEGRP GFCI Outlet is its clean matte black finish. I love its design because it looks sleek and classic.
This product features a Dual GFCI Protection System, which is rare with GFCI outlets. This UL-Listed product has a twin Solenoid and double Silicon Controlled Rectifier (SCR) that ensures a consistent GFCI response to ground faults. It also enhances the service life of the device and provides continuous ground fault protection.
The installation process of this safety switch is a breeze. All screws are in a ready-to-wire state. There's no need to rotate them and pull them back. The decorative wall plate does not need screws at all, and the package includes instructions to guide the user. All you need is to organize the parts and follow the steps.
I think this is one of the safest GFCI outlets I've ever had. It conducts a self-test every five seconds, making sure it's functioning with no problem.
This device comes with an innovative Reset-Disable System as well. That means that you cannot reset this GFCI receptacle once it reaches the end of its life. Plus, a Reverse Wiring Prevention ensures that no power runs towards the GFCI outlet under faulty-lined loads.
On the other hand, I received a thick GFCI with expectations that it would fit in tight spaces. Nevertheless, the entire device works, and it's easy to install.
Pros
Sleek matte black design
Dual Solenoid and SCR components for better service life and GFCI protection
Ready to install and comes with instructions
Conducts a self-test every five seconds
Reset-Disable System once the device reaches end-of-life
Reverse Wiring Prevention to stop power in case there is a wiring mistake
Cons
The device is a bit thick
Despite that, I am glad about the level of protection I get from this product. I love its design and the way it complements my interiors.
What to Look for When Buying GFCI Outlets
Safety can be everything once you start dealing with electricity. But other than safety and protection, there are more technical aspects you should check out when buying GFCI products.
Most GFCI brands run at around 15A and 20A only for home-usage. These ratings are ideal for residential applications since electricity doesn't travel that long inside your house. Plus, your appliances don't require that much energy compared to commercial-grade machines.
Some outlets accept aluminum and copper wires, while some can only accommodate copper wires. Be sure to check your wires and whether they are compatible with your GFCI outlets.
GFCI outlets should be responsive once the inbound and outbound currents are not equal. This aspect should manifest through its LED indicator and trip-off speed.
The more frequent self-tests occur, the better. Users tend to forget monthly testing on their GFCI outlets. Thus, self-test must regularly take place, and ideally at frequent intervals.
This area tackles the size of the GFCI, its wiring capability, and some matters that can make using this product more convenient. Most buyers prefer thin-cased GFCIs, as well as those they can wire from behind or through the sides.
Some people on Reddit discuss other considerations like the brand, electric code compliance, and style. These may be relevant if you have narrowed down your GFCI choices.
You can also take a look out review on top-rated whole house surge protector. Also, don't forget to read our review for non contact voltage tester and share the post.
Do I Need to Test a GFCI Before Buying
There is no need to test a GFCI before buying because the accurate test happens after installation. Some users insist on using a GFCI tester, but it's not necessary.
Thus, right after fixing the outlets on your walls, perform necessary procedures as indicated in the product's instructions. Most brands encourage resetting the device before using it to be sure the terminal works. After an initial examination, perform regular testing on the terminals to see whether an issue with the outlet has occurred.
How Many Outlets on a GFCI
There is no limit as to the number of outlets a Ground Fault Circuit Interrupter can accommodate. The best GFCI outlet with USB has two to four outlets and two USB ports in it. But with all these, be sure that the trip outlet only accommodates loads below or equal to its capacity. For residential GFCIs, two outlets would be a safe and ideal option.
Can These Outlets Be Used in the Bathroom
One of the reasons why there are GFCI outlets in the market is because these devices react fast to ground faults. Thus, it is a requirement to use GFCIs in the bathroom. These receptacles also work best in other environments like kitchens, gardens, and damp areas.
Should I Buy a 15-Amp Outlet or a 20-Amp Outlet
If you are using household appliances that consume a minimal amount of electricity, a 15A outlet would be good for you. But if you have an HVAC system at home and you're using power tools, it would be better to use a 20A GFCI outlet.
On top of that, it would be ideal to examine your appliances at home. Check their amperage ratings as well. That way, you will have a basis for buying the optimum device for your purpose.
Conclusion
Protecting your house from a fire hazard should not be an optional move. It is a must that you keep yourself and even your loved ones safe from fire and electrocution.
Investing in the best GFCI outlet will erase your worries about faulty terminals and shocks in wet areas. These devices work like your circuit breakers that cut off power once it becomes risky or dangerous.
Thus, keep the GFCI outlet buying guide I have shared with you to land the best one for your homes and commercial spaces. The comments section is open for your inquiries.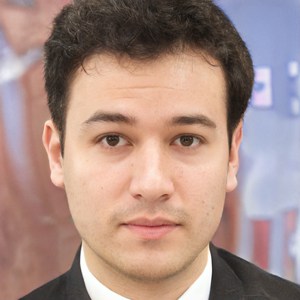 I am Edwin Jones, in charge of designing content for Galvinpower. I aspire to use my experiences in marketing to create reliable and necessary information to help our readers. It has been fun to work with Andrew and apply his incredible knowledge to our content.