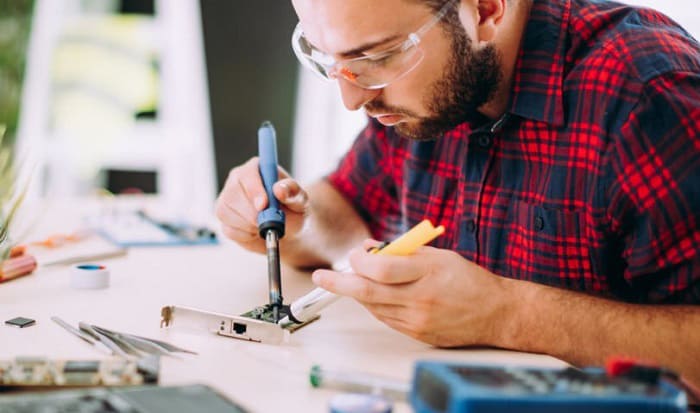 The best solder sucker is a must-have tool when conducting electronic repairs. It is helpful to suck off all the molten solder, a task that is often crucial when replacing damaged electronic components. However, finding a reliable device is tricky, since not all suction pumps can effectively remove all solder residue.
For this reason, considering the three main factors below will help you select the solder suckers suitable for your needs.
Before purchasing the specific solder sucker, you must consider why you need this tool. Is it for personal use only, which means you're not going to use it much? Or do you need it for industrial or professional work, which means you'll use it frequently, maybe even daily?
Considering the specific types of solder sucker will not only ensure good productivity but also let you save some money.
Material and construction
The second thing you must consider is the material used and construction of the pump. Getting one made of durable materials with a high-quality construction will assure you that the product will last for many uses.
Lastly, it is also crucial to consider the suction tip. The pump tip is the part that directly interacts with the molten solder. For this reason, it is also possible for the sucker tip to touch the iron tip.
As a result, choosing a durable tip with heat-resistant features is a wise move. Additionally, having an extra tube in the package for sucker tip replacement is also advantageous.
Here is a list of recommended tools to ease the process of finding the right solder suckers that may suit your needs. You can check each product's benefits as well as negative sides to identify if the tool might work for you. Last but not least, the buying guide will give you more details on the features of solder removers.
Top 7 Solder Sucker Reviews
1. ENGINEER SS-02 Solder Sucker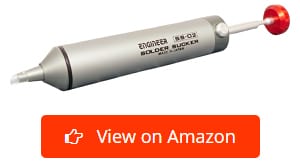 This Engineer SS-02 solder sucker might be one of the best choices when working on various desoldering applications. It is well-constructed and uses only quality materials, making it durable inside and out. These characteristics assure me that the pump can last for many years.
Its compact design makes it easy to use for varying hand sizes. An added advantage is how the silicone nozzle is flexible and heat-resistant; it can also be used directly with soldering irons. The latter attribute provides total enclosure for every application and results in less remaining residue.
Another good thing about this pump is that it includes a 50mm silicone tube. Even though the original nozzle is enough and can last long, it is always better to have a replacement in case the attached tip is lost or gets damaged over time.
With the pump's self-cleaning features, maintenance becomes a breeze. Disassembling it after every desoldering work for cleaning and removing the solder debris inside will no longer be a tiresome chore.
The sole downside to this tool is that some users reported it was easy to clog. When working on a large amount of desoldering application, it is good to consider removing the solder from the tip before using it again.
Pros
Made of high-quality materials for a durable construction
Compact design allows its user to have good handling
Flexible heat-resistant silicone tip that can be used directly on the soldering iron
It comes with a 50mm innovative silicone tube for tip replacement
With self-cleaning features for easy maintenance
Cons
Some users reported that this pump was easy to clog
Generally, this solder sucker is recommended for everyone, especially those with a small hand size like me. It has a compact design with great features that can be used in different desoldering applications.
2. Tabiger TB-02-US Solder Sucker & Desoldering Wick
This Tabiger TB-02-US solder sucker is an excellent product to consider for those who mainly work with electrical boards.
Aside from the solder sucker tool, its package includes two pieces of solder braid. These solder braids allow for precise cleaning of solder residue on the electrical circuit board, which, if left alone, can cause short circuits.
The body of the product is made of high-quality ABS materials that make it durable. At the same time, its heat-resistant nylon nozzle will not get easily damaged, even with direct contact with the soldering tip. With these features, this device is guaranteed to provide a long service.
The pump is also equipped with a double spring feature on its piston. This attribute significantly gives the pump a powerful suction.
Furthermore, the non-slip sponge gives its users a comfortable grip while using the device. It also absorbs sweat and heat, making the pump comfortable to use even when held for long periods.
Flux paste is necessary for solder wicks to make them more effective. However, the desoldering wick in the package does not have built-in flux, so purchasing the latter before using the device might be necessary. This may be a bit of a hassle, since we will need to go out and spend extra money.
Pros
Comes with two pieces of solder braid for effortless cleaning
Double spring feature on the piston for providing powerful suction
ABS body for durability
Heat-resistant nylon nozzle that provides long service life
A non-slip sponge ensures a comfortable grip while absorbing sweat and heat
Cons
The solder wick has no flux
This Tabiger desoldering pump package should be a good choice for everyone who mainly works with electrical boards. It has a solder wick that is great to use with small electronic parts like ICs to prevent short circuits.
3. Teenitor TNT582 Solder Sucker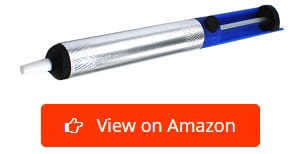 The Teenitor TNT582 Solder Sucker is one of the basic plunger-type solder suckers. It is simple to use, making it suitable for everyone, whether the user is left or right-handed. I only need to push the plunger down and press the trigger button when the solder is melted.
Compared to other models, the significant advantage of this tool is that it comes in a set of three. This way, consumers can have one for their work tables, one for working outside, and one as a backup in case one of the pumps fails. It is also advantageous that the size is small—it can easily fit into any toolbox.
Since the device is lightweight, it does not cause unnecessary stress to the hand. Furthermore, its frame is built of aluminum, making it strong enough to withstand numerous desoldering applications.
Even if there are three sets in the package, it is still helpful to know that the tips are easily interchangeable. It simply takes a counter-clockwise nozzle rotation to disassemble the current sucker tip and then attach the new one. This pump's replacement tips may also be obtained at any local hardware store.
The only drawback of this tool is that it is not powerful enough compared to other solder suckers. With every use, there is often solder residue left behind. As a result, the suction process is constantly repeated. To address this issue, we can apply a small amount of Teflon tape to the threads and some lubricant to the O-rings to improve its suction.
Pros
Very simple to use for a left or right-handed person
Comes with a set of three
Compact size, which can easily fit in a toolbox for working at any place
Made from lightweight and durable aluminum
Easy replacement and purchase of the tips
Cons
Not powerful enough to suck all the solder
Even though this solder sucker does not provide powerful suction like others, it is still recommended for everyone. One only needs to apply tricks like mine to improve its capability.
4. WEmake WM-SP4 Solder Sucker
For those who are tight on budget, this WEmake WM-SP4 Solder Sucker might be a good option. With too many desoldering pumps on the market, this is one of the most affordable. Though it comes at a low price, it does not mean it has fewer features than others.
This pump is flexible and can be ideal for all DIY tasks, including printed circuit board or PCB joint solder removal. It also has a powerful spring that provides high suction capability for higher desoldering efficiency. As a result, this tool can effectively remove molten solder with no residue left behind.
What is best about this product is that it is safe for electronic devices. It utilizes an anti-static and non-stick nylon tip, which is essential for electronics work, such as repairing vintage audio equipment. This product also complies with RoHS standards, which makes it user-friendly.
There is some concern about this tool breaking due to its powerful spring. Every time the plunger gets extracted, the above thread looks as if it will get damaged since it is made of plastic. For this reason, this tool seems more appropriate for occasional use, not for full-time soldering work.
Pros
One of the most affordable solder vacuum choices in the market
Flexible usage, suitable for all DIY desoldering work like printed circuit boards
Equipped with a powerful spring for high suction capability
Provides safety to electronics with its anti-static and non-stick nylon tip
Complies with RoHS standards
Cons
This solder sucker has plastic threads
Overall, this mechanical desoldering pump comes at a low price but does its purpose very well. However, it would be best if we considered using this tool for occasional use only.
5. Vampire Tools VT-001-SS Solder Sucker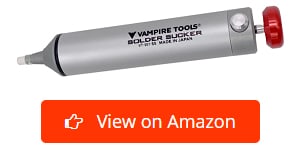 This solder sucker by Vampire Tools is a good one to consider when looking for a high-quality desoldering suction pump. Its construction, including all the components used, is made with the highest quality. There is reasonable assurance that the device will have a long-lasting life and be in good shape after much usage.
Using this tool with one hand is also practical since it comes in a compact size. Moreover, it has a self-cleaning feature that works perfectly and prevents solder clogging. These features aid productivity when desoldering numerous pins in electrical boards.
Plus, this model comes with an elastic and heat-resistant silicone tube (up to 350 degrees Celsius), which can be used as a spare for tip replacement. When this tube attaches to the solder sucker, it significantly improves its suction capability.
Just push the pump down to start the soldering application and let it have contact with the soldering iron tip to suck all the melted solder.
On the downside, since this item is equipped with many great features and offers longevity, its price is slightly high. As a result, this desoldering vacuum pump might not be the best option for consumers who are aiming for a budget-friendly tool.
Pros
Highest quality construction and components for long-lasting life
Compact size, which enables easy one-handed operation
With self-cleaning feature to prevent clogging
Include a spare silicone tube with heat-resistant features up to 350 degrees Celsius
Easy usage with silicon tip for better solder removal
Cons
Quite pricey compared to other desoldering units
All in all, the Vampire Tools VT-001-SS solder sucker has a high build quality that can significantly increase our desoldering productivity. However, choosing this pump might need an additional budget since it is quite pricey compared to others.
6. BELMAKS SP-02 Solder Sucker
This BELMAKS SP-02 solder sucker is ideal for people who want to guarantee that their chosen pump has good suction capability. It features a large extraction volume, allowing us to do extensive work on electronics.
It has a basic design that allows users to operate it with either their right or left hand. Regardless of the size, there are numerous ways to use its plunger with just one hand. Some of these techniques are pushing it down using the table or walls.
This tool also includes an anti-skid structure that allows users to keep a firm grip. The entire structure is also made of anti-static and lightweight plastic components. As a result, this equipment is safe for various electrical applications, particularly on circuit boards.
Along with its safety features, the non-stick coating plastic tip and cushion shock reduction design are also essential. While the sucker tip thoroughly sucks the molten solder with no residue left behind, the cushion can reduce harm if this instrument accidentally falls onto the electrical circuit boards.
However, because of its large size, smaller hands will prefer using this only when there's a need to remove a large amount of solder. There are more compact devices for people with small hands.
Pros
Large extraction volume for extensive work
Ambidextrous, simple design makes it suitable for right or left-hand use
Anti-skid design provides a secure grip for every operation
Constructed with anti-static and lightweight materials
Nonstick coating tip and cushion shock reduction
Cons
Quiet bulky for small hands
This desoldering tool is ideal for folks with large hand sizes searching for strong suction. With its size and high extraction volume, there is no question that this tool will ensure straightforward electronic repairs.
7. KOTTO Solder Sucker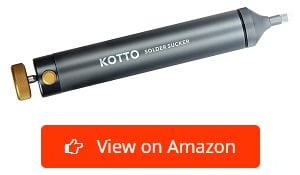 This Kotto solder sucker was another unique item that caught our attention when looking for a high-quality desoldering tool. This product is constructed with 6061 aircraft-grade aluminum and is precisely crafted by a CNC machine.
Since it has a huge spring and diameter, the strong suction on this pump is quite impressive. Furthermore, this pump makes it simple to clean residue, as disassembly is a breeze.
It is also fine if this item comes into contact with the tip of a soldering iron, since it has a heat-resistant silicone tip that can withstand direct heat. This allows me to utilize this tool without any worries during any application.
The nicest thing about this equipment is its excellent customer service, which gives me confidence in purchasing it. Aside from friendly customer support, the brand also provides a no-hassle refund or replacement.
Though the sucker tip is pretty helpful, I've noticed that it gets clogged easily while using this tool. Hence, after one removes solder, frequent cleaning may be necessary. The good news is that I have a spare tip that I can use to replace the dirty one if I don't feel like doing so.
Pros
Made from high-quality 6061 aluminum and machined for long-lasting life
A bigger spring and a wider diameter produce powerful suction
Provides a convenient way of cleaning residue through disassembly
The sucker tip can handle the direct heat of soldering iron
Reliable customer service, which offers a hassle-free refund or replacement
Generally, this desoldering tool is suitable for various desoldering applications. It has a strong suction, which results in clean work and helps to prevent electrical failures that are caused by any remaining residue.
What to Look for When Buying Solder Sucker
Now that you know some of the solder suckers on the market, it's now time to purchase yours. That said, finding the right tool is not as easy as using it.
Before purchasing any solder sucker desoldering pump, you should consider several factors to select the right option for the job.
To make it easier for you to decide which is best for your work, here are the factors you might need to consider.
There are many solder sucker desoldering pump types that can be used in a home or commercial application. It is good to consider the specific type of this tool and whether you need it.
Between these types, you don't need to choose the best or the most expensive. If you only use the pump a few times or in simple applications, using a basic tool is enough to do the job.
However, if you are working on numerous or heavy loads of electrical repairs, considering the most advanced solder sucker is worth it.
For a better understanding of different desoldering tool types, here are the three kinds that are currently available on the market.
Rubber Bulb Solder Sucker
The bulb-based desoldering device is one of the basic types. It has a bulb shaped rubber pump with a tip. It is also straightforward to use, as we only need to squeeze the pump to suck the solder.
However, this design can only provide low suction capability, which makes it suitable for light soldering applications.
Vacuum-based Solder Sucker
A vacuum-based pump, also known as a solder remover gun, is rated for industrial use and is mainly chosen by professionals. Aside from the function of suctioning the solder, it utilizes electricity to power itself. This tool often has a soldering iron as well.
With electric suction pump, you can do many desoldering applications like removing solder on IC pins. However, due to its excellent features, it is expensive compared to other types of solder sucker.
Plunger-based Solder Sucker
The soldering plunger is the most popular type and is often used in electronic fixes. Typically, it has a pen shape design and is equipped with a spring and piston, which push and lock it into place. It also has a trigger button, which can be used to activate its vacuum feature.
Most solder suckers of this type are lightweight and may be used with just one hand, making them particularly sought after for various desoldering tasks.
Material and Construction
Solder suckers nowadays are made of different materials. Some solder suckers are constructed with either plastic or metals, while others are mixed plastic and metal.
When purchasing this kind of tool, it is good to consider one made of a metal body like an aluminum bronze frame.
The sucker tip is also important, since it is the part exposed to direct heat. Aside from the melted solder temperature, it can also be damaged when it comes in direct contact with the soldering tip.
For this reason, it is advantageous if the package includes extra tips, or at least anti-static replacement tips are easily accessible.
Generally, most solder suckers use a silicone, nylon, or plastic tip. Though it is not a must to find this one, it would be best to use a Japan innovative silicone nozzle.
The suction power is also essential to consider when purchasing your solder pump. Preferably, the mechanical soldering pump with a high vacuum capacity is suitable for every desoldering application.
It will ensure that no residue left behind can cause an electrical fault, such as a short circuit to the board.
You might also consider the design if you need a solder sucker for numerous desoldering applications. An ergonomic one will give you comfort, especially when using this tool for a lengthy time. Moreover, some other solder pump has an anti-slip feature that gives you a good grip.
The last thing you might want to consider is the price of the solder sucker. There is no question that some great features come with a higher price. However, it does not mean that lower prices have low quality or fewer features.
Some affordable solder suckers have excellent features and surely help you get the desoldering job done. Additionally, some models are available with two or more sets per package, like the Teenitor above, which also comes at a great price.
Why Does My Solder Sucker Clog?
The solder sucker clog is due to the solder bits that get stuck inside the unit. Every time you use a solder sucker, it accumulates solder debris. When this happens, the suction capability of the pump will also decline or the pump may incur damage.
For this reason, cleaning your unit after two or three uses is ideal for preventing a clog.
You only need to disassemble the pump, remove solder debris, and clean the unit using isopropyl alcohol. However, don't forget to apply some grease to the piston before assembling it back.
Desoldering Pump Vs Wick: Which is Better?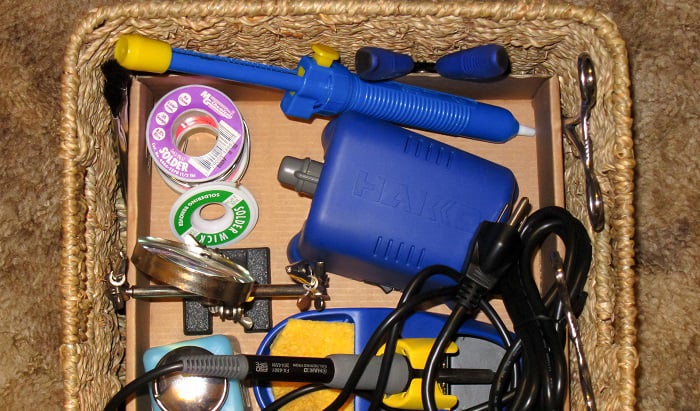 The answer to this question depends on the desoldering tool application.
The solder sucker has a vacuum feature, which is convenient for removing a large amount of solder.
On the other hand, the solder wick utilizes a copper braid and a flux, making it excellent for keyboards or other accurate printed circuit repair with small residues.
How Should I Remove My Old Solder?
The process to desolder joints in any electrical device is very straightforward. However, you will need soldering removal tools such as a soldering iron sucker or solder braid with flux to remove unwanted solder.
The first thing you need to do is to clean the circuit board or the terminal where you want to remove the unwanted solder.
Then, you can apply some flux if you use a braid to remove solder easily.
After that, you can apply heat to the solder joint and use your vacuum desolder tool or solder wick that removes solder.
And you're done! You've completely removed solder from the terminal.
Pro tip: In case any unwanted solder is left on your work but can't be sucked by your solder sucker, try to add some amount of solder to the terminal. The solder residue will melt and mix up with the new solder and your copper braid, making it easy to suck using the plunger.
Can I Remove a Solder Without Solder Removal Kit?
Solder removal is difficult without a solder desolder kit or copper braid. However, there is a trick you can use to make a customized solder wick and remove unwanted solder. You can use a stranded wire as an alternative.
Strip the wire and place it where you want to remove solder. Then, apply heat to the cable strands.
Though it is not very effective compared to the original desoldering wick, this might be an excellent solution to correct your mistakes in your old electronic work.
Conclusion
Using the solder sucker in every electrical repair is beneficial in many ways. Compared to a solder braid, a pump is highly reusable, which is great for saving some amount of money. At the same time, it will also increase your productivity in repairing electronics.
It is tricky to find the best solder suckers for every application. However, you can use the above list as the starting guide or consider the essential factors above, which will streamline the process of finding your ideal tool.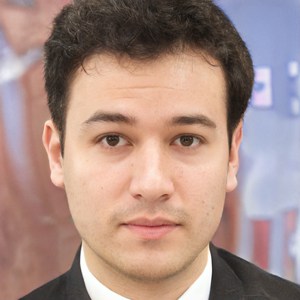 I am Edwin Jones, in charge of designing content for Galvinpower. I aspire to use my experiences in marketing to create reliable and necessary information to help our readers. It has been fun to work with Andrew and apply his incredible knowledge to our content.