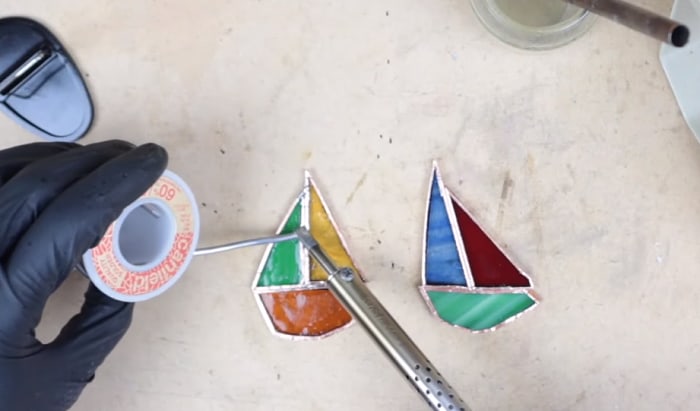 Whether you're new or a veteran in creating stained glass art, we know that a stained glass soldering iron is one of the hardest things to buy due to its complexity as a gadget. I mean, we all want that comfortable-to-use quality and heating efficiency at the same time, right?
So we need the best soldering iron for stained glass that we can trust for our glasswork. Now, we don't want to tackle this blindly, so here are the three guiding characteristics you can use to pick the optimum soldering iron for the job:
High heat- Unlike circuit board repairs, stained glassworks require a soldering iron that can reach high temperatures. In this arena, it is best to have a device that can get a heat range of 680˚F to 770˚F.
Consistency- A soldering iron for stained glass should be trusted to deliver heat consistently. From start to finish, you should have the same high temperature. If your device suddenly gets too hot, your glass will look musty, or the solder can get thicker in one area
But, if your tip temperature drops unexpectedly, cold solder joints may occur, making the solder look uneven and prone to cracking.
Soldering Tip- Most soldering irons for stained glass sold online only have one soldering tip ready to use. Some might have tip reserves as an extra, but whatever the situation is, always go with the chisel tip as a default.
This chisel type looks like a flathead screwdriver. If you're a novice stained glass artist, you can use this variant before moving to different tips according to your needs.
We're all set! Remember these few reminders as you check the following products I've listed. Here, I also wrote a buying guide with more shopping tips. Read on to discover the particular soldering iron that will match your stained glass creations!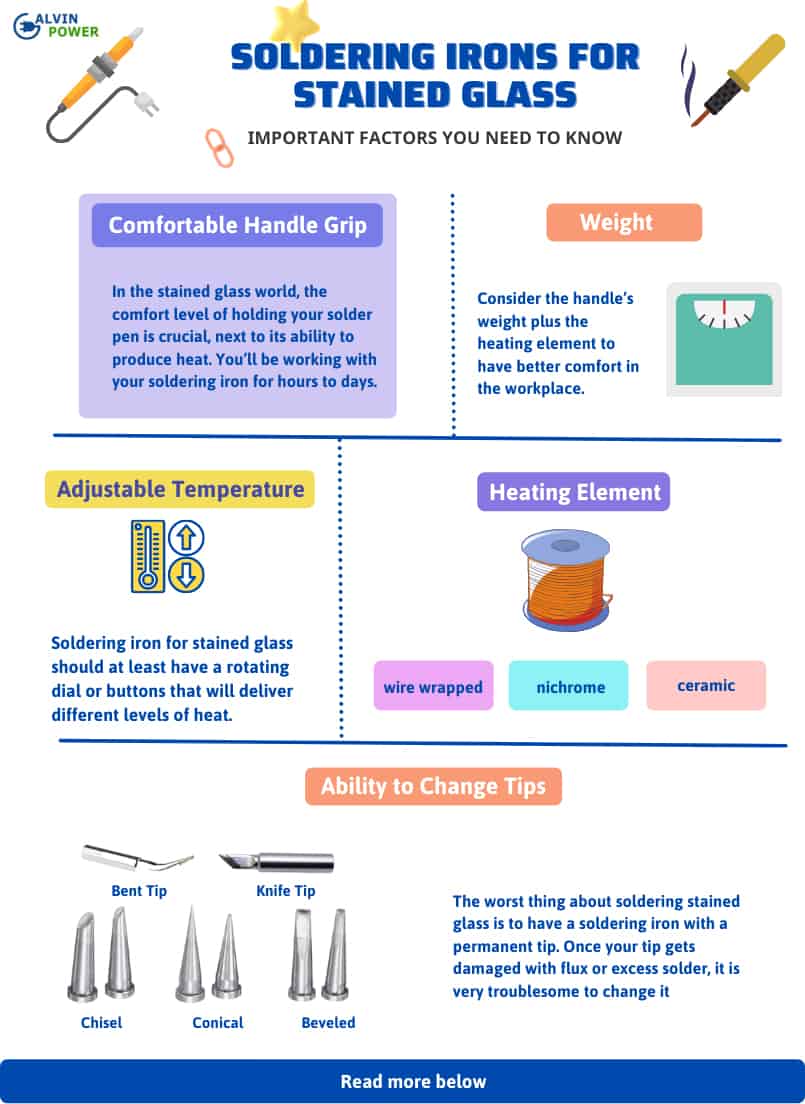 Best Stained Glass Soldering Iron Reviews
1. Hakko FX888D – 23BY Digital Soldering Station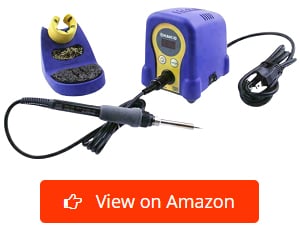 I love adjustable temperature soldering irons, especially when manufacturers make them with a working station, like this Hakko, which only takes 45 seconds to heat up to 750˚F. It's also easy to set up. I can save up to five different temperature presets that vary the heat I need for diverse working conditions.
Soldering stations usually get bulky on tables, but this compact item doesn't take up a vast portion of the tabletop. For the design, I like that it had a separate iron holder. This gave me the freedom to rest the solder pen anywhere on the benchwork.
The product also holds the cleaning sponge and wire, which is handy for keeping the stained glass soldering tips neat. Unlike the previous soldering irons for stained glass, this is the first with advanced technological features. I can even input a password for my temperature settings so that no one can mess with them.
I could lock on a specific heat level and work with a consistent temperature. It even notifies me when the temp gets too low, so I can avoid having cold solder joints that ruin the view of colored glass projects. As one of the soldering irons with ceramic heating elements, the Hakko FX888D can make stained glass arts look excellent.
However, I prefer the dial or knob type way of changing temperatures. Tweaking the device for a few adjustments gets complicated with only two buttons.
Pros
Only takes 45 seconds to reach 750F, consistent heat level with temp indicator
Can save up to five different temperature presets
The station doesn't consume too much space
Ceramic heating elements and separate iron holder for convenient use
Tools to keep the soldering tip neat
Password feature for temperature settings
Cons
Adjustments can get tricky with only two operational buttons
I don't often see good soldering stations with convenient characteristics like Hakko's. This product has the versatility to keep all my glasswork problems at bay. I recommend this item for any experienced or inexperienced artists of the stained glass world.
2. YIHUA 926 LED-III Soldering Iron Station Kit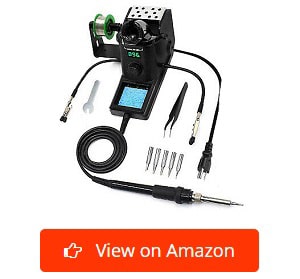 This next item is one of the rare collections that I flex to my friends at work. I find it amusing that it exceeds my needs because it has all the gadgets for soldering, to the point that there are still extra features that I rarely use for my work.
This is a soldering iron for well-prepared artists. Its most noticeable features are the soldering wire dispenser and the slot that holds the soldering tip reserves. I find these very assistive, specifically the wire dispenser. Plus, if I tried to remove all of the detachables, I'd forget that this solder station exists—definitely a space-saver in my opinion.
Meanwhile, there are also programmable features like the 194 ˚F to 896˚F heat control, auto-sleep timer, and Celsius-Fahrenheit converter. I personally prefer that my device shuts down after ten minutes of inactivity. This method expands the station's lifespan and helps me preserve the tips.
Regarding its safety, the manufacturer conformed to the UL standards of the United States. It is reassuring to know that this belongs to the same group as Inland soldering irons for stained glass, risk-wise. It is hard to find a secure soldering device these days.
The "helper hands" are attachable, but I chose not to use them. I think they're a disadvantage for my line of work because the material is somewhat floppy. I know the hands are not for holding things as heavy as the weight of glass, but I hope YIHUA made them carry a few more pounds at least.
Pros
Assistive parts (some are detachable) for a tidier workplace
Heat control (194 to 896F) and Celsius-Fahrenheit converter
Auto-sleep timer enhances the soldering station's lifespan
Passed the UL standards of America
Cons
The two detachable helping hands are somehow floppy
Overall, it's a steal to get this product for my stained glass projects, considering the useful tools that offer better user assistance. I'm fond of ergonomic qualities that contribute well to my productivity.
3. Hakko FX601-02 Soldering Iron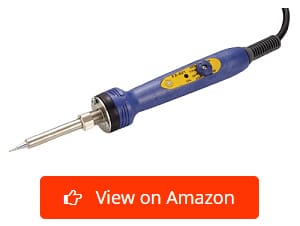 Owning a Hakko soldering iron for stained glass is an experience I don't regret for my line of work. Sure, customers always give hard tasks, but it is enriching to finish them fast with this type of soldering irons for stained glass. Its secret is the ceramic element that heats up quickly, keeping it ready on the go.
This heating element provides the desired temperature for every soldering iron project. Thanks to the temp control sensor feature, I never worry about heat changes because it keeps everything consistent, and wiping the solder tip down with a wet sponge won't disturb the heat setting. The adjustable temperature lets me play with the heat range all I want.
Upon seeing this pencil-style soldering iron up close, I immediately realized that its chisel tip or wide head was not usable for small-scale solder jobs but for windows or solar panels instead. This is actually a good thing for me, as using a narrow tip for big projects could really mess up the outcome.
Another perk of this glass soldering kit is that it helped me get more work done due to its compactness, which can reach outlying areas of the glass surface I'm working on.
However, the downside I noticed was the stiff wiring that always forces the body of my soldering iron to rotate. This issue always compels me to angle myself according to how the wire was positioned. Aside from that, it's all good.
Pros
The ceramic heating element heats the device quickly
The temperature control sensor keeps the heat consistent
Pencil-style soldering iron with chisel head allows easy solder for big projects
Its compact body sits comfortably in the hand
Cons
Unnecessarily stiff electric cord
Overall, this soldering gadget is a good assistant for challenging commissions that put me under pressure. I've used this effortlessly for customers who want a window set or door decorations with complicated designs.
4. Weller W100PG Heavy-Duty Soldering Iron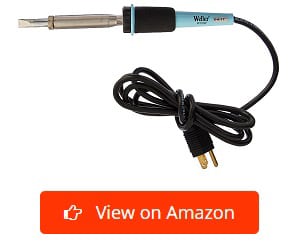 Some of the stained glass artists I know recommended Weller soldering irons. As curious as I was, I found some stained glass soldering irons reviews, and there this product was, like a star of the show. I love how it exudes professionalism, even though I primarily use it as one of my entry-level soldering irons.
This 100-watt bad boy never fails to amaze me. First of all, there's what people call the "closed-loop method" that ensures safe tip temperature. This enables me to put each colored glass together without hurting myself or harming the workplace with extreme heat.
It is a stained glass solder perfect for any construction job due to its high heat range. One time I was doing this window pane that symbolized an aquarium, so naturally, the curves and designs were complicated. Good thing I had this modular soldering iron ready in my backpack.
It uses CT6F7 tips and other CT tips for a Weller stained glass soldering iron. It is easy to maintain, as I simply wipe off the flux and solder, and it's clean again. There are three standard soldering tips for 600˚F, 700˚F, and 800˚ F. I love how portable they are, though I almost cracked the shaft when I screwed one tip too tight.
Pros
Professional soldering iron that's good for beginners
A 100-watt device with three CT6F7 tips for three different heat ranges
A closed-loop method that protects user and workplace
High heat range for window constructions
Easy to clean excess flux and solders from the tip
Cons
Shaft may break if the tip is screwed too tightly
I view this product as a good soldering iron investment for years to come. After seven months of use, it has never disappointed me. It's one of the top soldering irons I've encountered in this industry.
5. Choice CH IRON 100W Soldering Iron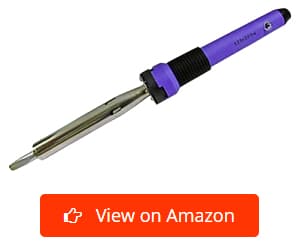 The first characteristic of this product that captured my attention was its affordable price. I know some people will call me a scrooge for getting excited over this, but for me, it's a rare opportunity to find a soldering iron with better quality than its price.
Another chisel head for soldering stained glass in this list, this gadget has an upper rating that could reach up to 1000˚F. Considering that it could produce that massive amount of heat, it is one of the lightest I've encountered for stained glass projects. The maximum temperature is very convenient during the winter when everything gets cold in a snap.
I remember when I volunteered to make rose windows for our chapel, and it was one of the few solder iron with the hottest heating elements. Its heat did not fluctuate after 2-3 hours of work, and during that time, I produced more projects than I did in a typical day.
Since it's a 100 watt soldering iron stained glass model, it worked better with copper foil and solder than the products with lower wattages. It also has a wide and thick tip, better for heat retention.
For prospective users, I recommend buying an iron holder before getting this product. It is essential to protect one's tabletop from its max temperature. I also noticed another inconvenience when I traveled to the UK last year. An adapter or voltage converter is required to operate the solder in the region's outlets safely.
Pros
A worthy quality with an affordable price
A chiseled head solder iron that could reach a max temperature of 1000˚F
Stable heat also increases my productivity rate
Lightweight, its 100W works well with copper foils and solders
Wide and thick tip for heat retention
Cons
Should be used with an iron holder
It may not be compatible with UK outlets
This is one of the top-rated stained glass soldering irons I've used for quick replacement glass repairs. My dad used it too and had a great time with it. This device stands out in the stained glass world.
6. Weller SP80NUS Soldering Iron
As we proceed through this list, I see how each product has unique characteristics as a soldering iron for stained glass work. I highly enjoyed the three built-in LED lights of this Weller, which helped me produce more accurate solder lines. Its short shaft and triangular handle are user-friendly too.
Last month, my town convention featured my projects, and I needed to rush to finish work before the early morning of the event. As I went through my night shift mode, the three LED lights illuminated my dim-lit garage. I know I might sound too dramatic, but this handy feature advanced my career, well, not entirely.
Kidding aside, the first time this soldering iron arrived at my doorstep, I thought that this would be a perfect match for my circuit board repairs, but it's more versatile than that. When I tried installing the chisel tip, I saw how well it operated for the stained glass work I was working on.
Since then, this Weller has been one of my favorite soldering irons for stained glass—its 80-watt heater gets too hot for ESC wires anyway. Moreover, its 900˚F can fix solder gaps and copper foil work.
But, to be honest, after a few months of use, I can conclude this is not my most heavy-duty soldering iron. I'm amazed by the comfortable grip and LED lights, but there are times when it goes dead. Overall, it ranks among the top entry level soldering irons for novice artists.
Pros
LED lights for dark workplace
Great for service circuit board repairs
Chisel tip is ideal for stained glass work
The 900˚F heat can fix gaps and copper foils well
Comfortable grip with triangular handle and short shaft
Cons
Too hot for ESC wires
It dies in unexpected moments
This was my first non-adjustable soldering iron with a super hot tip. It will take a while to get used to it completely, but it heats large solder wires nicely, so it's a good beginner tool generally.
7. Vastar VLY2-JKUS01 Soldering Iron Station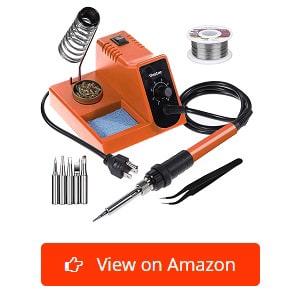 As someone who likes getting multiple items with one purchase, I got this good soldering iron for a reasonable price. Later on, I realized that it was similar to my previously owned American Beauty soldering iron for stained glass.
Given its 896˚F maximum temperature, it was easy to find usage for this Vastar right away. I had everything on set: a reusable wet sponge, a removable iron stand, an iron tip cleaner, and a complete set of interchangeable soldering iron tips. But, what stood out the most was its 15 seconds waiting time until it ultimately gets scorching hot.
Even though it has adjustable temperature control, the heat change is rapid. I like that when switching from 5 watts to 60 watts, I won't even have the time to look over my phone or have a quick thermometer check on its chisel tip.
I previously owned a pencil-type-only solder iron, and it wasn't very pleasant to only use a dishwashing sponge to prevent the tip from oxidizing. That's why I'm fond of the cleaner and soakable sponge add-ons.
A roll of solder wires also came along with the package, though maybe I'll use it on other projects since it is not the proper tool to patch up a stained glass artwork.
On a side note, I dislike the flimsy plastic nut that holds the tip in place. It is the weakest point of the solder pen, but luckily I've had a spare part that covers it. Other than that, all things are functional.
Pros
A solder station plus tip cleaning materials at a reasonable price
Rapid heat change with 15 seconds waiting time
Has add-on solder wires and solder tips
896˚F max heat
Adjustable temperature control
Cons
The plastic nut that holds the tip is fragile
Generally, I love ceramic soldering irons like this one, as they could last my tireless hours of soldering stained glass. Besides being a soldering station, it's a complete package of the basic materials I need.
8. Weller WLC200 Soldering Station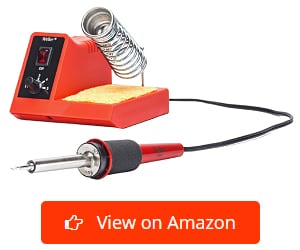 With this Weller in the house, I got an all-in-one station and solder for stained glass. I've added this to my collection because it provides me with every stained-glass-making essential—all I need to have is the motivation to start the work.
This Weller is a pencil-type iron that has a replaceable heating element. I like this part because I can create more solid core solder after a few upgrades in the station itself.
Also, most soldering irons have a rubber grip for comfort, but nothing beats the best mid-range soldering iron with an iron holder.
I think the holder is a very ergonomic feature that helps dissipate heat without burning a surface. It doesn't interrupt my workflow, and it keeps the durable iron clean. There is a temperature dial that can go from 5W to 80W anytime, allowing at maximum 900˚F of soldering iron temperature.
I highly recommend this to a hobbyist like my wife, who's recently got into medium-stained glass projects. It's a complete kit, so we don't have to bother finding a cleaning sponge that can endure the heat of an original stainless glass soldering iron.
I received the package with an MTG20 chisel tip, but I plan to get an MTG22 (a cone tip) since it's also compatible with this mid-range soldering iron.
On the downside, unlike other electric wire soldering irons, the power cord of this device was short, disallowing me from working far away from the plug.
Pros
All-in-one solder pen with iron holder, temp dial, and cleaning sponge
It has a replaceable heating element
An adjustable temperature, from 5W to 80W
Can reach 900˚F
Station helps dissipate heat and keeps the iron clean
Compatible with MTG chisel and cone tips
Cons
It has a short power cord, limiting the user's reach
To sum it up, I see
this soldering station
as a great way to save my expenses in this hobby. If I can go back in time and suggest this to my novice self, I think this device is a smart choice for a starter.
9. Studio Pro Hobby 100 Soldering Iron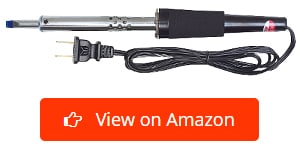 The Studio Pro gives off a thousand degree Fahrenheit for refining stained glass seams. It is the 100-Watt stained glass soldering iron I typically use when I need something portable.
Whenever I attempt to restore or fix soldered stained glass, I usually bring this as a backup because it costs little but still delivers the heat I expect from a solder iron. Its maximum temperature is 1000˚F, and I have zero problems using a rheostat to control its warmth.
I always bring a tip cleaner with this Studio Pro since I'm using this as a maintenance pencil solder for my unfinished glassworks. I think an occasional solderer could enjoy this soldering iron's temperature. The handle insulates the heat well, so an occasional user won't simply get a burn on their hands.
It's not the most durable iron I have, but I still get what I was searching for at a low cost. The design is perfect for hobbies involving glasswork, and it's a decent small soldering iron. Its life capacity will be longer if users treat it well.
For improvements, I think the manufacturer should add a handle collar separating the hot iron and the grip. This way, users could minimize the chance of accidentally touching the iron's hot portion.
Pros
Its 1000˚F temperature assists well in refining stained glass seams
Affordable, users can control its high heat with a rheostat
Works best for an occasional solderer
The grip doesn't get too hot to touch
The perfect size for portable use
Cons
Not the most durable
No handle collar for safety purposes
The simplicity of a soldering iron is the key for traveling stained glass artists like me. I know it's not for long-term use due to its price, but this solder pen's still good whenever an emergency ensues.
10. Choice 100-Watt Stained Glass Soldering Iron and Rheostat
For the last item, I'm featuring another favorite "Choice" of mine. Like other Choice stained glass solder irons, this device needs 100-watt power to function. It heats up to 1000˚F as well.
I like that the manufacturer officially made this product a temperature controlled soldering iron. The controller is a dial-type labeled 1-10, which regulates the current electrical flow of the tool, and at the same time, helps users monitor its temperature.
Though it's just a simple 2-in-1 device, I wouldn't call this an entry-level soldering iron. This Choice is made explicitly for stained glass artists. With a worthy ¼-inch chisel tip, I can create the proper width of solder lines without messing up the final look of my stained glass art.
And even though I'm handling a 1000˚F pen, the controller keeps the heat consistent. I don't even need to be fixated on the rheostat. I think the level 7 heat on the dial could always bring the right amount of heat for the solder to melt and not damage the glass I'm working on.
On the other hand, I wish Choice could put more insulation on the handle. Sometimes I feel the heat on the tip of my fingers after working for a while. Having a rheostat helps with this, though.
Pros
A 100-watt solder iron with 1000˚F maximum temperature
It comes with a separate rheostat with 10 levels to control the heat
The heat is consistent
The ¼-inch chisel tip makes neat solder lines
A 2-in-1 device for stained glass glaziers
Cons
It needs more insulation on the handle
In conclusion, I love how this product creates fine lines across the colored glass. With a rheostat controlling the current flow, I receive consistent heat and cold solder joints are never a problem.
What to Look for When Buying Soldering Irons for Stained Glass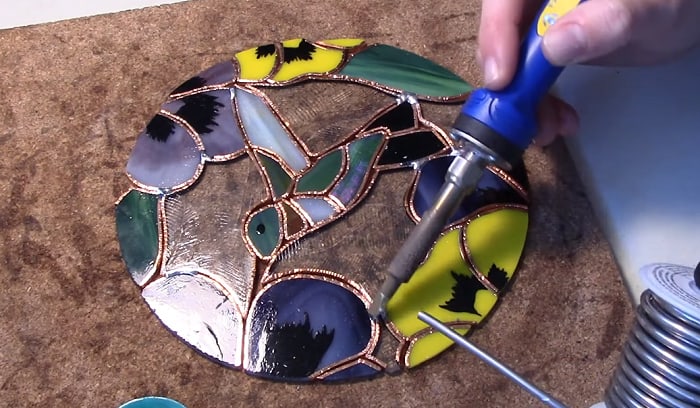 Weight
A soldering iron specifically made for stained glass making is different from the lightweight devices used for soldering PCBs (Printed Circuit Board). Naturally, PCB solder irons are lighter and smaller than the iron we use for our job. Consider the handle's weight plus the heating element to have better comfort in the workplace.
Before you misinterpret, don't expect that your soldering iron will be as heavy as a brick. Just note how the manufacturers balanced the material from tip to tip.
Comfortable Handle Grip
Ergonomically speaking, a comfortable handle grip saves you from wrist pains. In the stained glass world, the comfort level of holding your solder pen is crucial, next to its ability to produce heat. You'll be working with your soldering iron for hours to days.
Make sure that the handle is properly insulated to avoid scorched fingers. Better if it's soft or adequately ribbed to lessen slippage. There should be a divider between the handle and the heater core to prevent accidents when you pick up your tool.
Heating Element
There are two commonly used types of heating elements in soldering irons: wire wrapped or nichrome and ceramic. Both do the job of melting solder, but they differ in maintaining constant heat.
Nichrome heating elements tend to heat slowly but keep the temperature consistent for more extended periods. On the flip side, a ceramic heating element heats faster but dissipates heat quite quickly.
If you're a guy who wants to get his things done quickly, better grab a ceramic.
But, if you prefer to take it slow and keep the machine running for hours without changing temperature, the nichrome type will work better.
Adjustable Temperature
While maintaining a consistent heat on your soldering tip is essential, there will come a time when you'll need to adjust the temperature to get that right flow of heat for your stained glass. We make temperature adjustments to achieve the perfect condition for our work.
So, a soldering iron for stained glass should at least have a rotating dial or buttons that will deliver different levels of heat. Though, beware of soldering irons with fake adjusters. No matter how much you tweak your device, if it's malfunctioning, it won't cooperate.
Ability to Change Tips
The worst thing about soldering stained glass is to have a soldering iron with a permanent tip. Once your tip gets damaged with flux or excess solder, it is very troublesome to change it, particularly if your device requires changing the heating element.
With this costly maintenance, you might as well replace the whole system with a new one that can change solder tips. You should get a product that's compatible with various types of tips. Also, different sizes matter, so make sure that what you have can accommodate your work.
Extra Features/ Add-Ons
It is nice to have a complete soldering kit. If you want more than a pencil-type soldering iron, get a soldering station with extra features you can enjoy. A soldering iron holder, wet sponge, and steel ball cleaner are good extras or add-ons to make your workload lighter.
What Wattage Soldering Iron Is Best for Stained Glass
When you want to know how powerful your soldering iron can get, its wattage is the best indicator you can look upon. The higher the wattage, the more you can get your iron to reach high temperatures fast.
Of course, the best wattage for stained glass soldering irons is the high-wattage ones. These are heavy-duty and can provide you with substantial heat.
However, you must know what ranges of watts are available. Typically, when you ask a seller about soldering needs, he'll say that the most common wattage is 65-300 watts. 65-100 watts are considered as entry-level soldering irons. They perform well on a small project that can get done with low power. You can use this for connecting small pieces of glass.
Next is the medium range, which is 100-150 watts. You can use this for different stained glass purposes, but then again, only for moderate applications and small and medium pieces of glass.
The last one is 200 watts or more. This is a high-end device, best for all kinds of stained glass projects. It is heavy-duty but sure comes with a price.
Can You Use Any Soldering Iron for Stained Glass
The simplest answer to this question is no. Not all soldering iron can do stained glass works. As I mentioned earlier, the best wattage for stained glass soldering irons ranges from 65-200+ watts. This means you cannot use a soldering iron lower than 65W. Otherwise, you'll be performing at the slowest pace possible.
Even though soldering irons with ceramic elements can do stained glass projects due to the high amounts of heat they can reach, they're often used in small-scale projects. On the other hand, nichrome soldering irons can manage larger sizes due to their industrial strength.
Either way, you can use both heating elements for stained glass, but kindly avoid buying soldering irons made explicitly for doing ESC and PCBs. Or else, they won't be able to melt a stained glass solder.
How Do You Smooth Solder on Stained Glass
The lumps along the solder seams make the stained glass unevenly looking. A certain angling technique is an answer to make your solder lines smoother. You should be able to control the heat at a 45˚degree angle as you run your solder tip on the seams of the stained glass. The key point is to look at where you've been instead of the seam's direction.
Don't go too fast or too slow as you go over the seam. Do it with careful pacing to avoid the build-up of air pockets that create a weak point or lumps. Don't hesitate to move your glass to have a more comfortable position while working. With a fine line, you'll make a sturdy solder and a nice finished look too!
What Type of Solder Is Best for Stained Glass
Not every solder can work on stained glass art. There are three tin-lead ratios that work for different glass staining purposes. These are 50/50, 60/40, and 63/37. A 50/50 ratio is best for treating lead joints, while a 63/37 ratio is okay for doing soldering decorations.
On the other hand, the 60/40 ratio is everyone's preference because it's effortless to work with. It produces a nice bulging bead and does well with copper foil. Note that you should only use a solid-core solder. Acid and rosin core solder are not ideal for creating stained glass.
Conclusion
Did you end up getting the best soldering iron for stained glass? If you're still undecided, remember that the best option should have a high heat level, consistent temperature, and a chisel tip to create that nice solder bead on the stained glass seams.
Be critical in finding your perfect device. Is the soldering tip changeable? Does it use a ceramic or nichrome heating element? Is it ergonomic for its price? These are the few good questions you should use as a basis before purchasing one.
Once you create a phenomenal stained glass art piece, your number one tool will be a source of pride.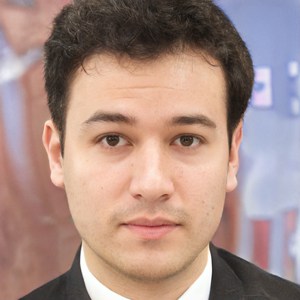 I am Edwin Jones, in charge of designing content for Galvinpower. I aspire to use my experiences in marketing to create reliable and necessary information to help our readers. It has been fun to work with Andrew and apply his incredible knowledge to our content.