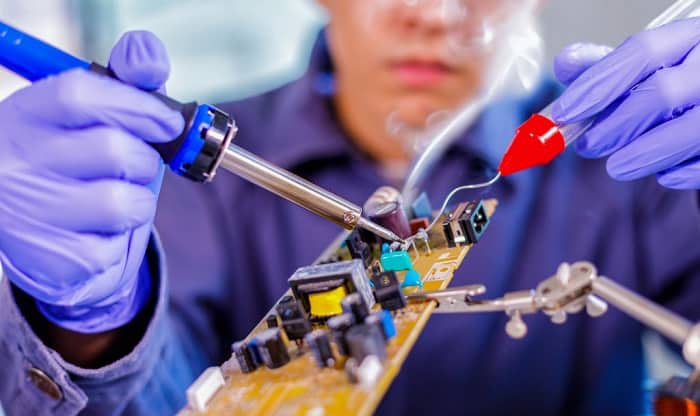 Having the best soldering iron for electronics makes a world of difference to both professionals and hobbyists alike. Many good soldering iron kits now come with a complete set of accessories and reliable performance. The only thing you'll need to think about is which soldering irons suit your needs.
Small soldering irons like the pencil types are the most commonly used and recommended soldering irons for electronics. Aside from its simple usage and compact design, this soldering iron is best for repairing small electronics and electrical circuit boards.
To assist you in choosing a professional soldering iron, here are the three main factors I considered when compiling my top picks.
Wattage Ratings – A high-wattage electronic solder iron gives the unit adequate power and ensures stable heat. The higher the wattage rating, the faster it heats up and the longer it maintains temperature.
Using high-powered soldering irons allows you to speed up your soldering projects and prevent damaging electronic components from excessive exposure to heat.
Adjustable Temperature Control – A temperature controlled soldering iron is preferable to a standard soldering iron. It is necessary to have an adjustable temperature because not all electronics use the same solder type.
Some electronics applications require 60/40 tin-lead solder, which melts at lower temperatures. Other applications use a lead-free solder that needs higher temperature settings. Precision adjustability and variable temperature control are a must for quick heating.
Reliable Soldering Stand – Many soldering irons sets include a tiny iron stand, while others have a metal spring stand. Most professionals, including myself, prefer a spring-type soldering stand because it effectively elevates the soldering iron and helps clear my workspace.
Below are a number of my personal soldering iron recommendations, each with their own strengths and some particular drawbacks. Check out the list to see which model is best. Plus, read the buying guide for more shopping tips.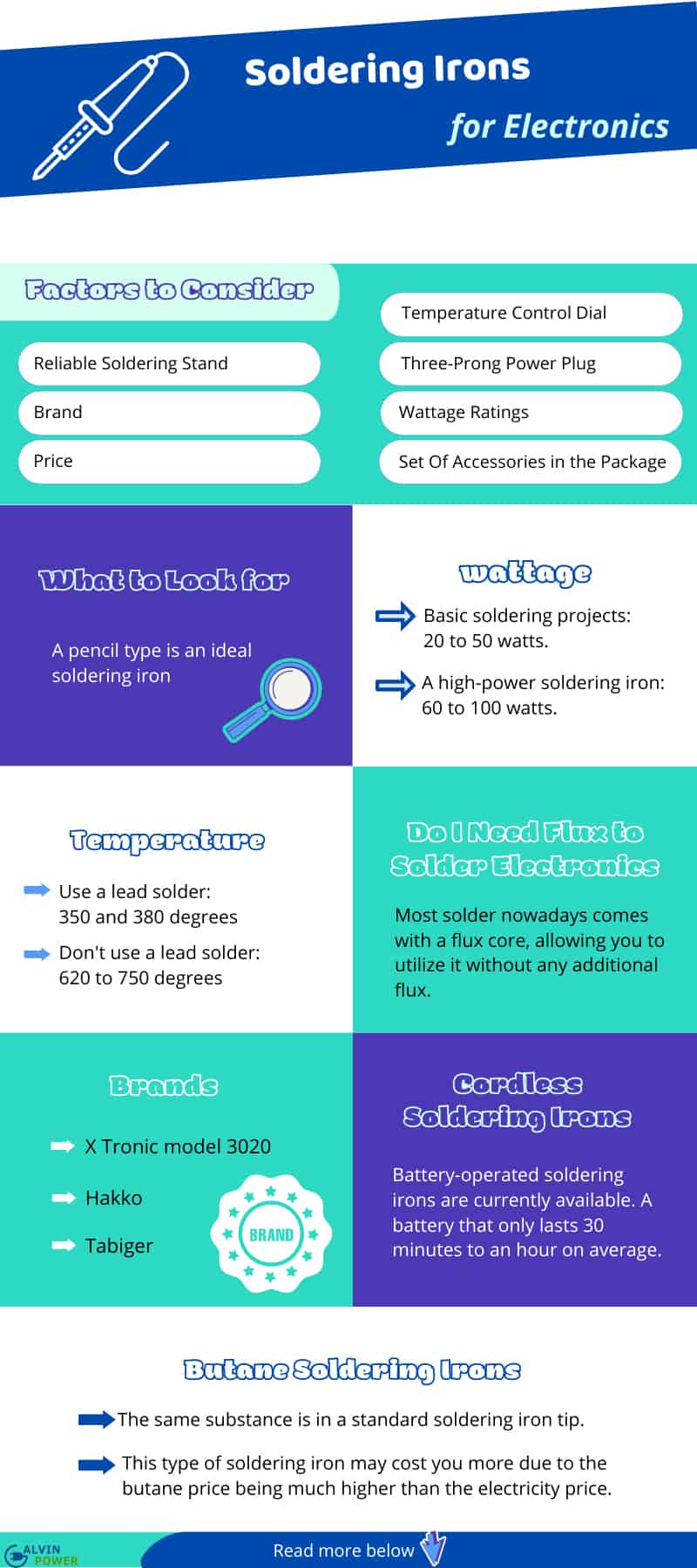 Top-rated Soldering Iron for Electronics Reviews
1. ANBES 60W Soldering Iron Kit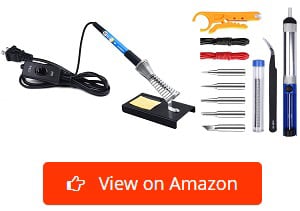 I always use the ANBES Soldering Iron when needing electronic repairs on the fly. Compared to other soldering irons, the compact design of this unit makes it perfect for those grab-and-go projects. It takes up little space alongside the other tools I typically carry in my bag.
This particular soldering iron is a pleasure to work with. It has efficient temperature management and heat dissipation, allowing shorter cool-downs and constant temperature settings. Add to that, the screw thread of the solder head and the handle are heat-resistant, making for a more durable unit.
Its two-color temperature dial is suited for quick selection of temperature. The green index corresponds to 200 to 300 degrees Celsius, which works best for low-temperature solder. The red index ranges from 350 to 450 degrees Celsius, ideal for harder solder material.
Additionally, the five extra soldering tips are perfect for many types of soldering jobs. I can use a broad tip for wider-spaced applications and a pointed tip for precision soldering.
However, the cable for the iron often gets in the way. It's easy to accidentally burn the cord if one's not careful.
Pros
Easy to carry and store
Efficient heat dissipation and temperature maintaining
Durable solder screw thread and handle that resists heat
Quick reference two-color temperature control
Comes with five extra pieces of soldering tips
Cons
Cable often gets in the way
All in all, this soldering iron is an essential tool for projects that take me out of my workshop. Its compact design leaves users more space to pack other tools into their kit. The spare soldering tips offer excellent customizability and precision to suit any task.
2. Plusivo 60W Soldering Iron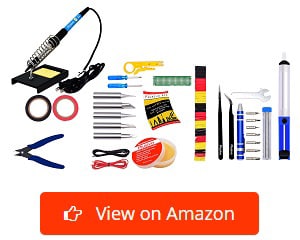 The Plusivo 60W Soldering Iron is a value-for-money electronics soldering package. I like the extra shrink tubing, which I often use in circuitry projects.
The included pen screwdriver with a set of seven magnetic bits is handy for disassembling and accessing circuit boards. Moreover, the storage bag has a convenient and durable design that is easy to pack and carry around.
The soldering tip is protected by a heat-resistant cap that is safe to attach even without waiting for the iron to cool down. This design allows me to easily pack the kit up and store it after work. I don't have to wait 15 to 20 minutes every time I end the day just to ensure that it doesn't damage other tools in my bag.
What I especially enjoy about this soldering iron set is the free e-book guide included. It contains essential electrical soldering techniques like making the proper soldering application, dos and don'ts, tip selection, and FAQs to help any enthusiast or hobbyist.
The only drawback of this unit for me is the soldering iron holder. With the soldering iron mounted, I find that the setup tends to become a bit top-heavy. I do have to take extra care not to topple my equipment while working.
Pros
Includes a pen screwdriver set and magnetic bits
Durable and convenient storage bag
Heat-resistant cap for tip protection
Comes with extra shrink tubing for circuitry projects
Offers a free copy of soldering e-book
Cons
Top-heavy soldering iron stand
Electronics soldering kits such as the Plusivo offer excellent value for amateurs and professionals. It comes with complete soldering tools, soldering iron tips, and an informative e-book on soldering techniques.
3. SREMTCH 60W Soldering Iron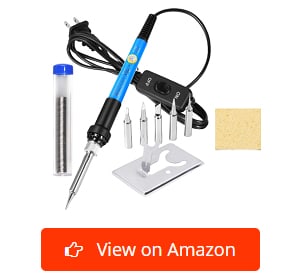 For those looking to get into electronics soldering on a budget, the SREMTCH 60W Soldering Iron is a decent option. It is a good quality professional soldering iron that comes at a reasonable price, making it accessible to all. This budget soldering iron performs above its class and is a good starter kit for electronic work.
Its heating element is made of ceramic, making it quick to heat up and use. All it takes is one to three minutes for the unit to reach the desired working temperature. This feature allows me to start work quickly—I no longer have to wait ten minutes or more for the device to get to the right temperature.
Furthermore, it features a handy and conveniently placed power switch. It helps with energy-saving by providing a quick power-off option when not in use. It has a non-slip silicone cover that offers a very ergonomic grip. It gives me a firm and comfortable hold and allows me to manipulate the soldering iron easily.
The light indicator is another excellent feature of this professional soldering iron. It serves as a power-on signal as well as a temperature gauge. The indicator gets brighter as the temperature rises, giving me a quick reference to my soldering iron temperature.
However, no storage bag or box is included with this soldering iron. That said, this really isn't much of a downside.
Pros
Top-performing cheap soldering iron
Uses quick-heating ceramic element
Features a convenient on and off switch
Ergonomic grip with non-slip silicone
Power/temperature indicator light
This soldering iron is appropriate for beginners who want a reliable starter set for electronic soldering without having to break the bank. It does the basics very well and has some nifty add-on features for that quality feel.
4. HANDSKIT 60W Soldering Iron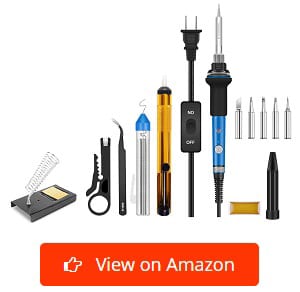 This soldering iron delivers consistent results for all types of electrical work. It's a heavy-duty unit that performs well even under extended periods of operation. This soldering iron is truly built to last and will serve users well for many years.
I like how the electrical cord has a high-quality material that prevents damage from heat. Despite its thickness, it is quite pliable, allowing me to adjust the iron effortlessly. Furthermore, the heat and impact-resistant screwed head make the device more durable, allowing it to withstand a minor fall.
The five soldering iron tip add-ons are of high-quality materials as well. The tips are reliable even after many cycles.
Additionally, this soldering tool also includes a handy and well-built temperature dial, providing some decent adjustable temperature control. I am confident in the accuracy of its settings. I have no reason to worry about the knob wearing out or falling off after long-term use.
My only issue with this package was the manual. It was badly translated from Chinese, so the instructions aren't that useful. First-time users of soldering iron may have to consult online tutorials when using this product.
Pros
Heavy-duty electric soldering iron
Thick yet flexible electrical cord cover can withstand heat
Heat and impact-resistant soldering head
The package includes five high-quality soldering iron tips
Durable, adjustable temperature dial with accurate settings
Cons
The manual was badly translated
Professionals seeking a heavy-duty soldering tool may consider the HANDSKIT Soldering Iron. Its soldering iron unit and other accessories guarantee top-notch consistent performance over many projects.
5. Q-MING 60W Soldering Iron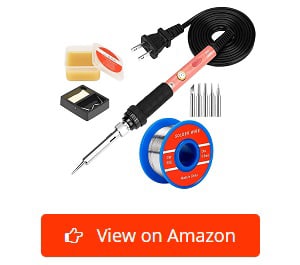 Another portable soldering iron I recommend is the Q-MING Soldering Iron. With the help of its compact stand, this item is very straightforward to set up without needing tools. We can save space with this device, making it perfect for smaller work tables.
I like the positioning and sliding design of the power switch. It is secure and offers just the right amount of resistance to prevent accidental switching. I also like the stainless-steel soldering tube that guarantees the durability of this product.
The flux paste included in the package is essential for satisfactory soldering results. It removes oxides and impurities from the metal's surface and helps with excellent bond and solder connections.
To top it off, this equipment comes with a two-year guarantee and lifelong customer service. It's great to purchase a unit with such excellent customer support. It just affords users that extra peace of mind.
My only concern about this kit is that it does not include metal wool, which is a better option for removing debris from the soldering iron. Other alternatives, such as using a wet sponge, reduce soldering tip temperature, so I will need to wait a while for the tip to heat up again.
Pros
Easy setup portable soldering stand
Secure and ergonomic power switch
Durable stainless-steel soldering tube
Comes with a rosin flux paste for secure connections
Includes 2-year warranty and lifetime customer support
This unit is an excellent option for those looking for a high-quality and portable soldering iron for electronic work or DIY projects. It has a design that is easy to use even on the go.
6. K KERNOWO 90W Soldering Iron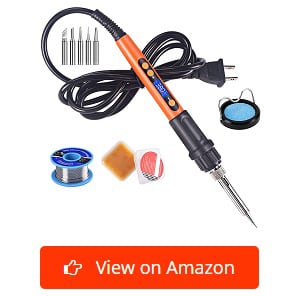 I was absolutely delighted with the K KERNOWO Soldering Iron and its superior ceramic heating elements. This feature helps the soldering iron reach working temperatures in as little as 20 seconds.
It also has a maximum temperature of 932 degrees Fahrenheit, making quick work of harder lead-free solders.
The K KERNOWO has an excellent digital display for monitoring and controlling its working temperatures. Furthermore, the push-button function switch provides intuitive and secure adjustments. This ensures that I get the exact temperature to maintain quality work.
The kit features an onboard sensor that helps the device maintain consistent temperature management. It automatically adjusts its settings to counter heat fluctuations. When I use this soldering iron, I don't have to be concerned about rising or falling temperatures affecting my work.
On the other hand, the particular soldering iron I received suffered from a slightly loose grip section. It does lead to some hand fatigue when used for extended periods. If one's not careful, this loose grip can even cause inaccurate solder. To fix this, I used a grip from a different soldering iron, and that did the trick.
Pros
Fast-heating ceramic core reaches working temperature in up to 20 seconds
Maximum temperature setting of 932 degrees Fahrenheit
LCD digital display for exact temperature monitoring
Intuitive push-button operation
Built-in sensor for precise temperature control
I highly recommend this soldering iron to those professionals who have high-volume projects. This model performs equally well on both the high and low ends of its temperature range.
7. HANDSKIT 21-in-1 60W Soldering Iron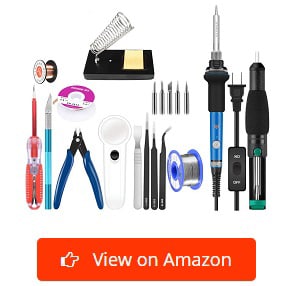 It's hard to overlook the convenience of an all-in-one soldering iron package. The good news is that the HANDSKIT Soldering Iron is a 21-in-1 package that includes all of the soldering equipment we need. It's ready to take on projects straight out of the box.
Users also get the soldering wick and high-pressure desoldering pump. These pieces of equipment are convenient for clearing excess solder on circuits. This kit is good to use for circuit boards because it provides much cleaner work than a standard flux. With this device, we can create clean, professional solder every time.
The unit's lightweight pencil iron is a breeze to use. The design has decent ergonomics and is quite comfortable on the hands. It also comes with a 1.5-meter power cable that offers excellent reach on most workspaces.
Another great thing about this unit is its power-on light indicator. It gives me a quick reference for checking whether the tool is on, helping me avoid accidental burns.
The temperature control knob is slightly small for my taste. However, it is still easy to use and sets the heat level accurately.
Pros
Available in a 21-in-1 soldering kit
Soldering wick and high-pressure desoldering pump for removing excess solder
Provides cleaner results than standard options
LED power indicator for safety
Ergonomic, lightweight pencil iron for ease of use
1.5-meter power cable allows users to place it anywhere
Cons
The temperature control knob is a little small
This soldering iron is the right tool for large workspaces. It has top-notch accessories that don't overlook even the finer details, like wicks for removing excess solder.
8. SREMTCH 80W Soldering Iron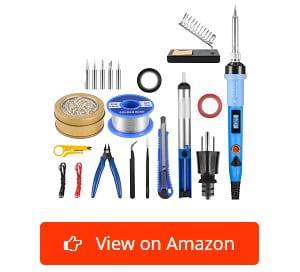 This SREMTCH Soldering Iron is an 80-watt high-powered set with a fast-heating ceramic element. It has quick startup times and quickly reaches working temperatures to suit harder lead-free solder materials. This ensures that our connections remain secure, even after many years.
The SREMTCH comes with a simple yet effective digital display. It allows for easy and precise temperature setting and monitoring. The digital display is accurate and provides a quick reference for my working temperatures. It ensures that I don't over or under-heat my solder, ensuring that it will stick perfectly.
The ventilation holes in the patented design assist the unit in maintaining consistent heat. It also allows the unit's soldering tip to cool down quickly. This means that I don't have to wait a long time to pack up the device. The feature allows the soldering iron to be kept and stored in as little as five minutes after I finish work.
This unit also has a three-prong power plug, which is a plus. Although this type of plug is not required, it aids in preventing static shocks. This feature is extremely useful in all soldering operations, particularly when working with sensitive devices such as electrical circuit boards.
My only complaint about this is the temperature setting dial, which has a flimsy and sensitive feel to it. Users will need to watch for accidental nudges, which might throw off their original settings.
Pros
80-watt high-power soldering iron
Easy-to-read digital display with accurate info to avoid underheating
Comes with a patented vent hole design
Three-prong power plug to prevent static shocks
Cons
Flimsy and sensitive adjustment knob
The SREMTCH is the right tool for time-sensitive soldering tasks. Its fast-heating feature and high-wattage decrease wait times and manage hard solder materials.
9. Sonrinss 60W Soldering Iron
The Sonrinss soldering iron set is simple and does the basics very well. It features quick-change tips that don't require tools, ensuring I have the right setup for any job. This allows me to save time and money, as I don't need to have multiple soldering irons for each task—all I need is this one device.
I love the quality tin-lead solder wire included with this item. It's easy to work with and provides an even solder. Excess wire can also be conveniently stored in the solder tube. With this component, I can ensure that I don't run out of solder wire in the middle of a project by having a backup in the soldering kit itself.
For experienced professionals and those familiar with the items in this package, the included manual may be of little use, but it may be helpful to others. Many beginners may need this instruction manual, especially if they are new to equipment like the solder sucker.
The package comes with a padded storage box that gives our soldering iron protection from bumps and drops. Additionally, this soldering kit also gives me peace of mind because it comes with two years of technical assistance and round-the-clock customer support.
My only negative comment about this set is the low stability of the spring stand. It's not a deal-breaker, but it helps to be mindful of this when placing the soldering iron on the stand.
Pros
Easy-change soldering irons tips
High-quality tin-lead soldering wire included with solder tube
24/7 customer service
Two-year manufacturer's technical support
Padded storage box and manual
Cons
The soldering stand lacks stability
Overall, Sonrinss' soldering iron is a highly recommended product for the no-nonsense hobbyist or professional. It performs just as I would expect from a reliable and consistent soldering iron.
10. YIHUA 926 III 60W Soldering Station Kit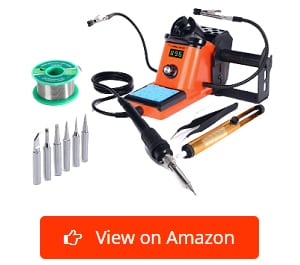 This YIHUA 926 soldering power station has a more reliable iron holder compared to a standard soldering iron station. I don't need to worry that its stand may fall on my table and cause some damage to my work or injure me. That's because YIHUA made the holder of this soldering pencil attached to the solder itself.
The power station also features an auto-sleep mode, which shuts the unit off when not in use. I can also change the auto-sleep mode to 5, 10, or 30 minutes, allowing it to adjust to my workflow. This feature increases the unit's safety and enables me to save some electricity.
I like how heat-resistant and flexible the soldering iron cord is. I can move the soldering iron in the direction I need to achieve an excellent result. It also provides some safety for me because the heavy-duty cord can withstand extended use periods without overheating.
This digital soldering station is ESD safe and has been approved by several safety groups. The description indicates that this soldering station does not generate electrostatic discharge, harming other electronics. Furthermore, having instruments approved by multiple safety organizations gives me peace of mind about the device's safety.
However, because of its good quality and performance, the unit's price is high compared to a standard soldering iron station. This makes it unsuitable for those on a limited budget. Nevertheless, the cost is justified given the product's safety assurance.
Pros
Comes with a stable soldering pencil holder
Supports auto sleep mode with variable durations
Uses a heat-resistant and flexible soldering pencil cord
ESD safe and certified by multiple safety standards organization
Cons
More expensive compared to a standard soldering iron
This digital soldering station
is suitable for many electronic application types. As long as we can spare the budget, this digital soldering iron offers high-quality performance and premium protection for our work.
11. KLARYTYMA 60W Soldering Iron
The ceramic heating components of the KLARYTYMA soldering iron allow the unit to heat up quickly. Specifically, it uses ceramic-core induction technology to attain a maximum temperature of 842 degrees Fahrenheit in a few seconds, suitable for small to medium electronics.
It also has a temperature knob that allows for precise temperature control. This unit is reliable enough to ensure a stable heating temperature for extended periods, no matter which type of electronic work I do.
A substantial amount of solder wire is included in the package. I may not need to purchase additional parts because the length of solder contained in the package is sufficient for various soldering tasks. Furthermore, I have easy access to the solder when I use it with a mount solder roll holder on a portable stand.
What's more, a wire cutter and two types of tweezers are also included in the kit. I can do more than fix electrical circuit boards; I can use this option to repair other types of electrical appliances. The tools are helpful, particularly the curve tweezer, which I can use to reach some narrow spots.
One disadvantage of this soldering pencil is that users can't start using it at the highest temperature. For this reason, I always begin with the lowest heat setting of 392 degrees Fahrenheit and gradually increase it as needed.
Pros
Uses a ceramic core technology for quick heating
Has a reliable temperature control with stable temperature
Includes a large quantity of solder
With mount solder roll holder in a portable soldering stand
Comes with a helpful wire cutter and two types of tweezers
Cons
Temperature needs to be increased gradually
This unit is one of the best choices for a beginner soldering iron and small to medium electronics. It provides precise temperature control and comes with a huge quantity of
high-quality solder
and handy tweezers.
What to Look for When Buying Soldering Iron for Electronics
It is essential to have the right soldering iron on your side. Purchasing a good soldering iron is easy due to its abundance on the market nowadays, whether you live in the US, UK, or elsewhere. Plus, posting questions in forum communities like Reddit will give you an idea about the top-rated soldering irons.
To help you decide what the suitable soldering iron for your needs is, consider these essential things.
Wattage Ratings
It's always a good idea to think about the wattage rating. The higher the wattage is, the more power the product can offer. Plus, higher wattage soldering irons provide more stable and reliable temperature control.
70 to 100 watts is a reasonable range to consider if you need a high-power soldering iron. However, if you only need soldering irons for some basic or modest soldering operations, a power rating of 40 to 60 watts would suffice.
Temperature Control Dial
Rather than using regular soldering irons, it is advisable to use soldering irons with a temperature control dial. Using a new soldering iron with variable temperature control to set the appropriate temperature for each solder in an application is beneficial. This helps you avoid damaging electrical components and results in an excellent soldering finish.
Reliable Soldering Stand
Nowadays, almost all soldering irons come with a portable stand. That is why it is important to consider this component when choosing soldering irons. There is no right or wrong way to use a mini soldering stand, as long as it is reliable, although a well-designed spring-type soldering stand is preferable.
Buyers may find a soldering station with a solder holder on the side. It has more advantages than a standard iron stand because you can access solder wire as you work. In general, a soldering station under $100 can offer a more sturdy soldering iron stand.
Brand
The brand is usually at the top of my list for every tool I buy. Some good soldering iron products like X Tronic model 3020 xts and Hakko soldering iron offer outstanding performance for many electronic and DIY projects.
However, after using various unbranded soldering iron kits, I've discovered that brand isn't necessarily the most crucial factor to consider. There are several lesser-known brands that can perform admirably.
Price
The cost of a soldering iron is also essential to consider, especially if you are on a budget. We all know that branded products are more expensive than unbranded products. Because of their cheaper cost, I also consider unbranded tools.
You can find the budget soldering iron in the market that only costs $20 to $50. However, when it comes to lower-cost items, I am always cautious. Remember, some cheap things offer worse performance, especially those off-brand items that only last for a few uses and are essentially disposable tools.
Three-Prong Power Plug
A three-prong power plug is important to consider since it includes a ground connection. It is safer than a two-prong power plug because it can prevent the unit's electrostatic discharges from harming electronic components.
Set Of Accessories in the Package
The majority of soldering kit for electronics on the market now have interchangeable soldering irons tips. It's a good thing if your choice comes with additional pairs of soldering irons tips to replace those that aren't fit for your soldering application.
Besides an extra soldering tip, it is also good if the soldering irons come in a complete package set. It is great if the package includes a desoldering pump, sets of tweezers, brass wool or cleaning sponge, wick, flux paste, and even solder wire. This way, you can start your work immediately after receiving the item and save some money from buying these things.
What Type of Soldering Iron Should I Use for Electronics
A pencil type is an ideal soldering iron for small electronics or more detailed soldering applications like circuit boards. On the other hand, it is good to use a soldering gun for electronics that need extensive soldering work, whether the task involves electrical terminals or wire soldering.
In addition, a soldering station is also best for some electronic board repairs, such as replacing an electrical chipset.
What Wattage Soldering Iron Is Best for Electronics
If you are looking for a soldering iron for ham radio or only conducting basic soldering projects, a power rating of 20 to 50 watts should suffice. This power rating is particularly recommended for people who are new to soldering.
A 60 to 100 watts power rating is ideal for professionals who need a high-power soldering iron for various soldering operations. This soldering iron has a fast heat-up feature that allows us to utilize a considerably higher temperature for hard-to-melt solder wire.
What Temperature Should Soldering Iron Be for Electronics
The temperature of your soldering iron is determined by the melting point of the solder you're using. Some small electronics soldering iron uses a 60/40 tin-lead solder with a melting point between 350 and 380 degrees Fahrenheit. A higher temperature setting of 620 to 750 degrees Fahrenheit may be required if you need to use a lead free solder.
Do I Need Flux to Solder Electronics
If you use a non-flux solder when soldering an electrical circuit board or other devices, you may need extra flux. Fortunately, most solder nowadays comes with a flux core, allowing you to utilize it without any additional flux. Furthermore, flux paste is also used to clean the oxide from the metal surface to produce an excellent finish.
What Brand of Soldering Irons Is Best for Electronics
Many professionals say that the X Tronic model 3020 xts is the top-rated soldering irons, while some recommend a Hakko soldering iron for continuous soldering work. These brands offer quality performance as well as safety assurance.
Though the X Tronic model 3020 and Hakko soldering iron are the most popular soldering stations, other soldering iron stations are also reliable enough for any soldering work. For example, a Tabiger soldering iron kit also offers a good soldering performance.
Are There Cordless Soldering Irons
Yes, there are battery-operated soldering irons currently available. This type is primarily larger than a standard pencil soldering iron. Because it is cordless and does not require an outlet, it may boost your soldering application without sacrificing your body posture. However, these soldering irons have a battery that only lasts 30 minutes to an hour on average.
What Are Butane Soldering Irons and Where Are They Used
A butane soldering iron is mainly used to cut wires and other plastic materials. As its name implies, a butane soldering iron uses butane as its fuel to heat up its tip temperature. It also has an iron plated copper tip, the same substance in a standard soldering iron tip.
Its wattage range is almost similar to a regular soldering iron with variable temperature control. This type of soldering iron may cost you more due to the butane price being much higher than the electricity price.
Conclusion
Finding the best soldering iron for electronics is easy because many high quality soldering irons are on the market today. The factors I consider when purchasing a soldering iron can assist you in selecting a soldering iron that is appropriate for your work.
Furthermore, the above list of pencil-type soldering irons is an excellent resource to find high-quality electrical soldering irons without spending much money.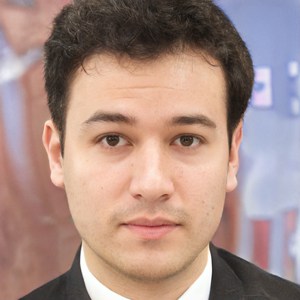 I am Edwin Jones, in charge of designing content for Galvinpower. I aspire to use my experiences in marketing to create reliable and necessary information to help our readers. It has been fun to work with Andrew and apply his incredible knowledge to our content.