Whether you're a pro or just a casual hobbyist, investing in your work by having the best soldering station for electronics, DIY repairs, and the like makes a lot of difference.
Compared to your typical off-the-shelf soldering iron or soldering gun, this innovative device is a big help. With it, you can achieve better temperature control for precision setting to high or lower temperatures to accommodate your specific solder material.
You can also prevent damaging electrical components with built-in protective features. Furthermore, some top-rated soldering stations have advanced functions like auto-sleep, standby, and auto-shutoff after a few minutes of inactivity.
But how do soldering stations make it to my Top 11? I consider three qualities that set specific models apart from the rest in my list of the top-tier soldering stations.
Wattage Rating – A higher wattage means higher power. It is the same for soldering workstations. Higher wattage soldering stations also mean more power in reserve for longer working times. A 60 to 100-watt power rating in electronics soldering station models is good enough for many regular functions.
Quality and Safety Features – Many soldering iron stations are available, offering great features. Hence, consider your needs and what standout functions you expect from your soldering iron. While looking at Reddit for recommendations is a good start, it all comes down to individual preferences to find the right soldering stations for the money.
Price – Paying top dollar does not always translate to your satisfaction. With the wide range of choices available now, it's easy to find excellent value deals. You can find high-quality soldering stations out on the market with the same features as the top soldering stations or higher-priced units.
Now, to get you started finding the soldering station kit for your hobby or profession, here are 11 soldering stations I've had the chance to try out. Each has particular qualities that can suit your specific needs.
Top 11 Soldering Station Reviews
1. Weller WLC100 40-Watt Soldering Station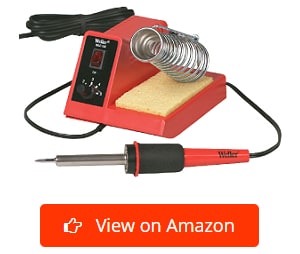 The Weller WLC100 is one of my favorite soldering stations for light soldering work. This set is a lightweight and quality product for general soldering projects. In fact, it comes with a soldering station, copper ti, iron holder, and cleaning pad for convenient use.
In truth, its ergonomic foam grip is comfortable to hold and easy to manipulate, especially in detailed and intricate applications. It boosts my productivity since I don't feel any hand fatigue while using this unit.
The variable temperature knob is very helpful for getting accurate settings. Using temperature control, I can set working temperatures of up to 900 degrees Fahrenheit. It allows for wide-range precision control for optimal heating when using flux core or lead-free solder.
Another good thing about this item is its replaceable heating element. It guarantees that this soldering station was built to last. In fact, this device is listed by UL to ensure good quality and safety features after testing.
Aside from long-life soldering tips, I can choose and change from Weller's wide variety of ST tips, including large tips for faster solder applications.
When using this soldering station, I notice that it does take some time to reach working temperatures. However, since it is only a 40-watt soldering iron, that is no wonder.
Pros
Quality and lightweight pencil-type soldering iron
Ergonomic foam grip that provides a comfortable soldering experience
Variable temperature control dial for better accuracy
Replaceable heating element for long-lasting use
An UL-listed device tested to meet safety requirements
Changeable long-life tip from a selection of proprietary ST tips
Cons
Low-wattage output takes longer for the solder to reach working temperatures
Overall, minus the relatively longer heat-up time, this Weller soldering station is well-recommended for many DIY and professional hobbyists out there.
2. X-Tronic 3020-XTS 75-Watt Soldering Iron Station Kit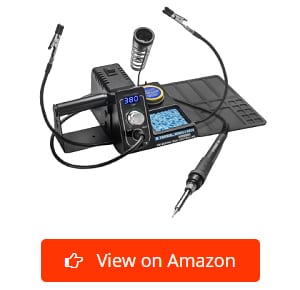 The X-Tronic 3020-XTS solder iron station is a good option for those who experience back pain during soldering work. Such can be the case when it comes to the small circuit board projects that require close concentration.
The unique thing about this product is that it has two clamps that allow you to position your work to your liking, keeping you seated upright.
This station comes inclusive of a work mat for loose project components and flux for keeping your soldering tip free of debris.
Additionally, the 40-inch soldering cord has enough length for most work tables. Its robust and flexible cable prevents tangles and damage to the unit's wiring. It's also perfect for easily managing the cable and keeping it out of the way.
The automatic sleep function minimizes fire risks and prevents tool damage even when you forget to switch off the device. The mode will activate upon reaching a 10-minute no-usage time.
Furthermore, first-time buyers can have peace of mind while trying this set since there is a 30-day money-back policy. The brand also offers 3 years of guarantee for the quality of their products.
The auto-sleep feature is sometimes triggered during lulls in between different soldering tasks. In this case, I always need to reset the unit by turning it off and on again. This mostly happens during extended idle periods.
Pros
With two clips for positioning small soldering work
Includes cleaning flux for maintaining soldering tips
40-inch pliable soldering cord is good for most table sizes
Ten-minute auto-sleep safety function
Has 30-day money-back policy and 3-year guarantee
Cons
Sometimes it switches to standby mode during use
Overall, this X Tronic soldering station is a well-recommended piece in soldering stations review. It is ideal for those who need an extra hand in soldering works.
3. Hakko FX888D-23BY 70-watt Digital Soldering Station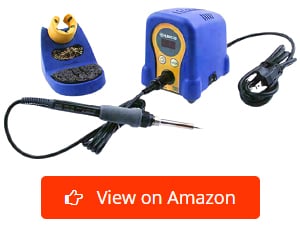 The Hakko FX888D digital solder station was my pick when I started my electronics hobby. Its compact design is perfect for the small tabletop I had then. Also, the separate soldering iron holder lets me place it in just the right place for my reach and the central unit closer to power outlets.
The great thing about this device is its ceramic heating element heats up quickly and ensures consistent temperatures. This feature helped me get to work faster and finish my projects sooner.
The lock feature on the temperature setting is also helpful in preventing inadvertent changes. Users won't have to worry about any accidental nudges messing up your set temperature.
What I like best about this Hakko soldering station is the five preset temperature memory. Such a function ensures that I don't need to manually tune in a new temperature setting when changing the soldering wire. My desired temperature settings are just a few presses away.
However, as I was just starting out then, the button interface took some getting used to. After a few tries, it became almost second nature. Also, preset options would have been an excellent add-on to this product.
Pros
Compact design of the unit helped me maximize the workspace
Has a separate iron holder for users to place it anywhere
Ceramic heating element ensures a quick heat up & consistent temperatures
Temperature setting lock to prevent accidental adjustments
Five customizable temperature presets for
Cons
The button layout may take some getting used to
This unit is an excellent soldering station for hobbyists with a small worktop. Its design provides easier positioning of the device's individual modules.
4. Weller WE1010NA 70-watt Digital Soldering Station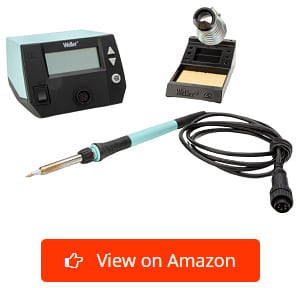 I prefer the Weller WE1010NA soldering station for high-temperature soldering. It has a maximum temperature of 900 degrees Fahrenheit, ideal for the lead-free solder commonly used on electronic devices.
Its power is about 40% higher than standard pieces, ensuring good efficiency for busy workers. Furthermore, its soldering iron features a silicone cable that resists heat for safe use.
The quality lightweight pencil-type design coupled with the ergonomic handle gives me the confidence and comfort to take on a full plate of projects. On the other side, I use its password protection features to save the temperature settings that I mostly use.
I also love this soldering station's intuitive layout and temperature controls, including the accessible on and off switch in its front. I can quickly turn the tool on and off as needed, unlike other products with backside switches.
This soldering station only needs bare hands when changing the tips compared to others that need screws or any soldering tool. It also means that I can change tips quickly, even outside the workshop as long as the device has cooled down.
However, the Weller WE1010NA is priced higher than other professional soldering stations with similar specifications. But with the features you get for the value, it's a very decent option.
Pros
Heats up to 900 degrees Fahrenheit, ideal to use with lead free solder
40% higher power for efficiency
The soldering iron features a silicone cable that resists heat for safe use
Durable and lightweight pencil-type design with an ergonomic handle
Password protection features to save temperature presets
Intuitive control layout and navigation, fast and tool-free tip changing
Cons
The price point of this product comes at a premium
I recommend this soldering station for those who do high-temperature soldering. It is yet another top-notch Weller product.
5. YIHUA 939D+ 75-Watt Digital Soldering Station
This YIHUA 939D+ is the most suitable soldering station for someone into commercial soldering work. It is a heavy-duty soldering station that can run continuously for more than 10 hours. It is my go-to for taking on a full load of projects.
This item's design is reliable. It has a built-in transformer that controls any electrical surges and protects the device. Furthermore, it can resist heat due to the metallic construction for durable use.
Plus, it has smart temperature control and calibration support that helps the soldering iron maintain stable working temperatures.
Another good thing about this unit is its cost-effective design, advantageous over other soldering stations. The soldering iron is easy to replace and doesn't require purchasing whole soldering stations when accidentally damaging the soldering iron component.
I also appreciate that YIHUA includes a 12-month manufacturer's warranty and 24/7 professional customer assistance. It speaks highly of the product quality and the brand's drive for customer satisfaction, especially when I need help regarding parts or accessories for this soldering station.
What I don't like about this product is the holder portion. It is loose when I mount the soldering iron, making me feel it can topple over anytime. A coil holder like the others on my list of top-rated soldering stations would have been a better option.
Pros
Heavy-duty soldering station designed for regular and continuous use
Comes with built-in electrical protection
Features metallic construction that resists heat
Smart temperature control and calibration support
Cost-effective, easy-replace components
12-month warranty and 24/7 customer assistance
Cons
The holder tends to be loose, making the unit feel somewhat unstable
This YIHUA soldering station is a good option for heavy-duty industrial use. The unit can safely handle longer work periods in high-temperature settings. The manufacturers back this up with very decent warranty terms.
6. Aoyue 469 Variable Power 60 Watt Soldering Station
This Aoyue 469 is one of the most affordable on my list of top soldering stations. Though it has a lower price, this product doesn't lack specifications. It has a temperature range of 392 to 897 degrees Fahrenheit, just as in models with higher price points.
It has a noticeable flashing light power-on indicator. Furthermore, this unit has a portable and lightweight design, making this soldering station easy to carry with to the job. It is perfect for the many home calls I've been asked to do.
Another plus about this unit is the wide range of tip choices from the Aoyue T-series. With the 50 available tips on the market, they have an option for almost every possible function. The soldering techniques always start out with having the right tip for work, in my opinion.
My only concern about this product is that it has no digital display and only has an indexed temperature dial numbered 1-8. I don't know what exact temperature setting the device is currently on, but this only is an issue if we're into absolutely fine and precise temperature adjustment.
Pros
High-quality product at an affordable price
Temperature range: 392 – 897 degrees Fahrenheit, perfect for circuitry work
Power-on is indicated by a conspicuous flashing light
Portable and lightweight design for easy pack-and-go jobs
Choice of 50 soldering tip pieces for excellent adaptability
Cons
Has no digital display and direct temperature measurement
For those looking for an affordable soldering station, this is a good choice. It has the same specs as higher-tier soldering stations but at a budget-friendly value. The only drawback would be the lack of temperature readout for tools.
7. Vastar 60-watt Soldering Iron Station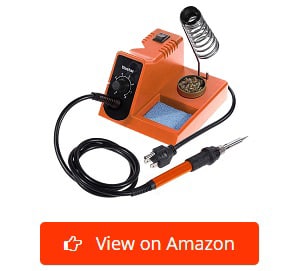 It is great to have a soldering station that's ready to go at the flip of a switch, like what comes from the Vastar soldering station.
This device has a rapid temperature range adjustment to reach optimal working temperatures in around 15 seconds. Additionally, it comes in a ready-to-use bundle that includes non-static tweezers and soldering wire.
The heat dissipation on the unit works phenomenally well at preventing overheats and maintaining a constant working temperature. At the same time, the protective cord shield on both ends of the solder cord prevents cable wear while still keeping the cord easy to manage.
Furthermore, with the welded pipe made from 304 stainless steel, you're guaranteed a product resistant to corrosion and has a high heat tolerance. Additionally, the pipe is resistant to damage from various chemicals you might encounter.
However, I don't think the removable soldering iron stand was the best choice for this soldering station. Several times, the mount loosened from its attachment point during regular use. Having that and your soldering gun drop onto your work could potentially be disastrous.
Pros
Quick 15-second wait time to set working temperature
Comes in a kit with non-static tweezers and soldering wire
Heat dissipation ensures safe and comfortable use for longer periods
A protective cord shield on both ends of the solder cord prevent cable wear
Heavy-duty 304 stainless steel welding pipe
Cons
The removable soldering iron stand is easily loosened
Among the soldering irons on the list, the Vastar is among the few on the shorter end of start-up times. However, we will need to take some extra precautions given the detachable holder of this soldering station.
8. TOAUTO 80-watt Soldering Station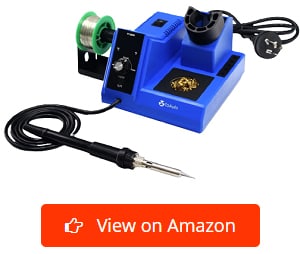 In my search for high-powered soldering irons, I got the chance to try out the TOAUTO soldering station. This upgraded unit is rated 80 watts, reaching the optimal temperature range in just six seconds.
Like other soldering stations, this unit has a Celsius to Fahrenheit function. However, the TOAUTO has an additional locking feature, preventing accidental changing of the set temperature.
On the other side, the PID temperature range control helps the unit maintain stable heating during soldering work. Its LED display makes maneuvering a bit easier for first-time users.
Moreover, the standby and auto-sleep modes add an extra layer of safety and energy savings. These modes automatically activate during prolonged periods of inactivity, effectively lowering the device temperature or temporarily shutting it off.
The solder sucker included in the package is a welcome add-on for desoldering works. It cleans the circuit board and effectively removes any excess solder from my reworking tasks.
Though this is a complete soldering station, the soldering wire left much to ask for. It was hard to melt solder even at the iron's maximum usable setting. Users may need to buy a different brand of soldering wire instead.
Pros
80-watt fast heating with a six-second start-up
Celsius to Fahrenheit function and a temperature locking feature
PID Temperature Control Technology for stable working temperature
Features LED display for easy adjustment
Built-in safeties and energy-saving modes
Comes with a solder sucker for quick and neat desoldering
Cons
The soldering wire provided in the package is not the best
The TOAUTO 80 watts soldering station is a good choice for a high-powered unit. It only takes a few seconds to be ready for use. However, I suggest having some quality soldering wire on-hand for better results.
9. YIHUA 862BD+ 75-Watt Soldering Rework Station
For my electrical board and chip replacement work, the YIHUA 862BD+ solder rework station was the right tool for the job. It is a 2-in-1 soldering station that allows me to rework and solder with one tool package.
The included hot air gun is significantly quieter than what I find at my local hardware. It's great for reworks, shrink tube application, and dusting-off circuit boards. The combo package effectively streamlines my workflow and tool setup.
The dedicated digital display screens and control layouts for both the soldering and the hot air guns were a great touch. It is perfect for saving electricity since I don't always use both devices all at once. Also, the hot air blower has a numeric modulation control which allows me to precisely tweak the airflow as I like it.
Additionally, the YIHUA 862BD+ features an automatic hot air mode that allows for quicker start-ups after short breaks and idle time.
The soldering section is, for me, a superb piece. The heat gun also has good temperature range control, but it will take time to get it to the setting we want unless we're on automatic. I've gotten a lot of decent work done just sticking with the auto setting.
Pros
2-in-1 soldering gun and hot air gun combo
Noticeable quiet hot air gun
Dedicated displays and switches for hot air and soldering station
Numeric modulation control that gives an accurate setting for air pressure
With manual and auto hot air modes, ideal when doing a rework
Cons
The hot air gun takes time to heat up in manual mode
This dual workstation is a good choice for those looking for both a heat gun and a soldering iron. Though the heat gun heats up slowly on manual, it has an auto mode that can reduce the heat-up time between tasks.
10. TXINLEI 8586 60-watt Solder & Hot Air Rework Station
The TXINLEI 8586 is another soldering iron-heat gun combo bundle on my list. It has a professional soldering station with a dual-sight digital display layout for temperature range monitoring. It's handy for comparing settings against actual working levels.
The station also comes equipped with a high-powered heat gun rated to 700 watts, perfect for quick rework tasks and the like.
The unit is enclosed in a heavy-duty metal casing that can easily handle the high temperatures of commercial soldering. At the same time, the non-slip rubber foot bumpers prevent static discharges and keep the device firmly on my workbench.
The best part of this combined soldering rework station is that it comes with a complete set of accessories for rework and soldering jobs. It comes with 12 different soldering tips, three heat gun tips, solder wire, a set of tweezers, a desoldering pump, a brass tip cleaner, a cleaning sponge, and an IC puller. I can say that everything I need is completed with this package.
The only thing I dislike about its package is the complicated user manual. Thankfully, a quick search online will help get a better picture of safely operating this soldering station.
Pros
700-watt heat gun for rework tasks
Dual monitoring of soldering iron's temperature through the analog settings and digital display
Durable metal housing for durablity
Non-slip static-proof rubber foot bumpers
Comes with a complete set of accessories for rework and soldering
Cons
The user manual isn't the most helpful
I highly recommend this product for those looking for dual workstations. Its high-quality soldering iron, high-power heat gun, and other useful accessories like the desoldering pump makes my tasks easier.
11. Merece 65-watt Digital Soldering Iron Kit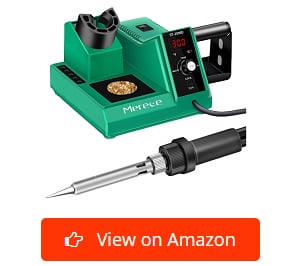 This Merece 65-watts soldering iron kit is fairly simple to use; that's why it may be the best fit for starters who want a back-to-basics soldering station.
In truth, I only need to plug it into the outlet, turn the switch on, set my desired temperature, and lock it. It also has an LED temperature display with interchangeable Celsius and Fahrenheit units, allowing for precise work temperature settings.
Furthermore, this unit comes with five solder tips, allowing me to choose the exact one for my work. The extra tips include the pointed tip for fine soldering work and a broad tip for soldering wire to wire joints.
The certifications from FCC, CE, and RoHS for this unit ensure that this product is safe to use. Additionally, this unit's anti-static design protects users and work projects from potentially hazardous static discharges. This feature gives me some peace of mind, knowing that I can rely on a top-quality tool.
One drawback of this soldering kit is the stiff cord, making it hard to move when changing my soldering position. For this reason, this soldering kit may not be the best fit for those who have plenty of soldering tasks because managing the cord may add to hand fatigue.
Pros
Straightforward to use and perfect for beginners
LED display with Fahrenheit and Celsius options
Comes with five extra solder tips for long-lasting use
Quality certifications from FCC, CE, and RoHS
Protection from electrostatic discharges
Cons
The solder cord is rather stiff
All in all, this is a well-recommended soldering station for professional use and beginners alike, particularly those looking for an uncomplicated setup. It is easy to use, especially when navigating the temperature settings.
What to Look for When Buying Soldering Stations
Using a soldering station makes a big difference from a standard soldering iron. One significant advantage of it is the consistent temperature control. You can use it to accurately set working temperatures to prevent damaging the electrical components you're working on.
To help you find the best unit for your work, here are the soldering iron features to consider when looking for a soldering station for the money and functions.
Wattage Rating
For the wattage rating, it is always good to use higher wattage. A higher watt rating is highly suggested due to temperature range stability and better performance. However, be careful to have an overpowered unit. 60 to 100 watts rating is best for any soldering works.
Quality and Safety Features
We all want to have quality and safe tools in our workstations. I always look for an electrical standard certificate to know that the soldering stations passed extensive quality control processes. Additionally, features like anti-static protection, auto-sleep, and standby mode give me extra peace of mind.
It is also the best choice to purchase a unit with a built-in transformer like YIHUA 939D+ and the Tilswall solder station. It automatically prevents damage from electrical surges. Also, I'm sure there are many other soldering station reviews online. It helps to compare products between multiple sites to better picture what station suits you.
Temperature Control Features
The temperature range control feature is essential, especially for the more advanced soldering projects. It is good to have consistent soldering iron heat for neater and quicker work. This feature is present in most SMD soldering stations and other soldering setups. This feature sets the experience apart.
Tip Availability
Some soldering irons have a limited selection of available tips, making it hard to find in the nearest hardware. While in some units, you can find more than 50 different tip replacements, which you can use in various types of soldering works.
In addition, some tip replacement requires screws or special tools, while in others, you can use your hands when replacing tips. Just be careful not to touch the hot soldering iron to prevent injuries.
Temperature Display
I highly suggest choosing digital soldering stations. These have LCDs that allow you to monitor the temperature of your tip. It is vital to accurately control this parameter given the different solder types and their specific temperature requirements.
Dual Unit
Buying a dual unit is best for professionals who need heat guns and soldering irons. Nowadays, you can find a soldering station with heat gun packages. Having a 2 in 1 soldering station is a cheaper option than buying each tool individually.
Included Accessories
A good quality soldering station may also come bundled with a set of accessories like a chisel tip, desoldering pump, and solder. These add-ons let you get your setup working right out of the box and save you money on accessory purchases.
Price
Back when I started my hobby, and even now, I've always looked at prices when purchasing any work gear. Still, it is not only just about what's cheap or expensive. There are many deals out there that give top-tier specifications at a fraction of the cost. Find one that fits your budget while still offering good functionality.
Are the Irons Interchangeable Between Stations
Soldering irons aren't interchangeable between stations unless they have the same end plug design. Interchangeable tips are usually only possible for the same brand and series, but not with soldering tips across brands.
What Is ESD Safety? Is It Necessary to Have ESD Safe Design
ESD or Electrostatic Discharge is an electrical event that can damage its internal components. ESD safety begins with using materials and the inclusion of design features that minimize the risk of ESD.
The ESD-safe mark must be present in soldering stations. This safety is especially critical for work on circuit board componentry. It protects the sensitive functional chips and prevents the build-up of an electrostatic charge.
How to Build a Soldering Station
You may save some money on building temperature controlled soldering stations than purchasing a new soldering iron. Still, it is not that easy, especially if you want performance similar to original branded soldering station units.
However, suppose you do prefer to build your soldering station. In that case, you may find tutorials about making a DIY soldering station on the internet. You will need to purchase an adjustable temperature control board and program it with computer tools. There are plenty of online resources on making the right soldering station for your needs.
What Is the Tip Material
You may notice an iron-coated copper tip specification when purchasing a soldering iron tip. An iron-plated copper core is the typical component of good quality tips. Copper is a good conductor of heat, so it is mainly used as a core.
At the same time, the iron protects the copper core from physical and chemical damage. It prevents the solder from sticking to the tips.
What Is the Most Versatile Shape of Soldering Tip
It is also essential to use the correct tip shape for every soldering process. The chisel tip is the most popular among any tip shape regarding the versatility of soldering iron tips. This tip can be used for most soldering tasks, from small circuit boards to soldering joints.
What Heating Element Is Used
It's good to know a bit about your soldering station's heating element. After all, this directly impacts the quality of your soldering work. Nichrome wire has long been the standard for most soldering irons due to its durability and consistent healing properties.
These days, however, more and more units are designed with ceramic elements. These tend to heat up and cool faster than nichrome.
Conclusion
Though it is advantageous to buy branded soldering irons, you can find a good soldering station at different price points. The best soldering station is the one that matches your needs and preferences.
Aside from that, it's also important to consider non-negotiable safety and performance features like those listed above when looking for your choice of soldering station.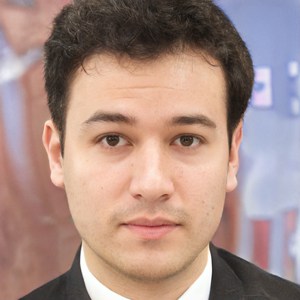 I am Edwin Jones, in charge of designing content for Galvinpower. I aspire to use my experiences in marketing to create reliable and necessary information to help our readers. It has been fun to work with Andrew and apply his incredible knowledge to our content.