Many people think that stripping wires is such a mundane job that a good wire stripping tool is just a luxury. However, if you're a professional electrician working with miles upon miles of wiring, having the best wire stripper on hand is a life-saver.
A cable stripping tool can save you time and effort, especially if you're wiring an entire house. I've once experimented comparing outlet installations using a pair of pliers versus electrician wire strippers. I found that an experienced worker can save at least one minute per wire or six minutes per outlet.
On average, each home has seventy outlets. This small device would save me at least seven hours per home in outlet installation only. It doesn't even include the other tasks where I've saved even more time. You'll definitely save time and manpower if you have an electrician wire stripping tool.
So today, I'm going to review the twelve best wire stripping pliers I've seen or used. These are my top pick reviews and are written to help you choose the best tool for your purpose, allowing you to do more in less time, improving your job performance.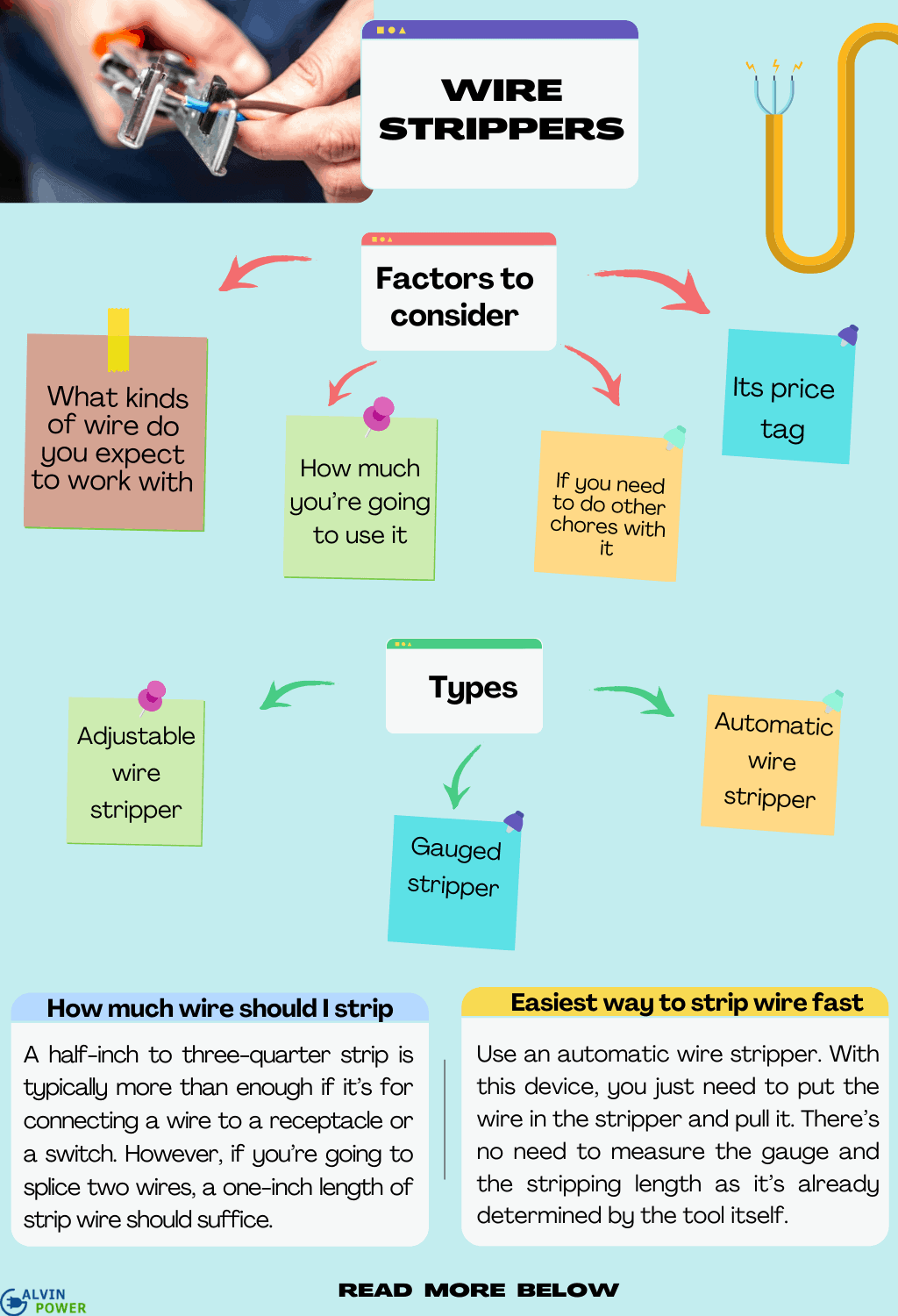 Top 2
Klein Tools 11063W

| | |
| --- | --- |
| Supported AWG | 8-22 AWG |
| Size | 7-inch |
| Material | Cast alloy chassis |
Best Wire Stripper Reviews
1. IRWIN VISE-GRIP 2078309 Wire Stripper
This is the ultimate handy wire stripper for me because it combines four tools into one: wire stripper, wire cutter, wire crimper, and pliers. It's versatile enough because it's designed to work with multiple wire sizes, from 10 to 22 AWG. And you can use the pliers at the tip for pulling and looping wire.
Furthermore, the Irwin stripper has built-in wire crimps that can be used on insulated and non-insulated materials, ensuring that you have secure terminals. You can use just this tool to complete a whole outlet installation – meaning you'll also save on weight with a lighter toolbox.
The wire cutter's edges are also induction hardened to make sure that they will last as long as you need them. But the best thing that I like about it is its ProTouch grips, which make it easy to hold and reduce hand fatigue and arm stress, even if I'm wearing insulating gloves.
A minor annoyance that I have with the Irwin wire cutter, though, is that I think its handles are a bit too long. So whenever I open it with one hand to load the next wire I'm about to strip, the handles feel a bit unwieldy.
Pros
Single tool combines four functions: wire stripper, cutter, crimper, and pliers
Works with varying wire sizes, from 10 to 22 AWG
Pliers at the tip can be used for pulling and looping wires
For materials with and without insulation
Induction-hardened wire cutting edges ensure longevity
ProTouch grips make it easy to hold, reducing hand and arm stress
Cons
Opens a bit too wide, which makes it unwieldy when used with one hand
I recommend the Irwin wire stripping tool, especially if you have large hands. It will let you grab, cut, strip, and crimp wires – allowing you to accomplish all those with just a single piece of equipment.
2. Klein Tools 11063W Wire Stripper
Klein wire strippers are also one of the tools I recommend for professionals. I like this model because of its compound-action stripping, which allows you to grip the wire and then strip it one squeezing action. This makes wire stripping a single-handed job, allowing you to be more efficient in your workflow.
This Klein tools wire cutter and stripper combo can accommodate solid wires from 8 to 20 AWG and stranded wires from 10 to 22 AWG. It can also cleanly strip insulation up to an inch (25 mm) in length in one step. You don't have to manually pull the wire to expose the conductor inside, as the tool will do that for you.
An issue that plagues some strippers is their inaccurate measurement, which can lead to wire damage during stripping. To avoid this issue, Klein Tools precision-machined the stripping holes, ensuring they fit the indicated gauge. Finally, the wire grip is also tension-loaded so that the stripped cable will hold its geometry and not be bent out of shape.
Although I did not have any issues with this tool, I do have a problem with the company. You see, I once wanted to ask their customer support about their warranty. However, after several emails, I still haven't received any replies. I just find it disappointing that such an excellent item would have poor support.
Pros
Compound-action stripping ensures that stripping wires is a one-hand task
Can accommodate 8 to 20 solid gauge wires and stranded wires from 10 to 22 AWG
Cleanly strips wire insulation up to an inch in a single step
Precision-machined stripping holes ensure accurate and precise wire fitting
Tension loaded grips make sure that the cable won't misalign during stripping
Cons
Poor customer support from Klein Tools
This tool is ideal for those who strip a lot of wires. Even if I did not receive any customer support response, you wouldn't need to contact them due to its excellent build quality
3. WGGE WG-015 Multi-Functional Wire Stripper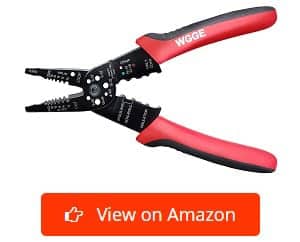 This is one of the electrical wire stripping tools I've previously worked with. It can cut and strip solid copper and aluminum wires from 10 to 22 AWG. I can also use its serrated nose to grip, pull, shape, and bend wires, negating the need for me to use and carry an extra pair of pliers.
I also appreciate it well when tool makers consider the user in their design, and WGGE is one such tool maker. Their tool's curved handle is ergonomically designed, making it easy for me to hold and use. I also like the high-quality PP+TPR material they used to cover the grips, optimizing force transmission and reducing slippage.
Best of all, the company has an excellent quality assurance policy. If ever you're unhappy with your wire stripper, they will either send a replacement tool or even issue a refund. I will always respect a company that guarantees its workmanship and stands behind its products.
If there's an issue I encountered with this tool, it's that some of the teeth in the size gauges were a bit jagged, so I couldn't fully close it at the start. After filing down the rough edges a bit, I finally used the stripper with no problems. Other than that, I'm happy with my multi-functional tool.
Pros
Cuts and strips copper and aluminum wires from 10 to 22 AWG
Serrated nose can grip, pull, shape, and bend wires
Ergonomically-designed curved handle makes it easy to hold and use
High-quality PP+TPR handle optimizes force transmission and reduces slippage
Excellent quality assurance policy with both replacement and refund guarantees
Cons
Some of the teeth in the size gauges required some filing
I would recommend this tool if you like to keep your kit clean and straightforward. With this in your pocket, you can leave your pliers behind and still accomplish your work.
4. DOWELL 54939 Wire Stripper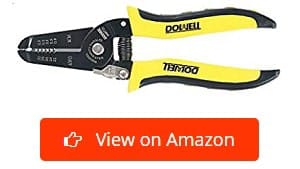 This small wire stripping tool allows you to strip wires in a simple one-handed motion. It will grab hold, pull, and remove outer jackets cleanly, ensuring that the conductor won't get damaged in the process. When you have this tool, you can streamline your workflow and finish more tasks.
The Dowell wire stripper comes with a built-in wire cutter, which lets you cut copper and aluminum cables from 10 up to 22 AWG. It also utilizes high-quality springs, which reduce the effort required to operate the tool. This feature lets you accomplish more with just a hand.
I also love the handle design of this wire stripper, which prevents accidental finger squeezes while in use. The brand also utilized soft rubber handles with a surface coating to ensure that the tool wouldn't slip from my hands even if I'm working in wet or oily conditions.
An issue I encountered with this tool is that the size markings are a little hard to see. However, they're not unreadable, so I can still determine which wire setting to use.
Pros
Works in a simple one-handed motion, making it easy to use
Doesn't damage the conductor
Built-in wire cutter can be used on copper and aluminum wires from 10 to 22 AWG
High-quality spring reduces the effort required to operate the tool
Safe handle design helps prevent accidents by preventing finger squeezes
Soft rubber handles with surface coating ensure the tool wouldn't slip
Cons
Markings on the tool are not very easy to see
If you're a careful user, you can use this sound tool for regular wire stripping. It's also focused on safety, which can help prevent accidents and injuries while on the job.
5. Knoweasy Automatic Wire Stripper
If you work with many different wire gauges simultaneously, you should look for the best automatic wire stripper models. They're called as such because they automatically adjust their stripping diameter based on the cross-section of the wire you're working on.
This Knoweasy tool can precisely strip wires from 0.03 to 10 mm in diameter without having to readjust its settings. Because of this, its sharp edge will not hurt the wire core even if its gauge changes unexpectedly. It also has an adjustable length stop, so you are guaranteed to only strip the needed length.
The tool's lightweight and durable body is made from shock-resistant glass fiber and plastic. This ensures that it can withstand rough construction environments rigors while being handy and easy to carry. Furthermore, its blades can be substituted, so once the original edges have worn down, you only need to replace them and not the entire tool.
You have to be careful, though, when you're using the tool when it's new. This is because it is still highly-tensioned, and you might end up cutting your wire instead of stripping it if you apply too much pressure. I highly recommend testing this on spare cables that you have before using it in an actual project so you could get used to it.
Pros
Automatically adjusts stripping diameter based on wire cross-section
Strips wires from 0.03 to 10 mm in diameter
Sharp stripping edge will not hurt core due to automatic adjustment
Adjustable length stop
Lightweight, durable body withstands rough environments while staying handy
Blades can be replaced for future use
Cons
Highly-tensioned when new, can accidentally cut wires if the user isn't used to it
All in all, this product works wonders for who handle various different wire gauges simultaneously and like to keep their kit light. It's perfect, especially for freelance contractors who work on their own a lot.
6. IRWIN VISE-GRIP 2078300 Wire Stripper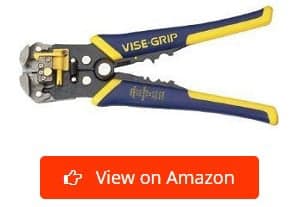 One criterion I look for in the best self adjusting wire stripping tool is the maker's guarantee on it. That's why I recommend the Irwin Vise Grip Self Adjusting Stripper – it comes with a lifetime guarantee. This assurance gives me peace of mind that this tool will last me a lifetime and won't break when I'm using it.
When stripping wires, the Irwin Vise Grip Self Adjusting Wire Stripper can accommodate wire sizes from 10 to 24 AWG. It also has a micro-adjustment knob which allows me to fine-tune its cut for gauges smaller than 20 AWG. I can also use this tool for crimping 10 to 22 AWG insulated and non-insulated wires and ignition terminals from 7 to 9 mm.
But the best thing I like about the Irwin stripper is its self-adjusting mechanism. Now, I no longer have to manually check the gauge of each wire I'm working on. I can also adjust the length of the strip with its built-in stopper. These features make me much more efficient, allowing me to improve my workflow and accomplish more.
My only wish is that this vise grip self adjusting tool should come with a wire cutter, as it's what most people typically do with wire-work. Since this tool doesn't have the feature, I have to bring an extra pair of pliers in the field, which adds to the weight that I'm carrying. Otherwise, I think it's a perfectly nice tool to have.
Pros
Comes with a lifetime guarantee
Strips wire from 10 to 24 AWG
With adjustment knob for wires smaller than 20 AWG
Crimps insulated and non-insulated 10 to 22 AWG wires, 7-9mm ignition terminals
Self-adjusting mechanism automatically accommodates cables of different gauges
Built-in stopper can be adjusted to customize stripping length as desired
Cons
No built-in wire cutters, so you need to bring an extra tool in the field
If you don't mind carrying an extra pair of pliers, I would definitely recommend the Irwin Automatic Wire Stripping tool. It will also simplify your workflow because you don't have to check the gauge for every strip.
7. Klein Tools 11055KLE Cable Stripper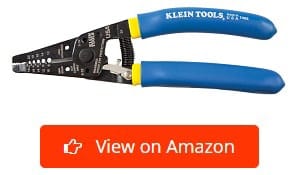 If you need a heavy-duty professional wire stripping tool that you can also use for shearing, this is the right choice. It's designed to cut, strip, and loop 10 to 18 AWG solid and 12 to 20 AWG stranded cables. It's also strong enough that you can also cut 6-32 and 8-32 screws.
The Klein Tools Wire Cutter and Stripper has curved handles, specifically designed to help you reach small and tight areas – useful when you're installing outlets and working in small electrical boxes. Other than that, the handles themselves are double-dipped to enhance user comfort. That allows me to reduce my stress and lets me work faster.
Best of all, its easy-to-read markings are a huge benefit to most professionals. This is because frequently, we have to work in dimly lit areas. I appreciate the well-printed letterings on the tool body because they reduce eye strain. Thus, it helps me prevent headaches that sometimes come from too much squinting in the dark.
The only problem that I encountered with this is that the stripper came in a bubble envelope. It wasn't damaged by any means, but I wish the packaging were more sturdy.
Pros
Cuts, strips, and loops 10 to 18 AWG solid and 12 to 20 AWG stranded cables
Strong enough to cut 6-32 and 8-32 screws
Curved handles allow you to reach small and tight spaces easily
Double-dipped grips enhance user comfort and reduce stress
Easy-to-read markings lessen eye strain and prevent headaches
Cons
Came in a bubble envelope
All in all, professionals who work in cramped spaces would love this tool. Its well-printed markings are also excellent for those who have trouble reading the small prints of other strippers.
8. Capri Tools CP20010 Precision Wire Stripper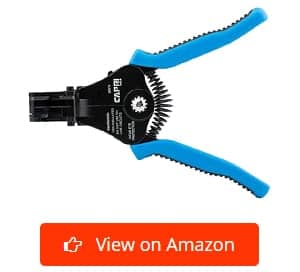 If you're tired of electrical wire stripping tools accidentally biting and damaging the cable core, then this precision wire stripper is your solution. Its precision construction allows for stripping wires in the 8 to 22 AWG range with ease and no damage risk.
It also has a built-in tension-loaded grip, which automatically returns the tool to its default position after stripping. This allows for fast, compound action for wire-stripping that cuts each strip's time by a few seconds. This trait lets you get more done with less struggle.
The tool itself is made from cast alloy chassis, making it slightly lighter than other competitors while retaining strength. It also comes with a 10-year warranty, so you're sure that Capri Tools guarantees its products will not fail under regular use in that time.
My only concern is that the tool is not as well-balanced as I would like it to be. I find its head to be substantially heavier than the rest of its body, which makes me feel like I'm holding a hammer. Nevertheless, it has excellent cutting performance, which dramatically compensates for this issue.
Pros
Precise construction strips wires from 8 to 22 AWG with no damage risk
Built-in tension-loaded grip automatically returns the tool to its default position
Fast, compound action for wire-stripping lets you do more in less time
Made from cast alloy chassis, making it a bit lighter than other competitors
Comes with a 10-year manufacturer's warranty
Cons
Tool is a bit heavy on the head and feels unbalanced
If you need a device that will reliably strip your wires without damage, this is the tool you need. As long as you don't mind its unbalanced feel, you're going to love this.
9. Knoweasy FBA_HP008 Automatic Wire Stripper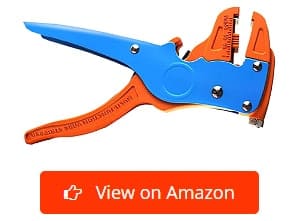 I remember this device as the best automatic wire stripping tool that I've previously used. I can say this because I found it easy and intuitive to use, and it also comes in an exciting color scheme. This makes it easy to spot in my toolbox and stands out from other tools in my project sites.
The stripping tool can accommodate cables from 14 to 24 AWG easily and is designed to work with speaker wires. It also has an easy-to-adjust length stop, which is clearly marked on its jaws. This makes setting up the strip extremely fast, cutting my working time. I can prepare a lot of cables super efficiently with this tool.
Because of its automatic design, it adjusts its cutting blade no matter what wire gauge I strip. I also like that it has a built-in wire cutter that can accommodate up to 12 AWG wires. These features negate the need for me to carry around multiple tools on my tool belt.
My only concern is that the wire would sometimes slip when I strip it. Good thing I can use the pressure adjustment knob to set the proper amount of force, but I wish there were a way to put it automatically. That way, I could work even faster and reduce the chances of damaging the wire insulation.
Pros
Easy and intuitive to use, with a unique color scheme allowing it to stand out
Accommodates cables from 14 to 24 AWG & designed to work with speaker wires
Easy-to-adjust length-stop marked on jaws for clear reading
The automatic design adjusts blade no matter the wire gauge
Built-in cutter accommodates cables up to 12 AWG
Cons
Wire would sometimes slip during stripping; manual pressure adjustment needed
I feel this is the best wire stripping tool I have ever used because of these features. As long as you don't mind manually adjusting the pressure, I feel this is also suitable for you.
10. MulWark MLK-53744 Multi-Purpose Wire Stripper
If you need a heavy-duty wire stripping machine that can also crimp and even cut screws, you should consider this tool. Primarily, it is designed to strip and cut wires from 10 to 22 AWG stranded and 12 to 24 solid core cables. Its high-frequency heat-treated blades can cleanly cut wires, even those with thick covers.
Its all-in-one crimper can be used on insulated and non-insulated terminals, wire sleeves, and various connectors. More than that, the built-in wire cutters are even strong enough to cleanly shear 6-32, 8-32, 10-32, 4-40, 10-24, and 5-40 gauge copper screws. You can also use them to cut through 10-22 bolts without damaging their threads.
To make them easier to hold, the handles are made with non-slip rubber instead of the usual ABS plastic material. This makes it more ergonomic to use and reduces stress and hand fatigue at the same time. Most of all, all MulWark tools come with a lifetime guarantee, thereby giving you peace of mind that they will last as long as you need them to.
My only issue with this is that the numbers are not as clear as I like them. They don't affect my performance in any way, but someone with poor vision might not feel the same.
Pros
Designed to strip and cut 10 to 22 AWG stranded and 12 to 24 solid-core wires
Crimper for insulated, non-insulated terminals, wire sleeves, and various connectors
Wire cutters are strong enough to shear copper screws and 10-22 bolts
Non-slip rubber handles make it ergonomic to use and reduce user stress
Comes with a lifetime warranty
Cons
The numbers are not very clear
If you need a wire stripper that's also robust enough to deal with screws and bolts, this is the perfect tool for you. It's ideal for those who install electronics and deal with screws that need adjustment.
11. Eclipse Tools CP-301G Precision Wire Stripper
This is a good stripping tool for you if you're working on many electronic and network-cable installations. It has been designed explicitly by Eclipse for work requiring precise stripping. As such, it can strip wires from 20 to 30 AWG, making it perfect for working with thin, delicate cables.
The stripping notches are created using a CNC lathe to ensure precision. This high-accuracy process helps the tool strip both the CAT5 exterior and its fine internal strands. This makes it stand out from all the other wire strippers, which cannot strip cables smaller than 22 AWG.
Because it is designed to work with light and thin cables, Eclipse tools made the tool lightweight. This makes it easier to maneuver and use, avoiding damage to the copper wire because of heavy jaws. I also like that they included a safety lock for the jaws to ensure that they won't damage any other tools or wires stored with.
You have to be careful when using this, though, as it is sharp. If you're not cautious with your stripping, you might accidentally cut the thin wire. I had actually sliced a couple of cables with this stripper when it was new, so I recommend practicing first before using this in the field.
Pros
Explicitly designed for precise stripping and can work with 20 to 30 AWG wires
CNC-lathed notches ensure precision
Can strip both CAT5 exterior cabling and its interior strands
Lightweight design perfect for working with light and thin cables
A safety lock to ensure it won't damage wires or tools it's stored with
Cons
Extra sharp stripping requires practice to avoid accidentally cutting wires
If you're working with electronics and networking cables, which require delicate and thin wires, then this is the stripper that you're looking for. So far, I haven't seen any other stripper that offers the same precision as this.
12. Tacklife MWS02 Self Adjusting Wire Stripper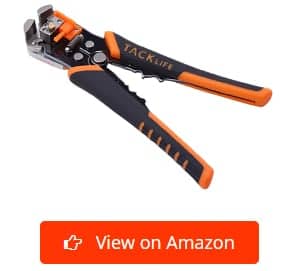 Tacklife offers one of the best large wire stripping tools that I've worked with. It can strip, cut, and crimp 10 to 22 AWG wires. It can also work on various terminals of various sizes, including insulated (10 to 22 AWG), non-insulated (4 to 22 AWG), and ignition (7 to 8 mm²).
The tool itself has an 8-inch flexible spring and extended plastic grips, allowing you to increase the force applied without putting in more effort through leverage. It also has two-color non-slip TPR handles which make it easier to hold. These attributes allow you to reduce your hand and arm stress, letting you accomplish more.
It also comes with automatically adjusting jaws, so you're sure that whatever gauge you're working with, your tool will strip it properly. Furthermore, it also has adjustable nuts and stoppers, so you can manually set the tool precision for clean, accurate cuts every time. These features streamline your workflow and make you much more efficient.
A friend of mine who was using this tool, though, had his equipment get damaged while he was using it. I haven't encountered this problem yet, so it must have been a factory defect. Nevertheless, it was quickly resolved because Tacklife responded to his issue within 24 hours.
Pros
Strips, cuts, and crimps wires in the 10 to 22 AWG range
For terminals in the 4 to 22 AWG range and 7 to 8 mm² ignition cables
8-inch flexible spring and extended plastic grips increase force applied
Two-color non-slip TPR handles make it easier to hold and reduce stress
Automatically adjusting jaws ensure correct stripping every time
Adjustable nuts and stoppers allow manual setting for precision
Cons
A friend of mine damaged his tool while he was using it
This wire stripping tool is a good choice if you want to leverage your force. Its extended handles allow you to use less effort in stripping and crimping, reducing your stress.
What to Look for When Buying Wire Strippers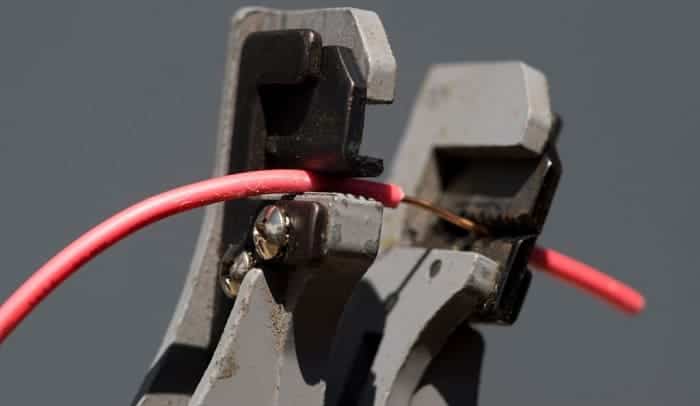 When you're shopping for a wire stripping tool, there are three things you should consider: what kinds of wire do you expect to work with, how much you're going to use it, if you need to do other chores with it, and its price tag.
For most general uses, a wire stripper that can accommodate 10 to 22 AWG should be more than enough. However, if you intend to work with electronics and the like, you should find a stripper that can accommodate up to 30 AWG wires.
If you expect to strip many wires of varying gauges, I recommend getting an automatic wire stripper. This is a handy feature because you don't have to manually set the wire gauge every time you're going to cut. This limits the chances of an error causing you to damage the wire core accidentally.
Some automatic strippers even include a length measurement device, like the Harbor Freight or Klein Automatic Wire Stripping Tool. It lets you set the length that will be stripped, so you no longer have to measure the wire you're going to work on every time.
If you expect to do other tasks, like crimping and cutting wires, bolts, and screws, you should look for tools that offer these functionalities. There are several that include wire cutters and crimpers as part of the wire stripping tool. More than that, some heavy-duty wire strippers can also cut bolts and screws, so you should consider that as well.
Finally, if I'm comparing different tools that do the same things, it will all boil down to which one is the more affordable product. Of course, I will still consider the brands, but as long I'm familiar with them, the cheaper price tag would most probably win me over.
What Tool is Used to Strip Wire
The most basic tool that you can use for stripping wire is a pair of pliers. You can also use a cutting knife and your finger to do the stripping. However, these tools are not efficient. They tend to take up a significant amount of time to strip wire and sometimes cause accidental injuries.
A wire stripper is the best tool to accomplish this task. This kind of tool is specifically designed for the job and will even avoid damaging the wire core. Furthermore, it also has safety in mind, thereby minimizing the risk of injuries to your hands and fingers.
What are the Different Types of Wire Strippers
There are three primary types of the best wire strippers: the adjustable wire stripper, the gauged stripper, and the automatic wire stripper.
The adjustable wire stripper consists of a jaw with a blade set to the appropriate wire gauge. This is simple to use, but you must be aware of the setting you used, as it's easy to forget and could cause you to cut the wire accidentally.
A gauged stripper has multiple notches for different wire gauges. This lets you quickly select the wire gauge that you're working with. It is better than the adjustable wire stripper as you don't have to set the gauge for each cut manually. You could also strip much more quickly as all you have to do is insert the wire and pull.
The automatic wire stripper is the best of both worlds, as it lets you strip different wire gauges with just a single notch. You don't have to figure out what gauge you're working on, as the tool will automatically adjust itself. Just ensure that you have a good and reliable tool, so you don't accidentally damage the core of the wire you're stripping.
What is the Easiest Way to Strip Wire Fast
The easiest way for stripping wires is to use an automatic wire stripper. With this device, wire stripping becomes as easy as putting the wire in the stripper and pulling it. There's no need to measure the gauge and the stripping length as it's already determined by the tool itself.
How Do You Strip Electrical Wire
The first step to strip a wire is to find its appropriate gauge and place it into the corresponding slot in the stripper. You can check the wire label to find its proper gauge, or you could also use the comparison guide on the stripper. However, if you're using an automatic wire stripper, then you can skip this step altogether.
Once you've determined the correct gauge, place the wire into the jaws of the stripper. Give appropriate spacing of about an inch to an inch-and-a-half from the tip. Once done, close the wire strippers and let them cut through the wire's insulation. While keeping the jaws closed, pull the sheathing off the end of the wire.
If done correctly, you will get a cleanly stripped wire with no damage to the core. Stripping wires is a simple task as long as you have the correct tools to deal with it.
How Much Wire Should I Strip
It depends on the application of the strip that you're going to do. A half-inch to three-quarter strip is typically more than enough if it's for connecting a wire to a receptacle or a switch. However, if you're going to splice two wires, a one-inch length of strip wire should suffice.
Where to Buy Wire Strippers
Wire strippers can be typically bought in your neighborhood hardware store. If you can't go out or the products are not in stock there, you could also purchase them online.
Conclusion
Wire strippers are an essential tool if you work on many wiring projects. They will allow you to strip more wires accurately in less time. They will also lessen waste by ensuring that you will not accidentally damage the wire core when stripping. Furthermore, a specialized tool like this will help avoid injuries compared to using a knife or cutters for wire stripping.
If you want to be more efficient in your workflow, you must have the best wire stripper in your kit. And even if you only save a little time per wire installation, if you spread that over your entire project, you could potentially be saving more than one whole workday.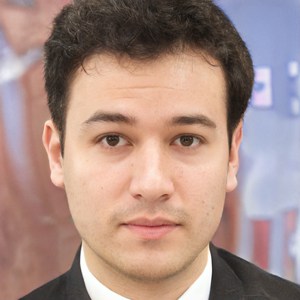 I am Edwin Jones, in charge of designing content for Galvinpower. I aspire to use my experiences in marketing to create reliable and necessary information to help our readers. It has been fun to work with Andrew and apply his incredible knowledge to our content.