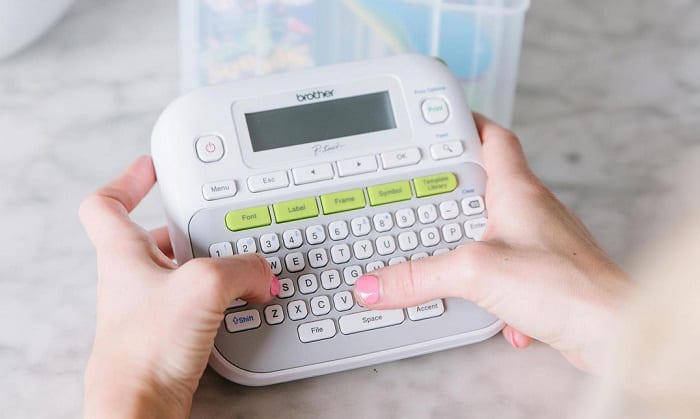 An electrician's worst nightmares are cutting the wrong wire, picking up the wrong set of tools to work, or messing up the whole electrical maintenance job. These mistakes usually happen when you fail to label what you're working on, leading to errors due to confusion.
There's always a way to manage this dilemma, like making handwritten labels. However, if you want the best investment for managing your electrical atrocities or more, the best label maker for electricians is here to serve you.
Before starting the search, you should consider the following criteria:
Portability: In our line of work, we always need our tools with us in the most convenient way possible. So, it should perform in any scenario (e.g., you need to hold the printer in one hand) and any place possible. Backlit display, QWERTY-keyboard, and molded rubber bumpers are good vital features of a portable labeler.
Printing Capabilities: Getting the top-tier label maker doesn't end just by having a clear, quality print. It's best if it can create labels in different text orientations, eight text styles, and frames. Always look for the best pre-programs that can give you multiple symbols, print lines, and blocks—a labeler specifically made for electricians.
Technology-Wise: A labeling tool is a lot better if it's hi-tech for a user's convenience. For example, a USB connection can help create labels with more than ten decorative templates using a computer or smartphone. At the same time, thermal printing technology can save the cost of buying inks.
Aside from these three helpful factors, you can learn more while reading our top-listed label makers in this article. It will be pretty self-explanatory once you've reached the last page. However, if you need more help and are still confused about what labeler you want to buy, a specified buying guide section after the review can assist you.
Top 11 Label Maker for Electricians Reviews
1. Brother P-touch PTD210 Label Maker
This label maker for electricians is one of the most affordable products I acquired from Brother. At first, I was skeptical about bringing this clean-looking printer outside the house and accepting contractual jobs. I mean, it looks like this belongs to a desk jockey with its minimal white design.
I used this for about a week or two at my wife's home office desk until I was convinced to bring it to work. Soon enough, I used this as a label maker for network cables in my office building. This gadget's dimensions may seem to fit for desktops, but I can use it also as a handheld.
It is compatible with a PC with its USB for charging or editing labels. Although this asset management tool can create only two print lines per label, I'm satisfied enough because the width per spacing isn't that small or large—just the best size for visibility.
The system installed in this printer has multiple fonts and frames that I used to customize or create labels with a unique design. In making barcodes and precautionary wire labels, the one-touch key helps me access symbols in the printing system when I'm in a rush.
Brother used TZe tapes again for this product, so moisture and fading are not likely.
I'm glad that the LCD screen shows a preview of my frequently used labels, but I don't particularly appreciate it when I can't use this much in dark areas. The product's downside is the lack of backlighting for extra visibility. Just add more brightness to it, and it'll be fine as a day.
Pros
A smart-looking device with its white, minimalistic cover
Dual-use label maker: handheld and desktop
Can print a maximum of 2 lines per label
The printer's system allows personalization of designs
The one-touch key for quick settings
TZe tapes for long-lasting labels
Cons
No backlight for dim areas
Overall, this electrical label maker gives comfortable service when used in either handheld or desktop position. Along with the 27 decorative templates, other patterns are available outside electrical, like gifting or gardening labels.
2. DYMO 1815990 LabelManager 280
For the first time, I've had a purchase that's computer compatible and a handheld label maker altogether. Along with this printer from Dymo industrial labels, a USB cable for Mac or PC features a wide range of customizable features.
If only my work allowed printing labels with memes, this gadget could do so. But kidding aside, this label maker for cables can achieve any prints I want. The first time I checked the program settings, it almost took me an hour to get through all of the symbols, format texts, and fonts installed.
Its printing technology is quite different from the others, which is a dot matrix. This printing is solid, but I hope they provide more wide labels industry compliant tapes than the maximum (1/2 inch) or enable multi-line labels.
Nonetheless, there's still a payback with other essential features like the familiar computer-style QWERTY keyboard, Underline, and power-saving Auto-Off mechanism.
There are Standard and Vinyl labels available, but I use Flexible Nylon labels. Flexis can easily bend on surface areas and is the best when doing flag labels for cable. Speaking of tapes, a co-worker warned me that this wastes a potential amount of blank labels, but to debunk it, they don't. It cuts the DYMO D1 labels precisely, considering the print size.
The only thing that gets me off from this labeler is its lack of power source available, except for the AC adapter. If its purpose is solely for desks, then this is more than enough.
Pros
Computer compatible for a broad range of custom labels
Can print any design with the pre-programmed settings
Solid printing capability pays the price
Three different label types obtainable for other purposes
Cuts labels according to the desired size
Auto-off mechanism saves power
This wire label printer is a golden product overall. Even though it lacks portability, believe me when I say it throws a good punch in the league of top-rated label makers. I had an excellent experience in printing, and I'll be sure to get the rest of the authentic labels.
3. Brady BM21-PLUS Handheld Label Printer
Even though this printer looks bulky and long, the lightness and practicality features beat it. This wire label maker creates more detailed labels than the generic devices, and my experience in flagging cables, identification of hardware, shelves, and toolbox proves this.
In contrast to its lightness, this handheld industrial label maker is sturdy enough to withstand intense workloads in and out of the house. I even made fun of how vintage it looks with my friends due to its rubber bumpers, but thankfully with this design, it protects the printer's circuit boards even after a dozen slip-offs.
I can recommend this to those contractors who accept house-to-house services. Its six font sizes and one font color are enough for home and garage labeling. I can say that it's a simple device— type our label, print, and we're ready to go.
There are other tape sizes available from the same manufacturer. I think the 0.75 inch (width) I bought is suitable for more extensive purposes like visual instruction labels and heat shrinking with tags.
Unlike most commonly used labels, this doesn't give me the traits of a poor label cutter and trims right for the label/mark. Also, there are no annoying curls after printing.
The downside of this is that the label cutter is not ergonomic for its position. I think it is better up top rather than the underside. As a result, it's mandatory to hold the labeler for every operation with this feature to cut the number of labels we desire.
Pros
Light and practical for different electrical-related purposes
Sturdy design with rubber bumpers for its self-protection
Best for home and garage use
The type-and-print mechanics make it an always-ready printer
Different tape sizes in cartridge available
End margins of a printed label don't leave excess
Cons
Label cutter is on the backside of the device
This brand made me feel a professional even though it is not one of the big, leading brands. From servicing the electrical panels to real contractual work, this printer will handle it no big deal.
4. Brother P-touch PT-D600 Label Maker
First on the list is a Brother label maker that offers a ton of features for a contractual electrician like me. I love how the high-resolution display shows the labels I'm working on and lets me choose multiple font sizes, styles, and frames.
What makes this special is its capability to connect with a computer (Windows or Mac operating systems) for more label design customizations. At first, I was a scratch-head on how this feature works. Luckily, there's a software for PC called P-touch Editor Label Design that I used as an extension setting for this product.
This electrician label maker has a "what you see is what you get" printing quality, and when the printer output comes out, it doesn't have that easy wear-and-tear look. These laminated TZe stickers work like a charm in weather-prominent areas such as outdoor breaker panels, RV charging stations, or electric water heater pipes.
As a guy who's always in and out of his desk, I'm glad that this gadget has a flexible power source using the AC adapter or insert batteries (not included in the package). Also, it is good that the QWERTY keyboard time-saving features let me have a continuous labels printing session.
However, I find it inconvenient that there is a wasted portion whenever the machine cuts the tape. Nonetheless, I can save a few millimeters of the tab with some tweaking adjustments in the settings.
Pros
High-resolution multicolor display
Multiple font sizes, frames, and symbols are available
Allows computer connection for more label optimizations
Prints the same quality as shown on the display screen
The tape's adhesives are weatherproof
Dual power source for indoor and outdoor use
Cons
It cuts the label tape a bit more than intended
This product is a guaranteed electrician label maker. Although it looks high-tech, I did not find any difficulties using this, so it's ready to go whenever needed.
5. DYMO Rhino 4200 Label Maker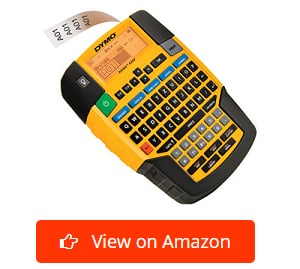 As I scan the internet for the top-rated electrician label maker, this product is a bingo. Like other label makers listed on this list, this also has a thermal printing technology.
However, I think the real reason why this tops the most commonly used labels is because of its smart compact design, which I am fond of when creating labels for my wirings all day.
This Dymo label maker convinced me that it is a printer for electricians because of its system's more than 150 electrical symbols and terms. There are also "hotkeys" to access shortcuts that help when I rush important labels on a deadline.
This feature is such a time-saver. I remember that one on-the-job moment when I needed to have a repetitive printing of my customized formats. I was so relieved that there are "favorites" hot-keys that serve as a convenient Memory Recall. For people doing a lot of wiring, sure-fire, this is among the best picks.
The maximum label size for this industrial label maker is ¾ of an inch wide. I use this tape dimension for office labeling, but it works well too for heat-shrink tubes. The tapes were sturdy enough, too, as they have flexible nylon, polyester, and vinyl materials.
This Dymo label maker is lighter than other same model brands. However, what disappoints me is that some punctuation marks are missing, like apostrophes and commas. I think other models higher than Rhino 4200 only have this feature.
Pros
Smart compact design for easy label printing all-day
150+ electrical symbols especially made for electricians
Special one-touch keys to access shortcuts
Favorites key serves as a convenient Memory Recall for reprinting
Different label sizes are available
Materials used for the label tapes make them sturdy for different purposes
Cons
Some punctuation marks are not available
When it comes to Dymo's industrial labels, the quality is undeniable. Whenever I need my template ASAP, I click 'favorites', pick my MVP label design, and then print, just as straightforward as it is. It fits nicely inside my fanny pack, so it's travel-friendly too.
6. Brother P-touch PT-H110 Label Maker
For the third Brother on this list, P-touch label maker reaches the pinnacle of simplicity regarding label making. Unlike its other Brother counterparts, this device is a pure handheld breed, leaving me no complaints every time I travel.
Back then, when I was working in Australia, they had these tight spaces for wirings that restricted movements—luckily, I brought this label maker. This tool is perfect for circuit breaker maintenance that doesn't need stylish labels but enough to make every tab of the main panel distinguishable.
The thermal printing technology on their TZe tapes is 100% visible and smudge-proof, even when placed outside. Compared to the previous Brother label makers, this gives us less stylish labels, but it does the same printing quality. However, for an electrician who prefers an "extra" look, there are ten pre-designed labels on the menu.
This labeler prints fast, and it allows the saving of self-made designs up to 15 labels in its quick access memory bank. Also, there's the option of horizontal and vertical wraps, and I can review the plan on its LCD screen before printing to avoid mistakes.
This machine is a solid label maker for organizing. However, I'm not too fond of it when there's a 1-inch lead at both ends of every finished label. This minor inconvenience is a waste at times, but I use it to my advantage when wrapping up a bundle of wires.
Pros
Easy-to-understand printing system
Travel-friendly handheld gadget
Works well when working in cramped-up areas
Label tapes are visible and durable
Allows context review of the label before fast printing
Convenient memory recall for personalized labels
Cons
It leaves an inch of free space for every printed label
After all, I don't regret bringing this to every work trip. It is a handheld, which is much easier to contain than the bulkier ones. This gadget gives a quick finish every time I finish stripping wires or replacing electrical and patch panels.
7. DYMO Sanford Brands 1756589 RHINO 5200 Kit
For a wire label printer, I can say that the price is worth it. The machine comes with a case, manual CD-ROM, AC Adapter, a battery, and two extra vinyl labels for a refill.
I received this as a gift last 2020, and after a year of using this, I'm pleased with its productivity. Whenever I bring the whole set for a contractual work out of town, I never experience a hassle while labeling, whether we're talking about wires, shelves, electrical equipment, or machinery.
The label lengths are pre-programmed that show on-screen alerts to prevent wasting any excess tapes. When I opened it fresh from the box, it only carried vinyl labels. That's why I bought a few nylon labels and heat shrink. I don't need polyester and non-adhesive it at the moment, but it's nice that they also have those.
I usually print a hundred blocks of detailed labels to finish, but good thing it doesn't slip, plus it has a rubber bumper for harsh work conditions like that. I can use this for more auto-sized vertical and horizontal wraps.
However, in some cases, streak lines are showing along with the print. Aside from that, the rest of its printing process still works fine.
Pros
The service it gives matches its price
Zero hassle when labeling various electrical jobs
Excellent on-screen alerts prevent waste of labels
There are five different kinds of tapes to choose from
Can print horizontal and vertical wraps
Cons
Sometimes streak lines along the print are visible
I won't mind spending much on the most favorite industrial label maker like this. Along with its price is a high-quality label maker plus factor that results in significant productivity at work.
8. Brother Mobile PTE500 Handheld Labeling Tool
It is undeniable that Brother's love for technology helps its users to achieve maximum convenience. This labeling tool is evident to have those premium features Brother has to offer. The P-touch Editor Software is the number one partner of this product to gain the optimum experience of editing label layouts.
A USB interface is included for PC compatibility to access symbols in the Cable Labeling Wizard and Cloud templates. With this duo, I am confident in creating labels for every desired electrical component. Telecom workers can use this labeler too because of the seven multi-purpose layouts at hand.
Personally, cable flags/wraps and heat-shrinks are the formats I use for electricity. Still, we can find what suits best for our label application: General, faceplate, electrical and patch panels, and patch-down-block. Not to mention that we can also put an image or text as a background or upload templates from spreadsheets online.
It could print 100 pieces of continuous labels if the Cut Control default settings are off, making this device an excellent choice for network cable label maker. Also, we won't have a hard time finding a power source for this. Once the Li-ion battery dies, we can replace it with AA alkaline batteries or plug the external power supply.
However, it doesn't have a "half-cut" feature that saves a considerable amount of tape.
Pros
P-touch Editor Software for PC access more label-making formats
Seven built-in multi-purpose layouts
Can insert image or text as a background
Can print multiple electrical labels simultaneously
Choose preferred power method
I love how our fast-pacing technology reaches even the simplest operations like this job, labeling electronics. This labeling tool stretches creativity and gives convenience at the same time, making my finished work looking clean and tight at the end of the day.
9. MarkDomain E1000-GY Label Machine
Behold, the god of labeling visuals is here! I went above and beyond to ensure that my labels communicate well with other people. I want all my warning signs, designated cord labels, and marked electrical components to give notice effectively. With 940+ symbols at hand, there's a ton of options for every situation.
This labeling machine has 22 accessible languages. This feature is very beneficial for contractual jobs in some companies that need their labels in multi-language format to follow the print code for inspections.
It's great that they include an AZe-FX231 tape with this device, but I was amazed that it also allows TZe ribbons from the Brother P-touch series. I love this interchange between two products because I can use old Brother tapes when the AZe is gone.
Also, I can consider this an exception from other cable label makers because of the following essential aspects: it auto-saves frequently used format label text, tights the laminated tape automatically after inserting, auto-saves up to five print records for easy retrievement, and of course, the barcode printing.
With all these qualities stated, the LCD screen is the only minor difficulty I can enumerate. It requires a room with proper lighting to see or read what's written on the screen.
Pros
940+ symbol options for different work requirements
Multiple foreign languages are accessible
Compatible with Brother P-touch TZe label tapes
Auto-saving formats and print records
Permits barcode printing
Cons
The LCD screen is a little difficult to read
Altogether, this electrician/technician-friendly partner gets the job done regardless of how big or small a task. This labeler is like a computer with its emblem options, auto-savers, and cross-referencing labels with other label makers out there.
10. Epson LabelWorks LW-400 Label Maker
This product gave its best to make its labels one of the best in town. I mean they take their tape cartridges seriously, so users can see that quality look into it every after print.
I think they've got all the colors available to purchase. However, I'm not a fan of diverse shades for a label. Instead, I tried every Special tape they had; the fluorescent, reflective, and glow-in-the-dark ribbon stickers. I tried them for light switches and outlets, and all of them stick decent— once we've put it on, there's no turning back.
In terms of its user-friendly structure, the compact square shape makes it not awkward to handle. Although it looks like home and office use only, the incorporated software, worth 50 files of memory, and noiseless printing makes it eligible as a label maker for electrical wiring.
If used to print multi-line labels, this labeler enables 2-4 lines of text depending on the tape width. When the tag comes out, the margin is less than 10 millimeters, which is good because it saves the tapes by about 60% of fixed-length applications.
On the downside, I see why they try to save as much tape as they could because tape cartridges are high-priced. That's why I only use this machine on light businesses, like weekend jobs, to make it last throughout the year.
Pros
Special tape cartridges that make a quality print
All labels stick decently on all kinds of surfaces
Not awkward to handle due to its smart compact design
Noiseless printing
Allows multi-line labels printing
Saves 60% of label ribbons by their 10mm margin cuts
Cons
Label cartridges aren't very budget-friendly
I can recommend this for electricians who want their service to benefit the client and themselves. The labeling machine's noiseless printing, pre-programmed software, backlit display, professional label tapes, and other features make a win-win situation.
11. PUQULABEL PQLPQ20BLUE Label Printer
This label maker can create labels with the miracles of Bluetooth connection. Android and Ios Operating Systems have full connectivity with a PUQU Printing app. Laptops also work well, but only if the model also has Bluetooth.
As the smallest labeler on this list, I thought about fitting different label sizes inside the roll compartment. Well, it turns out that there's an appropriate slot hole to insert the baffle plate that holds the tape on the spot.
I think this is the most straightforward label maker to set up—insert the paper roll, pair the smartphone to the labeling tool, and print. I use this label printer for electrical wires with different label-cutting techniques like the GAP style, where we can cable flags. Plus, the rechargeable battery with a 180-day standby capacity.
Templates are only accessible through phones, which is good because I can insert whatever template, logos, or pictures I need. Also, in the app's interface, we can manually set the brightness, darkness, and the number of copies we need. In the end, I can guarantee that what I edit on my phone is what I get on print.
The printer and smartphone connection don't have issues, and the Bluetooth never gave me problems at all. However, software updates are needed to remove bugs and errors when I do my customized labels.
Pros
Smartphone and laptop-compatible with Bluetooth connection
Easy to insert different label sizes in roll compartment
Quick set-up label maker for electricians
Label-cutting techniques best for labeling wires
Lifelong rechargeable battery
Login interface and access templates and free-editing
Cons
Software needs a better update
It is impressive that this investment is ahead of the curve for its technology. Although it's not that conventional electrician's label maker, it still works like one, except that there are more touch screen actions than button hot-keys.
What to Look for When Buying Label Maker for Electricians
One-touch keys/ Hot-keys
The lesser step when accessing fonts, symbols, the better the frames. I mean, who doesn't like his self-customized labels saved, and he can quickly access it at the same time?
Along with the keyboard, one-touch keys (a.k.a hotkeys) are there to bring the users what they need in an instant. Do you need to change the font sizes? Just press the corresponding key, and there you have it. Avoid those labeling tools where you need to push more hot-keys but give less work—just a waste of time.
Editable margin size
You may overlook the importance of margin size and extra space on your labels, but let me tell you, they're a WASTE OF TAPES. The label maker you deserve should let you do the job of editing your margins.
Yes, spaces before and after the text in your label are important for cable flags, size synchronizations, and neatness. However, it's not recommendable if that setting is the default for every print. But if it's unavoidable, and it still exudes a good label maker quality, consider the fixed-length applications and how you can conserve more tapes.
Compatible with tape cartridges in different widths
Tape cartridges with different sizes serve multiple purposes. It is not enough for an electrician to label with only one ribbon dimension, so preparing at least 3-5 high-quality tape rolls is better. It would be nice if you were ready for labeling outlet boxes, electrical and patch panels, faceplates, punch-down blocks, cable wraps, etc.
So, in choosing a labeling device, have something that can fit more in its compartment. And if you're able to spot a labeler that can cross-reference or interchange with the most commonly used labels, grab it. They're pretty rare, but you may get other tape brands with different sizes not available on your current one with that feature.
Allows USB connectivity
Sometimes a labeling device's pre-programmed system is not enough for every particular type of application. We'll always go beyond further because it doesn't have the settings needed. You will need one that has USB connectivity and lets you connect with a PC or Mac computer.
Some clients want their logos or names behind the tag for the security or safety of their company. At the same time, some require you to put electrical symbols that you can only find on the internet. With that said, have one that can let you freely customize and put whatever you want on your label with a computer.
Durable laminated label tapes
No matter how good a label maker's performance, what's acceptable is the only printer output that is useful without a decent label tape. That's why tapes with lamination are a must. They serve as a layer of protection for what's on the label. In addition to that, the tape should be peel-free and smudge-free.
I don't recommend label makers with low-class tapes. With that kind, you'll have no choice but to stick with that tape's garbage performance. Lucky you if you can interchange with other brands that have durable laminated tapes.
However, that's uncommon, so while you're at it getting the right label makers, get the right label tapes as well.
Which is Better; Dymo vs. Brother
Brother and Dymo industrial labels both carry the big names of label making with their exemplary functionalities to offer. In contrast, they have their fair share of downsides that an electrician should think through.
With Dymo, there's a lot to choose from when customizing labels. They even have their structure built for reliable operations. They fit perfectly for an electrician's job because they're handheld, fast printing, and fall-proof.
Nevertheless, they have a few setbacks when it comes to the durability of their print. Yes, they're long-lasting, but when put under extreme weather conditions, they tend to fade.
On the other hand, Brother has the advantage where Dymo fails. They have their thermal printing technology set to maximum quality. They do good with their job, especially in their system's features that let you choose different customizing options and pre-designed templates.
However, in the review section of this article, you may notice that they're not thrifty for their tapes. They consume a few millimeters of blank labels for every print.
Nonetheless, I can still trust them with my whole electric labeling operations. I like the budget-saving Dymo that saves tapes for every print, But I prefer the long-lasting Brother that produces permanent labels. It's all up to you, though, to make the choice that'll benefit you the most.
Are the Label Makers for Electricians Compatible With Heat Shrink Labels
No, an electrician label maker isn't compatible with heat shrink labels. The printing process between the electrician and heat shrink label makers is the same, but their cassettes differ. Heat shrink label cassettes have slot holes intended for heat shrink label makers only.
They fit well in an electrician label maker, but the print always turns out mirrored, or they don't recognize the cassette at all. If you want to make heat shrinks on your electrician label maker, brands like Brother, Dymo, and Brady have label tapes that you can heat shrink.
How Long Do Label Makers for Electricians Last
It's unpredictable what year or what month your industrial label maker is going to give up. The sure thing is they have a long lifespan, but if the device tends to get overused, it loses its power source, hot-keys get worn off, labels jam the printer, or the LCD screen fades out.
No matter the reason, it will always depend on how the user takes care of his label maker. Give it the utmost care, and for sure, it will last a decade.
Conclusion
When investing in a label maker, you should not solely base it on the price. Otherwise, you'll have a device lower than the industry labeling standards that will last only after 2-3 uses.
To get the best label maker for electricians, it should have a wide variety of printing capabilities, be portable anytime and anywhere, and use advanced technology on printing.
Fonts, symbols, and templates that were pre-programmed should be taken into account as well. In addition, its ability to create multiple print lines, and horizontal and vertical wraps are necessary for punch-down blocks, cable flags, heat shrinks, and CB faceplates.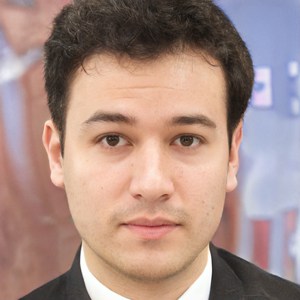 I am Edwin Jones, in charge of designing content for Galvinpower. I aspire to use my experiences in marketing to create reliable and necessary information to help our readers. It has been fun to work with Andrew and apply his incredible knowledge to our content.