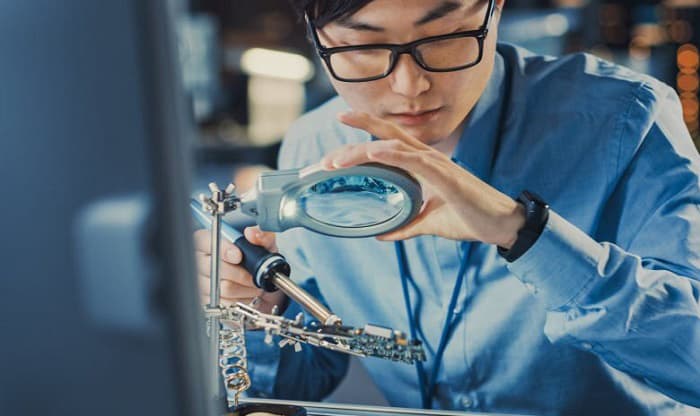 Whether you're a professional or just a hobbyist, there are plenty of soldering tasks that require focus. An example of this is working on small electronic circuit boards like phone boards. Having the best magnifying glass for soldering electronics will help produce excellent quality output.
However, finding the right magnifying glass for electronics is not that easy. Many magnifying glasses available in the market offer great magnification. But, not all of these choices are good to use for repairing electronics. Some of these are only good enough for reading and viewing small items.
To help you choose the proper magnifying glass for your soldering work, here are the three main factors I consider for selecting the appropriate product.
Products have varying magnification levels. This magnification can range from 2x up to 10x on more powerful magnifying glasses.
You'll have a better view of the circuits if you choose the proper magnification setting for your soldering application. If you mainly work on detailed soldering work, purchasing a product with multiple magnification lenses is ideal.
Although some magnifying glasses do not include a lighting feature, it is preferable to use a magnifying glass with light for soldering. You may not be able to view your work clearly if you are using a magnifying glass with no lighting.
A soldering magnifying glass with light powered by five or six LEDs might suit your lighting needs, but if you want a higher brightness, some units have 30 or more LEDs that offer excellent brightness.
Like the lighting, some units have alligator clips that act as an extra set of helping hands. This feature might be handy when working on small electrical circuit boards. When your magnifying glass has this feature, your focus will be on your soldering application and not on holding your work.
Now, here is the list that you may use as your guide. I've had the chance to use many of these sets and can get into detail about their pros and cons. More product criteria are available in the buying guide for reference.