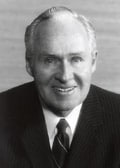 Founder and Chairman, Galvin Electricity Initiative
Retired CEO and Chairman, Motorola, Inc.
Bob Galvin retired as chairman of the board of Motorola, Inc. in 1990 after more than 30 years of corporate leadership and innovation. In 2004, he launched the Galvin Electricity Initiative to bring his visionary approach to the faltering electric power system.
Galvin's interest in the electric power system was sparked in part by the August 2003 blackout, which left nearly 50 million people without power in the northeast United States and eastern Canada, some for as long as four days, and cost the American economy as much as $10 billion. As one of the early advocates of quality management, Galvin was convinced that such occasional failures, large or small, are not inevitable.
It is possible to build a perfect electric power system—a system that never fails the consumer. The Perfect Power System model will save the economy the nearly $150 billion lost each year because of power outages, and enable American business to remain a leader in digital technology. The construction of this system will create thousands of American jobs—jobs that cannot be outsourced to other companies.
As ambitious as this vision sounds, Galvin has a track record of groundbreaking success that proves no innovation is impossible.
Under his direction, Motorola sales grew from $216.6 million in 1957 to $6.7 billion in 1987 and cash flow per share grew during that same period from 89 cents to $6.10. With his renowned Six Sigma initiative, the company became a world leader in quality management, and Galvin himself led American industry's charge to open markets in Japan.
Innovation and a willingness to challenge conventional wisdom have always been at the core of Motorola's corporate vision. After taking over the helm of the company, Galvin continued to espouse his father's philosophy: don't fear failure, and recognize the signs of problems early. Top managers at Motorola were expected to voice their opinions and promote an entrepreneurial spirit.
All of these management philosophies came into play when, in the early 1980s, Galvin recognized that in order to compete with Japanese businesses, Motorola needed to be able to ensure the quality of its products. In response, Galvin and engineer Bill Smith launched a project to measure defects and deliver world-class performance, reliability and value to the end customer. The project, which became the Six Sigma initiative, has become the gold standard for quality management, adopted by hundreds of companies worldwide. Motorola has reported more than $17 billion in savings as a result of Six Sigma efforts. General Electric reported benefits of more than $300 million in the first year of application.
The challenge of competing with Japan also pushed Galvin to the forefront of a movement to open Japanese markets to American products. He led the charge by American businesses to enlist the U.S. government in rewriting its rules of trade with Japan.
Galvin's vision was also the driving force behind the invention and proliferation of cellular telephone service. Despite skepticism—even from within his own company—Galvin invested heavily in both the technology and the 10-year regulatory battle that eventually led to the proliferation of cellular phones, greatly impacting the daily lives of many Americans.
As a result of such innovation, Motorola became the first large company-wide winner of the Malcolm Baldrige National Quality Award, which was presented by President Reagan at a White House ceremony in November 1988. Galvin has been awarded honorary degrees and other recognitions, including election to the American National Business Hall of Fame and the presentation of the National Medal of Technology in 1991.
Galvin attended the University of Notre Dame and the University of Chicago, and is currently a member and was the recent chairman of the board of trustees of the Illinois Institute of Technology. He also serves as co-chairman of the executive advisory board of the Joseph M. Juran Center for Leadership in Quality at the University of Minnesota's Carlson School of Management and continues to informally serve various Motorola interests.