Are you worried about your breaker box security? Do you want to learn how to secure outside breaker box? Do you know the best and easiest way of installing a circuit breaker panel door lock?
Locking your circuit breaker panel is one way to secure it. Furthermore, the most common way of locking a breaker box is by using a cabinet lock. It's easy to install and only requires a few essential tools you likely have in your home.
So, read on and learn how to install a cabinet lock for your circuit breaker panel.
Tools You Need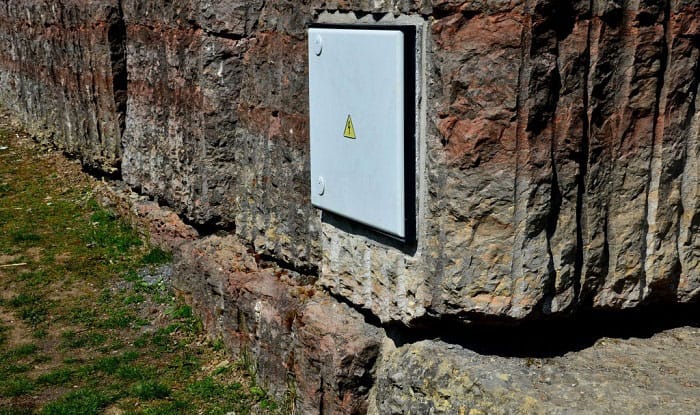 Installing a cabinet lock as the main breaker lock will give you a straightforward solution to protecting your electrical panel. Better yet, you can do it no matter what breaker panel model you have. Here are the tools you need for an outdoor circuit breaker box lock installation.
A cabinet lock set for installation on the breaker panel. Any cabinet door lock brand will do, as long as it is small and fits your breaker panel.
A screwdriver for removing and putting back the panel cover and installing the cabinet lock set
Screws and nuts
A pair of pliers for pulling out the knock out cover
A hand drill for making a hole if there is no knock out hole on your panel cover
Step-By-Step Instructions on How to Secure Electrical Panel
The best way to secure the breaker box is by putting a lock on the outside cover. It is ideal, especially for breaker panels installed outside your house, which an intruder can access to cut the power source of your home surveillance system.
Here is how you install a breaker box door lock.
Step 1. Disassemble Panel Cover
Use your screwdriver to take out all the screws on the sides of the panel cover one by one. This method of removing your panel's cover will help you in your installation while preventing you from damaging the components inside your breaker panel.
However, be careful not to drop the cover and not touch anything inside your panel. It is also good to turn off your main breaker before starting work to add some safety to what you are doing.
Step 2. Install the Offset Cam to the Cover Panel Body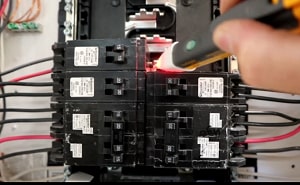 When you check the cover of your panel, you'll likely see a little circular knockout on it. Remove the knockout part with your pliers, and then, using the bolt screw and hex nut, install the offset cam.
However, if you find no knockout parts on your panel cover, you can use your hand drill to make a small hole for your offset cam installation.
Step 3. Install the Lock to the Door of the Cover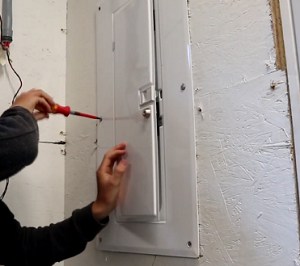 On the door of your panel cover near its latch, you can also see the knockout part, which may fit the cabinet lock. If you can't find a knockout part on the door of your panel cover, you can construct one with your hand drill, just like you did with the offset cam installation.
Then you can install the cabinet door lock in the door of your cover panel. Remember to measure the distance between the door lock and the offset cam as well. To employ its locking features, it must be installed precisely.
Step 4. Bring Back on the Cover of Your Panel
After installing the cabinet lock, reassemble the panel cover over the breaker panel. However, test the lock first to ensure it is operational before doing so. Then, once you've double-checked that it's working, it's time to reassemble it to the wall.
Place the cover on the panel, hold it tightly with your hand, and screw in the two middle screws first. Then you may let go of your grip and screw the other side in place, and you're done. On your panel, you now have a lock.
Watching this video will also give you an idea of how you can install a lock on your electrical panel cover properly.
Can I Lock My Electrical Panel?
You should note, though, that while installing a lock system in your electrical panel is not prohibited and is not restricted by any electrical codes, it is generally not recommended for safety.
It is because locking electrical box may delay a first responder if a fire occurs in your house. It is also why all electrical inspectors advise that the panel breaker should always be accessible and never locked.
There is another way to secure a breaker box while not using an electrical box lock. You can hide your breaker panel using a picture frame, or you can customize a cover for it, hiding it in plain sight. However, this idea is only appropriate for a panel breaker within your home.
You can read this article for other ways of securing your panel without making a lock for the breaker box door.
Conclusion
So, have you learned how to secure outside breaker box using a cabinet lock? This lock is advisable since the installation process is straightforward, only requiring a few essential tools. You can feel a bit more secure knowing that your electrical panel is protected against unauthorized entry.
Do you believe installing a cabinet lock to safeguard your breaker box is a good idea? What are your thoughts? Share them in the comments section below.
Furthermore, read this article to learn more about what we should do when the breaker box gets wet. and please take a look at this guide for more on the requirement of breaker box working space.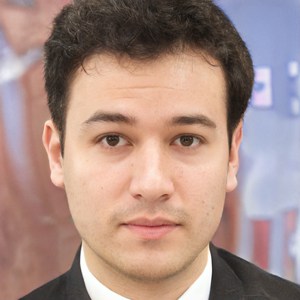 I am Edwin Jones, in charge of designing content for Galvinpower. I aspire to use my experiences in marketing to create reliable and necessary information to help our readers. It has been fun to work with Andrew and apply his incredible knowledge to our content.