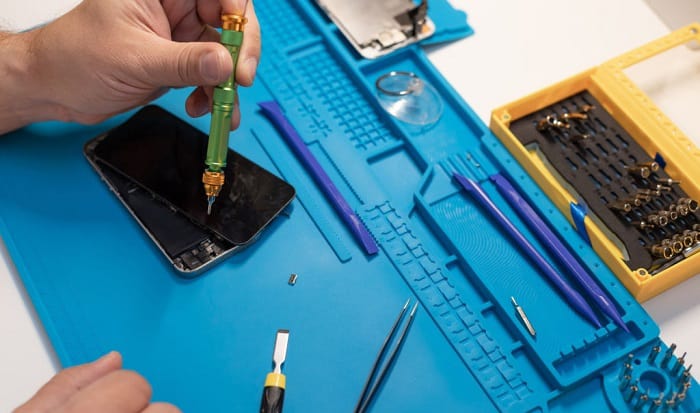 Electricians need a ton of effort when it comes to tidying up their work desk. Here, we fix components like Printed Circuit Boards (PCBs), diodes, transistors, inductors, and integrated circuits (IC), so we'll naturally get a busy and messy environment.
The common after-effects of this line of work aren't surface-friendly, especially when we use excessive heat from soldering iron on wood and plastic desks. That's why the best soldering mats are an excellent partner to serve as a protective layer and a tool keeper.
I want you to get the finest soldering mat out there, so here are the three key factors that you should focus on:
ESD Safe: Electronic Static Discharge is the most notorious problem in the electronics industry. It can damage components and erase media when the circuit board gets in contact with an unprotected surface. You should always look for an anti-static soldering mat. Without this kind of mat, you'll bring more damage than what you repair.
Heat/Fireproof: The most reliable soldering mat should always withstand the harmful effects of heat. You should be able to put your hot solder on top of it without burning the surface. Your workbench and screwdriver areas should be the most heat-resistant part, but it's best if the whole mat can withstand a direct flame.
Slot indentions for tools and e-parts: The primary purpose of an electronic mat is to provide a location where all your needs are present. It should have pockets where you can put your screws, screwdrivers, tin rolls, tweezers, wire strippers, rotary tools, scale ruler, and other accessories. The Lifegoo Repair Mat is a good example.
Now that you've acquired the basic shopping criteria, check out our list of soldering mats. The following reviews and the buying guide that comes after will help you decide what you want to use in the long run.
The Most Favorite Soldering Mat Reviews
1. Kaisi GHM-230 Silicone Repair Mat
For the first item, this silicone mat has all the critical ingredients for delicate soldering work. It has heavy heat insulation that lets me put my soldering iron on the screw slots without burning a surface or melting the mat itself.
It's not that obvious at first glance, but this electronics work mat has an inbuilt inscribed ruler, perfect for my repairs. It's one of the large soldering mats I tried— giving me a lot of space for work projects. I also like how its magnetic areas hold my screws and metal pieces in place.
The multiple notches are so helpful in classifying IC chips and other unnoticeable parts, making my space well-maintained. I've been using this for more than a year now, and I see no signs of corrosion or any reshaped areas, so it's safe to say that tinkerers, engineers of small electronics, crafting, and electronic workshop owners can rely on this one.
As an environmentalist, I'm glad that this is not a typical silicone work mat, as the manufacturer used eco-friendly silicone. Also, they colored it light blue, which is very purposive for an effortless spotting of mini parts. Although it's a bit heavy, the weight acts as its anti-slip design, so it doesn't move a lot or slip off my table.
If you ask me what my complaint about this product is, maybe it is just the unpleasant factory smell it gives off. It doesn't wear off immediately, but it is pretty tolerable as a product's downside.
Pros
It can withstand high temperature, perfect for soldering
Built-in scale ruler for repairing convenience
Its large size allows users to work on different projects
Magnetic sections keep metallic parts in place
Durable and eco-friendly with a blue, anti-slip design
Numerous spaces available for parts storage
Cons
Factory smell lingers for quite some time
To sum it up, this product is very satisfactory for its quality and detailed sections useful for storing electronic materials. It helps me keep my space tidy and well-organized, so no more lost screws and burnt edges off the table.
2. U.S. Cayeda Direct CYD-014 Soldering Mat
Unlike the previous soldering mat, this one has a more flat and minimalistic aspect to it. Since I've got more horizontal spaces to occupy, I partnered this heat insulation pad with my solder station. It's a steal for an electronics repair mat, considering it also has 68 boxed-up shelves for storage when disassembling electronics.
I use this whenever I repair old gaming consoles, but I spend most of the time checking or replacing computer motherboards. Circuit boards have solder that is pretty sensitive, and the mat's smooth, soft surface gives me fewer worries about scratches.
This large silicone soldering mat also solves the problem of losing small screws and capacitors because of the pad's magnetic properties securing them. It provides a working space free from that bothersome smell of toxic materials. Good thing it's a silicone repair mat approved by the USA FDA.
Both sides of the mat are compatible with DIY projects. It doesn't slide across the bench that easily, so it doesn't affect the work at hand. Not to mention that this fireproof silicone can withstand up to 500˚C, so even if I place a hot air gun near it, it won't change its shape.
However, it is not 100% ESD safe. This electronic mat had its best moments, but it's not very anti-static on rare occasions, like when it's relocated.
Pros
68 slots available for disassembled electronic parts
Smooth/soft texture keeps circuit boards free from scratches
The magnetic property keeps screws and capacitors safe
No toxic smell, FDA-approved
Both sides of the mat are anti-slip
It's a heat resistant silicone piece
Cons
Not 100% free from electrostatic discharge
The overall characteristics of this silicone soldering mat make a great partner for soldering iron and
a soldering station
. I love its ability to handle an intensive amount of heat, plus a surface that can gently contain PCB components.
3. Voniry L8-S3P7-699K Soldering Mat
A friend recommended this DIY soldering mat, and I was thankful I placed an order ASAP. This ESD safe soldering mat is a safe space for electronic devices and other tinkering hobbies for a guy who works on DIY projects like myself. It acts like a personal storage room where I can find all my materials together.
Magnets are common for solder mats. However, the Voniry soldering mat has a different magnetic enhancement that focuses on one place. This attribute helps me collect screws of the same kind in a separate space away from my main working area.
The boxed-up shelves are suitable for classifying IC chips. At the same time, the specific workbench area (engraved square in the middle) can withstand temperatures exuded by a hot air gun. These essential pockets and heat-resistant features make electronic repairs easier and the working surface tidy.
On a side note, this electronic work mat is not stiff, even though it has magnets. I can easily store it in tight spaces, thanks to its flexibility; no matter how much stress I put on it, it will never deform. I already experienced glue and thinner spills, but this electronic equipment won't budge due to its surface design.
For improvements, I hope to have a more oversized placemat for more extensive electronics. There's this ATX motherboard I've been trying to inspect lately, but it hangs on the sides of this mat, although it's not much of a big deal. It still achieves the purpose if you ask me.
Pros
A safe space for DIY projects
Strong magnet that can gather all small screws
Different storage boxes can contain mini tools
The workbench area has great heat insulation
Its flexible body fits tight storage without damage
ESD-safe, insusceptible to chemical spills
Cons
Slightly cramped for some devices
It's impossible to experience burnouts on this insulation silicone repair mat. After hardcore usage, I can't say something terrible about how its performance went. Once I placed the heat insulation on my table, it didn't bother me while working at all.
4. AUORY SM17001 Soldering Mat
Something about this silicone mat suits a soldering station, maybe because it is more spacious than other different mats. I've been using this as my working surface for computers, laptops, TV parts, and radio cassettes. It's not only suitable for soldering but also when I plan to build devices as well.
Accepting clients back then was a hassle because I needed to buy a bundle of screws if an original set went missing. Luckily, this soldering mat lets me have two choices; put screws in individual positions or bigger spaces where I can group them. With this option, magnets got a grip on them, so no worries.
It deflects high temperatures from soldering irons too. Accidental burning is familiar without a heat resistant soldering mat. That's why I like having this flat surface to disassemble or assemble electronics without dealing heat damage to my furniture.
It has a food-grade silicone composite, which explains the no-to-little plastic smell when I pulled it out fresh from the box. Moreover, an anti-slip bottom feature prevents the high-quality silicone from moving around the desktop while keeping the static charge down.
Conversely, the thing that I dislike about this type of silicone mats is that dirt gets onto them real quick. It's not much of a dilemma, but it'll be perfect if I could use the mat longer without cleaning.
Pros
Spacious working surface for a solder station
Magnetic screw positions and larger spaces for tools
It can withstand heat
Made from a non-toxic material with little to no smell
The anti-slip feature affixes the silicone on the desktop
Antistatic silicone mat
It is critical to have the top-rated soldering mat to rest our hot solder. Leaving a soldering iron on a wooden plank can create permanent thermal damage. This model of heat resistant silicone mat cut a huge slack on my part.
5. HengTianMei HTM-201 Black Silicone Repair Mat
As its name suggests, this product is colored black, which helps a lot in hiding dirt. It is one of the anti-static silicone mats allotted for my small electronics and computer repair. I use this mainly because it has fewer tool slots than the usual electronics repair mat. This means there's more space for objects in the main working area.
There's an in-built scale ruler for efficient measurement and modification of parts with precision. This quickens my work process, allowing me to save time.
Although this model is the smallest among the HTM series (14×10 inches), it still covers a lot of ground because of its enlarged main work area (13.3×8.2 inches). This is my go-to silicone mat for better practical operations with larger objects. This mat is also resilient against weak acids and bases, suitable for electronic devices with acid leaks.
While this silicone material has a broad workspace area, the small indents for screws, tin rolls, and tools are still there to help with organization. It can also withstand heat, reaching a high temperature of 932˚F without issues, making the surrounding zone free from thermal damage.
What it lacks is a magnetic enhancement on the area where I should put my screws. This soldering mat can be a complete winner in my book if they add that property.
Pros
Its color is beneficial for hiding stains
With vast working area
Ruler and small indents for screws, tin rolls, and tools are available
Resists weak acids and bases
Can withstand high temperatures up to 932˚F
Cons
No magnets for screw positions
It feels like early Christmas when I got this high-quality mat with silicone material that can resist heat. Sometimes it's nice to invest in my DIY projects, and this heat-resistant silicone piece is worth its price.
6. Kaisiking KT-160 Large Soldering Mat
This product was an excellent addition to my workstation area. It is made from a high-grade silica gel that doesn't have that sticky texture, even though it's a silicone tool. The highlight of this mat is its incorporated features, like the 49 spaces for spare units, a 38-centimeter ruler, four areas of magnetic parts, and three slots for repair tools.
There are also multiple notches for screwdrivers and soldering irons, plus 124 positions for tiny screws. With that stated, I think it's more than sufficient for a silicone soldering mat. I find Kaisiking large soldering mats like this fantastic for their resistance to flammable substances.
With its resilience, it can withstand tin melting from hot solder. One can describe it as soft because of its bendable properties. Plus, removing stains from the mat is easy, so no worry that it'll have scratch marks. This mat also has a wrist bracelet to block static electricity, so it's good to accommodate repairs, whether analog or digital devices.
When I bought this mat, two extra tweezers were included. Every time I use this heat insulation silicone repair mat, lint marks aren't hard to clean. I only use soap and water, and the stains are gone.
The only shortcoming of this product is that the letters of labels were printed in mirrored form. However, it's just a minor issue that doesn't affect the usefulness of this high-quality silicone item.
Pros
A smooth silicone tool without that sticky texture
Multiple notches available for different purposes with a 38cm ruler
Resist heat well without being marred with stain marks
Soft and bendable
A wrist strap for anti-static
Easy cleaning and removal of lint stains
Cons
Some labels are in mirror-form print
All in all, this soldering mat deserves its price for all the features it offers. I find its considerable thickness comfortable for long hours of repairing sessions.
7. Lifegoo Heat Insulation Silicone Repair Mat
Unlike the minimal style choice earlier, this heat-resistant soldering mat has all the pockets I can think of, which I need for my electronic repairs and services. I place all of my materials on this large soldering mat whenever I work.
With its scale ruler, fireproof silicone, and anti-slip design, I can pass a busy day without leaving my chair. I like that there are magnet sections everywhere, including a particular magnet area with a strong pull for screws. Incredibly, the company that made these mats managed to bring the magnet far away from the soldering station to avoid damaging e-parts.
This soldering pad can also fit a standard-size desktop. I can even put my lamp on the same table without disturbing the flammable substances on hand. It's like a permanent part of the bench that won't quickly deteriorate when I sprayed my heat gun all over it. Without this protection, the heat damage would be incredible.
My father loves to repair his watches here. This item has given him a good impression due to the fact that he can get all of his equipment out of the bag, especially his screwdrivers that he enjoys putting on the tab slots.
All good things aside, the only thing that bothers me is that the top lids of the small containers don't close well enough. However, with a bit of tape action, it's easy to shut them close.
Pros
Multiple pocket spaces for tools and parts
Features scale ruler, fireproof silicone, and anti-slip design
Secluded strong magnet region for screws, plus other magnet areas
It fits perfect on a standard-size desk
It can handle a high temperature
Tab slots for screwdrivers
Cons
The lids of the tiny boxes don't close well
This heat resistant bench mat is a space saver. I can use it for the best room organization and don't need to bring an extra bag to work anymore. Note that its price is charmingly affordable too.
8. KOTTO UP_SLD_Mat Soldering Mat
Who says that owning the top-tier soldering mat doesn't come with style? This item is not the average heat resistant mat for soldering. Because of its bright yellow color, I use this for digital gadgets with mini parts like transistors and resistors of an old beeper. The materials with contrasting colors are easy to spot whenever they mix with each other.
I was shocked when I saw anti-static grounding wire and repair tools kits (screwdrivers, tweezers, etc.) in this offer. It saves me time and effort in buying those extra materials.
Since I've bought this, it still resists corrosion and shows no signs of getting out of shape. It's cut-proof, too, despite the fact that it's soft. I'm also comfortable doing cracked screen replacements with this solder mat. I don't need an extra hand when mine's busy because this high-quality silicone grips the things I'm operating well.
Alongside the repair kit, there's a blow dust ball present. This is one of the reasons that made me buy this, to be honest. It removes the dust from the tight spaces of an electronic device better compared to the usual thin brush.
As for its price, the tools that come with the package aren't made precisely for professionals. Instead, a hobbyist that works from time to time can significantly benefit from this. No worries though, they're still an excellent spare choice for backups.
Pros
A stylish mat with its bright yellow color
It comes with an anti-ESD wire plus repair kit
Resists corrosion, distortion, heat, and cuts
Grips objects well, no need for an extra hand
Blow dustball for removing dust
Cons
Tools in the repair kit aren't intended for professional purposes
I hope I can get my soldering station to be this stylish too. Given how many times I've brought this bad boy to different places, I don't worry about getting my hot solder on it.
What to Look for When Buying Soldering Mats
High-temperature resistance
As I've stated earlier, the number one priority for a soldering mat is its ability to hold out against scorching temperatures. It is useless if it can't even handle a simple touch by a hot solder.
The best options to buy are the ones that can reach 932˚F (500˚C) before melting. Like a Hakko soldering mat, it should pass the flame and direct soldering tests with no problem.
Non-toxic silicone
Get a soldering mat that comprises food-grade silicone material. Food grade silica gel has oxygen, silicon, and quartz, making it rigid and elastic. This kind of silicone has zero toxicity, is environment-friendly, and has no smell because it doesn't have chemical fillers.
Also, it adds to the reasons why a soldering mat lasts with extreme temperatures: it won't degrade that easily. Food-grade material also makes the mat easy to store, as you can roll or squeeze it in tight spaces.
To identify if your silicone mat has this factor, it should be smooth to the touch, smells like silica gel (no foul/ factory odor), and doesn't rip easily when you pull it hard.
Significant thickness
The thickness of a soldering mat can also contribute significantly in terms of work efficiency and safety. This factor is not just for an additional height for your pad. It is also necessary for suppressing static charges and avoiding heating the surface underneath.
A quarter to a third of an inch is the best thick size. This size grants comfortability with its height while being an ESD-safe mat.
Magnetic properties
Now, of course, you want your screws and equipment to stay where you want to put them. You'll have to get a mat with magnetic sections that are appropriate for you. The areas where magnetic enhancements are needed are screw positions, small indents for tweezers, screwdrivers, and other metallic tools.
Extra accessories
While integrated scaling rulers are brilliant for a soldering mat, other accessory trays are a plus factor too. You should be able to have a separate space for your tin roll, a strong magnetic section secluded in the corner that won't harm your electronics, and an area where you can keep your screwdrivers or soldering irons.
It's a bonus if your mat has a small compartment with lids, too, to have a place where it won't absorb moisture for storing IC chips, resistors, capacitors, and other susceptible PCB parts.
Anti-sliding
It's not enough that you've got the thickness, accessories, and magnetic properties right. A mat that doesn't stay fixed on the workbench is a bad silicone pad. It should have substantial friction that can hold the electronics you're servicing, while the mat itself shouldn't slide on the table. You can acquire ones that have an anti-slip bottom feature.
Easy-to-wash
If your silicone material has any solder drip spots, washing it will be a complex problem, and if left unattended, they could result in a permanent stain. The top-tier soldering mat should be the easiest to clean. Yes, imperfections are unavoidable in the long run, but you should be able to quickly brush off a slight mark.
What Surfaces Can You Solder on
There are two classifications of a good soldering surface—the one that absorbs heat from the solder and the one that reflects the heat back. In basic soldering, solder won't stick to any soldering boards made from ceramic.
Ceramic is the typical material that professionals use, like jewelry makers and electricians. They're known as a material that's good at absorbing and dispersing heat. These boards can provide service mainly for small items but can also withstand an immense torch power. However, there are other soldering surfaces available, and most of them are natural.
Other materials, such as Firebrick, Platinum Rated Soldering Boards (PRSB), and pumice stones do the same as ceramic. Once used, they dissipate heat and distribute it. No wonder they're perfect anti-heat materials—with PRSB enduring high temperatures up to 1649˚C.
Charcoal, calcium silicate, and magnesium oxide are the surfaces that reflect the heat well. They're frequently more malleable and suitable for bigger materials. Of these, magnesium oxide can withstand heat that reaches up to a thousand degrees Celsius, surpassing the melting point of copper.
How Heat Resistant Are Silicone Mats
Usually, silicone mats for food preparations can handle temperatures of -40˚F to 400˚F. These are the cookwares that you typically see in the kitchen for placing hot pots and baking materials. They can only have 428 ˚F high-heat capacity, which allows them to stay in the oven without burning.
On the other hand, high-quality solder mats are very different because they're designed to endure a maximum temperature of 932˚F. A hot soldering gun can reach up to 896˚F. However, solder mats won't handle the highest temperature of a heat gun, which goes around 1100˚F.
Why Is It Important to Use an ESD Mat
Anti-static mats are available in different sizes for the various dimensions of workstation areas — usually where static-sensitive products are present. Their two main functions are to disperse the static electricity that can flow through an individual or an object and inhibit the electrostatic build-up around the workplace.
An ESD mat is an essential tool to protect you, the worker, and the sensitive electronic boards you're working on. Without this feature, you'll face the risk of file wipe-out or ultimately, damage to a device. Static electricity can happen in a millisecond, so it's best to be safe, especially when discussing servicing electronics.
Static discharge causes sparks that could light flammable liquids and gases. Never underestimate the hazards of ESD. Always keep it under control using an ESD mat, and you'll have a safe working environment plus a satisfied customer.
How Do You Reattach a Soldering Pad
It's always bothersome when soldering pads get damaged from removing transistors and chips in a PCB. To fix this, the first thing you'll need to do is clean the area where your damaged pad was. You need to do this process twice or thrice before removing the soldering mask. Next is to apply tin to the conductor spot, where you will attach the new conductor.
After that, tin the conductor or your new pad onto the area where it was initially— use the soldering alloy fitting for this solder pad. Next, apply a bit of a hardener and epoxy resin mixture to the area where your new conductor is.
After curing the mixture, hold your new pad into position with a Kapton tape. Subsequently, proceed to make a joint with the right solder alloy. Finally, put a clamp on the pad you replaced and let it cure. Clean the trace of your reattached soldering pad with isopropyl alcohol after curing.
How Do You Clean a Silicone Soldering Mat
A soldering mat is a different kind of breed among silicone products. Since it has a non-stick property, removing molten solder or hot glues off the surface won't be that challenging. You'll be okay with a drop of isopropyl alcohol and a good rubbing.
However, if your goal is to make it look as good as new, you can follow more cleaning steps. The first thing I can recommend is to brush it with warm water and baking soda for about ten minutes or so. But if you're a busy guy, you can also submerge your mat under a mixture of warm water and lemon juice. Oh, and don't forget to rinse it afterward.
Nonetheless, you can use cleaning solutions for ESD mats for dry or wet cleaning, but don't attempt to overdo it. Wipe the surface immediately and regularly after a messy workday to keep a silicone soldering mat clean.
Conclusion
Adding the best soldering mats to an inventory is a win-win situation for every professional electrician, DIYer, or simple hobbyist. It provides the user with a personalized workplace while maintaining safety.
This tool is a fireproof material, making it the best for enduring soldering irons and direct flame. The finest mat should pass three primary criteria: heat resistance, anti-static, and multiple trays for efficient accessory management.
You can use this article for your solder mat search, but at the end of the day, you know what you deserve. Invest in a silicone mat that will last for years, or better, a lifetime!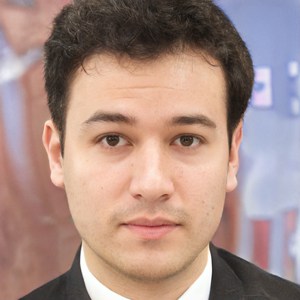 I am Edwin Jones, in charge of designing content for Galvinpower. I aspire to use my experiences in marketing to create reliable and necessary information to help our readers. It has been fun to work with Andrew and apply his incredible knowledge to our content.