As a master electrician, I've worked on many projects that require me to bend electrical conduit pipes at a rather odd shape. While we can utilize hammers and other essential tools to get the bend that we need, these do not give us the clean curves that we desire as professionals.
For this reason, I know that many are looking for the best electric conduit bender. I will share a list of tools that I have used, borrowed, and tested and give my honest reviews for each of them. That way, I can help you choose the best conduit bender for your practice.
Top 1
Gardner Bender 961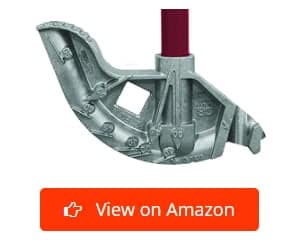 | | |
| --- | --- |
| Size | ¾ inch EMT, ½ inch Rigid |
| Length | 10 inches |
| Width | 6 inches |
Top 3
NSI Industries CB75


| | |
| --- | --- |
| Size | ¾ inch EMT, ½ inch Rigid |
| Length | 12 inches |
| Width | 2 inches |
Best Conduit Bender Reviews
1. Gardner Bender 961 Conduit Bender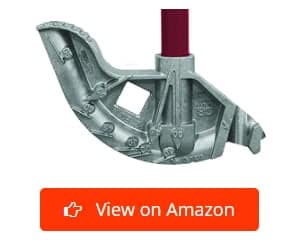 This is one of the first conduit hand benders I've used when I started working as an electrician's apprentice. I found it easy to use because the embossed bend marks for 10°, 22°, 30°, 45°, 60°, and 90° were visible even when I was bending tubes. Its heat-treated aluminum material also made the perfect balance between toughness and weight.
What I like best about this bender is when the conduit is at the industry-standard 30 degrees, the handle stands straight up. It was excellent practice for a newbie like me back then because I didn't have to worry about checking the marking while practicing the techniques my mentor has taught me.
Furthermore, I appreciate how they thoughtfully put in a larger hook and a wide foot pedal. Although the latter's primary purpose is to stabilize the tool while using it and increase its durability, it also helps me a lot because I'm quite a tall person and my foot sometimes slips on a smaller foot pedal.
Since I also cut and ream tubes when I'm bending them, the Vise-Mate Conduit Holder built into the head is a god-send for me. It helps me cut things quickly without removing the tube, putting it in a clamp, locking it down, and then proceeding with the cut. This feature makes my workflow much faster.
The only bad memories that I had with this was it sometimes left marks on the tubes when bending, especially when using thinner-walled pipes. I'm not sure if it was due to my technique back then, but even my trainer had a couple of bad bends when he demonstrated its use to me.
Pros
Easy to use with embossed markings for 10°, 22°, 30°, 45°, 60°, and 90°
Heat-treated aluminum construction brings perfect durability and weight
Stands straight at 30 degrees – the industry-standard bend
Larger hook and a wide foot pedal for increased stability and ease of use for tall users
Vise-Mate Conduit Holder grips the conduit for cutting and reaming
Cons
Can sometimes leave marks while bending
I may be an experienced contractor now with my own small team, but I cannot forget the tools I've started with. This is one of those tools that I used, and I can say that this is best for those who want to master their conduit bends.
2. Klein Tools 56207 Conduit Bender
A friend of mine once lent me this Die Cast Aluminum Bender when I left the foot bender that I usually use in our office in another state. And although this is a different brand from what I'm used to, I can say that it did perform accurately and precisely when I was doing my bends.
One of the things I noticed different about it is that it has an innovative shape in the bending pipe area. According to my friend, that was designed to prevent conduit rippling and ovaling – and I agree. During the few months that I used his bender, I never once had an issue using it.
I also appreciate how the interior hook prevents the pipes and conduits that I'm working with from twisting, allowing me to use less effort when bending. I also like that it has cast marking for both degree and multiplier scales on its head – that means I no longer have to convert whatever measurement the electrical engineer used to get it done accurately.
When I finished the project, I liked this tool so much, I bought one for myself back home. To my surprise, it came with a lifetime warranty – something I rarely find on construction tools. However, when I used it the first time, it broke! It seems that a casting error was the culprit, but the company immediately sent me a new one when I sent it in for replacement.
Pros
Performs consistently accurate when bending
Unique design prevents conduit rippling and ovaling
Interior hook prevents twisting, allowing me to complete my tasks with less effort
Cast markings for both degree and multiplier scales
Comes with a lifetime warranty
Cons
Casting imperfection caused one tool to break
I like the Klein Conduit Bender Manual tool because I feel it is an evolution to the basic conduit bender. Although it's not perfect, I believe the lifetime guarantee by Klein Tools makes it a compelling argument when choosing a bending tool.
3. NSI Industries CB75 Conduit Bender
Once, I worked on a project as a freelance electrician, and the contractor asked me to use the hand tools from NSI Industries he was testing out. This conduit pipe bender was among the inclusions, and I used it to bend a lot of pipes – like maybe three homes worth.
What struck me the most about this is using it for both electrical metallic tubing (EMT) and rigid pipes. While that is not an uncommon feature, it was the first time that I used it, and I found it convenient because it gave me options to use the tool on different materials.
I also liked the cast-in indicators with raised bend marks that also act as stops. This innovation lets me do my bending by feel instead of by eye. That way, I am faster and more efficient, only stopping when I hit the correct number of stops. It also has a built-in bubble level, allowing me to ensure that the bender is flat so that my bends are at the proper angle.
The head itself is made from die cast aluminum, allowing me to apply as much force as I need to without fearing that it will break. But at the same time, it's light enough, making it easy for me to lift, use, and maneuver. When I used this, all the bends that I made were done cleanly and consistently.
If there's one thing that bothers me, though, is that the handle is not included. Although it was included in the testing package lent to me, I have to purchase it separately if I want to use it. I also feel that removable handles are a little less secure compared with permanent or bolted ones.
Pros
Useful for both electrical metallic tubing and rigid pipes
Cast-in indicators with raised points as stops for bending angle reference points
Built-in bubble level to ensure a flat surface and precise bending
Made from diecast aluminum for strength and lightness
Creates bends cleanly and consistently
Although it was only a loaner when I used this bender, I thoroughly enjoyed it. I was sure that it would bend the conduit pipes that I was working on cleanly and professionally. If I need a new bender, I will not hesitate to have this as one of my options.
4. Ideal 74-027 Ductile Iron Conduit Bender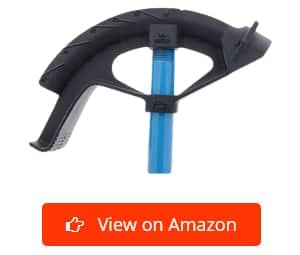 This is one of the products that I tested when I needed a new bender. I became interested in it because of the heft of Ideal Pipe Benders displayed in the store I visited. This is because the ductile iron used in its construction added to its rigidity. There's also additional reinforcement at different pressure points to ensure that nothing would break while I'm exerting effort to bend heavy pipes.
The head itself has degree scales, star-points, and aligning arrows on both sides of the head, allowing me to see them from any position. Its flat hook surface also allows for greater stability when bending, and I can even leave the tool at a standing position when not in use because of it.
The handle has an ideal bender guide on the handle – excellent for new trainees and even experienced contractors like myself if I want to double-check anything. Furthermore, the step is serrated and the hook has significantly deep groves to allow both my boot and the pipe to grip well accordingly. That way, I could avoid slipping while bending.
If there's one caveat to all these features, this is one of the market's pricier hand benders. It could go for more than twice the other diecast aluminum models' cost, but that's the price you pay for top-of-the-line build quality.
Pros
Made from ductile iron with additional reinforcements at pressure points
Comes with scales, star-points, and aligning arrows on both sides of the head
Flat hooking surface for stability and lets the tool stand when not in use
Quick bending reference guide included on the handle surface
Serrated step and grooved hook prevent slips when being used
Cons
Could cost more than twice as much as other diecast aluminum benders
Despite this bender's higher price, I would still recommend it if you're looking for something that will last you through many years and projects. If you're someone who values reliability, then I suggest that you go for this bender.
5. Gardner Bender 931B Conduit Bender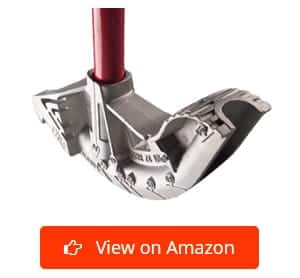 When I was starting out, this was one of the tools we had for trainees like me. Although it was primarily used by my buddy assigned to a different master electrician, I borrowed it sometimes when we were working on the same project.
Like the hand pipe bender that I used, it stands up straight when at the industry-standard 30-degree bending angle, making it easy for newbies like us to focus on the technique rather than the measurement.
Even so, its built-in dual sight-line system allows easy reading of scales whether it's used on the floor or in the air. I also liked that it has an acrylic level gauge for checking the tool angle and ensuring precise work.
However, the main difference that I noticed about this is that it had added reinforcing material near its stress points, thereby increasing its rigidity and allowing the user more confidence to apply heavier forcers. Its foot pedal is also a bit more rugged, giving us more control over how we put pressure on the machine.
Just take note that this tool does not come with a manual. We were at an advantage as we had experienced pros training us on using it correctly with the right techniques. If you're an amateur starting out on a DIY project, I highly suggest you ask someone you can trust so that you don't waste pipes figuring things out.
Pros
Stands straight up when at a 30-degree bending angle
Dual sight-line system allows for easy scale reading whether on the floor or in the air
Built-in acrylic gauge for checking tool angle to ensure precision
With added reinforcements near stress points for increased rigidity
Rugged foot pedal for more control
Cons
Manual not included in the package
This is one of the tools that I would recommend if you're an experienced contractor working on many projects. Its excellent rigidity and added reinforcements give you extra control and allow for more precise bending.
6. Southwire MCB Conduit Hand Bender
This is an EMT hand bender that I considered when I needed a replacement. I checked this out because it had features that I found interesting. The most important one for me is the stretched-out handle that can be used for minor adjustments. I like it because if I want to do a minute movement, I can use the handle to straighten out the pipe a bit instead of setting up the bender again.
The hand bender itself features a grooved hook that securely grips the pipe that I'm bending. This makes it easier for me to control the bend and avoid slipping, twisting, and rolling during operation. The enlarged footstep also allows me to add more force and leverage on the pipe, making the task much more manageable.
I really appreciate the raised and highly-visible markings cast on both sides of the head – it's very comfortable for me to check the pipe's angle no matter where I'm positioned. The included reference guide on the handle also makes it easy for me to double-check if the pipe plan has any errors.
One drawback to this item is that it's slightly more expensive than other benders. Nevertheless, I still think that its features more than make up for the difference, and the additional cost is well worth it.
Pros
Stretched-out bender handle can be used for minor adjustments
Grooved hook securely grips pipe to prevent slipping, twisting, and rolling
Enlarged footstep allows more force to be applied to the tool
Raised and highly-visible cast markings on both sides of the head
Included reference guide for counterchecking measurements of the pipe plan
Cons
Slightly more expensive compared to other pipe bender
This product is an excellent tool if you have a lot of projects. Its innovations like the grooved hook, enlarged footstep, and stretched-out handle are ideal for making your workflow more efficient, allowing you to accomplish more.
7. Greenlee 1810 Conduit Bender
One of the most challenging techniques to master is the offset bend. I know because it took me a while to get this right during my training years. And even if I've mastered it already, it still takes a little bit of time to execute – that's why I was interested when a friend showed me this offset bender.
This offset conduit bender machine does one thing, but it does it exceptionally well, reasonably easy, and lightning-fast. Just slide the pipe in the bender, turn the handle 180 degrees, and voila! You're done! This simple mechanical action consistently makes perfect offset bends in less than 5 seconds.
I love how this saves me a lot of time as compared with traditional benders. More than that, even the newest people that I train can now make the most demanding offset bends look as if they were done by seasoned professionals.
The tool itself is solidly built – I'm sure that it won't break even with the most rigid pipes that I need to bend. There's one drawback to it, though. It's freakishly expensive for a product that aims to do one task. But since it saves me a lot of time, I think the price is well worth it.
Pros
Bend offset pipes quickly and easily in a single move
Consistently makes perfect offset bends with every use
Saves time when creating offset bends as compared with traditional pipe benders
Makes professional bends even if the user doesn't have much experience
Solidly built and will last through many years and projects
Cons
Comes at a high price for doing only a single task
Although this device is pricey, I still believe it's an excellent purchase by allowing us to get things done faster and save time. That alone more than makes up for the vast price gap between this offset bender and other traditional benders.
8. Gardner Bender 962 Conduit Bender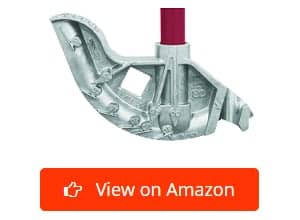 This large conduit bender is one of the tools that have lasted me through the years – this was gifted to me about a year into my apprenticeship, and I used it until I started my own company. It was a pretty robust bender that I knew I could rely on every project.
The main thing that I appreciated about this tool is its bigger hook and pedal. Compared with traditional benders, it is about five times more durable because of the added material. The larger pedal also allowed me to use it easily when I bought heavy construction boots. With other benders, my foot would have slipped already – but not on this one!
I also like its sight down arrows and conduit marks, which allow for precision bending. More than that, it would stand fully vertical at the industry standard bend of 30 degrees. I actually didn't need to check the markings a lot because of this nifty feature.
The built-in Vise-Mate conduit holder would also help with cutting and reaming pipes. It makes my job a lot easier when I need to customize EMT pipes' shape and length to fit the engineer's plans. It's just a shame that I have to buy the handle separately. It would've been more convenient if they had included it as one package already.
Pros
Robust bender with additional material that extends tool lifespan
Has a big hook
Larger pedal allows users wearing heavy boots to use the tool easily
Sight down arrows and marks for precision bending
Stands fully vertical at the industry standard 30 degrees
Built-in Vise-Mate conduit holder for cutting and reaming pipes
If you want to purchase a pipe bender that you won't need to replace in a long time, this item is for you. Its features cover all the basic needs any electrician would want without having to spend a considerable sum.
9. OTC 6515 Heavy Duty Bender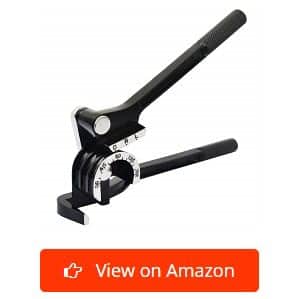 If you have many large projects which utilize different outer diameter tubes, this bender will cover many of your needs. It's a fixed-base tool that allows you to bend aluminum, steel, brass, and even copper pipes up to 180 degrees.
I love this tool because I don't need to have three different tools for bending pipes with ¼", 5/16", 3/8" outer diameters – the OTC bender handles all three sizes effortlessly. It also has clear markings, allowing the user to check the bending angle in a single glance.
This tool has made creating all bend types and angles a much easier task. Compared to traditional benders, it's so easy that even untrained personnel can use it. Furthermore, the manufacturer offers a lifetime limited warranty for this product. That way, I'm sure that if it breaks due to a defect, I can have it replaced quickly and easily.
My only concern about this is that the bending surface is painted. I fear that as I use this tool, it might leave a smudge on the pipe surface. However, it's nothing that a little sanding and polishing would fix, so it's a minor issue for me.
Pros
Fixed-base tool compatible with aluminum, steel, brass, and copper
Bends ¼", 5/16", and 3/8" outer diameter tubes up to 180 degrees
Clear markings allow for precise bending in a single glance
Much easier to use as compared against traditional pipe benders
Comes with a lifetime limited warranty
Cons
Painted bending surface might smudge pipe when used
This is one bending tool that I'll use to get many pipes bent in a short period. I recommend this for people who are working on large, multi-building projects which utilize different diameter pipes.
10. Greenlee 841AH Site Rite Hand Bender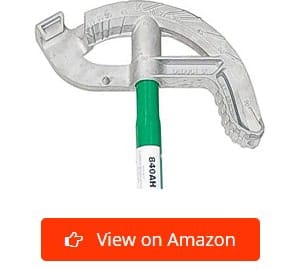 I have several buddies who recommended this Greenlee Hand Bender to me, so I checked it out in the store one time. I was impressed enough with what I saw that I included it in this list of best pipe benders.
What I like best about this is that its handle has a large grip area. This allows me to have better control over the tool and bend conduits with precision. Its rigid square hook grips the pipe so well that it avoids movement during operation and adds overall stability to the bender.
The head itself is made from cast aluminum, meaning it will withstand years of use and abuse. They also cast the angle markings on the head itself, making it easy to view the bending angle while I'm using it. They also incorporated a rather large foot pedal, allowing me to apply more force and increase leverage, making bending easier.
However, I do believe there was a batch of tools that had incorrectly stamped marks. This is because my other friends complained about wrong angles stamped on the head. You just have to be careful and check the one that you receive to see if it's the correct version or not.
Pros
Large handle grip area for better control
Rigid square hook grips pipe well for additional stability
Head design is made from cast aluminum to withstand years of use
Cast angle markings for easy checking of bending angle
Large foot pedal allowing more force and leverage to be applied
Cons
Some tools had incorrectly stamped marks
This is the tool that some of my friends swear by. Although there were some instances wherein they had issues with its markings, if the one that you have is correct, then you're good to go.
11. Ideal 74-028 Ductile Iron Bender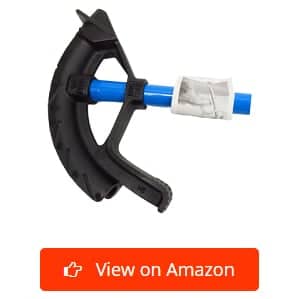 The 74-028 Ideal Conduit Bender is a hefty, solidly-built pipe bender. This is one of the tools that I considered when I wanted to upgrade my equipment set. It's made from ductile iron, making it a lot more robust than the aluminum cast versions. The bender has also been treated with heat and reinforced at pressure points, so you know it can last for years.
I like that it has high-precision degree scales, star arrows, and rim notches for precision work. They're raised from the surface and cast into the tool's head for excellent visibility and usefulness.
The step is serrated and the hook is deeply grooved – avoiding slipping and letting me apply maximum force with confidence when bending. Ideal also offers a lifetime replacement guarantee on this product. I admire and respect a company that stands behind its items' quality, and it makes me more likely to purchase from them.
The only drawback for such a robust product is that it's heavier than the previous manual pipe benders that I used. However, that is the price we pay for having a stronger bending tool.
Pros
Made from ductile iron for extra strength
Treated with heat and reinforced at pressure points, so it's usable for a long time
Comes with high-precision degree scales, star arrows, and rim notch settings
Marks are raised from the tool surface and cast for easy visibility
Deeply grooved hook and serrated step
Lifetime replacement guarantee by Ideal
Cons
Heavier as compared against other pipe benders
I would recommend this if you want something hefty and durable and don't mind the additional weight. This is excellent for those who are looking for extra heavy-duty tools from a trusted brand.
12. Milwaukee 48-22-4080 Conduit Bender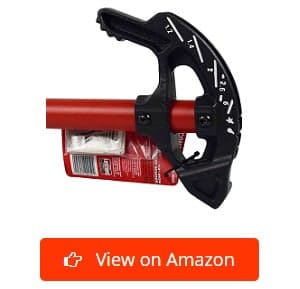 I added this Milwaukee Conduit Bender review to my list because of its head material and other various features. I actually find the wear-resistant chart right on the handle easy to use for reference. I no longer have to go pull out the notecards in my gear when counterchecking the plans provided – I just need to look at the handle to confirm.
When I'm bending conduit pipes, the high-contrast marking on the tool makes it easy for me to read what angle I'm at. I no longer have to bend over or squint just to see if I'm at my desired angle, allowing me to work much faster.
I also like how they used a secure double-bolt to make sure the handle won't come loose over time. This is my issue with some other heads which use a screw-in handle – the threads would get damaged from repeated use, and I'd have to replace the head.
It also uses a reinforced hook and pedal, so I can apply as much force and leverage as I need to get the task done. Furthermore, the heavy-duty iron used for its head ensures that it won't break even when I'm bending the hardest pipes.
The main drawback of this design, of course, is the cost. It's more expensive than other materials, but if it will last you more than a lifetime, that I suppose the investment is well worth it.
Pros
Comes with a wear-resistant chart on the handle for easy reference
High-contrast markings on the tool make it easier to read the current bend angle
Secure double-bolted handle won't come loose over time
Reinforced hook and pedal allows the application of the needed force and leverage
Heavy-duty iron head won't break even with the hardest pipes
Cons
Much more expensive than other hand benders
I would recommend this bender for those who value high-quality items. It's expensive, but its added strength means that this should last longer than the other benders we're used to.
What to Look for When Buying a Conduit Bender
When you are using a conduit bender, you want to make sure that it precisely fits the conduit type you're working with. Not all conduit benders work with the different conduit materials and diameters available, so you must ensure that what you need is covered.
Conduit Material
There are eight primary electrical conduit materials on the market – Rigid Metal Conduit (RMC/Rigid), Intermediate Metal Conduit (IMC), Electrical Metal Tubing (EMT), Electrical Nonmetallic Tubing (ENT), Flexible Metal Conduit (FMC), Liquid-Tight Flexible Metal Conduit (LFMC), and Rigid Polyvinyl Chloride (Rigid PVC) pipes.
Obviously, you won't need to use this tool for flexible and plastic pipes. You only use benders on RMCs, IMCs, and EMTs. You have to know that these three come with different wall thicknesses and pipe strengths. If you use an EMT bender on an RMC, there's a chance that you might break the tool.
What I would recommend is that you invest in the hand benders that are designed for RMCs. Although they may be a bit more expensive, you can use them on all three metallic conduits.
Conduit Outer Diameter
You also have to use a proper-diameter tool when bending pipes. This is because if you use a larger bender on a smaller tube, there's a chance that it could ripple and damage the line. This is no good because the conduits protect the electrical system from moisture and other damage. If the pipe itself is damaged, then this protection will be negated.
Working Conditions
There are two conduit benders that I've seen – the portable and the fixed-base one. If you have your own space to work at, I highly recommend the fixed-base benders because they're much more stable and can give you more accurate bends.
However, if you work on-site a lot, then the portable hand bender is your obvious choice. You don't want to be lugging around a heavy item, setting it up at the start of the workday, and then packing it up again when it's time to leave. Conduit bender storage will also be a problem in your job site if your tool is bulky.
Specialized Benders
There are specialized mechanical benders in the market for the different types of bends that you can do. An example of this is the box offset bender that I've reviewed earlier. There are also machines for saddle bends and other supporting tools. While they're a bit pricey for their function, they are beneficial for quickly and easily making these complicated bends.
If you work on big projects which require these kinds of bends done multiple times – like when you're working on a housing project with the same plans – then these kinds of tools would be an excellent investment for you.
Other Important Factors to Consider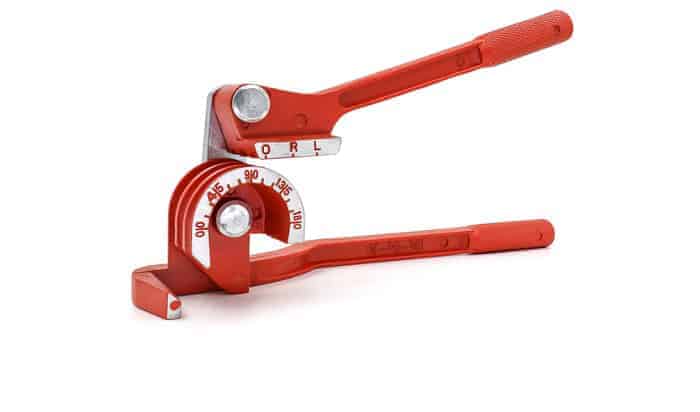 Here are the other things that you should know before purchasing a conduit bender:
What is a Conduit Bender?
A conduit bender is a tool that is designed to bend electrical pipes for installation. While there may be elbows available for use to navigate corners, they're usually large and won't accommodate the bends needed for smaller circuits.
Conduits are designed to protect electrical cables from environmental exposure – reducing the risk of an electrical fire. That is why conduit benders are required so that when pipes are being bent, they won't get damaged, which could let the elements in.
Who is a Conduit Bender for?
Most of their users are professional electricians and contractors. Although DIYers can also use this tool, I highly recommend getting a licensed professional to look over and check your work. Electrical systems must be checked thoroughly for the safety of your structure.
How Does It Work?
Manual conduit benders are pretty simple to use. They basically act as guides and leverage points for the user when they're bending pipes. Some benders use levers to help get the job done, but the concept is the same – the application of force on the tube to bend it at the proper angle.
What are the Different Types of Conduit Benders?
The primary difference between conduit benders would be the designed strength of the head. Since RMCs, IMCs, and EMTs have different thickness and hardness, the conduit benders must be strengthened for the material they're designed to bend.
If you're working primarily indoors, then get an EMT conduit bender, but if you're also working on outdoor systems, an RMC or IMC Conduit Bender might be a better option for you.
Another type of conduit bender would be the general use and specialized tools. General hand benders typically let you bend any pipe to whatever angle and shape you desire – but specialized benders usually do one single type of bend.
Finally, there's the portable hand bender and the fixed-base bender. The hand bender can be used anywhere and is easy to load in a truck and pack up, but requires additional effort to use. On the other hand, fixed-base benders can't just be moved – but you can bend harder pipes with less force on these machines.
Why Do You Need a Conduit Bender?
As professionals, we take pride in our work being done correctly and with no blemishes and damage. The conduit bender allows us to do just that. We don't want to turn in electrical systems with ripples and damage at every corner. Not only will it look unsightly, but it could potentially be a hazard to the overall structure.
Frequently Asked Questions
These are my tips and answers to the most common questions my friends, employees, and trainees ask me about benders:
What are the Most Trusted Conduit Bender Brands?
In the years that I've worked as an apprentice, as a licensed electrician, and finally, as a master electrician, I've used the Gardner Bender for much of the time. But since I started my own contracting company, I've also added Ideal products to my kit.
These two brands are the ones that I work with a lot – although the other brands that I've mentioned have also worked well for my buddies.
What is the Star on a Conduit Bender?
The star on the conduit bender indicates the back of a 90-degree angle. This is used primarily for back-to-back bends so that both angles would line up perfectly.
How Do You Bend a Plastic Conduit Without a Bender?
To bend a plastic pipe, you need to heat up the area you intend to make the bend. I recommend using a hairdryer to make the conduit pliable – never use an open fire as it will damage the pipe.
Once the pipe is softened enough, apply pressure, and mold the conduit to your desired shape. Once done, remove the dryer and cool the tube. It should hold its shape.
Remember, do it slowly while applying slight pressure only. Don't force it as you could break the tube if you do so.
How Do You Bend a ½-Inch Conduit without a Bender?
There are three steps to this procedure. However, I don't recommend doing this unless it's an emergency – and only for temporary use. It's still best to have a properly bent conduit using a bender for permanent solutions.
The first thing you should do is to fill the pipe with sand. You can use a small bolt to plug it at the end and then fill up the line to the other end's brim. This is to ensure that ripples will not form at the bending point of the tube.
Afterward, clamp the conduit on a rounded surface with the radius of the bend you want to make. Secure it tightly so that it won't slip – it's ok to deform the end where it's clamped; we will remove it later.
Once it's secure, apply force and bend the conduit. If you're happy with the bend, you can remove the clamp. Just clear up the sand from inside the pipe, saw off the deformed part, and you now have a bent tube.
How Do You Use a Perfect Conduit Bender?
There are many different ways to perfectly use a conduit bender. But here is the basic conduit bending knowledge that you should know:
You should have a solid surface to work on. Make sure that you or the pipe wouldn't slip when you are applying force to avoid accidents.
You must also mark the bending position beforehand so that you make accurate bends. Also, double-check the angle required. It is difficult, if not impossible, to straighten out a bent pipe and then bending it again. It could also compromise the strength of the conduit if you were to do that.
When bending, always do it slowly but surely. Try to maintain control of the tool for precise angles.
There are several other techniques for bending, but they vary depending on the angle and form required. I recommend that you watch video tutorials to see how they're done. Better yet, ask a local professional to guide you as these techniques can become complicated if you don't know what you're doing.
Where Can I Buy a Conduit Bender?
These benders should be readily available at your nearest hardware store. You can purchase directly at the physical branch or online. They're also available on eCommerce websites, though I'm a bit warier when buying from these services.
If you're a licensed professional or have a company of your own, some equipment manufacturers send out sales representatives that promote and let you test their products. That could be a better choice, especially if the representative is proactive with your needs as a customer.
Conclusion
I cannot say that there is one single best conduit bender out there. It all depends on your need, location, purpose, application, and many other factors. Despite this, the items that I've recommended above would usually do the job.
The most important thing is that you should figure out what you need, what is essential, and what is available to you, and then you make your choice. With the information that I've shared, I'm confident that you can make the best decision for you and your business.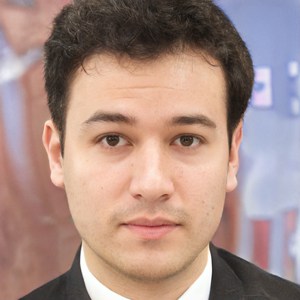 I am Edwin Jones, in charge of designing content for Galvinpower. I aspire to use my experiences in marketing to create reliable and necessary information to help our readers. It has been fun to work with Andrew and apply his incredible knowledge to our content.