If you have an alternative power source, aside from your grid connection, you need to manually switch your circuits when you're changing your electrical supply. This is inconvenient and time-consuming, especially when you suddenly lose power and are working on a critical task.
The automatic power transfer switch is an excellent solution to this problem. This device is designed to immediately switch between power supplies in case of an interruption. The little to no downtime between switching means you won't lose power even if your primary source fails.
To help you choose the best automatic transfer switch, I will review 12 automatic power transfer switches I've worked with as a professional electrician.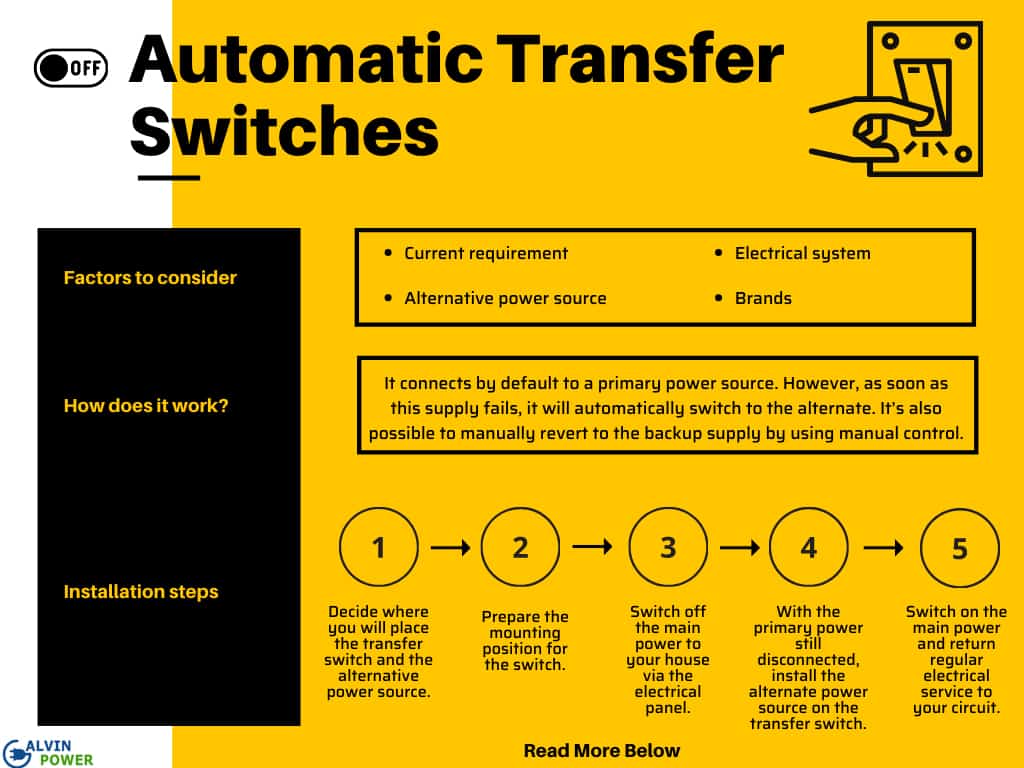 Best Automatic Transfer Switch Reviews
1. Go Power! TS-30 Automatic Transfer Switch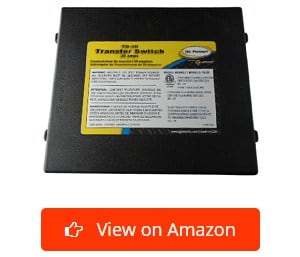 I like how the Go Power! Automatic Transfer Switch is simple to install. It has built-in knockouts for easy and professional configuration, allowing for uncomplicated wiring in the panel. They also included instructions, so even DIYers can install it with guidance from their neighborhood electrician.
Another impressive feature about this is its instantaneous switchover. I purposely cut-off my primary power source, and it immediately went to my backup. During the transition, my laptop still ran smoothly; I didn't even get disconnected from the computer!
It also serves as an automatic transfer switch for generator, inverters, or shore power, making it a multipurpose device. The unit has a 30-amp switch automatically connecting shore power to your breaker panel. This system prevents damage to your onboard inverter by isolating it when the system is connected to an AC source.
My only complaint about it is its inaccurate wiring diagram. Although it serves as a guide, it doesn't simplify the entire installation process. I had to compare this with the more expensive pre-wired model on their website, which has a more precise diagram.
Pros
Built-in knockouts for professional configuration and uncomplicated wiring
Included instructions allow DIYers to install this with minimal guidance
Instantaneous operation means no power loss while switching
Multipurpose and can be used with generators, inverters, or for shore power
Protects your inverter by isolating it when connected to an AC source
Cons
Inaccurate wiring diagram requires additional research to ensure correct wiring
I am impressed with how flawless the TS-30 30 automatic transfer switch operates. Although its included diagram could use some improvement, overall, it's an excellent product which I will surely recommend to clients and colleagues.
2. Xantrex 8080915 Auto Transfer Switch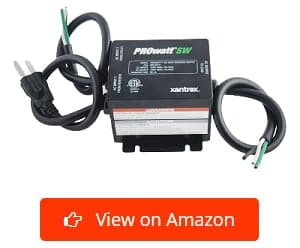 The Xantrex automatic transfer switch is a compact, foolproof, and well-labeled device, making it easy to operate by anyone. It's commonly used for structures powered both by solar and grid sources. When the primary source loses power, the transfer switch automatically moves to the alternate quickly.
In line with that, I did not encounter any disruption with the electricity as there is a smooth flow when switching from source to source. It's perfect for ensuring I don't lose data and internet connection when I go from grid to solar power during the day.
Furthermore, it comes with a power plug for a direct connection to the inverter GFCI and a hardwire cord for the AC interface. The power plug would make it easy to switch your alternate source on the fly; no special tools are needed.
However, you might need to consider strategizing your layout during configuration since its included power plug is a bit short. I suggest mounting the generator transfer switch installation next to the outlet you're plugging into.
Pros
Compact, foolproof, and well-labeled unit
Most suitable for building utilizing both solar and power grid sources
No electrical disruption when switching from source to source
Comes with a hardwire AC connection and power plug for connecting to alternate power
Allows for hot-swapping alternate power sources with no special tools
Cons
Short power plug requires foresight when installing the product.
I recommend this product, especially if you're reliant on solar panels and other alternative energy sources. Despite its short wiring, I certainly think this transfer switch is perfectly efficient.
3. Progressive Dynamics PD52V Automatic Transfer Switch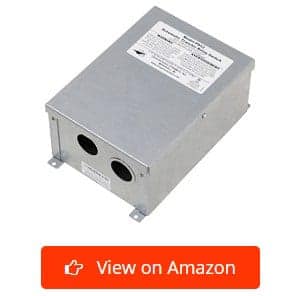 If you need to install a generator automatic transfer switch in your garage or other more exposed spaces, this rugged and heavy-duty product is the one you're looking for. Aside from handling harsher conditions, it also has a time-delay feature that allows the voltage to stabilize before transferring power over.
The Progressive Dynamics PD52V features automatic current detection, cutting off the primary source if it detects a current from the alternate to prevent accidental overloading. Its 50-amp, 240-volt AC capacity also ensures that it can support the load of most homes and light industrial applications.
To help you save time installing and servicing this product, the manufacturer included easy access front panels with built-in schematics. So whether you're using this for the first time or checking it ten years later, you're confident that there's a guide inside – no need for you to scrounge for manuals and diagrams.
My only qualm about this company is that they're difficult to contact. I don't receive replies to the inquiries I send them, so I had to rely on my colleague who has experience working with this when I wanted to confirm something. Nevertheless, once installed, this transfer switch won't give you any issues.
Pros
Rugged and heavy-duty build, perfect for light industrial and garage installations
Time-delay feature ensures stable generator voltage before transferring power
Automatic current detection from alternate power source prevents accidental overloading
50-amp, 240-volt AC capacity
Easy access panels with built-in schematics make it easy to install and service
Cons
Difficult after-sales support, whether via phone or email
I really like this switch when I have to work with generators which require some time to stabilize. And even if they don't have excellent after-sales support, I wouldn't need it once I've installed the item.
4. Spartan Power TS5500PLUS Automatic Transfer Switch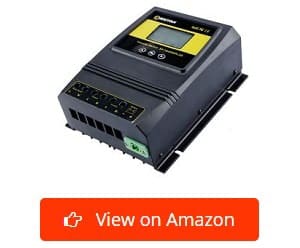 The Spartan Power automatic transfer switch, known as The Original Transfer Switch, is excellent for off-grid alternative power systems. Its LCD control panel allows the user to customize cut-off and recovery voltage points. Aside from switching power sources, this system also enables automatic control of your battery bank.
It has a 50-amp dual-power transfer capacity, making it more than capable of handling a home's typical load. This allows for the smooth flow of power between the inverter and AC mains when switching, minimizing voltage fluctuation. You can be sure that you'll experience no power interruption with this device.
The competitive pricing of this transfer switch makes it one of the best in the market. That, plus its included two-year warranty, makes this a truly excellent value product. No other manufacturer offers this guarantee at this cost. Even if it's an affordable product, the provided warranty gives me peace of mind.
One downside is that it doesn't include installation wiring. You have to purchase them separately. Be careful because the wires should handle the current designed for this item. Nevertheless, if you already have existing cables, then that's an extra amount you save.
Pros
The Original Transfer Switch is perfect for alternative off-grid power systems
Cut-off and recovery voltage point customization is possible
50-amp dual-power transfer capacity
Competitive pricing gives it an excellent value of other similar items
Two-year manufacturer's warranty ensures product longevity
Cons
No wires included, must be bought separately
This easy-to-use automatic transfer switch for generators works well for me. Although it doesn't include any wires in the package, its performance more than makes up for it.
5. Gaeyaele W2T-3P Automatic Transfer Switch
If you need to ensure a continuous power supply as soon as your primary source loses electrical power, I recommend this whole house transfer switch. It's specifically created for households that use PZ30 power boxes and other orbit-type installations.
I like this because of its flexibility. Its maximum capacity of 400 volts at 60 amps, and compatibility with both 50 and 60 Hz cycles, ensure that I can use it anywhere in the world. I have no fear that this switch will fail because of incompatibility with any system, as it's designed to work on any electrical system.
The W2T-3P switch is small and compact, allowing it to fit inside the power switchboard directly. It would cleanly fit among the controls inside, making it an integral part of the system. Furthermore, the device's modular design makes it straightforward to install and takes no effort to clean and maintain.
However, it doesn't automatically return from the alternate to the primary source once the power returns to normal. You'll have to switch back manually, which can be a problem, especially when you have to leave the premises while still on your alternative power source.
Pros
Reliably ensures continuous power supply safely when your primary source fails
Designed for PZ30 power boxes and other orbit-type installations
Suitable for up to 400 volts AC and 60 amps/ 50 and 60 Hz electricity sources
Compact build allows it to be fitted inside the power switchboard directly
Convenient installation and maintenance saves time and effort
Cons
Only automatically switches to alternate from the primary power source
If you're looking for a clean, sleek design to fit your PZ30 power box, this is the perfect match to install. You just have to monitor the primary source when it resumes, as this doesn't automatically switch back.
6. Tuqi GCQ2-63A/2P Automatic Transfer Switch
This generator ATS is designed to restore backup power in your home system within 2 seconds of losing a current from your primary connection. This gives your generator enough time to stabilize its output so that you get a consistent voltage in your system once the alternative source kicks in.
This unit comes with a built-in short circuit, overload, under volt, and out-of-phase protection to prevent your electronics from being damaged during the switchover phase. Furthermore, it can handle currents from 6 up to 63 amps, ensuring that you can work with your regular load despite running on backup power.
What I like best about this switch is its built-in status and indicator lights. That way, I can ensure my automatic backup system readiness, even if I haven't tested it in a while. The company also has excellent customer service, responding within hours to my inquiry.
The only issue with this item is that the included manual is somewhat confusing. I'm already an experienced electrician, and there are still parts that I don't understand. Good thing their after-sales service answered my query quickly, allowing me to work with no delay.
Pros
Switches to the backup power in only 2 seconds
Comes with short circuit, overload, under volt, and out-of-phase protection
Designed to handle 6 amps to 63 amps of load
Built-in indicator light displays show system status and readiness
Excellent customer service response
Cons
The manual might be confusing
I recommend this automatic transfer switch if you want one with complete protection while restoring power.
7. Technology Research 41300 Automatic Transfer Switch
If you're looking for a 30 amp transfer switch for portable generators, this is a good option. It's a generator-dominant device, meaning it will automatically switch over to your backup power once it detects a current. This is perfect because you no longer have to do manual switching, which can be difficult in the dark.
It utilizes a 30-second delay for added safety before allowing the generator to current to power your circuits. This ensures that the alternate source has a stable voltage to prevent damage to your electrical equipment. And once you shut-off your backup power source, the system will automatically revert to default power in as little as 3 seconds.
This is one of the simplest devices to install in the market. It has clearly labeled ports and is basically a plug-and-play device. It's also one of the more affordable options in the market, so you don't need to burn a hole in your pocket just to get an automated switch.
Just a reminder: working with electricity can be dangerous, so if you're not sure, it's best to call a professional.
One problem that I encountered with this, though, is that its plastic body can be damaged if you screw it in too tightly. It happened to me the first time I used it, so I remember to be careful with my tools whenever I'm working with this product.
Pros
Generator-dominant automatic transfer switch
30-second delay before connecting the circuit
Automatically restores primary electricity source once the backup is switched off
Plug-and-play installation, with clear labels for both input and output ports
One of the more affordable transfer switches in the market
Cons
Plastic body might break if placement screws are too tight
If you want something simple and easy to install, then I recommend this automatic switch.
8. Surge Guard 40100 Automatic Transfer Switch
If you need an automatic transfer switch for portable generators, the Surge Guard 40100 is a good solution.
It's specifically designed for RV and other mobile applications; that's why it sports mechanical interlocking connectors. This ensures secure physical contact between circuits and helps prevent vibration from loosening any connection.
The 50-amp capacity of this transfer switch means that it's more than enough to cover most applications. You don't have to worry about overloading your system with your typical hotel load. It's also operationally quiet, with only one snapping sound when switching sources, making it suitable for enclosed spaces.
As soon as you shut off your generator, the switch will automatically return to the primary source, saving you time and effort when deploying and connecting to the campground or shore power. All these features make it ideally suitable for those who are always on the road.
My only complaint about this is that it takes over 45 seconds to switch to backup when I turn on my alternate power source. I think it's a bit too long because my previous automatic switches would usually switch over in under 30 seconds. I believe that is more than enough time for the generator voltage to stabilize.
Pros
Designed for RV and other mobile applications
Mechanical interlocking connectors for added safety and no loose connection
50-amp capacity ensures enough current supply for most common applications
Quiet operation ensures limited to no disturbance to the immediate environment
Immediately returns to the primary power source as soon as the generator is off
Cons
Takes over 45 seconds to connect to backup power
I highly recommend this transfer switch if you're into the RV and van lifestyle. It's perfect for automatically switching between the fixed and mobile power sources, allowing you to save time and effort when setting and packing up.
9. Generac RXSC100A3 Smart Transfer Switch
The RXSC100A3 is made by one of the best and most established automatic transfer switch manufacturers worldwide.
They created this heavy-duty device, which comes with a NEMA/UL Type 3R enclosure, to be installed externally. It will withstand rain, snow, and sleet. It can also cope with both the cold winter temperatures and the hot summer months.
And despite its rugged build, it's easy to install via the utility meter, reducing complexity and saving you money on man-hours. It also has integrated control board fuses to ensure it will retain its safety and reliability, even if its external case has been breached.
This fully automated system handles everything, including timing the switch, sensing primary and alternate source voltages, and transferring connections as required. No human intervention is needed. Furthermore, it is designed to work with Generac's Smart Management modules for further upgrades, as recommended.
However, all these features come at a higher price. It would put a big dent in your budget if you go with the option, but if you're protecting expensive equipment, this investment is worth it.
Pros
Heavy-duty device with NEMA/UL type 3R enclosure allows it to withstand exposure
Easy installation via the utility meter reduces complexity and saves on man-hours
Integrated control board fuses for increased safety and reliability
Fully automated system handles timing, sensing, and transfer with no required intervention
Works in tandem with Generac Smart Management modules for further upgrades
Cons
One of the expensive options available in the market
This is one of the best options you have for an automatic transfer switch. Just be prepared to shell out a significant amount as this is an expensive investment.
10. Samlex STS-30 Automatic Transfer Switch
If you need a whole house transfer switch for portable generators that will cover most small to medium homes, this is the option for you. The STS-30 has a 30-amp capacity of 120 volts, making it suitable for most residential projects. It also includes a 15-amp NEMA 5-15R power cord, so you could connect it to various portable generators.
The interior relay switch responsible for the power source transfer utilizes heavy-duty Double Pole Double Throw (DPDT) technology for reliability. No matter how many times you use this transfer switch per year, you are guaranteed that it will work as needed.
Another advantage this device has is its flexible installation options. You can place it near the mainline if you want to cover your entire electrical circuit. Alternatively, you can install it in a subcircuit if you only want to protect a specific section, like a computer room.
It's also compatible with generators, inverters, and battery banks, so no matter what your alternative source is, it will work.
However, I recommend that you have a professional install this. It's not intuitive to assemble into your electrical circuit, and you must carefully follow the instructions for it to work. Furthermore, working with currents and voltages like this can be dangerous, so don't do it if you're not sure!
Pros
30-amp capacity at 120 volts AC, suitable for most small to medium homes
The 15-amp NEMA 5-15R is compatible with various portable generators
Utilizes heavy-duty Double Pole Double Throw (DPDT) relay switch for reliability
Can be installed on both the mainline circuit or dedicated subcircuits as required
Compatible with both generators, inverters, and battery banks
Cons
Not intuitive to use, instructions must be carefully followed to operate properly
This is perfect for small to medium households which use portable generators or other power sources as their alternate. Just be sure to tap a professional to install this correctly.
11. Technology Research 40100 Automatic Transfer Switch
The 40100 automatic transfer switch is solidly built, giving you assurance of quality and durability. Just holding the item makes me feel that it will last me through the years. Furthermore, it has a built-in surge guard, which protects my circuits from unstable primary sources.
Its mechanical interlocking contacts ensure that you have a secure connection, no matter how much traveling you do. This prevents the slight vibrations from loosening inside, thus causing heat and inefficiencies in your electrical system.
A 30-second delay is in-built in the system when switching to generator power. This ensures that you have a stable voltage before it distributes power in the circuit, thereby preventing your electrical appliances' potential damage. It will automatically switch to primary power as soon as you switch off the alternate power source.
The only downside to this item is that it only has two inputs. Although that may be enough for RVs installed with a generator, it's not compatible with more modern setups, which also have solar arrays, aside from the regular generator and shore power sources.
Pros
Solid built gives assurance of quality and durability
Built-in surge guard protects your circuits from unstable primary power sources
Mechanical interlocking contacts ensure no loose connection over time
30-second delay assures stable generator voltage before distributing power
Automatically activates shore power upon generator shut down
Cons
Only two power source inputs, not compatible for RVs with modern setups
This is a good option if you want an automatic switch that will also protect your circuit from unreliable primary power sources. Just be mindful that it's not compatible with systems that have more than two sources.
12. Yister W2R-2P Automatic Transfer Switch
If you're looking for automatic generator transfer switches that will work anywhere, you should consider the W2R-2P ATS.
This device is rated for up to 400 V and is compatible with both 50 and 60 Hz cycles, meaning you can use it practically worldwide. It also features a massic 100-amp capacity, ensuring it will not overload with most households.
It connects instantaneously to the backup power supply once it senses losing power in the primary connection. This reaction time of fewer than 0.3 seconds ensures that you will not lose electricity in your building, keeping your computers and other powered devices from data loss.
The switch itself is designed to be compact and reliable, allowing you to install it cleanly in your supply box. It becomes a natural part of the breaker box, especially for PZ30 power distribution centers and other orbit-type installations, as it is specifically designed for them.
It's just a shame that I cannot use this for the more traditional power boxes because of this design. It would have made a perfect addition to older households who are upgrading to alternative power sources. However, you have to completely upgrade their electrical system to do that.
Pros
Rated up to 400 V for both 50 to 60 Hz cycles, thus compatible worldwide
Massive 100 A capacity – more than enough for medium to large structures
Instant connection to the backup source when your primary power fails
Compact and reliable build allows you to install it cleanly inside your power box
Designed for PZ30 power distribution centers and other orbit-type installations
Cons
Not compatible with traditional power boxes
This is a perfect addition for newer systems, allowing you to not lose power with near-instantaneous switching. However, it's not compatible with traditional power boxes.
What to Look for When Buying an Automatic Transfer Switch
The first thing to consider when buying the best automatic transfer switch is your current requirement. If the ATS you purchased does not have the required capacity, you might end up damaging it and losing power. Be sure that its rating matches your main breaker for compatibility.
Afterward, you also have to consider your alternative power source. If you're using a generator, you might want to use a switch with some time delay to allow your voltage to stabilize. But if you're using an inverter, then an instantaneous ATS would be advantageous to avoid power loss.
Also, consider your system. Some transfer switches only work with a specific powerbox model, while others are designed for mobile use. It's best to purchase one that's specifically designed for your purpose so that you maximize its efficiency.
Finally, consider the brand you purchase. Some products, like the Reliance Transfer Switch, are well-known for quality products. Even though they're a bit pricier, their reliability is what you're paying for. It's best to check feedback from professionals and actual users for you to gauge the model best for you.
How Does an Automatic Transfer Switch Work
An automatic transfer switch typically uses a microprocessor to continuously monitor electrical signals. It measures parameters like voltage and frequency to ensure that the incoming supply is stable and adequate to power the circuit downstream.
It connects by default to a primary power source. However, as soon as this supply fails, it will automatically switch to the alternate. It's also possible to manually revert to the backup supply by using manual control.
Some transfer switches transfer power instantaneously, while others wait up to 30 seconds before connecting to the secondary supply. This depends on your backup source, be it a generator or an inverter.
Typically, generators require a few seconds to stabilize their output; that's why the ATS has a time delay. But if you're using an inverter source, the transfer is usually instant because of the inverter's stable nature.
How to Install an Automatic Transfer Switch
ATS installation depends on the circuit you're working on and the design of the switch itself. Most products come with a diagram, so it's best to follow the included instructions.
If you're unsure, the best solution is to contact a licensed electrician. Working with electricity requires knowledge and experience. An incorrect installation could cause the system to not work, or worse, damage your circuit and home.
However, the basic concept is as follows:
First, decide where you will place the transfer switch and the alternative power source. You also need to prepare the materials, supplies, and cables required for the installation. List them down and then finalize the required electrical diagram. This allows you to acquire everything you need before you even start working.
Once done, prepare the mounting position for the switch. Ensure that the area is clean and free from obstructions. Securely mount the transfer switch. Once installed, check it for security by tugging at it lightly. It shouldn't budge, even slightly. If it does move, check your screws and tighten them as necessary.
Switch off the main power to your house via the electrical panel. Test the circuit and ensure that the entire system is de-energized before working on it. Once you're sure that it's safe, connect the ATS to the primary power source and to your electrical circuit by following the diagram or instructions included with the switch.
Afterward, with the primary power still disconnected, install the alternate power source on the transfer switch. Once done, test the system by running your alternate source with the primary electric source still disconnected. If properly installed, your electrical circuit should now receive power from your backup.
When you've confirmed that the system works, you are now free to switch on the main power and return regular electrical service to your circuit. You can test the system again by keeping the alternative energy switched on and then switching off your primary electrical source. The ATS should automatically divert to the alternate electrical supply when that happens.
Are Automatic Transfer Switches Legal
If your home or structure utilizes a whole house generator, the National Electric Code requires you to have a transfer switch. However, it doesn't oblige homeowners to use automatic devices. Manual transfer switches are enough to satisfy the law.
However, automatic transfer switches have one significant advantage over manual ones. You don't need to fumble in the dark just to use your backup power. All you have to do is turn on your generator or inverter, and you'll have power return in your system.
This will save you a lot of time and effort, and could even potentially keep you from accidentally stumbling in the dark. It's also a crucial addition to your electrical system if you have sensitive electronics in your circuit, like computers. This addition is an investment that will keep your system safe and secure.
Conclusion
Just having a generator is not enough. If you're relying on continuous power for your systems, or want to increase the safety of your home, an automatic transfer switch is an essential part of your electrical circuit.
For you to have a reliable electrical system, you should have the best automatic transfer switch installed. So should you need to switch to your backup power source, there will only be limited to no electrical outage.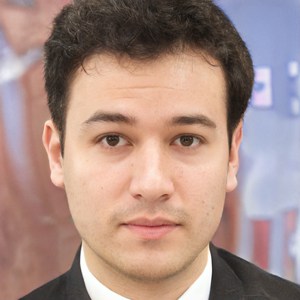 I am Edwin Jones, in charge of designing content for Galvinpower. I aspire to use my experiences in marketing to create reliable and necessary information to help our readers. It has been fun to work with Andrew and apply his incredible knowledge to our content.