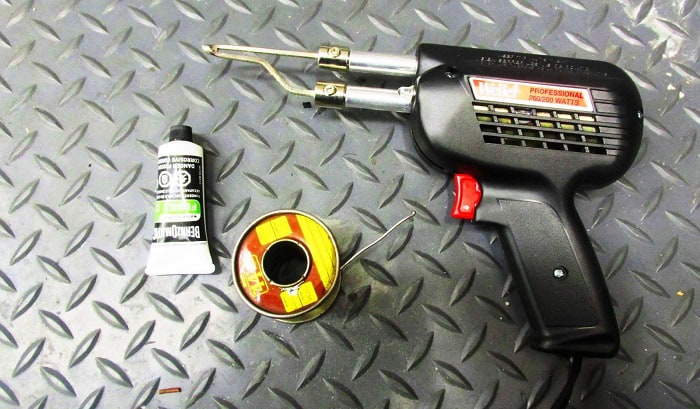 Using the best soldering gun is much easier, safer, and comfortable than using a pen-type soldering iron. It has a gun shape design and a pistol grip that gives me an ergonomic feeling and provides less fatigue when holding it. Furthermore, some of the soldering guns have a solder feeder, making it a one-hand feature.
A soldering gun has a max temperature that is much higher than a soldering iron. Aside from this advantage, there are many more differences. I'll discuss these more in-depth below as I review and compare the soldering guns I've used before or are currently using.
However, consider these three main things to help you find the best-fit solder gun for electronics work.
Temperature settings: Not all soldering guns have an adjustable temperature So if this is crucial for my work, I'll look for this feature. After all, not all high-temperature soldering guns are suitable for all kinds of work. Sometimes, the maximum temperature of a soldering gun can damage electronic components, so they're only ideal for soldering cables and wires.
Power Output Control Features: Aside from the adjustable temperature range, the power control feature is also essential for most users. This feature allows me to control the watt output of your device, giving me better temperature control. It also puts the soldering gun into a low-temperature setting while on standby mode, thus saving power. Also, some units have two trigger positions that set the soldering gun in low power for the first click and max power for the second click.
Availability of Tips: A replaceable iron tip is one of the essential features that I look for in most soldering guns. That's why I prefer soldering guns with an easily replaceable tip. Some models only accept replacement tips from a specific brand, making it harder to find and end up costing you more.
In contrast, other soldering guns use the same tip type, allowing me to use any brand for my soldering gun.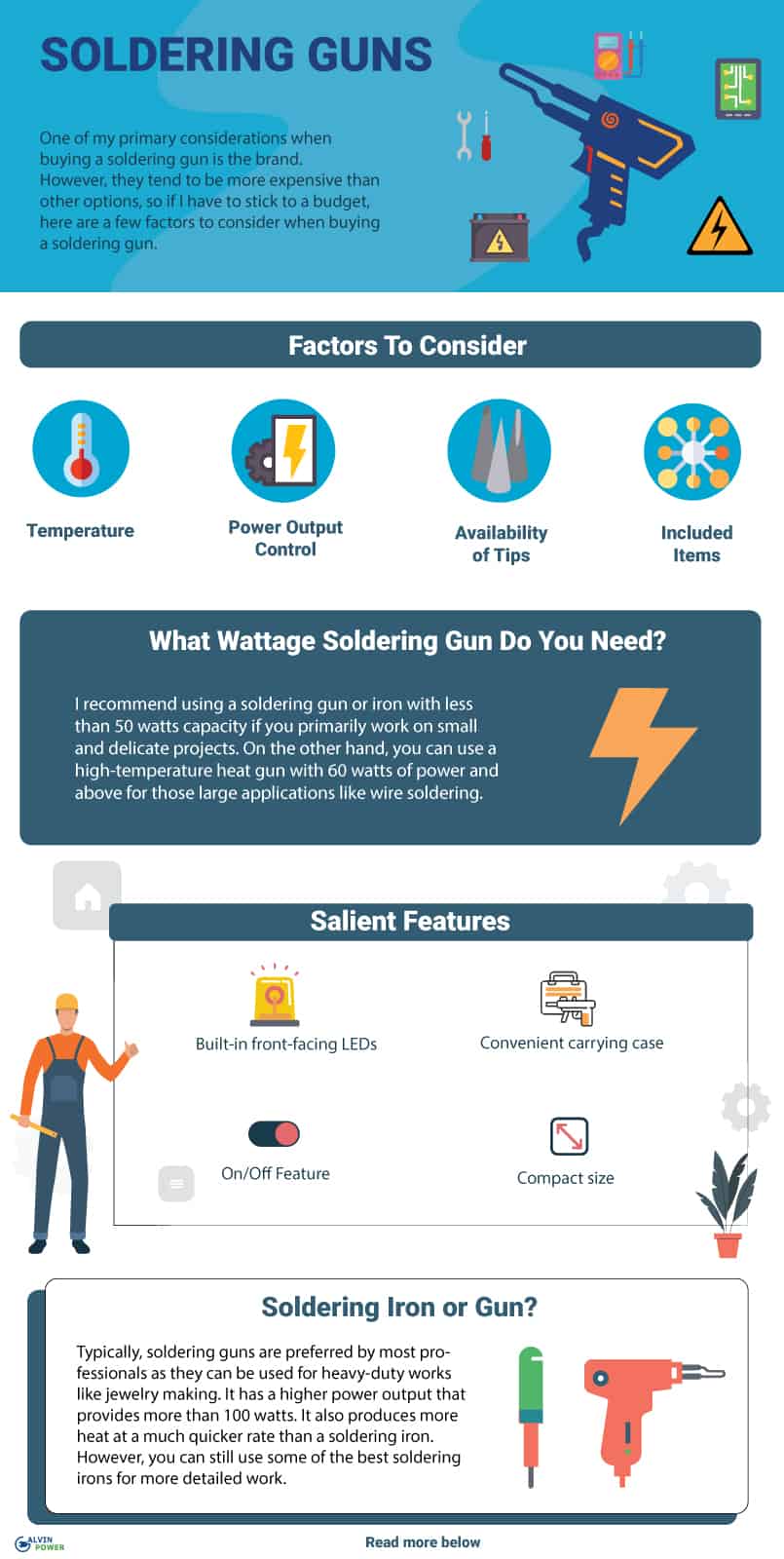 Top 10 Soldering Gun Reviews
1. Weller D550PK Professional Soldering Gun
For those looking for an efficient soldering gun to save more electricity, the Weller D550PK is an excellent choice. It has a quick heating feature that helps me get started with my work almost instantly.
This soldering gun uses a fingertip trigger that lets me choose between high and low power settings. I don't have to fiddle with rotary knobs or switches to get the right heat level for my application.
I also like how they designed this soldering gun with two front-facing LED lights. I can see my work clearly through the illumination these bulbs bring. Plus, these LED lights indicate that this soldering gun is currently turned on and ready to use.
I appreciate that this soldering gun comes with a durable blow-molded case for storage and transport. It also includes two other soldering iron tips to give me a more professional finish.
However, as a professional, I sometimes encounter jobs that need more hand-in applications. I wish they added an automatic solder spreader feature so I can solder using one hand—with my other hand used for supporting the item I'm working on.
Pros
Features fast heat-up, allowing me to start soldering in only six seconds
Fingertip trigger switch to change between 260 and 200-watt power settings
With built-in front-facing LEDs to light up work
Comes with a blow-molded convenient carry case for storage and transport
Includes two additional soldering tips included in the soldering kit
Cons
No automatic solder spreader feature
I recommend the Weller D550PK for those looking for an efficient soldering gun. This set can be used quickly as it has a fast heat feature, and its efficiency will help save more electricity.
2. NEWACALOX Automatic Electronics Solder Iron Gun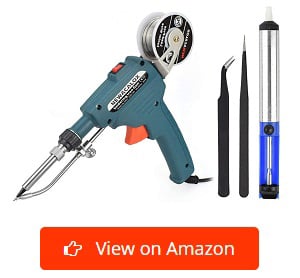 Most of my professional work requires an extra pair of hands when soldering. This is because I need to hold the soldering gun and the electronics I'm working on while my assistant has the soldering lead.
Hence, I appreciate the NEWACALOX Automatic Soldering Gun—it allows me to hold both the soldering gun and lead with one hand. At the same time, I use my other hand to hold the wires, cables, or other electronics I'm connecting. Thus, it frees up my assistant to do other things, letting us finish our earlier tasks.
This electronic soldering gun is excellent as it has a 900M chrome-plated solder tip. It helps the tip heat up quickly while maintaining the heat for long. I also like how they included a desoldering pump which is a big help for my circuit board repair jobs.
The two tweezers are also great for holding the tiny elements that I frequently work with. All these add-ons help me accomplish a lot more. Furthermore, this soldering gun includes a 30-day limited replacement warranty. It means that if I'm not satisfied with the product, I can return it for any reason.
One thing I did notice while using this soldering gun is that the solder tends to get stuck. It is easy to fix, but it is still a hassle, especially when I quickly finish my work. For this reason, I don't recommend using solder with less than 1mm diameter.
Pros
Automatic function means I can solder with one hand
900M solder chrome-plated tips make it fast heating and give longevity to the product
Comes with a desoldering pump which can help in circuit board repairing
Includes two types of tweezers in the box, suitable for holding small electronics
With a 30-day satisfaction guaranteed return period
Cons
Sometimes solder gets stuck in solder feeder, especially for smaller diameter lead
Although I have experienced some problems with this soldering gun, it is effortless to fix, and I still enjoy using this. So if you ask me for a soldering gun recommendation, I will recommend this without hesitation.
3. Weller 9400PKS Dual Heat Universal Soldering Gun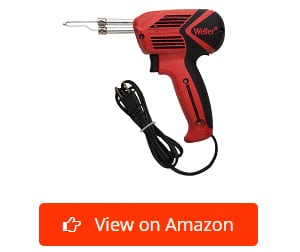 The Weller 9400PKS uses an ergonomic design, allowing me to use it effortlessly. The gun has three built-in LED lights, lighting up my working area. This soldering gun has allowed me to get more work done, as I'm not as tired or strained when using it.
It also offers a hex key storage place in the handle, allowing me to have it within easy reach anytime I need it. It also means I could avoid misplacing it, which I sometimes do when I've got many projects going around me.
I appreciate that they included five different soldering tips in the package. It will help me out a lot as I can use the exact soldering tip I need for all kinds of work.
Furthermore, the gun can quickly heat its tip, around 6 seconds, to deliver 140 watts. Another setting when the gun trigger is pulled all the way generates a power of 100 watts.
The only drawback of this soldering gun is that the smallest tip is a bit big for some of my needs. That's why I'm having difficulty using it with contiguous terminals. However, it is perfect for medium to large soldering jobs.
Pros
Innovative ergonomic design for easy use
With built-in LED bright lights that provide a shadow-free application
Hex key storage place in the handle prevents me from losing my tools
Comes with five different soldering tips for use on any soldering project
Heats up in 6 seconds only
Two settings: 140 watts and 100 watts
Cons
The smallest tip is still big for small applications
The Weller 9400PKS is a good choice if I'm looking for a flexible soldering gun. It may not be for small applications, but it is an excellent tool for most medium to large soldering jobs.
4. Wall Lenk LG400C Heavy Duty Soldering Gun
When I need a soldering gun for thick wires, especially when working on heavy-duty machines and industrial appliances, I prefer to use the Wall Lenk LG500C.
I found it perfectly fit my workflow as the dual wattage elements prevent the solder tip from becoming too hot. The ample built-in work light is also helpful as it gives full illumination to my work.
I love how the temperature of this electric soldering gun works with its trigger-activated control. It provides low temp as it only has 150 watts when on standby. The soldering gun will then produce 400 watts of output and peak temperature when in use.
However, this soldering iron gun is different from other models because of its high power output and unique design. It has a flat back, allowing it to stand on its own when not in use. It also uses a plug-in type tip and elements, meaning those components are easily replaceable.
Workers should know, though, that this soldering gun is pricier compared to other brands. It's probably because of its heavy-duty build and high power output. But if I need a soldering gun I can rely on for every job; then this device is well worth my investment.
Pros
With dual wattage feature which helps to control the tip temperature
Built-in work light that fully illuminates the work area
Trigger activated control provides instant response
Unique design allows the soldering gun to stand up on its own when not in use
Easily replaceable tip and elements
Cons
More expensive compared to other soldering guns
This Wall Lenk LG400C may be expensive, but it's well worth the investment if for heavy-duty electrical connections.
5. Weller D650PK Industrial Soldering Gun
Weller is one of the leading brands in high-quality tools, and this soldering gun proves the point. I prefer to invest a little more in tools from these known makers, as I know their products are well-designed and tested by experts.
When I started soldering with this soldering gun for automotive wiring, I noticed that it is lightweight, allowing me to suffer less fatigue when working long hours.
Plus, it has a slip-resistant pistol grip which lets me control the tool, especially when working in tight spaces. Because it's comfortable to use, I can accomplish a whole lot more compared to using a soldering pen.
I also like that this product comes in a hard case for storage and transport. It's also secured with latches, so the soldering gun wouldn't fall off even if the case accidentally opens. At the same time, the replacement for the tin-plated tip is easy to find. I can easily buy one in a nearby hardware store or order it online.
The one thing I don't like about this tool is its short cord. The length is not enough if I don't have an outlet in front of my table. I can use an extension cord to extend its reach, but it's an additional hassle that I wish I didn't have to deal with.
Pros
Made by one of the leading brands when it comes to high-quality tools
Lightweight design which makes it suitable for long hours of work
Slip-resistant pistol grip gives better control to the user
Comes with a hard case that protects the soldering gun when carried or stored
Easy-to-find tin-plated tip replacements
Cons
Insufficient cord length means I need an extension cord if I'm working away from an outlet
If I need a lightweight soldering gun that is easy to use, store, and transport, then look no further than the Weller D650PK. It gives me everything I need to get the job done in a much quicker manner.
6. NEWACALOX NL586 Automatic Soldering Gun
For welders on a budget but still need a high-quality soldering gun, the Newacalox NL586 is a good soldering gun to consider. It offers a lot of features that I can find on more expensive tools, but at the same time, I get to save a little money.
One of the unique features of this soldering gun is its 45-degree design. This design allows me to see my work more clearly to have better aim and accuracy.
I find the tap On/Off switch convenient, I can easily switch it off when not in use. Thus, it allows less power consumption and more savings. The gun also features a light indicator, so I know if it's turned on or off.
What I most like about this soldering gun is the automatic tin feeding function. I don't have to put much effort into placing and inserting the solder. It also has a lock to avoid accidentally pulling out of the wire.
However, due to the small size of this item, the On/Off switch is not ergonomically positioned. I could accidentally flick the button while I'm using it. To avoid that, I have to be careful and mindful of the tool. Although I'll get used to it over time, there were a couple of times I did turn the soldering gun off unintentionally.
Pros
One of the most affordable soldering guns on the market
Unique 45 degrees design for easy aiming
Easy tap On/Off switch saves me electricity
With status indicator to show soldering gun power state
Has an automatic tin feeding function that's easy to feed
Cons
Awkward switch placement might lead to unintentional switch off during use
All in all, this soldering gun has the same great feature as other brands in the market. Better yet, it comes at a low price which lets me save money without losing out on features and benefits.
7. NOEVSBIG Automatic Electronics Soldering Gun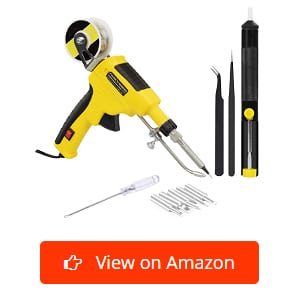 The NOEVSBIG Soldering Gun is simple and easy to use with the help of its automatic solder feeder. All I need to do is set up the perfect solder tip for my application, put a roll of solder wire, and turn it on. Even if I'm not a professional, I can get this set up in a few minutes.
I like how the maker designed this soldering gun with an adjustable knob to change the soldering lead's distance from the soldering iron tip.
The gun also prevents the lead from folding up inside the tube and blocking it. Furthermore, the handle base has an anti-folding wire, preventing it from getting damaged when I set it down.
The best thing about this soldering gun is that it has five pieces of solder tips usable to fit in every kind of work. Additionally, it comes with anti-static tweezers, so I can safely hold electrical components without fearing they will be damaged by static electricity.
One downside to this soldering gun is that it doesn't have temperature control. Although it's not that much of an issue, a temperature control switch would allow me to work more efficiently while saving on electricity costs.
Pros
Straightforward and easy to use with its automatic solder feeder
With adjustment knob for changing the distance of the solder and the tip
Anti-folding wire at the base of the handle prevents damage to the power cord
Comes with five pieces of soldering tips for use in different applications
Includes anti-static tweezers for use with sensitive electronic components
Cons
Does not have temperature control features like any other soldering gun
Overall, this Noevsbig soldering gun is recommended for all levels of DIY and professional workers. It is easy to use, even allowing beginners to produce excellent results with this tool.
8. Dorman 85369 Soldering Gun
Whenever I work with small to medium soldering projects that need low power soldering, I always go with the Dorman 85369 soldering gun.
This design is available in a compact size that allows me to store it with other DIY tools. Thus, it makes me more efficient when moving around as I don't need to carry a separate case for my soldering gun.
Another great thing about this small solder gun is that it only weighs 1.6 lbs, preventing hand fatigue. It means I can do continuous soldering work without feeling any pain in my hand. Additionally, the two vertical tip lines at the back of this soldering gun can be used as a stand while waiting for it to cool down.
This small soldering gun perfectly fits small to medium projects because of its pointed and flat solder tip. More than that, it also comes with an external flux for both lead-free and ordinary solder.
My only concern with this soldering gun for circuit boards is its LED light. It will not directly illuminate the work I need to solder, and the light is also a bit dim for me. I don't think that this light is suitable for my needs. I wish the led light was a bit brighter or that the manufacturer added some reflectors to focus the beam on the working area.
Pros
Compact size that makes it easy to transport
Weighs only 1.6 lbs, preventing hand fatigue
With a built-in stand cooling the tip
Comes with a pointed and flat tip, making it perfect for fine soldering projects
Includes an external flux to add quality to my solders
Cons
Built-in LED light does not provide enough illumination to the working area
I recommend this soldering gun for electronics to those who have small to medium soldering work. It has a compact size, which allows me to carry it with my other tools.
9. Vastar 8 in 1 Soldering Gun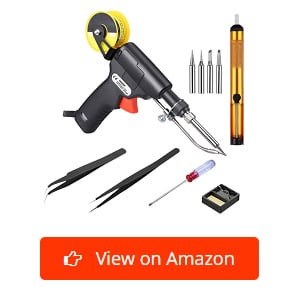 Anyone working on multiple components will appreciate Vastar's one-handed use feature. The kit also comes with a screwdriver, tweezers, soldering iron holder with a sponge, soldering iron tips, wire coil, and a desoldering pump.
It's a complete package for both applying new solder and melt solder for removing old applications.
It is also good that this soldering gun has a rolling dial for adjusting the desired temperature. I can switch it from as low as 500 degrees F to as high as 968 degrees F. It also has an ideal placement, meaning I cannot accidentally change the temperature while I'm using the device.
Another advantage of this product is its heavy-duty body. It is made of durable materials and is solidly built. I don't have to worry that this machine will break while I'm using it for my projects. Furthermore, it comes with extra flux so I can improve the quality of my soldering work.
The only downside to this device is that it does not have a power output indicator. I can only estimate its power output based on what I feel and see when I'm using it.
Pros
One-handed operation frees up my other hand for other applications
With rolling dial-adjustable temperature setting for temperature adjustment
Made from a durable, high-quality material
Comes with flux core tin wire in the package
Includes a soldering iron holder with a small sponge for tip cleaning
Cons
No indicator to show the current power level for the adjustable temperature setting
It is beneficial to have this Vastar soldering gun to fix electronics. However, I must learn how to estimate its power output because it doesn't have a built-in temperature indicator.
10. Tabiger Soldering Iron Kit
One of the best soldering iron I've used is the Tabiger Soldering soldering gun kit. It's perfect for delicate and detailed applications, especially if I have to focus on small connection points.
This tool is a pen-type soldering iron with a high-temperature setting. It also allows me to use lead-free solder and other soldering work that requires hotter temperatures.
The temperature setting dial lets me know my current power draw. That way, I'm sure of the amount of heat I'm applying. At the same time, the four ventilation holes on the side of the tube help it cool down in just a few seconds.
The storage toolbox of this good soldering iron ensures that my soldering kit will stay complete. The foam-lined container prevents its contents from moving around when I'm transporting it.
However, the main advantage this soldering iron offers is its affordability. Its high-temperature capacity allows me to use almost any type of solder without needing to spend a lot of money.
But because of the high-temperature setting, this soldering iron is unsuitable for work that requires a low-temperature setting. The minimum temperature setting of this soldering gun is 392 degrees Fahrenheit. This may be a bit too much for some applications, like working on electronic circuits.
Pros
Ideal for small and detailed applications
Visible temperature setting lets me know the current heat level
With four ventilation holes for quick heat dissipation
Comes with a portable storage toolbox with an inner protective layer
Complete soldering kit that comes at a low price
Cons
Lowest 392-degree setting might be a bit too high for some applications
Generally, this kit is among the top-rated soldering guns recommended for most works requiring high heat. However, this may be too hot for sensitive electronics.
What to Look for When Buying Soldering Guns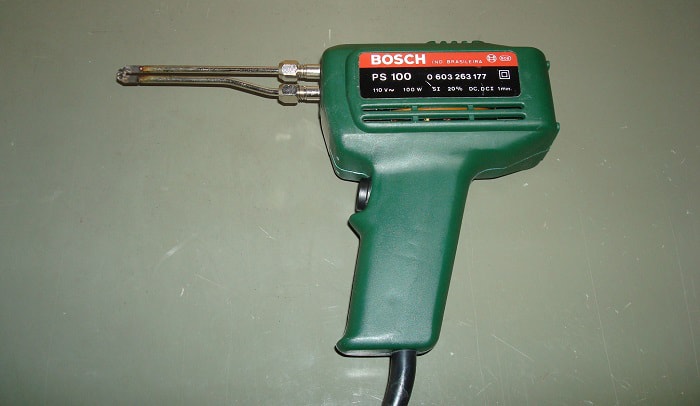 One of my primary considerations when buying a soldering gun is the brand. There are a couple of tool manufacturers whose products I trust. However, they tend to be more expensive than other options, so if I have to stick to a budget, here are a few factors to consider when buying a soldering gun.
You should always consider the temperature required for your jobs. After all, not all soldering guns can be used for light work that only requires low-temperature settings. Furthermore, other soldering tin, like lead-free solder, requires a higher temperature to apply.
For this reason, I recommend using a soldering gun or iron with less than 50 watts capacity if you primarily work on small and delicate projects. On the other hand, you can use a high-temperature heat gun with 60 watts of power and above for those large applications like wire soldering. Also, some workers prefer soldering tools with adjustable temperature control.
Power Output Control Features
If you need high temperatures for your work, then it's better if you get a soldering gun with power control settings. That way, you can pick the right amount of heat output for your application. Furthermore, it will also help you save electricity as it would typically switch to a low-power standby mode when not in use.
Most soldering guns in the market have interchangeable tips for using other tips to ease your work. That's why you should also consider easy iron tip replacement for your tools. If your soldering gun requires a specific tip that you only buy from one manufacturer, then you might have trouble finding a replacement for it in the future.
Nowadays, you can find soldering guns with an automatic solder feed controlled by the trigger. If you're working on soldering projects where you need both hands to hold the wire you're working on and the soldering gun, then you would find this feature absolutely useful.
However, not all soldering guns with a solder feed can accept all solder sizes. You should determine the solder diameter the automatic soldering gun takes before choosing. For best results, most automatic soldering guns work well with a 1mm diameter solder.
Most of the soldering kit includes complete accessories that let you start soldering straight out of the box. However, not all manufacturers include extra tools like a desoldering pump and flux brush. So if you want to have a complete soldering kit, choose the model that provides all the additional tools you need.
Another great way to save electricity is by having an On/Off switch on the soldering gun. That's why I consider the On/Off button crucial when looking for an excellent soldering gun. You can use its On/Off feature to save power and cool the soldering tool without unplugging it.
I consider the cord length important, especially when using the soldering gun outside soldering stations. If the length is too short, I might have trouble using and maneuvering the tool. Although I can use an extension cord to lengthen it, it is still an additional hassle for me.
Always remember that not all pricey products have excellent quality and features. Some low price soldering guns provide high-quality performance on a budget. So even if you can't spend too much on a good tool, you're sure to find a soldering gun that will last while still sticking to your spending goal.
Frequently Asked Questions
Which is Better, Soldering Iron or Gun?
Soldering gun vs iron? Typically, soldering guns are preferred by most professionals as they can be used for heavy-duty works like jewelry making. It has a higher power output that provides more than 100 watts. It also produces more heat at a much quicker rate than a soldering iron. However, you can still use some of the best soldering irons for more detailed work.
What Wattage Soldering Gun Do I Need?
The wattage of soldering guns may vary depending on the application and solder use. An average of 40 watts may be suitable for most soldering works that use a flux core solder. However, lead-free solder is harder to melt or takes too long to apply when using a low-power soldering gun.
In this case, a high-power soldering gun with a 60-watt output or more is a better solution. Not only will it melt the solder much faster, but it will also heat up quicker, so you can start working without requiring a long warm-up time.
What Safety Precautions Do I Need to Take When Using a Soldering Gun?
First of all, never touch the soldering tip, especially when you are using it. The tip is hot, and you will burn yourself. There are also some other precautions you need to take:
Prevent the cord from touching the heat tube and tip.
Hold an extended length of solder wire to keep your hand away from the soldering gun.
When using a cleaning sponge, always keep it wet with water.
Never put the soldering gun down on your soldering station to prevent fire.
Turn off the unit when not in use.
When doing soldering work, always wear safety gear like goggles.
When applying extra flux, use a flux brush instead of dipping the soldering tip into the flux.
If possible, use lead-free solder.
Are Weller Soldering Guns Good?
The Weller company is one of the leading manufacturers of electronic tools. The Weller soldering gun is a good and excellent investment for electronic tools for your working projects. Furthermore, the manufacturer also adds a 7-year warranty for any of their soldering guns in addition to quality assurance.
Are USB Soldering Guns Any Good?
USB soldering guns are great as it has a wireless feature, allowing you to use it without needing a cord plugged into a wall outlet. All you need is to charge it via its USB cord and unplug it when fully charged and ready to use. You don't need an outlet near your workplace or an extension cord which can be a hazard in your work.
How to Clean the Tip of the Soldering Gun?
Use steel wool to wipe out the solder left in the tip while it's still hot. This is the best way to clean the soldering gun tip. You can also wipe the tip with alcohol before and after using it. This simple maintenance technique can make your soldering gun last for many years to come.
Those who use a flux brush for stained glass and jewelry-making works will need extra flux. It is good to keep the flux clean, too, especially if these different tools are in the same box, to prevent getting dirt on the other tools.
Conclusion
A good soldering gun is an essential tool to get your work done faster, easier, and more comfortably. However, the different kinds of soldering guns also have varying functions and features. I made these soldering gun reviews based on the tools I've used to help you find the best soldering gun you need.
I also answer some FAQs for further assistance on how you can take care of your soldering gun once you have it. If you don't know how to use a soldering gun, many online videos will surely guide you to have excellent soldering work.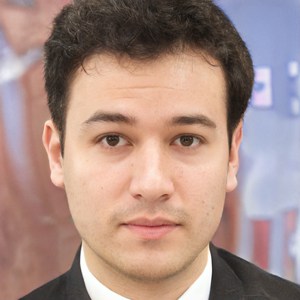 I am Edwin Jones, in charge of designing content for Galvinpower. I aspire to use my experiences in marketing to create reliable and necessary information to help our readers. It has been fun to work with Andrew and apply his incredible knowledge to our content.