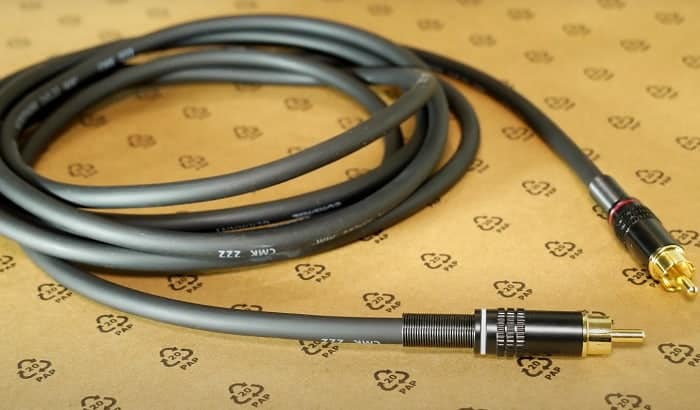 As most music enthusiasts say, it's all about that bass. Party-goers, musicians, and DJs most especially love it when songs pump up their chests. Loudspeakers are a thing whenever a large crowd is involved. And without upbeat music, parties don't come to life.
Optimum sound quality is not solely dependent on the size of your boom boxes nor your playlist. You need to give credits to the components that amplify music from your album to your audiences. Improving the atmosphere's harmony will make you pick the best subwoofer cable.
A subwoofer plays a vital role in making sounds more realistic. It gives every listener and movie-watcher an extra thrill when the songs and movies play. So, grab your sound boxes, and make sure you don't miss out on any of these items below.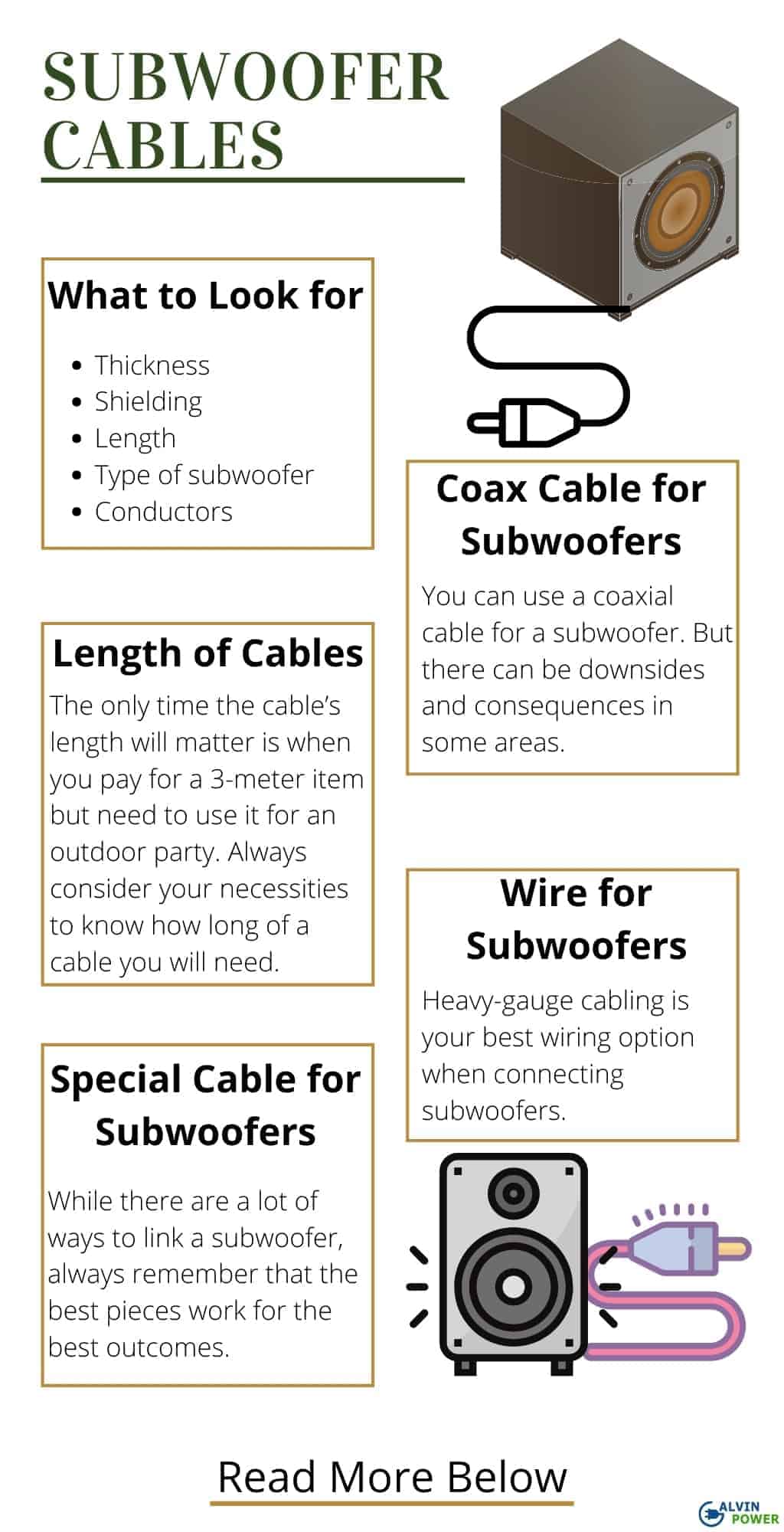 Top 2
Amazon Basics PBH-22631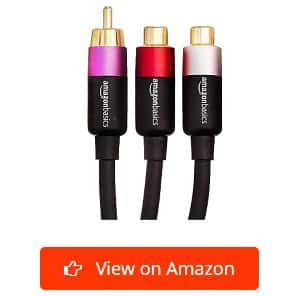 | | |
| --- | --- |
| Length | 12 inches |
| Type | 1-male to 2-female RCA |
| Warranty | – |
Top 3
FosPower FOSCBL-2195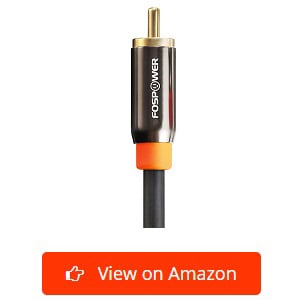 | | |
| --- | --- |
| Length | 10 ft |
| Type | RCA to RCA |
| Warranty | limited lifetime warranty |
Best Subwoofer Cable Reviews
1. Mediabridge Subwoofer Cable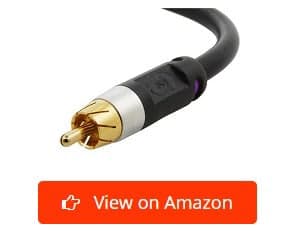 Featuring clear signals and low data loss, the Mediabridge ULTRA Series Subwoofer Cable comes with a single solid center conductor. This metal carries strong signals from the audio output ports to your subwoofers. These frequencies can travel to as far as 300 feet. So, wherever you place that box, your sounds remain steady.
I like the build of this product because it helps prevent that disturbing static and hums. Other than its premium copper at the core, it also comes with a gas-injected foam, aluminum shield, braided copper, and soft PVC jacket on the outside. Not only do they prevent annoying sounds, but they also keep the cable durable.
On its tip are gold-plated RCA connectors that are not only built to last long but are also corrosion-resistant. Gold is a pure metal that doesn't rust because it doesn't contain iron. That way, you also get to protect the insides of your sub cable from penetration of corrosive substances.
And to make sure your cable makes a perfect subwoofer connection with your device, Mediabridge has split-tip jacks. These tips ensure high contact pressure between the cord and the stereo receivers. Also, they promote optimum conductivity throughout your connections.
I wish I did some research before buying this subwoofer cable. I got this 25-foot subwoofer cord for an 8ohm speaker, only to find out that I was compromising sound quality. I should have bought a shorter one, or at least one with a thicker, 18AWG conductor, not like this one with a 22AWG copper.
Pros
Powered subwoofer cable with strong signal transmission even at LFE input
Durable cable with appropriate shielding
Gold-plated RCA cable connectors
Split-tips for optimal conductivity
Cons
Does not work perfectly for an 8ohm speaker
I love this product because it's steady and doesn't lose signals. I am impressed by the stability it brings. As long as you got the best compliments for this sub cable, nothing can go wrong.
2. Amazon Basics Splitter Cable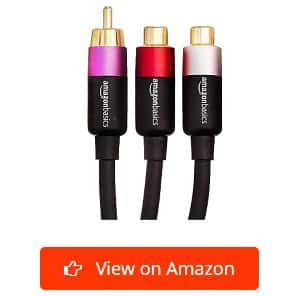 Link your TVs and DVD players to your home theater systems using the Amazon Basics RCA Y-Adapter Splitter Cable. This RCA composite cable has one male and two female audio plugs on opposing ends designed to connect to an existing RCA cable. Splitting audio components for a thrilling surround sound is possible with this cord.
I like the style of this speaker cable because it's handy. Its matte finish gives me ease when plugging the RCA adapters in and out. This home theater subwoofer cable also comes with different colors on three ends for easy identification. So, I don't have to keep guessing which of the female adapters is left or right.
This RCA cable comes with dual shielding composed of aluminum mylar and braided copper. These materials are lightweight but are effective in containing EM and radio frequency interference. Thus, you won't have to be bothered about distortion sounds when watching your favorite series.
I feel secured about buying this product because it has Amazon Basics' 1-year limited warranty. On top of its premium quality sounds, I also get support from their customer service once something wrong comes in.
However, I cannot route a 12-inch speaker cable in my entertainment room. I wish it were a bit longer. Anyway, it works just right, and it does its job. I love the quality of my sound system.
Pros
Perfect for home theaters with split audio components
Designed for convenience (matte finish, three color options)
Dual shielding for additional protection against interference
Backed up with Amazon Basics' limited warranty
All in all, I am glad about how my settings turned out. I am enjoying my movies and even games in the comfort of my home. Also, its material composition is a cut above others.
3. FosPower Audio Coaxial Cable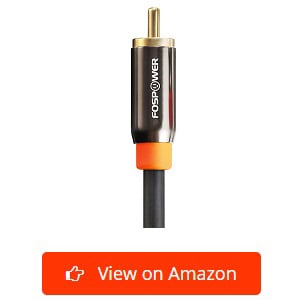 Featuring 24K gold-plated connectors, the FosPower Digital Audio Coaxial Cable will give your mini-theaters quality sound from all corners. This male-to-male cable can be as long as 10 feet. So, you can be flexible with your sound system's layout.
This coaxial cable for subwoofer works with a lot of equipment, whether for home usage or outdoors. I like this product because it's compatible with mixers, HDTVs, synthesizers, CD player, and the like. Also, it reaches even those with hard-to-access ports. I am amazed that the output remains consistent no matter the device I use.
Installation is a breeze for this item because it comes with color-coded RCA connectors. At first, you might think that these colors are for mere designs alone, but they are necessary to keep all users guided. All you have to do is match the adapter to its respective colored port, plug it tight.
FosPower's cable shows quality and stability. It comes with polyethylene dielectric insulators to stabilize signal frequencies, which is necessary to keep audio outputs on point. Also, its material composition from the outside to the internal portions helps minimize distortion and hums.
I wish this sub cable had some shield or collar surrounding the tip of the male RCA connectors. These might help secure connections with your devices. The design is unique, but I feel less confident about it because it can loosen faster than other subwoofer cables.
Pros
24K gold-plated subwoofer cable connector for premium sound
Can reach a distance of 10 feet
Compatible with a wide array of devices
Easy and guided installation through color-coded adapters
Stable and of high quality with the help of dielectric insulation
Cons
Looks less secure in terms of contact between the port and male adapters
Despite that, I love the consistency this audio subwoofer cable shows. It gives me easy work with my audio system, and it fits my desired usage. Also, I am not having a hard time making things work. I am happy about the quality of its sounds.
4. Mediabridge ULTRA Subwoofer Cable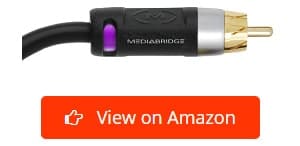 Coming with a broad spectrum, the Mediabridge ULTRA Series 6-Feet Subwoofer Cable works with low-frequency signals. Users of this cable would be amazed at how deep the audio details their subwoofers can reach. This feature leads to better audio quality and more precise sound output.
Some subwoofer cables can be susceptible to damages and moisture once installed within walls. This disadvantage makes in-wall cable installations impossible. But with Mediabridge, you can place your cords on the corner, or install them inside your walls. This set-up bears no damage to your audio wires, and it gives your set-up a clean look.
I like the turbine-style fixed grip of this product's RCA plugs. I remember having my previous Klipsch subwoofer cable because of this feature.
Not only have they gold-plated RCA connectors, but they also link firmly. I have been using this cable for more than five months now, but none of the RCAs loosened. I believe this item has a high-quality metal composition.
This product also comes with a travel-friendly dual-tab design to keep my speaker cables clean. This velcro strap helps me roll my cables and organize them. So, they don't mess up anywhere, and I also get to keep them in one place only. Plus, I think this is an additional level of protection to my cables as well.
On the downside, I find this subwoofer cable a little too stiff. I have encountered an Audioquest subwoofer cable review for once with this issue, but sometimes I have a hard time rolling the cord back after usage.
Pros
Works with low-frequency signals
Deep and rich sound quality
Perfect for in-wall applications
Turbine design for a more secure connection
Comes with travel-friendly dual-tab design for convenient cable clean-up
With Mediabridge ultra series subwoofer cables, lining my audio jacks in my walls became possible. I like its sound quality and the richness of the sound outputs. It also looks secure and easy to fix.
5. Goalfish RCA Subwoofer Cable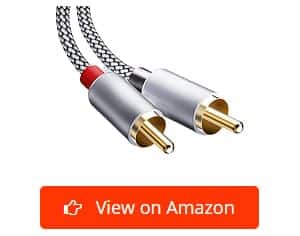 Coming with a unique double-braided exterior design, the Goalfish RCA Male to Male Audio Stereo Subwoofer Cable ensures long-lasting performance. This product has gone through a series of bending tests, proving it durable enough for rugged use.
With 24K gold-plated plugs, this RCA cable shows premium sound quality. These adapters make frequency signal transmission seamless. Thus, I get clear sound outputs on my subwoofers. Plus, my audio becomes consistent, and signal losses remain at a low frequency level.
This item comes in a pack of two paired RCA cables compatible with broad usage. At first, I was hesitant about availing this product since it looks pricey, not until I realized I get two audio cords for a reasonable price. That way, I can link more devices while having a spare one when the other fails to work.
Inside this audio subwoofer cable are oxygen-free conductors. This type of metal is resistant to shorts and more durable than other conductors. Due to the reduced oxygen content in this wire, the conductors are less likely to corrode, making it long-lasting.
These auxiliary sub cables are accompanied by a lifetime warranty. That is why I feel confident about buying this product. You can always reach out to their friendly customer service and seek solutions to your cable's issues if unsatisfied.
However, I find this RCA cable a bit thin, which isn't what I expected from a braided cable. The structure looks steady, but as I have seen in one subwoofer cable review, I need to be careful when using this.
Pros
Double-braid design fit for rugged use
24K gold RCA connectors for consistent premium high-quality sound
Two paired RCA cables to link more devices
Oxygen-free copper conductors
Comes with a lifetime warranty and friendly customer support
Cons
Cable is a little thinner than other braided ones
I am happy about connecting more than a pair of devices at once. I love how my set-up turned out because this 4-adapter RCA cable added some thrill and boost to my sound system. Be sure not to put too much tension on this cord.
6. BlueRigger Subwoofer Cable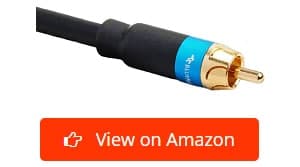 One of the prime benefits of the BlueRigger Subwoofer RCA to RCA Audio Cable is its support for Global Standards for Digital Sound.
Following 5.1 and 7.1 surround sounds, this cable fits well with the most recent set-ups. With 5 to 7 full-force bandwidths, this cable will surely give you high-quality surround, whether for your home theater or outdoor parties.
Aside from this cable's split-tip pin, it also comes with metal collars angled inwards to secure an optimal grip between the cord and the subwoofers. These inward metal turbines are gold-plated, which means they help improve frequency signal transmission. I believe this is one of the reasons for this cable's consistency.
Another factor that keeps the sound quality of this subwoofer cable top-notch is its dual-layer shielding. The innermost part is an aluminum mylar, and the second one is of heavy braided copper. These two materials are essential to keep radio frequency interference out, especially when a bundle of sub cables collides.
Standards-wise, this subwoofer cable meets UL's Standard for In-wall Installation. That means this subwoofer audio cable is amenable to work in between walls. Also, each audio wire undergoes checking between compatible devices. All you need is to look at the item's packaging and see what devices work with this cable.
On the downside, the first cable I ordered did not work with my CD player. It's a good thing the manufacturer offers a lifetime of warranty, so I got to change this cord immediately.
Pros
Supports 5.1 and 7.1 surround sounds
Quality adapters with split tips and gold inward-angled collars
Dual-layer foil shielding
Meets UL's standard for In-wall cable set-ups
Guaranteed compatibility with selected devices
Cons
Cable might arrive damaged or not working
BlueRigger makes things easy for me. I have been using the replacement cable I received for months now. This cable has got a wide bandwidth, plus there is little to no distortion at all. I think this is the best subwoofer cable for home theater I've had.
7. FosPower Splitter Audio Cable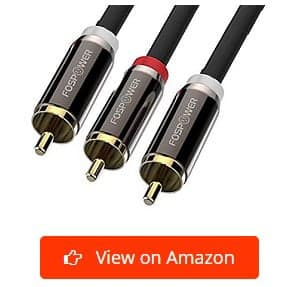 Perfect for Hi-Fis and home theaters, the FosPower Y Splitter Digital Stereo Audio Cable comes with a 26AWG bare copper core. These tin-plated coppers help reduce oxidation and increase wire life. Thus, this is an ideal audio auxiliary for frequent use.
I find this audio subwoofer cable unique because it comes with two male RCAs on one end and just a single male on the other end. There are two opposing out adapters in this cable and an in paired with one of the out jacks. That means you can link a 2-port amplifier to your subwoofer with a single adapter only.
I like this audiophile subwoofer cable because it's a perfect replacement for my old yellow cable with weak shielding. This cable doesn't pick up interference because of the high-quality shielding. Also, I find it long enough at six feet to set-up my mini-theater at home. I am amazed it works with my existing devices at home as well.
This sub audio cable is also budget-friendly. With a reasonable price, expect good performance, quality sound, and more precise audio. I am glad about buying this product because it's less costly than my old low-end cables and has a limited warranty.
However, I think the composite materials of this cable are easily susceptible to damage from mobile use. The cord looks thin, so I believe it's better to keep it in place rather than moving it elsewhere.
Pros
Tin-plated copper core
Comes in unique 2-male to 1-male splitter adapters
Perfect replacement on account for old cables
Lengthy cable at six feet compatible with most devices
Reasonable price with limited warranty
Cons
Thin cable with less expensive materials
I am happy that I got to replace my old speaker cables with this one. It has a solid core. Thus, the audio signals remain steady. I also love the sound quality no matter the frequencies and device I use. It's not pricey, but it works with a wide array of audio devices.
8. RIKSOIN Audio Cable
Ideal for DVDs and gaming consoles, the RIKSOIN 2-Pack Male to Male Audio Cable will always give you quality sound in your home entertainment.
This subwoofer cable has tangle-free cables wrapped in braided nylon, making it fit for frequent usage. I love the design of this item because it's extra durable. And it's just at the right length at 8 feet.
This 2-pack subwoofer cord comes with aluminum adapter shells which help maintain the subwoofer cables' structure and increase their lifespan. Aluminum is corrosion-resistant by nature, which means any corrosive content cannot penetrate any component in your cord.
You need not worry about the type of device that works with this cable since this features universal compatibility. It works with HDTVs, satellite-boxes, and other media with RCA connectors.
Also, it comes with color-coded male adapters for easy identification or left and right inputs. There's no way you can go wrong when using this subwoofer audio cable.
This item has double shielding oxygen-free copper that ensures seamless signal transmission and minimal loss of data. That way, I get premium-quality sound with the right amount of bass and crispiness. Interference also remains at a minimum because of this feature.
The only issue I have with this cable is it doesn't sit tightly. The male RCA adapters happen to rotate when the wires move, and I feel concerned that it disrupts the audio output.
Pros
Long and durable enough for frequent use
Corrosion-resistant aluminum adapters with extended product life
Universal compatibility
Oxygen-free conductors
Color-coded for easy identification
Cons
Cable adapter sits less secure
Overall, I like the sound quality this cable brings. Gaming became more thrilling because of this item. It works well with my subwoofers, and it doesn't seem to overload them. I am also happy about having a spare one in case the other gets lost.
9. XMSJSIY RCA Speaker Wire
I felt strange when I first saw the XMSJSIY Open End RCA Speaker Wire. It has an RCA plug, but on the other end are bare speaker wires with no RCA adapter. To my surprise, the cable was easier to install compared to other audio cords with ports. All I have to do is plug the RCA on one end and the bare conductors on the other end.
The center conductor of this cable uses multiple strands of oxygen-free copper. These pieces of metals are good alleys of frequency signal transmission. I like this feature as I barely get audio attenuation, and the bass quality is top-notch. Given how it looks, it works better than expected.
I find the skin of this product unique because I get to see the cable's interiors. Not only that, this type of material has high insulation to prevent fires from a lot of factors. The outer covering of this item is also anti-acid and corrosion-resistant against alkali. Thus, you get a longer service-life other than quality sounds.
I believe this is an affordable option given its price, especially when you have no dedicated RCA ports on your stereo receivers. It gives me value for my money, and I can also maximize its usage with most of my subwoofers. As long as you have the pins and the ports, you're good to go.
The only downside I have seen in this product is its coppers dipped in the outer covering. I had to scrape excess insulation off to get a metal thread that's long enough to insert into the subwoofers.
Pros
Easy to use, just connect the RCA plug on one end and the bare one on the other
Oxygen-free coppers
High-quality bass output
Durable, anti-acid, corrosion-resistant, transparent outer covering
Worths your money
Cons
Conductors covered by transparent insulation
I love how easy I have connected my amplifier to my subs. The whole set-up looks clean and sturdy. I even got to save money from buying fancy and expensive cables around. I feel great with this audio subwoofer cable.
10. EMK Subwoofer Cable
Saving space in my TV set became possible with the EMK Double 90 Degree Subwoofer Cable.
This product has two 90-degree RCAs on opposing ends of a 10-foot cable. I find this item less susceptible to bending, especially in tight spaces and corners. So, I don't have to worry about damaging and putting tension on my male adapters.
This brand offers tin-plated oxygen-free copper conductors. I feel secured about this product because tin-plated coppers are better than bare conductors. The latter is less resistant to humidity and wet environments. I think this is an appealing option, especially when you prioritize lifespan over anything else.
EMK features top-notch Hi-Fi sound for audiophile guys and home audio enthusiasts. This type of sound doesn't necessarily refer to loud ones, but those which are clear enough. I had experienced this audio quality when I purchased this item. It's not disturbing at all, and I just got the real feels of the music and movies I play.
This product has good material composition. These are evident with the RCA's alloy shells, stretch-resistant wire, and 24K gold-plated RCA connectors. Other than that, it also comes with an 18-month warranty. So, you can reach out to the supplier when something seems to be wrong with the item.
However, the metal collar of the first RCA cable I ordered was a bit bent inwards on one end. I had to bend it back to fit correctly to its respective port. Never have I encountered any issues since then.
Pros
Space-saving right-angled RCA cables and 24K gold-plated connectors
Sharp Hi-Fi sound for audio enthusiasts
Quality construction made with tint-plated coppers, alloy shells, stretch-resistant wire
Comes with an 18-month warranty
Cons
Metal collar bent inwards
I feel like owning an entire cinema at home. I believe this is more of a subwoofer cable for music. It's safer to use because of its angled RCA connectors, plus it has quality materials.
11. Atmoz PRO Subwoofer Cable
Why buy a splitter cable when you can have a splitter adapter and a male-to-male audio wire in one package?
The Atmoz PRO Series Subwoofer Cable comes with a 10-foot cord and a Y splitter female to 2 male adapters. I feel like I strike two types of subwoofer cables with this product. That way, I always have options whether or not I need a mono input.
Not only does this Y adapter let you link to the left and right outputs, but it can also increase the sound levels significantly. Furthermore, it can eliminate noise and feedback for pure audio. I like this accessory because it helps improve the quality of my sound system.
The shielding of this product is of high cable quality as well. I used to hear humming and other disturbing sounds before using this cable. With Atmoz, I didn't have to experience those again.
The shielding consists of gas-injected foam dielectric insulation, an aluminum foil shielding, a braided copper shield, and a soft PVC jacket.
I also love the three color options this brand has. That way, I can identify which one is for my home theater, studio, and spare one. Also, I can't overuse any one of these RCA cables I own.
On the other hand, I have some problems with the collars or the male RCAs. Sometimes they fit too tight on the ports, making them hard to remove. I could have damaged a speaker port and a cable if I failed to unplug an RCA adapter carefully.
Pros
Gets both the RCA cable and Y splitter for the price of one
The Y splitter helps provide better sound quality and convenience
Premium-level shielding
Three color options available for easy identifying which one to use
Cons
Sits too tight in some subwoofers
I like having three cables with three adapters for a lot of purposes. I find this product very convenient to use, and it shows quality sound. I am confident about sharing these with other audiophile guys.
12. Element-Hz Subwoofer Cable
With an extra-compact body design, the Element-Hz Subwoofer Cable fits in tight spaces regardless of the set-up. This product is a flexible one, making it ideal for sound systems that occupy little space. I think mobility is not an issue because I get to move this cord from one place to another without causing it damage.
This product meets the CL3 ratings for outer cable insulation. Like CL2-standard RCA cables, this brand is also usable for in-wall applications and is resistant to carrying and holding flames. CL3 audio cables can support higher wattage than the CL2 ones. That way, I can be sure about my cables' safety, as well as my audio devices'.
I like this product because it's simple, and it has increased shielding and thick gauge conductors. These features help mitigate interference and sound distortion. Not only do I get flawless audio results, but I get to protect my subwoofers and devices as well.
Inside this subwoofer cable is a 22AWG conductor that's thick enough to transmit audio signals, even with a low frequency. I find this subwoofer cable lengthy at 4 meters. That means I can use it for considerably spacious set-ups. The RCA connectors also indicate the cable's length and subwoofer text for easy identification.
However, I find the metal collars shorter than my old Monster subwoofer cable collar, for instance. The subwoofer connection would look more secure if the collars had been longer. Nevertheless, I have seen this issue appear in one subwoofer cables review only.
Pros
Compact design that can fit in tight spaces like home theater systems
Meets the CL3 standard for cable insulation
Increased shielding that helps reduce interference
Thick conductors for better signal movement at low frequency
Long cable with length and subwoofer indications
Cons
The metal collar is a bit short
With this subwoofer cable, I was able to make use of an old JBL sub at home. Now I can feel more thrill with my movies and sharp sounds of my favorite music. I am sure this product makes good with other set-ups too.
What to Look for When Buying a Subwoofer Cable
Every subwoofer performance relies not just on the box itself but also on every component it connects. Below are things to watch out for when selecting a subwoofer input cable.
People these days are particular with the lifespan of their electronic auxiliaries. This aspect is reasonably evident in the way the item looks. Thus, the thicker the cable, the longer its life is for the majority of the market.
No one can see sound waves, but we can hear when something disturbs our audio system. These interruptions occur most probably because of poor cable shielding. Always look for a product with quality interference barriers to getting rid of hums.
If you cannot see yourself hosting a park-wide party, refrain from picking very long cables because you might not need them. I am sure you don't want to damage your cors by failing to organize them. Put your ideal set-up into consideration so you can choose the exact length you need.
Most users buy a cable based on how their speaker ports look. Remember that there are different subwoofer types, so you should consider checking yours to buy what you need and to refrain from spending money on splitters and other accessories.
Some conductors transmit signal frequencies slower than other cables. Pick the product that has quality coppers and those which are resistant to corrosion and other penetrants as well. That way, you get better audio reception and top-notch sound.
Learn more about choosing the top-tier network cable tester. Moreover, check our reviews about the most trusted coaxial cable for TV if you need
Does a Subwoofer Need a Special Cable
While there are a lot of ways to link a subwoofer, always remember that the best pieces work for the best outcomes. Most subwoofers require a simple cable with RCA connectors on both ends, even if you check a subwoofer cable VS RCA reviews. Some subwoofer models require inputs for the right and left channels, and an LFE subwoofer cable can be good with AV receivers and an LFE input on the subwoofer. Splitters can also help, should you need to connect a single male RCA to a box with two channels.
Is There a Difference in Subwoofer Cables
Subwoofer cables do not only differ by market preference, like in the case of a Yamaha subwoofer cable but in every detail as well. Others may claim that the audio quality is the same for all sound wires, but there will always be differences.
Not all subwoofer cables can tolerate the same amount of interference, and not all produce disturbing hums.
Some cables come with bare coppers, while others are tin-plated. Also, the wire gauge is not uniform for all subwoofer wires.
This aspect deals more with the safety of your auxiliaries and devices against sparks and possibly fire. Better check for cables with standard recognitions for dielectric insulation and other areas as well.
These are only a few areas where subwoofer cables can differ, so be sure to check on each detail to help you select the right one.
What Wire Do You Use for a Subwoofer
Heavy-gauge cabling is your best wiring option when connecting subwoofers. Whether or not you have an RCA connection, you should use a wire with quality shielding and a durable body, especially for rugged use. These are essential aspects that need attention if you aim to have a clean and noise-free audio output.
Is Coax Cable Good for Subwoofers
You can use a coaxial cable for a subwoofer. But there can be downsides and consequences in some areas. Note that some noise can travel to your amplifier, making sound outputs unclean. Also, coax cables do not support bandwidths as wide as that of the best RCA cables for subwoofer. Plus, this type of cord is not guaranteed to support high-quality surround sound formats. Coax cables are still ideal for the transmission of analog signals.
Does the Length of Subwoofer Cables Matter
The only time the cable's length will matter is when you pay for a 3-meter item but need to use it for an outdoor party. Always consider your necessities to know how long of a cable you will need. It may be ideal to buy a long one, but make sure you know how to keep it clean, organized, and tangle-free. This step will help you preserve your cables and your devices as well.
Conclusion
Picking the perfect audio transmitter can be exhausting, but it will give you a new thrill and excitement. As long as you know your devices well, you're on the way to making the right decision.
Upgrade your music to a higher level. Use the best subwoofer cable and give your home theaters and studios the excellent sound quality it deserves. These cables are not only for audiophiles but for those who need wholesome listening as well.
Should you have questions, never hesitate to leave them in the comments section. Stay tuned, and happy listening!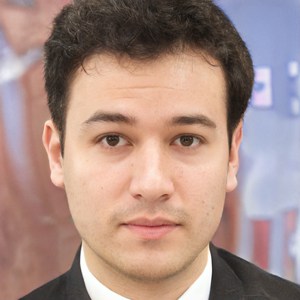 I am Edwin Jones, in charge of designing content for Galvinpower. I aspire to use my experiences in marketing to create reliable and necessary information to help our readers. It has been fun to work with Andrew and apply his incredible knowledge to our content.