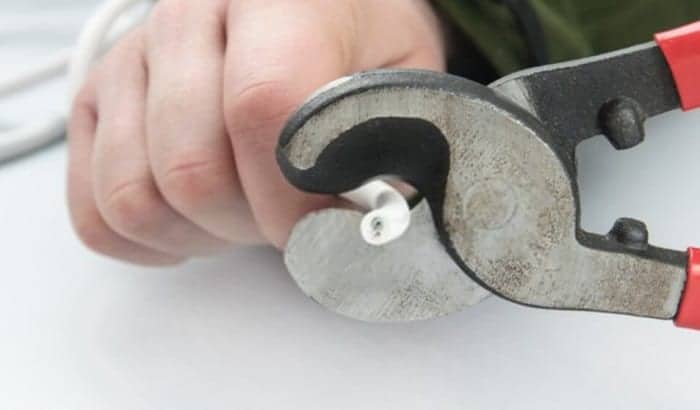 Routing electronic connections at home, office spaces or any establishment mostly require cutting circuits. While length estimates cannot be accurate all the time, you need to keep a hand tool nearby to snap wires. This piece of equipment has its specific features, making it fit for such a purpose.
Some users and professionals often say they're good with one cutter or two. But that is not always the case when you have plenty of cable types to cut through. Matters like these would require the best cable cutters.
These tools are necessary to cut cables and wires. Read along and take note of the following items that might fit your intended purpose.
Top 3
Cal Hawk Tools CPLWC8

| | |
| --- | --- |
| Weight | 680 Grams |
| Material | Alloy Steel |
| Cutting Capacity | 2 AWG |
Best Cable Cutter Reviews
1. Park Tool CN-10 Professional Cable Cutter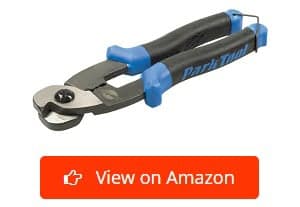 Designed specifically for bicycle housing and cables, the Park Tool CN-10 Professional Cable Cutter is what you need for your two-wheeled buddies. This cutter can trim brake housing and hard-to-cut shift housing on your bicycles. It has heat-treated and cold-forged handles, which are strong enough to snap bicycle wires.
I am particular about how sharp and neat a cutting tool is. I want clean cuts on my cables so as not to compromise the entire wire body. Good thing this cable cutter has precision ground-cutting jaws molded at the right angles parallel to each other. That way, no rough cable edges remain after cutting.
I think this cable cutter is also a dual-purpose one. Not only does this product have sharp cutting edges, but it comes with a built-in crimper as well. This part is responsible for conjoining two pieces of metal, reforming housing ends, and other uses that may be deemed necessary.
On the other end of this tool is a wire latch that keeps the handles together for storage. I find this feature beneficial not just because of its capacity to keep the handles intact. By having this wire at the bottom end, I also get to secure my cable cutter's cutting jaw from making contact with things that can impair its sharpness.
Compared to other cable cutters, I think this one is pricey. I used to have a less effective one at a lower cost. But I don't believe it would have been this expensive had it been as good as the CN-10.
Pros
Cold-forged and heat-treated handles strong enough to cut bicycle wires
Precise cutting jaw for clean cuts
Dual-purpose cutter with a crimper
Comes with a wire latch to secure handles and prevent unwanted contact with objects
Cons
A little more expensive than most cable cutters
I have been using this tool for months now, and I love its consistency. This product is one of the small cable cutters that leave clean-cut marks. As long as you use this with appropriate cables, you can always rely on it.
2. Klein Tools 63050 Cable Cutter
Known for its brand, the Klein Tools 63050 Cable Cutter works best with confined spaces because of its size. This cable cutter has a forged steel body that can cut through 4/0 aluminum, 2/0 soft copper, and 24AWG communication cables. I love this tool because it has slim handles, is durable, and can fit in any pouch.
Connecting the shears is a hot-riveted joint. This piece of bolt ensures smooth shearing actions and zero handle wobble. It also keeps them both tight and steady. That way, you get your cuts accurate and without cable leftovers.
This product is a through-hardened one. That means that its cutting body has an increased hardness for higher strength. I think this aspect needs emphasis given that cables, especially those for industry-use, are ideally strong. I believe a cutter like this can cut through these wires effectively and without damage to the tool.
To protect this product's jaw edges, it comes with beveled jaw tips so that cutting can be smooth. Unlike other brands, Klein Tools makes sure that the cutter snaps the cables smoothly with a squared end.
However, I found the shears a bit hard when I received my first purchase. I needed to use some oil to move them smoothly. Nevertheless, they align very well, and none of those issues occurred again.
Pros
Suits confined spaces
Small cable cutter with forged steel for durability
Fits through any pocket
Connected by a hot-riveted joint for a smooth, wobble-free shearing action
Through-hardened cable cutter that cuts through strong wires
Sloping jaw tips for smooth cutting
Cons
Might come with hard-to-move shears
I love how smooth the cutting process with my cables is. The product looks sleek but can cut thick wires. I believe this is one of the heavy duty cable cutters every user should check out.
3. Cal Hawk Tools CPLWC8 Steel Wire Cutter
I was once looking for a replacement for an old cable cutter until I found the Cal Hawk Tools CPLWC8 Steel Wire Cutter. I am amazed about this product having a solid build on top of a low price. I believe this is a good one because its cutting ability is as advertised.
I love bringing this cable cutter with me because it's not hard to carry. It only weighs 1.5 lbs, which is lighter than most small wire cutters. I find it portable as well because it has a length of 7.5 inches only. That way, I can always be prepared when I need to repair something far from my toolbox.
This product works best with bicycle brakes and shifter cables. For someone who loves biking, I think this is a must. I believe this item is necessary, especially when you need to do repairs with your shifters or cycling cables. I always find this product a reliable one in these occurrences.
Cutting cables using this tool isn't messy at all. I have tried using this product with multi-strand wires, and the output was clean. All the strands remained intact, and they looked evenly cut. And for most cables I used this tool with, none of them got frayed. That means this cutter cuts consistently sharp.
On the downside, the spring seems too sticky when I first used this product. Later on, it began to fall. The rest works fine, but I don't think the spring is of good quality.
Pros
Solid replacement cable cutter at a low price
Works as advertised
Lightweight cable cutter at a small size
Perfect for bicycle users
Cuts clean and sharp
Overall, I love the reliability of this product. As long as you use it with the correct wires, expect smooth shearing of your cables. I also like its size and how it weighs little. It looks like a minimalist cable cutter.
4. SogYupk KTRC11 Ratcheting Cable Cutter
One of the features I like about the SogYupk KTRC11 Cable Cutter is its advanced ratcheting technology. This cable cutter comes with a movable and a steady cutting blade, which is uncommon with most wire cutters. The ratcheting action happens with the movable toothed blade, making it fast and easy for any user to fit and cut through wires.
Since this product has an adjustable blade, cutting thicker cables of up to 400 MCM for copper and 600 MCM for aluminum is a guarantee. It can open wide enough to accompany thick-gauge conductors. With this, I won't have a difficult time stuffing cables in.
To make every user experience more comfortable, this model has a finger-shaped handle for a better grip. It has insulating sleeves on both handles as well, making them safe and non-slippery to use. These quality shears are not just easy, but they are also safe to use.
I have never gone wrong buying this cable cutter. For a reasonable price, I got a tool that's easy to use, has a quick-release lever, and a hold-open spring as well. It cuts smoothly, fast, and without fatigue. Also, it requires a one-hand operation only, so it doesn't exhaust you when cutting.
Other cable cutters come with sharp edges out of the package, but not this one. I needed to sharpen those blades to make cutting more seamless on my first use.
Pros
Advanced ratcheting technology for fast and easy cutting
Can cut through cables of up to 400 MCM copper and 600 MCM aluminum
Comes with finger-shaped insulated handles for better grip
Quality cable cutter at a reasonable price
Quick-release lever and hold-open spring
One-hand operation
Cons
Requires sharpening before use
I feel like having a unique and efficient tool with this one. It cuts neatly, and I like its mechanical structure. This tool is also an affordable choice for me.
5. Channellock Cable Cutter
Featuring a C1080 steel body, the Channellock Cable Cutter guarantees superior performance with all your cutting jobs. This type of carbon steel has shock-resistance properties, so it's not affected by some impact. Carbon steel is also safe to work with, and it's environment-friendly as well.
I find this cable cutter easy to use because it has Code Blue grips for durability and comfort. These rubbers help the user have a tight hold on the tool. So, it doesn't slip off. These grips are handy for most cable technicians. I think these handle wraps serve as another level of insulation and protection as well.
This cable has a good stretch between the shears, allowing it to cut wires of large diameters. I purchased this cable cutter for multi-strand wires of high current. Things have been working well since then. I get to cut thick wiring insulations with little pressure only. That means this product also has sharp cutting edges.
Price is not an issue with this brand because it's cheaper than other cutters with relatively similar design and quality. I find the cost of this product reasonable and worth my money. Plus, even if a warranty is not usual with tools like this, the supplier still offers it. Call their customer service, and they will be glad to answer you.
On the downside, I find this cutter more susceptible to rusting compared to my old ones. I think it's better to keep this cable cutter oiled or maintained. That way, your equipment attracts minimal rusting only.
Pros
C1080 carbon steel body that is safe, durable, and environment-friendly
Easy to work with because of Code Blue grips
Able to cut thick wires with sharpness
Available at a reasonable price
Warranty from the manufacturer
Cons
Can be susceptible to rusting
Overall, I like the build of this product. It is one of the electrical cable cutters that have lasted in my toolbox. I am sure buyers of this cable will never have a hard time cutting through wires using this hand tool.
6. Muzata Hardened Wire Rope Cable Cutter
Cut thick steel softly using the Muzata Hardened Wire Rope Cable Cutter. This cable cutter has high-quality chrome-vanadium steel blades that have gone through high-frequency quenching. With this tool, cutting wires feels like cutting butter with ease. It also leaves a clean cutting mark off my cables.
With an 18-inch length, I can hold this cutter with my two hands. When closed, the handles can depart by as far as 29 inches. That means that when the jaws are open, they can cut thick wires and even steel cables. That way, I get to cut cords of large diameters more effectively.
Stainless steel cables are often the best when it comes to cable railing installations. And there's no better tool to pair them with other than this Muzata cutter. This product helped me become efficient with cable railings and fence building. I always saved time and labor by around 60% when I started using this tool.
I find this cable cutter a universal one as well. This tool can cut through 8mm steel and aircraft cables and 10mm copper and aluminum cables. I like its versatility because I can save money from buying a different one. Also, I don't have to worry about finding space to place many tools.
However, I think this cable is a little expensive. If you're on a budget, this might not be the best choice.
Pros
High-quality chrome-vanadium steel that lets you cut with ease
Long cable cutter that can widen up jaws for thick wires
Perfect for fence building and cable railing
Cuts through steel, aircraft, copper, and aluminum cables
Despite that, I am happy working with this tool. I get to save energy and effort when doing my fences. Also, it cuts sharply and without hassle. I think every homeowner should have one of these versatile aircraft cable cutters.
7. TEMCo TH0003 Wire and Cable Cutter
If you are looking for a heavy-duty cable cutter that cuts copper and aluminum best, try the TEMCo TH0003 Wire and Cable Cutter. This product lets you cut through 750MCM cables with ease. I believe this is also a must for most households since it can cut almost any type of wire at home.
Aside from its 24-inch long handles, this TEMCo model shows better handling stability because it has rubber grips on both levers' ends. On the other tips are forged ground action shear blades that promote better impact resistance. I think these are the vital factors that make this brand a durable one.
Since I do minor weldings at home, I need something for this kind of task. It's a good thing I found this cable cutter since it cuts welding sticks the best. Also, it can snap through battery cables and building wirings, and even SO cords.
I believe this item is a guaranteed one because the supplier offers a warranty of 5 years if, in any case, you experience issues with the product. Most hardware tools do not have this, so I think this can be a distinguishing factor.
However, I found a safety hazard on this cable cutter as it is not an insulated one. I think it would be better to add insulation to the product's body so it's safer to use.
Pros
Cuts up to 750MCM aluminum and copper cables
Comes with rubber grips for more stability
Forged shear blades for additional durability
Cuts through welding, battery cables, building wirings, and SO cords
Comes with a 5-year warranty
With this tool, I enjoy easy times cutting cables and wires on my projects. On top of that, I find this item a versatile one among many large cable cutters.
8. Knoweasy Heavy Duty Ratchet Cable Cutter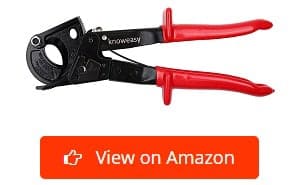 Do rapid-straight cuts on your cable using the Knoweasy Heavy Duty Ratchet Cable Cutter. This brand comes with a unique ratchet driving unit, which holds the wire tightly and cuts it fast. I find this item different from most cable cutters since it requires less effort but works efficiently.
I like the handles of this cutter since the coverings are of PVC materials. PVC is known to have high resistance to wear. It's lightweight but tough because of its mechanical strength. The handles' shape gives me comfort too, so it's not hard to use force when shearing cables.
Like some minimalist cable cutters, this brand also features a sleek build that allows all users to snap wires in crowded spaces. Not only do large shears cut heavy-duty cables, but this brand does as well. I am glad about this feature since I didn't have to buy another cutter knowing this works with thick-gauge wires.
On top of its 12-month warranty, I feel confident using this product because it also has a safe buckle design near the blades. This clamp-like piece of metal helps in avoiding mishaps during operation. Thus, it doesn't keep the item free of damages alone, but the user from injuries too.
While this product can handle thick cables, it's not made for steel wires. As long as you use it the way the manufacturer intended, you should have no problem.
Pros
Unique ratchet design that cuts with ease
Durable, comfortable PVC handle grips
Fits in tight spaces and cuts thick wires
Comes with a 12-month warranty
Has a buckle design for a safer usage
Cons
Not for use with steel wires
I am one of the lucky users who bought this item since I can carry it with me. I find it safe for any usage, and the handles are a good fit for my hands.
9. Crescent H.K. Porter Wire/Cable Cutter
Known to be one of the leading cable cutter brands, the Crescent H.K. Porter Wire/Cable Cutter holds a reputable image in the field of tools and hardware. With a sleek design, this product lets you take a firm grip of the levers with one hand only. Also, it has vinyl-covered handles for added durability and comfort.
Before, I used to wonder why most experts recommend this item. But when I bought one, I saw how good its performance was. It features a professional-grade design, making it worthy of international recognition. I believe this aspect is a relevant factor for reliability as well.
I have a birdcage project at home. Using this cable cutter, I was able to snap 1/16 and 3/16 steel wires. This item has sharp shear blades that cut even thin wire strands without leaving marks of fraying.
Other than its excellent performance, I love this brand being a budget-friendly one. I like its consistency, plus it has a latch that holds the lever handles closed when not in use. Some users might neglect this, but it's vital for everyone's safety.
On the downside, the spring of this cutter falls off often. Nevertheless, I don't find it much of an inconvenience.
Pros
Sleek design with vinyl grips for easy handling
Trusted and used by experts
Professional-grade design
Cuts through thin 1/16 and 3/16 wires with no fraying
Budget-friendly product
Has a latch for additional safety
Cons
The cutter's spring falls off often
Overall, I like the convenience this product gives me. I get to cut multi-stranded thin wires with ease, and it lives within my budget. I find this brand reliable for professionals, also.
10. Pipeman Heavy Duty Cable Wire Cutter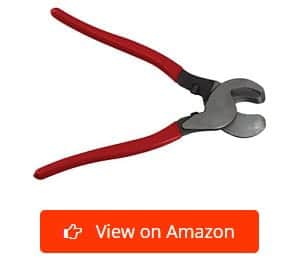 Featuring a high carbon steel construction, the Pipeman Heavy Duty Cable Wire Cutter displays extreme durability. This product has a strong body that is shock-resistant and can endure intense motion. Also, this type of steel is easy to handle, and it's safe to use. Not only do I get a durable cutter, but also a safe one.
Pipeman's steel cable cutters come with precision cutting blades, which have gone through a steel hardening process. This type of blade can cut wires of up to 0 gauge. So, even if this tool is a bit smaller than most heavy-duty cable cutters, it can still cut through thick cables.
This brand has a high-leverage design, which helps it cut wires of different types. It can cut through copper, aluminum, and other known thick gauge wires. Also, it has through-hardened cutting surfaces for long-lasting performance. These are essential in keeping the cutting capability of the cable consistent.
I find this product simple, but it's efficient compared to some costly cable cutters. I don't have to exert much effort. Plus, this cutter leaves a clean mark on the cutting points of my cables. As long as you use this to cut compatible wires, expect efficient shearing.
However, the package was not in its best condition when I received it. Also, the item had a slight rough cutting edge on one side. It had a sand-like finish, but a little refining and lubrication did the job.
Pros
High carbon steel for durability, safety, and ease of use
Precision-ground cutting blades that cut up to 0 gauge wires
High-leverage design that can cut through aluminum and copper of different thickness
Through-hardened surfaces for long-lasting performance
Simple product with clean, effortless cutting
Cons
Does not have the best packaging
Rough cutting edge
I love working with thick cables using this wire rope cutter. It comes with durable and heavy-duty materials and a quality design. I also find this product flexible since it cuts almost any wire I have.
11. Felco Cable Cutter
Wire-cutting with one hand is possible with the Felco Cable Cutter. This product has a non-slip grip that lets you cut with force or in a quick manner. I find this tool manageable to use because it fits just right in my hands, and it doesn't slip off. Convenience is at its best with this cutter.
This Swiss-made cable cutter has premium-quality components. It has a steel body designed in Switzerland and engineered for long-lasting performance and durability. Its design also features easily replaceable and maintainable parts. Maintenance is best using Felco's synthetic lubricant as it adds maximum lifespan to the cutter.
I find this cable easy to use. It has an ergonomic structure intended to minimize stress on the user's hands. On the upper half are thumb catches that let you operate using one-hand. Plus, there is a supple spring between the levers for more comfort. That way, I spend less effort working with cables and wires.
Versatility is also one of the best features of this product. Whether cutting copper or bike cable ropes, this product will get the task done. While some other tools work with a few cables alone, Felco cable cutters cut through many wires. Note that this item cuts medium gauge wires best.
I wish this cable cutter opened wider than it does. It has a great length and cuts most cables. But it would be better if the blades got a full grasp of the thicker wires.
Pros
Convenient and manageable because of quality grips
Premium-quality steel for better performance and durability
Replaceable parts are easy to maintain
Ergonomic design for one-handed operation and comfort
Works with various medium-sized cables
Using this cable cutter on a wide variety of cables is a huge benefit for me. I like how soft cutting through wires is, and it helps me work efficiently. I think it's one of the stainless steel cable cutters that are appropriate for their price.
12. X-Cut Cable Cutter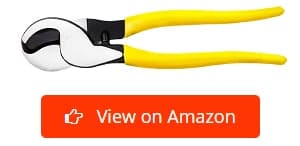 One of the best things about the X-Cut Cable Cutter is its one-handed shearing action leveled up with precision. I like this product because it cuts with accuracy, and it's not hard to handle. I find this item perfect for congested spaces as well. It's like having a small pair of shears that cuts effectively.
On this product's end are beveled jaw tips that improve mating and shearing action. Moreover, the curved design is essential in keeping a full grip of the entire cable's diameter. That way, you get to cut your wires evenly and without fraying on the cut portions.
This product has a high-leverage form which is essential in its cutting capability. By having high leverage, tools get an exceptional advantage over other cutters in terms of capacity to cut a range of wire sizes. With that, X-cut works best on 4/0 aluminum, 2/0 soft copper, and 24AWG communication cables.
Like most quality cable cutters, this one has through-hardened components. I like this feature because it makes my cable cutter more durable and more fit for frequent use.
I wouldn't advise using this product on ACSR cables. These overhead power lines are too thick for this tool to cut through. This brand has a strong cutting capacity, but only with a select number of cables only.
Pros
One-handed cable cutter with a high cutting accuracy
Easy to handle, good for tight spaces
Beveled jaw tips and curved design for a cleaner and more precise cutting
High-leverage design for great cutting capability
Through-hardened components for increased durability
I like this product because it fits almost everywhere. It's more durable than other pocket-sized cable cutters. Plus, it gives me an easy time with my projects.
What are Cable Cutters Sed for
Often, you see a cable cutter where there is power or electricity nearby, which is why most of these tools have insulated handles. Other than electronic purposes, cable cutters are also present where wires are too small for a hand to operate. You can use this tool with galvanized wires or any unpowered project you have.
With innovation taking over our old ways, cable cutters have evolved to be wire and purpose-specific tools. If you check the market, you will be able to see shearing levers intended for steel, aluminum, copper, or any other metal with varied sizes.
What to Look for When Buying Cable Cutters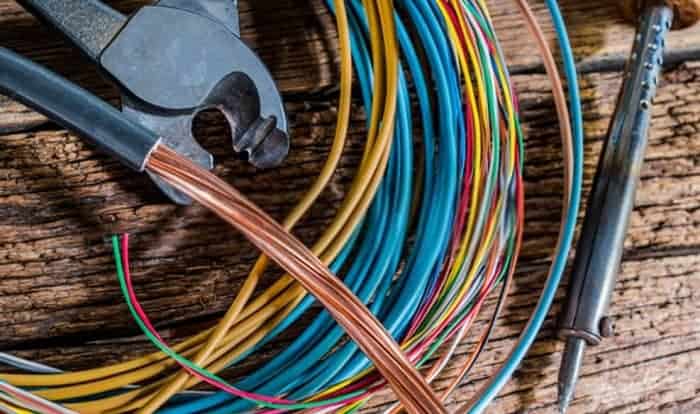 Shopping for a cable cutter can be confusing. With this guide, let me share with you factors to consider when buying these tools.
Cable type
Know which cables you frequently work with. This aspect helps you spend and work efficiently. There are perfect cable cutters for aluminum, steel, alloy, and other materials.
Cable thickness
Note that no matter how sharp your blades are, if they cannot get a full grip of your wires, you will have a hard time. Check reviews and packages to see the maximum and minimum allowable wire thickness of your tools.
Cutter type
Shearing levers are now more specific as to their purpose. You don't frequently see a universal cutter. Most cutters today are for one-handed operations, ratcheting cutters, and thin-wire compact cable cutters.
Cutter body
Consider your usage when selecting a cable cutter, whether for rugged or light use. With this, we advise using one that has a durable body and high resistance to impact.
Price
The budget might always be a constraint. Cable cutters' prices range from $20 to $50. Know that price differences are mainly because of the type of cable cutter and its application.
How Do You Cut Steel Cable Cleanly
Given that cable cutters have sharp edges, it would be better to check the following steps to cut through cables without a mess.
Prepare the materials you need, which include the cable cutter and your wires.
Wear safety gears like protective glasses and leather gloves.
Measure the diameter of your cables to know which cutter you are going to use.
Secure the cable length you need for your project.
Place the wire between your cutting blades and consistently apply pressure to close the levers.
What Type of Cable Cutter is Best for You
I think what sets the Park Tool CN-10 Cable Cutter from other similar tools is its cold-forged and heat-treated handles. These levers are strong enough to snap thick wires other than bicycle housings.
It has a wire latch for safety and precise cutting jaws for non-fraying cuts. I believe this is one of the best cable cutters for bikes. Note that this cable cutter is best when used with compatible wires only.
How to Sharpen Cable Cutters
Sharpening your cable cutters is like refining any other piece of steel with a machine. But this time, you will only need a hand file. All you have to do is rub the hand file on the blades one at a time. Also, take note of the following tricks to have the best outcome.
Rub the file smoothly to keep the cutting surfaces fine and even.
Sharpen the blades with a uniform motion to assist cutting.
Keep the cable cutter away from potential rusting agents.
Always keep your tool lubricated for a soft shearing action.
Conclusion
Working with wires, whether electronic or industrial, doesn't have to be a problem at all. With the best cable cutters, you are one step away from completing your projects and repairing your wirings.
Plan your bicycle maintenance and fencing projects as you head to the store and get the best tools for yourself. Always remember the things you need to consider to have the best outcome.
Should you have questions, drop them in the comments section.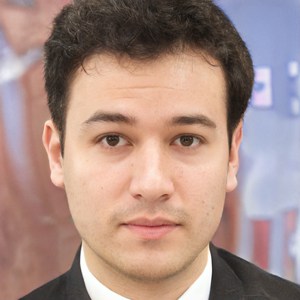 I am Edwin Jones, in charge of designing content for Galvinpower. I aspire to use my experiences in marketing to create reliable and necessary information to help our readers. It has been fun to work with Andrew and apply his incredible knowledge to our content.