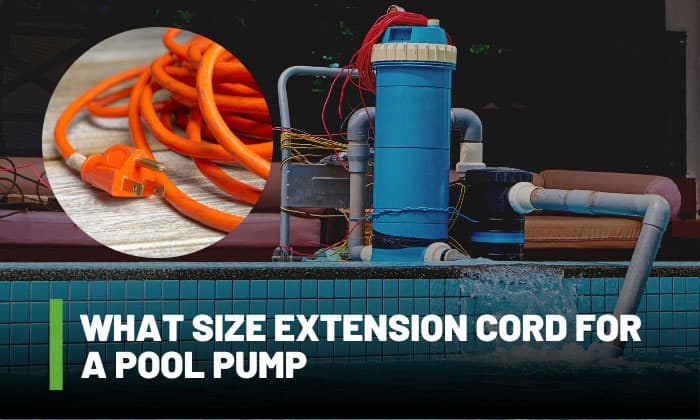 If you want to know "What size extension cord for a pool pump?", you'll have to look at the wattage and amps of the pool pump as well as the cord's running length.
Always match your extension cord's gauge to those three factors. For example, let's assume you have a 2.5 HP rated for 1850W and 110V with a running length of 25 feet. That gives us an amperage of 16A.
Since it's less than 50 feet, we don't need to adjust the general recommendation of a 14-gauge wire or 14 AWG extension cord, to be exact.
Know Your Pool Pump's Exact Figures
The correct extension cord for pool filter or pump always coincides with the specific product. The example I said above actually came from an actual TOPDEEP pool pump, so I suggest you do the same as much as possible.
You can even spare yourself from these calculations by asking the manufacturer directly about the exact size outdoor extension cord you need. This way, you'll also be able to confirm whether the above-ground pool pump can work with an extension cord in the first place.
Obviously, the bigger the pump, the thicker the wire, but we always need to account for voltage. Running length shouldn't be much of an issue unless you go over 50 feet, for which it's best practice to choose the next larger size.
Lucky for us, manufacturers often readily reveal their products' amperage, which makes using pool pump with extension cord less of a hassle.
Let's take one XtremepowerUS pump pool with 1.5HP pulling 15A with 230V as an example. With a short 50-ft run, that can safely be handled by a 12-gauge extension cord.
However, if the run reaches 75 feet up to 100 feet (which is the limit not counting the pool pump cord length), you may need to upgrade to a thicker 10 gauge extension cord.
But if you have an Intex pump filter with 6 HP with 120V, that gives us roughly 3.6A. Assuming it only extends up to 25 feet, the correct Intex pool extension cord to use is the lowest size: a 16-gauge extension cord, which can handle up to 13A.
The pointers above underscore why experts often suggest keeping your running length as short as possible. It's also better to oversize than undersize the cord.
For example, if you're wondering, the said 12 gauge extension cord for pool pump can also be safely used for the 115V version of that same product, which halves the amps to 7.5A.
Since it can still handle the load (and exceedingly so), you won't have to worry about the risks of voltage drops at all, which mind you, have sometimes resulted in life-threatening fires.
Type of Extension Cord to Use for a Pool Pump
Using a GFCI extension cord for pool pump is a must. However, in this context, it often means you have to plug it into a GFCI outlet to protect anyone swimming in the pool from getting electrocuted.
It also needs to be 3-pronged, meaning it comes with a grounding conductor. Other than that, you just need to pay attention to the exact amps of the unit you bought.
Considering the low amperage of a handful of pool pump products out there, there really shouldn't be any worry about overloading issues.
Tips to Choose an Extension Cord for a Pool Pump
Before you even consider what gauge extension cord to use, always first confirm your unit's exact requirements.
Try to aim for a heavy-duty power cord for pool pump as much as possible, especially if you know your unit pulls plenty of watts and amps. 12-gauge or 10-gauge extension cords are a safe bet for most since most products don't go or are just slightly over 16A.
Always choose an extension cord that's rated for outdoor usage.
All-weather options often meet the requirement of homeowners looking for maximum durability.
While I did say that you need to keep the cord's length short, you still have to make sure that it will be able to sit as far from the pool water as possible, again, to mitigate safety risks.
Don't overlook the possibility of needing a pool pump extension cord adapter if your current GFCI outlet doesn't match the extension cord's plug.
Last but not least, keep in mind that an extension cord for above ground pool should never be considered a permanent powering solution.
Will Hooking an Extension Cord to the Pool Pump Void the Warranty?
The best answer to this is that it depends on what the manufacturer clearly states in their warranty conditions. I advise you to grab your copy of the warranty first to make sure that doing this will void it or not.
To be clear, it's entirely possible and safe to use an extension cord with a pool pump. However, you have to make sure that you install and use it properly for your specific pump, besides matching its size with the pump's load.
In short, there's a chance for it to become void because using an extension cord, which is a temporary solution, goes against the product's intended usage.
Conclusion
As the facts outlined above prove, you can easily size electrical wire for pool pump as long as you have the essential metric on hand. This may require you to calculate the exact amperes based on factors like horsepower, watts, and volts, assuming it's not readily displayed in the product description.
What's sure is once you match the pool pump's current rating with the extension cord's size, you can confidently get the correct answer to "What size extension cord for a pool pump?" every time.
Related: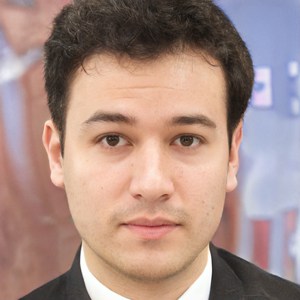 I am Edwin Jones, in charge of designing content for Galvinpower. I aspire to use my experiences in marketing to create reliable and necessary information to help our readers. It has been fun to work with Andrew and apply his incredible knowledge to our content.